Update your yard from drab to dramatic with some of these spectacular landscaping ideas and tips.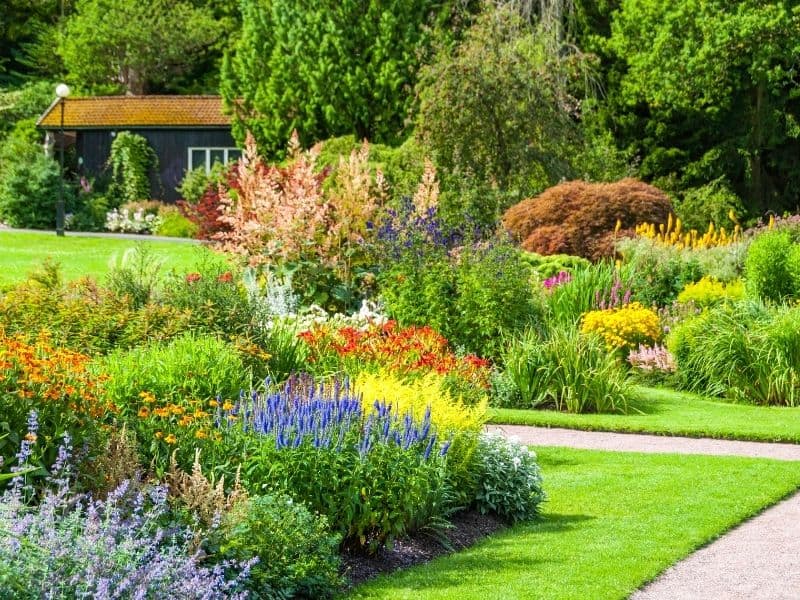 This page contains a complete collection of our landscape resources, tips, and inspiration. Planning a complete landscape makeover? Check out our creative ideas for improving your outdoor space. Looking for solutions to a specific problem? We have handy guides for that, too!
Get a refreshing drink if you like, get comfy, and let's get started designing your outdoor paradise.
Landscaping Ideas
The posts below include tool recommendations, pest and weed control tips, suggestions for the perfect lawn decorations, and ideas for beautifying both the front and backyard. We even have thrifty ideas to make your outdoor space worthy of a magazine spread without causing financial stress. Enjoy!
Landscaping learning resources
Here is where you'll find answers to specific questions, such as how to get rid of Japanese beetles or conserve water. This section also contains tips for a healthy, beautiful lawn and tool recommendations.
Front yard landscaping ideas
Want to increase curb appeal? Here is a list of ideas tailored specifically to the front yard, which often involves a different approach from the backyard.
Backyard landscaping ideas
Imagine the perfect outdoor space for you to relax and the kids to play in. We've compiled the ideas and tips below to help make your dream a reality, no matter what size backyard you have.
Landscaping under trees
Sometimes is hard to come up with good ways to landscape under trees. With these ideas, you'll never have to worry.
Landscaping with shrubs
Shrubs offer vertical interest, privacy, and low-maintenance beauty. Check out these tips for how to incorporate bushes into your landscape.
Landscaping with flowers
Creative landscaping ideas
Still on the brainstorming step? These posts contain loads of landscaping inspiration to help spark your creativity and get started designing the perfect outdoor space.
Native plants by state
Would you like to create a lovely outdoor space that is not only beautiful but also fun to visit? A garden that invites people to come and sit on a nice day? A garden that has native plants in it that attract butterflies, birds, and hummingbirds?
Native plants help the environment by providing food and shelter for wildlife, reducing erosion, and improving overall air quality. Here are lists of native plants by state, so you can easily pick your state and see what to plant.
Invasive plants
As much as we love plants, there are some that we love to hate. Here are tips for effectively controlling invasive plants that threaten to take over your landscape.
Lawn decorations
Lawn decorations can add a touch of elegance or whimsy to a landscape. The clever ideas below offer ways to complement your plants with unique additions.
Landscaping accessories
Practical pieces of your landscape can be decorative, too! These posts contain suggestions for attractive accessories for your yard, as well as tips for choosing the perfect mower.
Landscaping books for inspiration and information
Encyclopedia of Landscape Design: Planning, Building, and Planting Your Perfect Outdoor Space
Gardentopia: Design Basics for Creating Beautiful Outdoor Spaces
Landscpaing for beginners
Landscaping with Stone
Walks, Patios & Walls – Design Ideas with Step-by-Step DIY Instructions
Landscaping for Privacy: Innovative Ways to Turn Your Outdoor Space into a Peaceful Retreat
Ideas for