Looking for some lovely flowers to add to your landscape? You've come to the right page! All plants add a unique touch of beauty to a garden, but those that blossom tend to grab the most attention. Here are 16 lovely flowers that start with L to beautify your yard.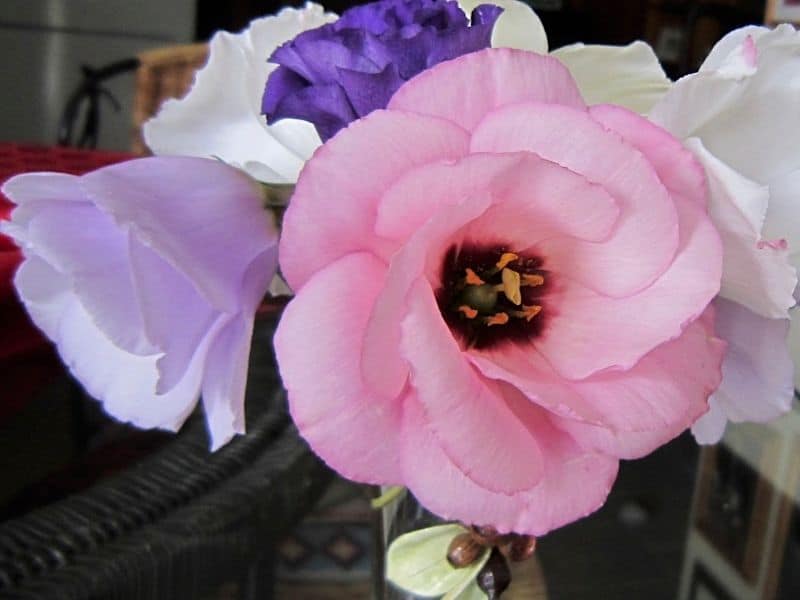 Annual Flowers that Start with L
1. Lantana (Lantana sp.)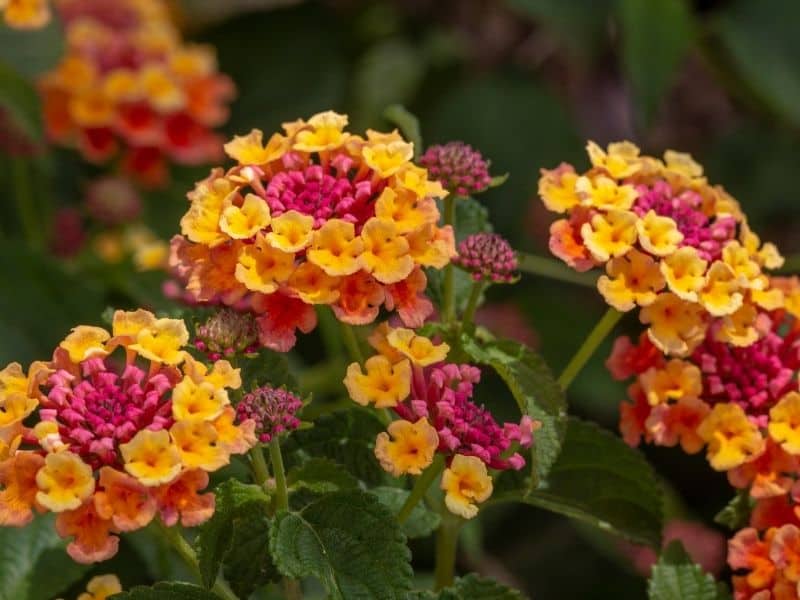 The bright, warm-hued blossoms of lantana contrast stunningly with its deep green foliage. Available in shades of red, orange, yellow, pink, and white, these eye-catching flowers add a bright burst of color to any garden or porch, and many varieties feature two tones. They also attract butterflies, bees, and hummingbirds!
These drought-tolerant plants are easy to grow in warm, dry locations with full sun. In warmer regions with mild winters, lantana will grow as a perennial shrub.
Related: Flowerpaedia: 1000 Flowers and their Meanings
2. Larkspur (Consolida ajacis)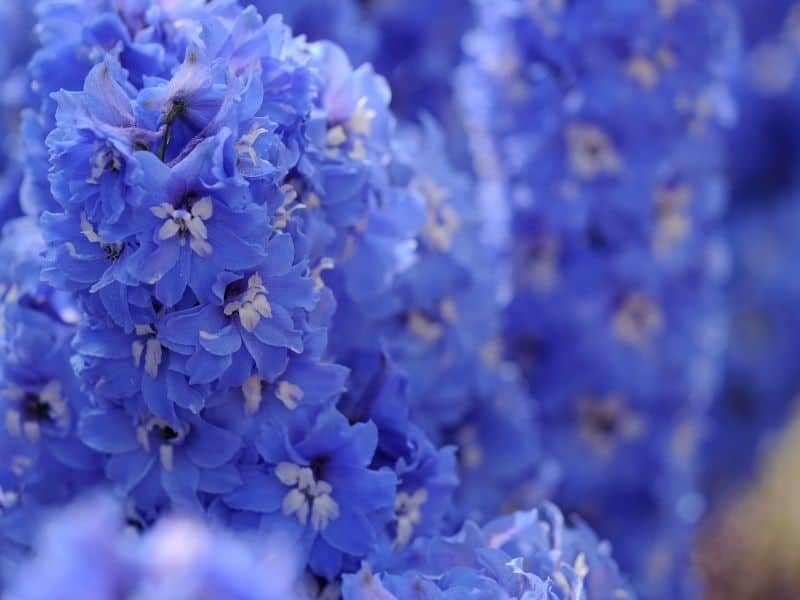 Growing in tall spires, the blue (and sometimes pink) blossoms of larkspur make great cut flowers. This popular cottage garden plant also readily reseeds to grace the garden with airy foliage and lovely shades of blue every spring and summer.
Plant larkspur in well-draining soil in full sun. Providing even moisture and deadheading will encourage bountiful blooms.
3. Lisianthus (Eustoma grandiflorum)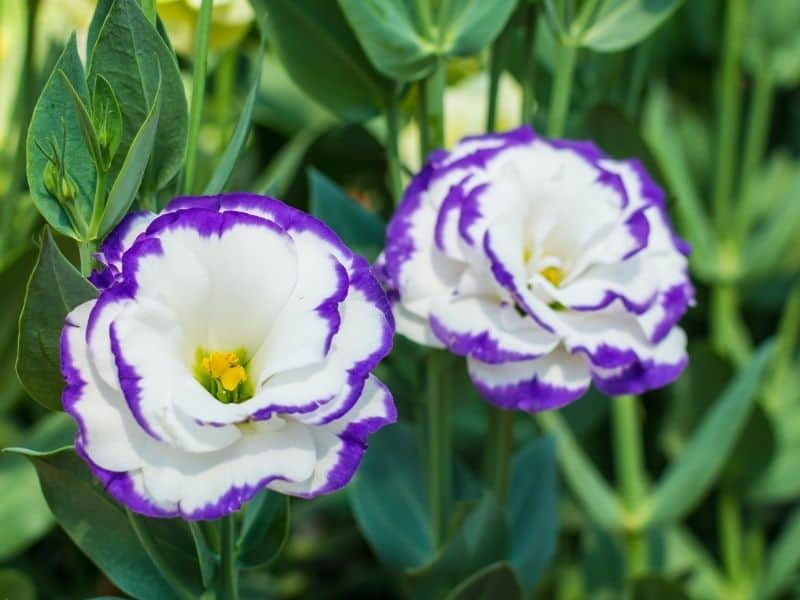 These elegant, roselike flowers are known to last as long as two weeks or more in a vase, making them the perfect addition to cutting gardens. The ruffled petals come in shades of white, pink, purple, and blue and in single or double form. Native to the western U.S., lisianthus has thick, waxy leaves to help withstand drought.
Lisianthus thrives in full sun, and many varieties, having been selected for long stems ideal for fresh bouquets, may require support.
4. Love-in-a-mist (Nigella damascena)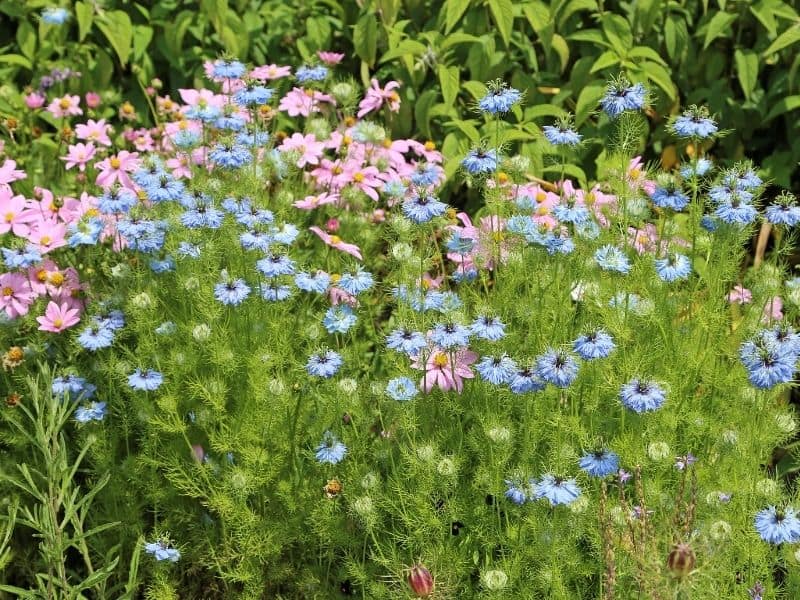 A wonderfully unique flower, love-in-a-mist offers more to look at the longer you study it.
Layers of blue or white petals wreath a swollen fruit with multiple curved "beaks," giving it the appearance of a whimsical fairy lantern or jester hat. Airy, lacelike, green bracts appear to support and frame the blossom.
The self-seeding plants work well in informal settings such as cottage gardens, and the seed pods add interest to dried arrangements.
Plant love-in-a-mist in full sun and well-draining soil. To reduce spreading, if desired, remove spent blossoms when the petals fall.
5. Love lies bleeding (Amaranthus caudatus)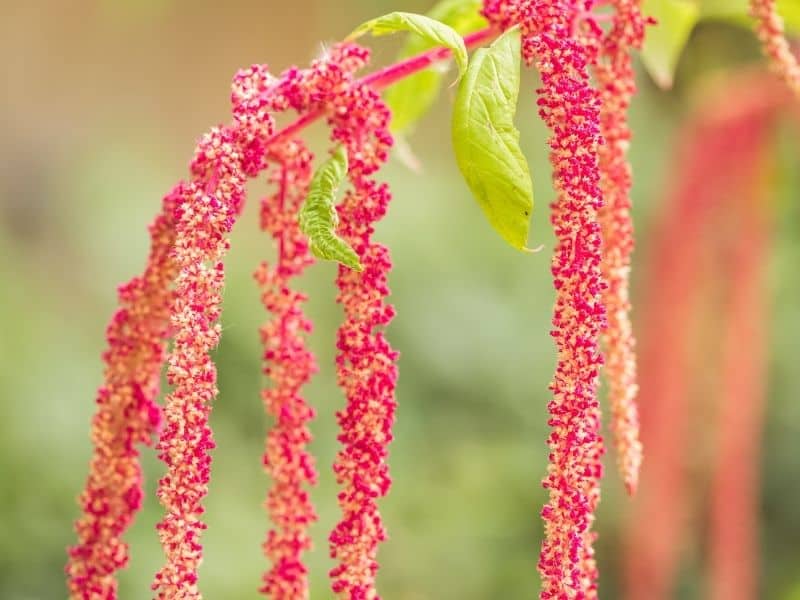 Also called tassel flower, love lies bleeding produces deep red, cascading panicles against attractive pale-green foliage. This ornamental species of amaranth can reach five feet tall and requires very little care once established. Not only does love lies bleeding tolerate drought, it actually blooms longer and more vibrantly in poor soil. Plant in full sun for the healthiest plants.
Take special care to remove the seed heads before the plant self sows, as amaranth can become invasive in some areas. Check with your local extension office for the status of amaranth in your region.
Perennial Flowers that Start with L
6. Lady's mantle (Alchemilla sp.)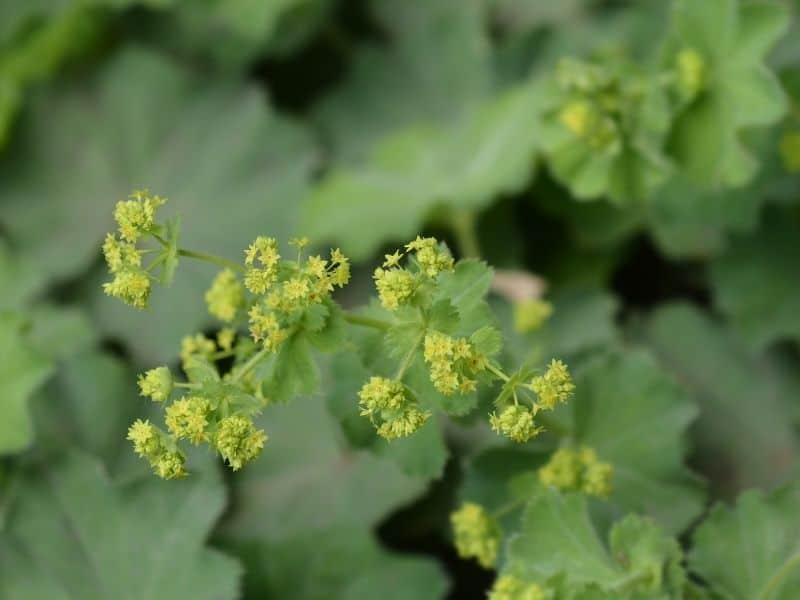 The fuzzy, cupped leaves of the lady's mantle sparkle with water droplets after rain, and its dainty yellow flowers float in airy clouds above the foliage until they grow too heavy and bend gracefully downward. Resembling yellow baby's breath, the flowers last several weeks in fresh bouquets and work equally well in dried arrangements.
This low-growing perennial thrives in full to part sun and slightly acidic or neutral soil but will tolerate a wide range of conditions. Aside from a bit of supplemental watering in excessive heat or full sun, a lady's mantle requires little care.
7. Lavender (Lavandula sp.)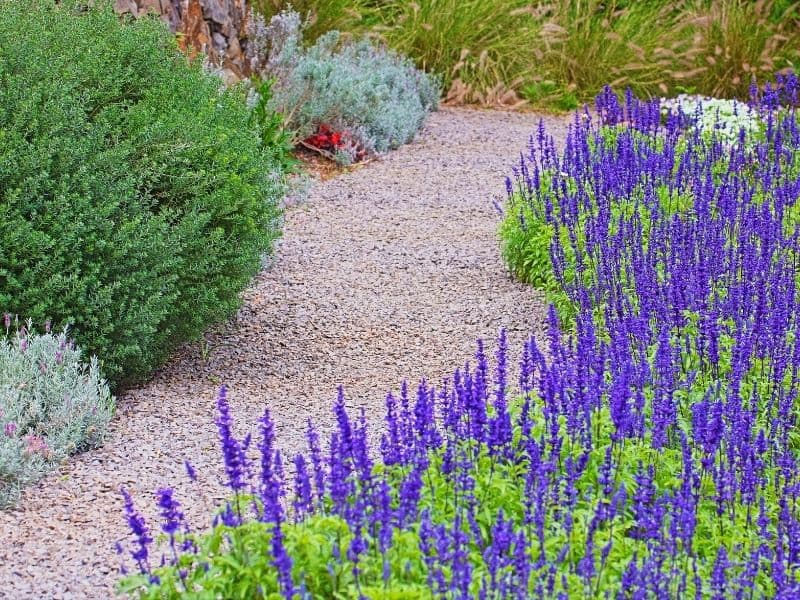 Ranging from white to deep purple, this fragrant herb delights nearly all the senses. It can even be used in tea, seasoning mixes, and desserts!
Plant lavender along walkways to enjoy the scent wafting up as you brush by, or enjoy its feathery, gray-green foliage and lovely bottle-brush flowers anywhere with full sun, including containers. Just make sure it has excellent drainage, as lavender will not tolerate wet soil.
8. Lenten rose (Helleborus x hybridus)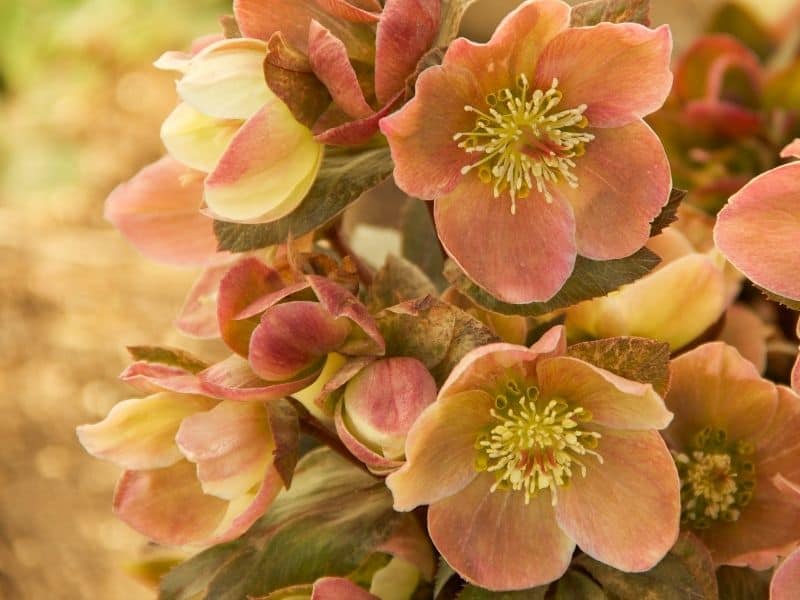 Named for its bloom time, Lenten rose flowers in late winter to early spring, its cup-shaped blossoms emerging to welcome spring even with snow still blanketing the ground. The showy sepals, often mistaken for petals, are commonly white or lavender, and the attractive evergreen foliage provides interest all year.
These long-lived, low-growing perennials thrive in shade gardens and tolerate drought once established. In fact, they require very little care overall.
9. Lewisia (Lewisia sp.)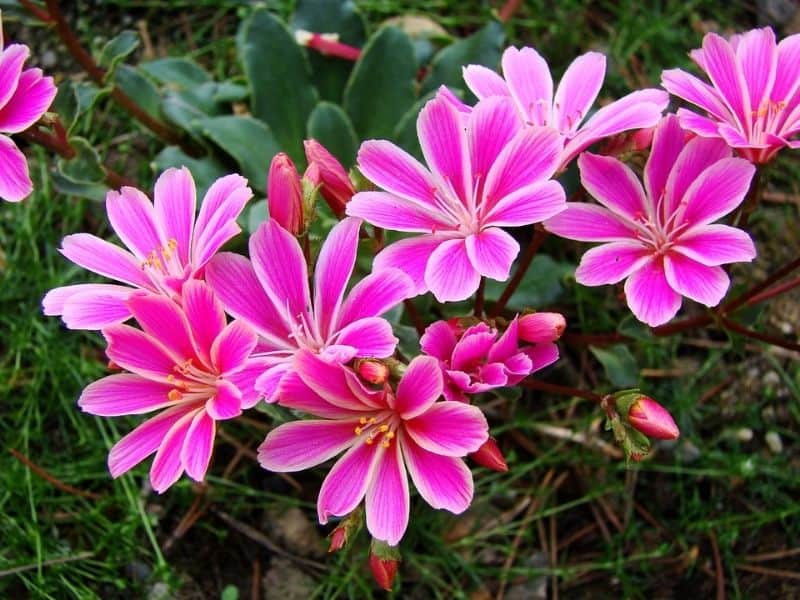 Native to the western U.S., this hardy, low-growing plant features attractive fleshy leaves and cup-shaped flowers with many petals in shades of pink, yellow, orange, red, or white.
Lewisia requires very little care and thrives even in poor, dry soil, making it an excellent addition to rock gardens, planters, alpine gardens, and the edges of gravel paths. Plant in full to part sun, depending on the variety, and provide with moderate water until established.
10. Lilac (Syringa sp.)
Known for their clusters of purple flowers and sweet fragrance, lilacs are popular shrubs in many gardens. And with sizes ranging from three-foot dwarf varieties to small trees, they fit almost anywhere. The bloom time and even color also vary, so you can plant several types for white, pink, purple, and blue blooms throughout the spring and summer.
Lilacs thrive in full sun and well-draining, evenly moist soil. Established plants tolerate drought, but excess moisture or shade can encourage powdery mildew.
11. Lily (Lilium sp.)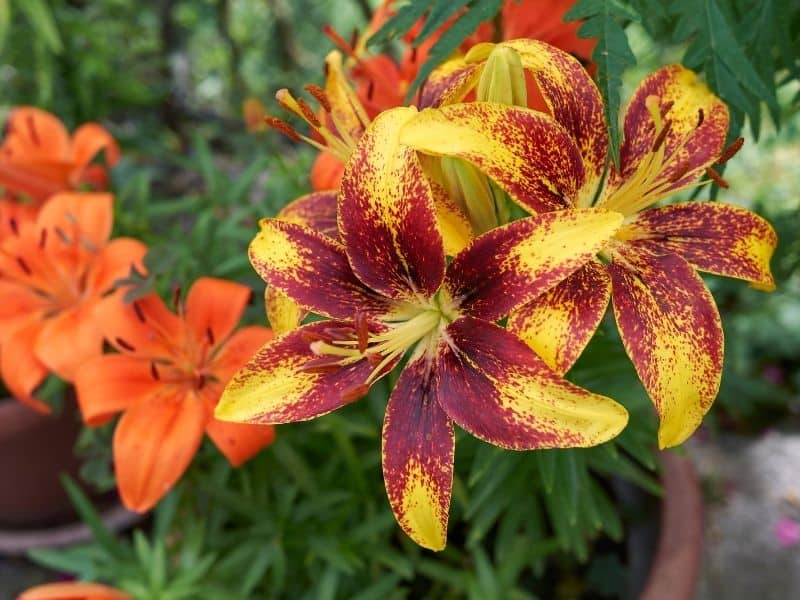 Both showy and fragrant, lilies bloom from early summer into fall in hues of white, pink, orange, and red. All lily petals form a star-shaped blossom, though some create a distinct cup while others curl outward.
Plant the bulbs in the fall in well-draining soil in a location that receives full to part sun. While established plants will tolerate drought, wet conditions can cause the bulbs to rot.
Learn more about planting Asiatic lilies.
12. Lily of the valley (Convallaria majalis)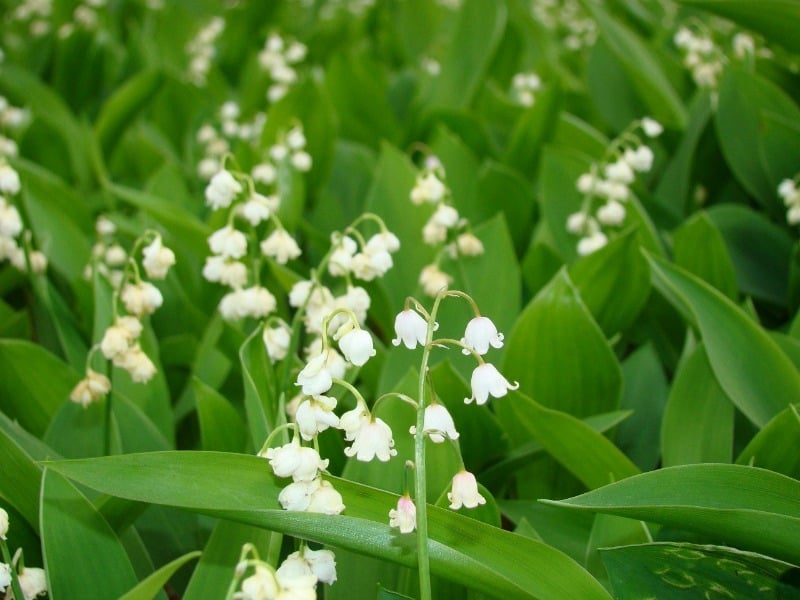 The tiny, pale, bell-shaped blossoms of lily of the valley dangling above their green tongues of foliage conjure images of dancing fairies. Though small, this plant gives off a surprisingly strong perfume and happily spreads to become an effective ground cover (but take care that it doesn't become too aggressive).
Plant lily of the valley in a shady area with moist soil, ideally in an enclosed space such as a raised bed or next to a sidewalk to keep it contained.
13. Liverwort (Hepatica sp.)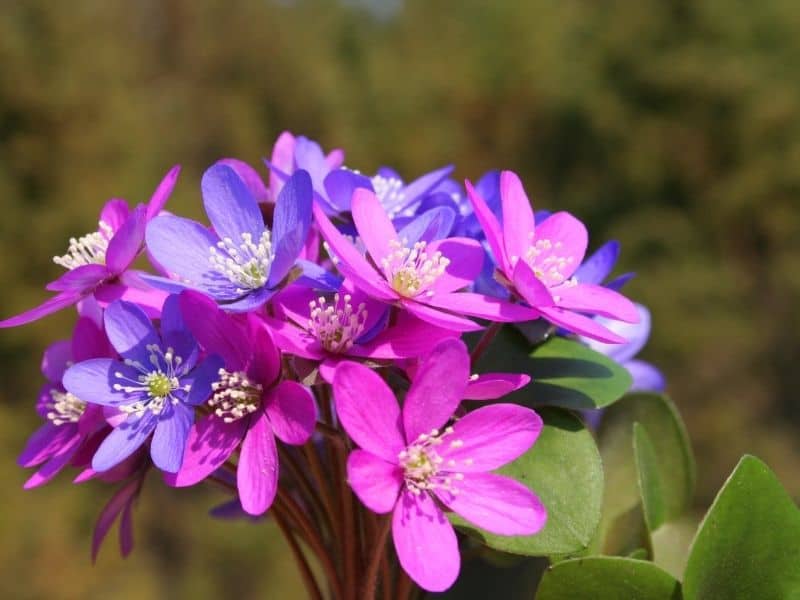 Also known by its genus name, hepatica, liverwort blooms in early spring with pretty little white, pink, or purple sepals arranged in a star shape around the stamens. The slender, upright stems spring up above three-lobed leaves that turn russet or purple in the fall and stick around until new growth appears after flowering in the spring. These little foot-high plants attract many pollinators but are also capable of self-pollinating.
A native to woodlands of the Northern Hemisphere, liverwort thrives in shady locations with rich soil, such as under trees or in a shade garden.
14. Lobelia (Lobelia sp.)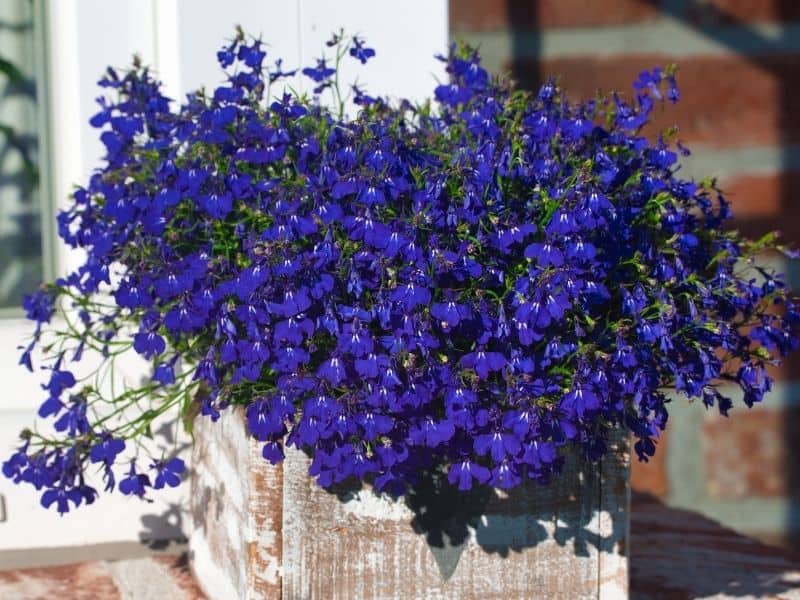 Moisture-loving lobelia is perfect for wet, boggy areas of the garden or the edges of ponds or streams. Featuring spikes of bright red, pink, white, or blue blossoms in the summer, this wildflower attracts hummingbirds and other pollinators.
When purchasing lobelia, make sure not to confuse the taller perennial types with the low-growing annual varieties. Plant in rich, moist to wet soil in a location that receives full to part sun.
15. Lotus (Nelumbo sp.)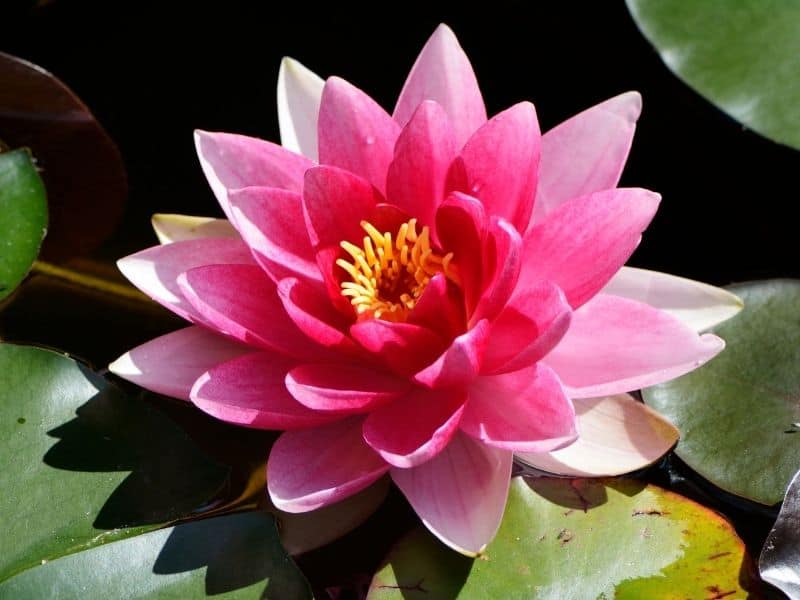 This stunning aquatic flower is surprisingly easy to grow. Although short-lived, the blossoms make the most of their limited time, opening as wide as 12 inches with layers of elegant pink to white petals. Large, ornamental seed pods follow, and the waxy, blue-green leaves can reach an impressive diameter of two to three feet.
Lotus tubers can be planted directly in the bottom of a pond or, to prevent aggressive spreading, in pots lowered into the water. Regardless, the plants prefer full sun and still water.
16. Lupine (Lupinus polyphyllus)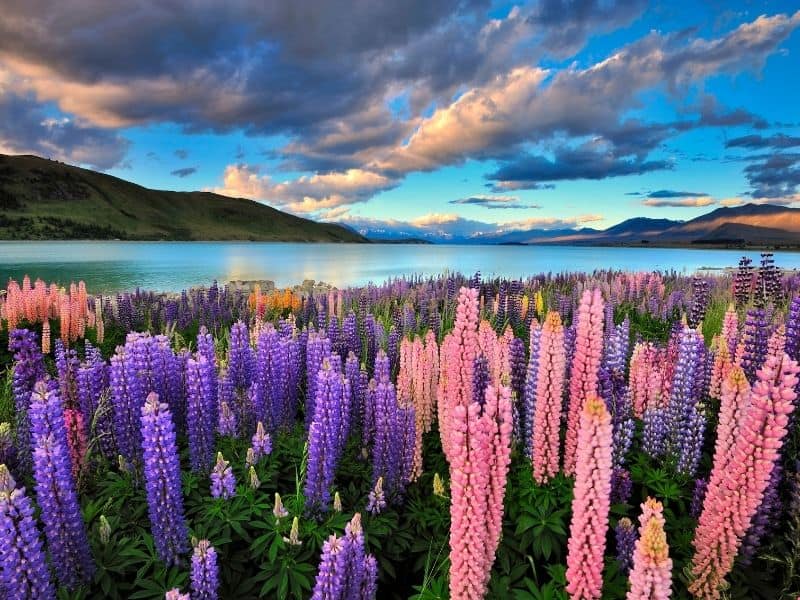 Lupine's dense, showy spires of blossoms tower above a backdrop of attractive, palm-like foliage. The flowers, which come in a variety of colors, can grow as high as four feet, making them an excellent choice for back borders, decorative fence lines, and cottage gardens.
Unfortunately, this short-lived perennial can be difficult to overwinter and thus is often grown as an annual. In ideal conditions, however, it will even self-sow. Ideal conditions include cool summers, full sun, and rich, well-draining soil. A bit of afternoon shade will help in warmer areas.
Whew! That was quite a list of flowers. So many lovely flowering plants begin with the letter L, there is sure to be something for every garden. And if you want more flowers by letter, check out our page about flowers from a to z.