Designing a good looking backyard can be expensive if you don't have a good plan. It can also end up looking different than you imagined. Today we'll look at how technology can help you create your dream landscape in the backyard. We'll look at the best landscape design app for all of your landscaping needs.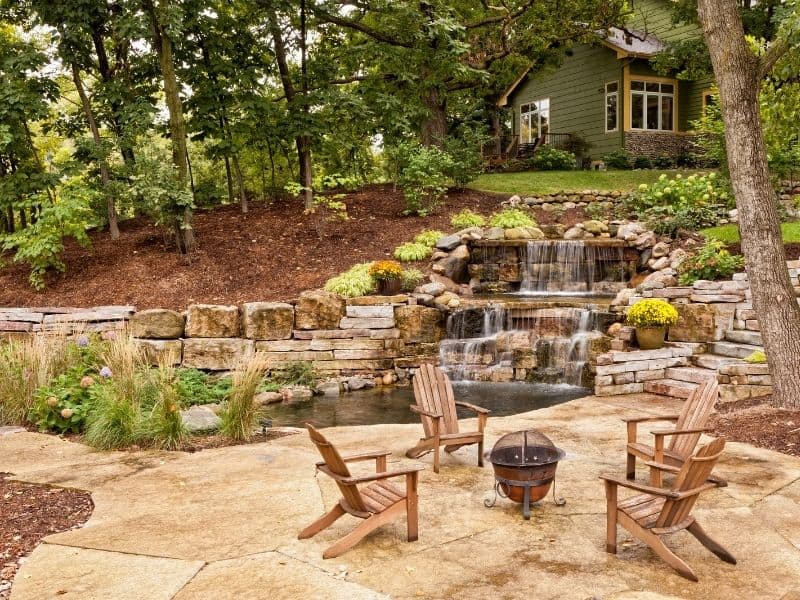 Will Landscape Design Software Be Too Complex for Me?
That's a great question. You might've seen the term landscape design app above and thought, "That's definitely not for me. I'm not very tech-savvy." What I found out is you don't need to know more than how to play games on your smartphone to use most of the design software I'm about to show you.
I'm all about simplicity when it comes to using technology. If I turn to software or a mobile application to help me plan a landscaping project, it had better not be difficult. Except where I indicate, all the applications and pieces of software we're about to look at are really easy to use.
Most of the landscape design apps and garden planners on this page are free to use. I'll also include a couple of options you have to buy, and recommend some landscape architecture apps in case you want to work like a pro.
Incidentally, you might be thinking that an app you download to your phone might not create the high-quality results you're looking for. I thought the same thing. Then I found that many professional landscapers use nothing more than the app on their phones to develop the most beautiful results.
A lot of people have smartphones (I bet you do too), so let's take a closer look at the ability of your powerful pocket computer to successfully landscape your yard.
Is It Okay to Use a Landscape Design App for a Smartphone?
These days the computers on our mobile phones are incredibly capable. Even though you might just use your phone to log in to Facebook and check your emails, it can do so much more. That's why landscaping professionals have no problem handling even the biggest jobs using a smartphone app.
I did some research and came across an eye-opening statistic. The American Society of Landscape Architects (ASLA) took a survey of its members and other landscape architects. They found out that 76% used a smartphone application for most or all of the analysis they performed on a site before they got started designing.
To me, that's just incredible. It tells me that if smartphone design apps are good enough for professional landscapers, they're going to be more than good enough for you and me.
Don't underestimate the power of the phone in your pocket or purse. It can help you design the outdoor look of your dreams using the software and apps we're about to discuss.
The Best Landscape Design Apps for The Average Homeowner
You and I are probably not planning the types of projects that professionals are dealing with. The typical homeowner doesn't need to have all the bells and whistles on a piece of software that a landscape architect insists upon. I know I don't. I want enough resources to help me handle any big problems that might arise, while also being able to design simple tasks. That's what the following apps can do for the average homeowner.
1. Garden designer
This iPhone/iPad app is really neat. Once you design a plan, you can place it on top of any photos you've taken of the area you're working on. This gives you a quick idea of whether what you have in mind is actually going to work. You get more than 600 different landscape objects and items in the image library.
You can easily resize fencing and paving, which helps you get the best functional and visual results. This is recommended for simple designs and small projects. It has a drag-and-drop capability which makes designing a quick and easy snap.
Be warned, Garden Designer only works on iPad 2 or newer versions. The publishers are coming out with an Android version, but it currently isn't available.
2. LawnStarter
This landscape design app works a little differently than some others. It connects you with lawn care professionals.
The planning you do provides access to instant quotes by lawn care companies in your area. This means you can always negotiate for the best price. Any gardening, lawn care maintenance, or landscaping project you have in mind can be scheduled and followed with the LawnStarter app.
This is a free app to download. It's compatible with both Android and iPhone tablets and smartphones. You can make payments through the software and communicate with your contractor in real-time.
LawnStarter also works if you only have access to a desktop or laptop computer: access it here.
3. PRO landscape home
iPhone owners that shop the Apple App Store are allowed to leave reviews for the software and applications they use. I mention that because PRO Landscape Home boasts one of the highest customer satisfaction ratings of all the landscape design apps in the Apple App Store.
It's so easy to use. You begin with a photo of your home, lawn, or garden. Then you add any plants or features to see how they'll look. What's really neat is that the application allows you to search for plants according to your climate zone. You can also easily scribble in mulch or grass and compare before and after pictures of your lawn.
The app makes it easy to share your ideas with professional landscapers and gardeners. It's free for both Android and Apple phones and tablets, and there is an upgraded version that costs $14.99. For most simple design projects, the free version is more than enough to handle the job.
4. iScape
Despite its name, this landscape design application is compatible with both Android and Apple smartphones and tablets. Download the app for free and you get to test drive it before you buy it. You can save and share images, use photos you have stored on your phone, and there are plenty of images in the iScape database.
There are versions of this app for homeowners like you and me, and for professionals as well. After checking out the free trial version, the app costs $9.99.
Sell your home faster by using a landscape design app to spruce up your backyard
Are you redoing your lawn because you are about to sell your home? If so, I definitely recommend using a landscaping app. It helps you organize your project. You don't have to count on just your memory. For this and other factors, you have a better chance of selling your home if you use a landscaping design app.
That's what Finances Online tells us. Aside from saving time and keeping you organized, you benefit from a 5.5% to 12.7% better selling rate than if you didn't let technology help you plan your landscaping project.
It means your home is more likely to sell than if you don't let one of the apps on this page do all the hard design work for you.
Maybe you don't want to redo your entire front and back yards. What if you just want to choose some plants and accessories to build a small garden? If that's the case, the applications below can do the job.
Garden Design Apps for Planning Any Garden
If you're totally refurbishing your lawn, you might need to add a patio. Maybe you want to build a massive outdoor cooking experience or a 20-foot waterfall. Most of us would wisely hire a professional landscape architect to help us in those situations.
But sometimes you only need to plot out a basic garden. You've been wanting to create a butterfly garden for years but just never got around to it.
Maybe you love the beauty and aromatic scent of roses.
A vegetable garden can feed your family. Just about any type of garden you're planning, will benefit from an app that is specifically made for that type of design. Here are a few you might want to consider.
5. Garden Plan Pro
This easy-to-use software gets you up and running in a hurry. The user interface is simple, and you can quickly lay out an herb garden or vegetable garden. No matter what type of garden you want to build, Garden Plan Pro allows you to plot out the design.
Its software includes tips for getting the most out of your garden. This includes smart crop rotation and local weather analysis. If you're unsure about the timing of your garden development, it includes the best and worst planting and harvesting dates for the most common plants.
6. Home Design 3-D Outdoor & Garden
Plotting out your landscape design ideas is easy with this app. You input the dimensions of your space and start building from that point.
The software tells you if what you're trying to do is possible given your available space. You can add a storage shed, plants, and furniture to your design and use the application for free. If you want to save your creations, you have to upgrade to the paid version.
7. My Soil
Have you had a problem growing the lawn of your dreams? The issue might be your soil. This landscape design app runs an analysis on your soil. Then it tells you which plants would work best in your yard. This can save lots of time and needless headaches while guaranteeing blooming success and a beautiful garden every time.
Totally Free Landscape Design Software Tools
In your search for the best landscape design app, money might be a factor. I don't like paying for something upfront if I can try it out for free at first. Even better is when I can use an application or software without ever spending a penny, no matter how many times I use it.
That's what the following landscape design applications give you – handy tools that help you map out your dream landscape for free. That's a price tag that fits any budget.
8. Sketch Free
This app will get the attention of artists and architects. It allows you to draw a free-hand sketch of what you're trying to design. The software allows for a paid upgrade, but the free version is very capable.
You can map out your ideas in two-dimensional or three-dimensional models. Since this app works with any web browser, you can use it on a desktop computer, laptop, mobile phone or tablet.
What many users have talked about was how easy and simple the software is to use. Sketch Free is good enough for gardening pros and landscaping architects, and also for homeowners with zero design experience.
9. Plan-a-Garden
If you're a fan of Better Homes & Gardens you might want to check out this app. It was created specifically for homeowners and other do-it-yourselfers rather than professional landscaping gurus. It's free to use, but you do have to register with your email address.
Unlike some of the best landscape design apps, the experience starts off with an introductory lesson. It walks you through the software. It shows you how to get started and explains everything you can do.
You start by choosing from stock images for a background that looks similar to your home or lawn. Then you drag and drop as you design, and the user interface is easy and intuitive.
10. The Showoff.com Visualizer
This software is only compatible with Windows operating systems. You upload a photo of the property you're going to work with. Then after you make as many changes as you like, you get a real-world idea of what your landscaping facelift is going to look like when you're done.
Since you're working with an actual photograph of your yard, it's easier for you to visualize what impact your landscaping ideas will have. You also get a large image library of plants, outdoor furniture, and other gardening accessories.
This is a really easy-to-use design tool for homeowners that want a realistic view of what their landscaping efforts are going to create.
The Best Landscape Design App Summary
The bottom line is this. Technology can help you create the landscape or garden of your dreams. No matter the size of the job you have in mind, there's an app or piece of software that can turn your dreams into reality. In many cases, you don't have to spend a penny to get the best landscape design app for your unique situation. That's a budget-friendly benefit everyone can appreciate.