When updating your landscape, don't forget about the pathways! An attractive walkway design can do wonders in improving the overall appearance of an outdoor space by adding visual interest or simply blending in smoothly with the rest of the landscape. Take a look at the garden path ideas below for inspiration and tips to beautify your outdoor space.
Garden Path Ideas
A garden path is more than just a space that enables you to move between garden beds. With carefully chosen materials and a tasteful design, a walkway can be both functional and beautiful. One of these walkway ideas might just be the perfect design element for your landscape.
Start by considering the purpose of the pathway: where do you walk most frequently, and what do you need access to? Perhaps you make a daily trek from the back door to the garden shed, or maybe you have a relaxing bench you'd like a meandering path to lead to. And of course, don't forget about the plants! Think about where you typically access garden beds for irrigation and other maintenance tasks.
Next, add aesthetics into the mix. Depending on the visual theme of your outdoor space, you might want straight, orderly, symmetrical lines, or more organic, wandering paths. What types of materials make up other landscaping features in the garden, and what path materials might complement them?
1. Stone garden path ideas
Stone can be used in myriad ways in the garden, and walkways are no exception. Lay down tightly-spaced flagstones with mortar or sand in the cracks, or spread them out to use as stepping stones either within or between beds. However close or far apart they are, stones can be interplanted with a hardy, low-growing ground cover to help soften the appearance of the path, provide weed suppression, and prevent erosion and runoff. A few plants that tolerate moderate to heavy foot traffic include the following:
brass buttons
blue star creeper
Labrador violet
miniature moneywort
spring cinquefoil
sedum
Irish moss
Alternatively, set stepping stones in the lawn, taking care to keep them level with the ground so they can be easily mowed over, or surround them with bark mulch or gravel.
2. Gravel garden path ideas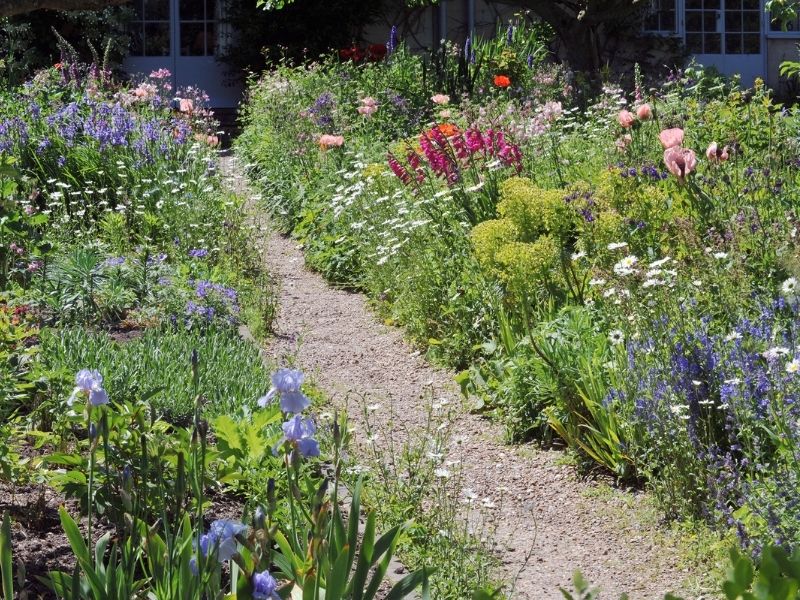 Whether on its own or in combination with stepping stones, gravel also makes an excellent pathway material, especially for desert landscapes. Good edging will keep the gravel contained: use rocks for a more natural look or pavers to keep things neat. Lay down landscape fabric before spreading the gravel for a weed-free, low-maintenance path.
3. Mulch garden path ideas
Perfect for a woodland garden, mulch, like gravel, should be paired with landscape fabric and edging for a beautiful, mess-free walkway. Use wood chips, bark mulch, or even cocoa bean shells.
Although mulch tends to be cheaper than other options, note that it does need to be replenished about every two years, or as it breaks down. If you use the same mulch for your paths and garden beds, you can even do without edging for a more organic appearance.
4. Brick garden path ideas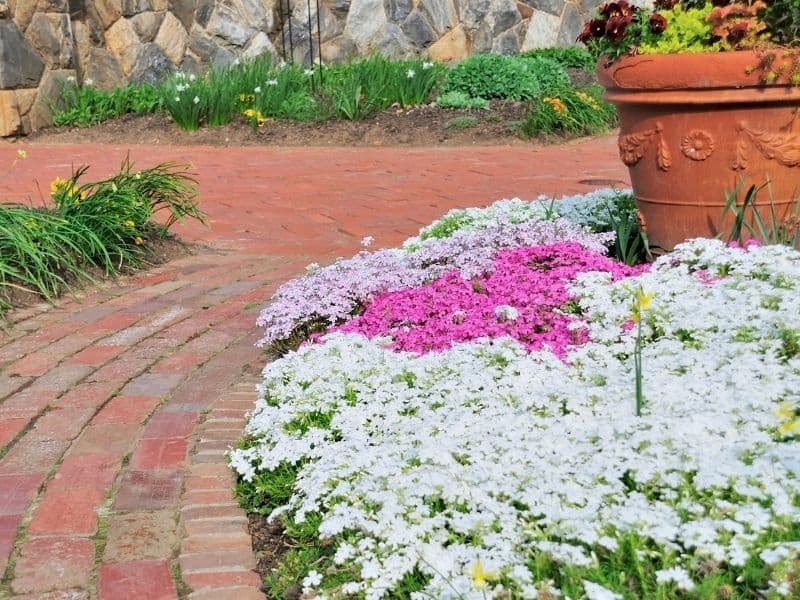 Red bricks are a more traditional option for garden paths, lending an older, classic feel to the space. Like flagstones, they are durable and easy to maintain, but with the added bonus of having a uniform size and shape for easier installation.
Use different colored bricks or pavers if you like the idea of brick but not the deep red color. Or try laying the brick with uneven edges and planting cover crops along the sides for something a bit more unique.
A herringbone pattern also adds beautiful texture to a brick walkway, whether edged with a straight row of bricks or left rustically jagged.
5. Wood garden path ideas
One often-overlooked yet beautiful option for walkway material is wood. Create a boardwalk-like path or nestle short planks in mulch or gravel-like stepping stones. You can even purchase premade roll-out wooden garden paths, though you may be a bit more limited in design with this option. One downside to wood is that it breaks down over time, but treating it can extend its lifespan. Try a natural option like linseed oil to avoid leaching chemicals into your garden.
6. Garden path edging ideas
Walkway edging adds a clean look to pathways and helps keep path materials like gravel in and soil and mulch from the garden bed out. Plastic landscape edging is cheap, easy to install, and rather unobtrusive.
A sturdier option, steel, or aluminum edging offers similar benefits but tends to be more expensive and less forgiving on slopes. Alternatively, brick, concrete, or stone contribute more to the appearance of the path while still being functional.
7. Shade garden path ideas
A shade or woodland garden often has a more natural feel, so choose a path design that fits this theme. A winding path will suggest a forest stream or hiking trail and feel more organic.
Lay down flagstones with Irish moss or another ground cover planted between and around them, or use dark wood chips to contrast with the greenery and mimic a forest floor. Stone or wood edging offers attractive natural options for containing the mulch.
8. Front garden path ideas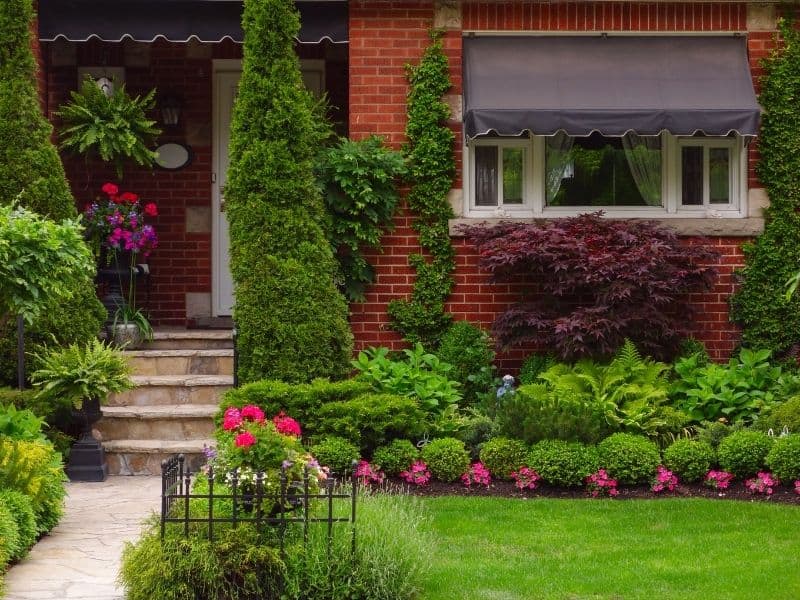 A front path design needs to take the house into consideration as well as the garden. It should both complement the architecture and blend with the landscaping. A straight path will help frame the entrance to the home, whereas a gently curved walkway will draw more focus to the garden. Either way, it should provide a direct route to the front door, save the meandering style for the backyard.
When considering materials, think about how the front path will be used in addition to its appearance. If it sees daily foot traffic, choose something durable and smooth like flagstones, pavers, or cement.
If you tend to use the back door, and the front path serves only as a guest entrance, you might focus your decision more on aesthetics. You can also combine designs, such as a wide concrete walkway leading straight to the door with stepping stones curving toward it from the side.
Add staggered path lighting for safety and a welcoming appearance in the evening.
9. Small garden path ideas
Pavers and stepping stones work especially well in small gardens. Try setting square cement pavers in river rock for a contemporary yet natural feel, or simply leave extra space between plants where you want a walkway and place stepping stones directly in the mulch.
If a patio features prominently in your small outdoor space, using the same or similar material as the patio for the garden path will help everything feel more cohesive.
Surround raised garden beds with gravel (remember to lay down landscaping fabric first!) for a low-maintenance backyard; stepping stones or pavers can be placed where you most often walk or to add symmetry.
10. Rustic garden path ideas
Wood and natural stone come first to mind when thinking of rustic garden path ideas. Place flagstones in an irregular pattern, either tightly or loosely spaced, with a natural rather than straight edge.
Rough wood planks can be used alone or in combination with river rock, or try interspersing old brick with mosaic stone tiles and ground cover. Regardless of the chosen material, avoid making the path too straight: curves and irregular edges tend to feel more rustic.
11. Simple garden path ideas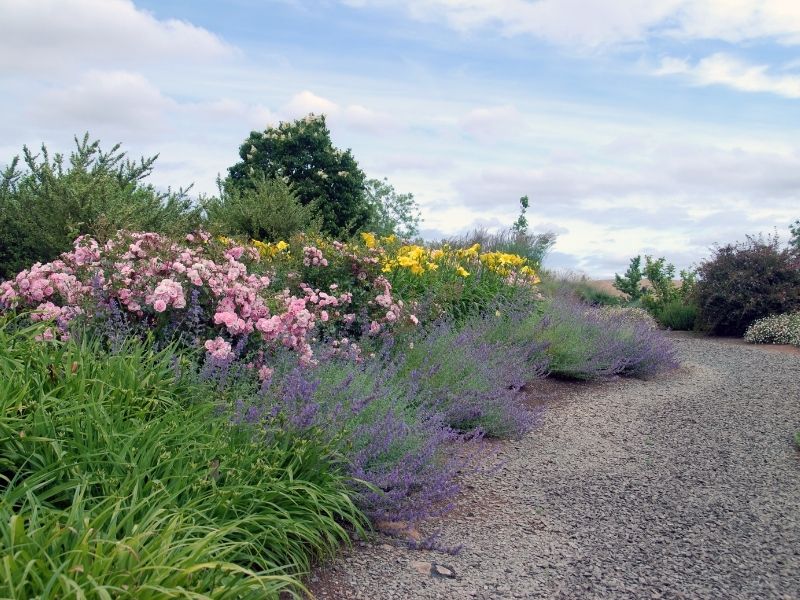 Mulch and gravel pathways are the easiest to install, requiring only two steps: lay down landscape fabric and spread the mulch or gravel. Of course, edging adds a third step, but plastic landscape edging is also easy to put in.
Although a bit more expensive, composite wood tiles offer a simple option for both patios and walkways, taking little effort to install and maintain. These are great for smaller spaces or if you want your patio and walkway to match.
And few things are easier than setting down a few stepping stones. Place them in existing mulch, lay them in the lawn (this takes a bit of digging, to ensure they remain flat), or use them to accent a mulch or gravel pathway.
12. Affordable garden path ideas
In addition to being easy to install, mulch and gravel are also inexpensive garden path ideas, especially when purchased in bulk rather than by the bag. The public works department, local tree trimming services, or even a neighbor might have a pile of wood chips free for the hauling: just make sure it's disease-free before introducing it to your garden.
For edging, use plastic landscape edging, concrete edging, or reclaimed brick. Although brick can be expensive when purchased new, you might be able to find someone with an unused pile in their backyard through an online bulletin board like Craigslist.
Online bulletin boards are also great places to look for wood chips, pavers, stone, or pallets for use in DIY garden paths. Although perhaps not the first thing that comes to mind when thinking of cheap garden path ideas, pallets can be dismantled and their wood used for a boardwalk-style pathway. Remember to look for heat-treated pallets (stamped with an "HT") rather than chemically treated pallets.
Take the next step
From materials to the overall design, I hope these walkway ideas help you take the next step in re-imagining the space between your garden beds. Which path will you choose?