When money is tight, landscaping may not be your top priority. Plants, mulch, materials, and landscaping services can add up to astronomical costs, making a beautiful yard seem out of reach. But a plethora of thrifty landscaping ideas exists that will give your humble garden curb appeal.
Thrifty Landscaping Ideas
Saving money often means getting a little creative, so have fun with this! Choose a style for your garden, but keep an open mind about how and with what you might create it. Be realistic about your goals in terms of time commitment too. Walk around your yard and make a list of all the things you want to accomplish.
Once you've gotten everything on paper, number each item according to priority, then consider the time and materials required for each one. Based on these factors, decide what should get done now and what can wait until later. Here are a few ideas for how to check off the items on your list without spending a fortune.
Look for free and low-cost items and services
As you prepare to update your outdoor space, keep an eye out for free and cheap materials, plants, and services in your area. Community bulletin boards, whether literal or online, are great places to look. In addition to obvious landscaping items like plants, tools, wood, rock, and pavers, consider things that can be upcycled, like broken cement or old tires.
1. Freecycle your way to a great garden
On the Freecycle Network, a grassroots nonprofit movement to keep usable stuff out of landfills, you can join groups in your area to find free items or post things you want to give away. Just type in your town or zip code on the website to find local groups to join for free. If your town doesn't pop up, try searching your county or the closest city.
You can browse the items offered or, if you're looking for something specific, create a post requesting what you need. Some areas even have specific plant-trading or gardening Freecycle groups. Other online places to find landscaping materials and plants include Craigslist and Facebook Marketplace.
2. Seek out free plants and landscaping services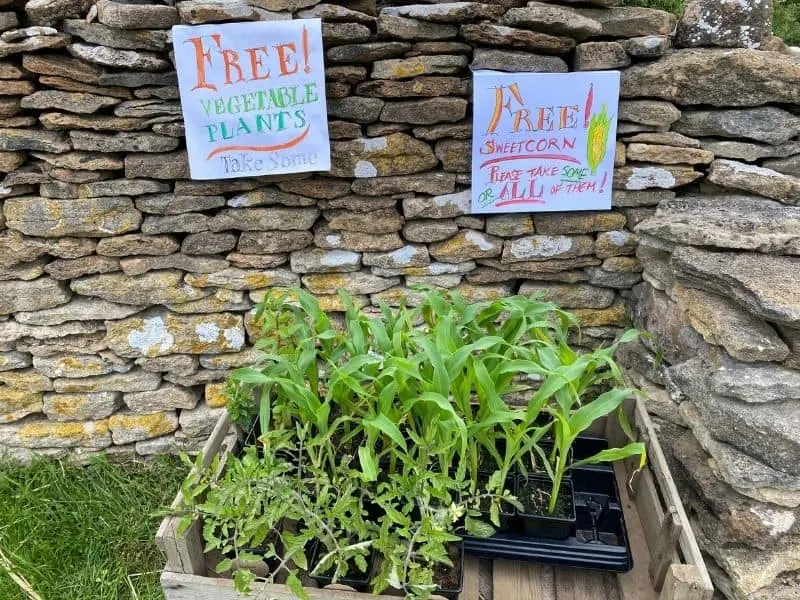 Many areas host plant swaps in the spring – and sometimes in the fall as well. These are great places to find free plants and even gardening tools, though it is common courtesy, if not a requirement, to take no more than you bring.
Check the rules of the plant swap(s) you want to attend, then clean out your garden and shed to find extra (though still viable) seeds, bulbs, planters, and tools, as well as plants that can be divided and houseplants you no longer want.
Family, friends, and neighbors can also be great sources of free plants. Don't be afraid to ask if they have any that they'd be willing to divide or give you cuttings of. Chances are, they'll be more than happy to share, especially if you offer to do the digging or cutting!
For landscaping services, try contacting landscaping businesses that are just starting out. They may be willing to provide free or discounted services in exchange for placing a sign in your front yard.
For projects that require many hands but not much expertise, ask friends or family if they'd be interested in swapping labor. Have them spend a weekend or two in your yard, then return the favor at their place.
3. Browse thrift stores and yard sales
As with Freecycle and online marketplaces, you can find some great things at thrift stores and yard sales for just a couple of bucks. Look for gardening tools, planters, stepping stones, garden statues, and patio furniture.
Remember that many things can be improved with a fresh coat of paint. In addition, Habitat for Humanity ReStores sell used building materials and furniture to support their mission to build affordable housing.
4. Shop at the end of the season
Take advantage of end-of-season sales at local greenhouses, nurseries, and garden centers. Although the available selection won't be as wide as in the spring, you'll likely find significantly lower prices. In fact, when I recently visited a friend's greenhouse before it closed for the summer, she actually gave me all the plants I picked out at no charge just to get rid of them. You might also find discounted tools, compost, garden accents, and other landscaping items toward the end of the growing season.
Work with what you have
Before you go searching for more stuff, consider what you already have that you might be able to repurpose, restore, or rearrange.
5. Divide or move existing plants
Plants like hostas that spread and clump can be divided and spread out over multiple beds for a fuller, tidier appearance. Similarly, when your bulbs bloom, mark locations where they have become more crowded so you remember where they are and can divide them when the foliage dies back.
If you like the perennials in your garden but maybe not their current locations, remember that just about any hardy plant that's small enough to be lifted by one or two people can be relocated fairly easily. Those that you just don't like at all can be potted up and traded at a plant swap.
6. Bring new life to tired structures
Does your old fence make you cringe, or is that faded picnic table an eyesore? Consider whether sturdy but unattractive wooden structures and garden accents might just need a bit of sanding and new paint or stain. If you have an artist in your household, maybe they would enjoy painting a mural on the shed to add a colorful boost to the backyard. Old metal items can also be cleaned of rust and painted.
Rethink structures and accents in your yard that might be repurposed into something else, like a crumbling wall that could be given new life as a mosaic garden path or old fence boards that could frame a raised garden bed.
Learn from others
In addition to tangible resources, helpful landscaping information and ideas can also be found for free in many different places.
7. Seek good advice from your local garden club
Local garden clubs and horticultural societies often offer plant sales as well as excellent ideas. These groups of plant lovers typically meet monthly to discuss plants, pests, and soils, and they sometimes have guest speakers at these meetings. Look up garden clubs in your area to contact and maybe even join. Some day you might be the one giving advice!
8. Learn smart landscaping hacks from fellow frugal gardeners
Ask friends and neighbors whose yards you admire how they created their outdoor oasis. Which plants do they recommend, and where did they get them? What are their favorite frugal hacks? How did they make those clever DIY planters?
Fellow garden enthusiasts often enjoy talking about gardening, and they might even be willing to let you dig up a few plants that they have an abundance of (see "Seek out free plants," above). If you don't know your neighbors, complimenting their flower beds can be a great icebreaker.
9. Contact your local extension office for regional tips
Look up your local extension website for a wealth of regional gardening advice, such as which plants grow well in your area and how to deal with common pests and diseases. If you can't find certain answers online, call your extension agent and ask them.
Additionally, the master gardener program is a volunteer-run national extension program that trains gardening enthusiasts to answer questions and give advice about gardening, making this another great resource.
10. Visit the library for inspiration, information, and even tools
The library is one of my favorite public resources. Browse the gardening section in your local library or do a system-wide search on the online catalog for gardening books that might help you accomplish your landscaping dreams. Most libraries also have a magazine rack, where you might find inspiration among home and gardening publications.
Check whether your community has a tool library, as well, where you can borrow tools that you need for certain DIY projects but don't necessarily want to buy. Tool libraries are often connected to the public library system, a church, or a community garden, and they're a great resource for items you only need once or infrequently.
Frugal landscaping plant selection ideas
Now that you know where and how to find plants, which kinds should you choose? Here are a few tips for picking plants that will provide the most value in your garden.
Perennials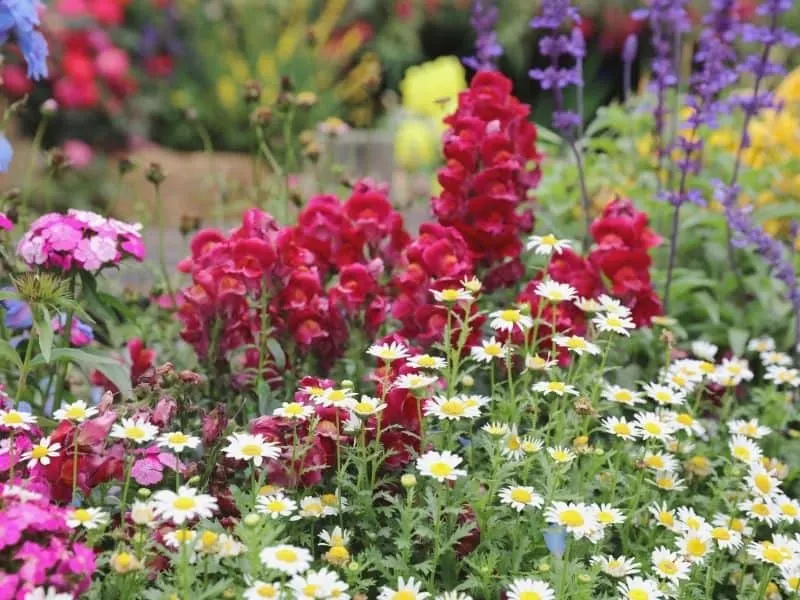 Although more expensive in the short term (when considered at full price), perennials will last years, while annuals have to be replaced every season. As an added bonus, plants native to your region will be hardier, requiring less watering and resisting local pests and diseases, which in turn saves you more money on maintenance. Ground covers reduce the need for mulch and will suppress weeds as they spread to fill the bed.
Fruits and veggies
Plant a thriving edible garden that serves two purposes as a food source and an attractive outdoor space. Fruit trees can offer shade, and berry bushes replace ornamental shrubs. For low-maintenance vegetable gardening, grow your favorite seasonal vegetables in attractive raised beds, and plant perennials like rhubarb, bunching onions, or sorrel among your flower beds.
Herbs
As with fruits and vegetables, herbs are both beautiful and edible. Many varieties will overwinter or reseed themselves every year, reducing the need to purchase new plants. You can also often start new plants from established ones by taking cuttings. Distribute herbs among ornamentals or vegetables, or plant an eye-catching yet practical herb spiral. In warmer climates, some people even grow beautiful rosemary hedges.
Start from seed
Many plants, like vegetables, some herbs, and wildflowers, can be easily grown from seed, which is significantly cheaper than seedlings purchased from a nursery. Many seeds can be sown directly outdoors, while others do best when started inside and transplanted out. All you need is potting soil, a warm spot, and a fluorescent fixture from the hardware store (and a way to suspend the fixture a few inches above the seed trays/pots).
Use plastic six-packs leftover from previous years' plants, or even toilet paper tubes or DIY folded newspaper pots if you don't have seed trays.
Whether you hope to add a colorful boost to your backyard or increase curb appeal, I hope these cheap landscaping ideas have given you a spark of inspiration and the motivation you need to get started. Have fun searching for hidden treasures, and enjoy the creative process of thrifty landscaping!