Just got a new home with an above-ground pool? Or, perhaps, you are thinking of adding one to your backyard? Having a pool in the backyard can be like having a favorite vacation spot at your fingertips. Enhance this relaxing oasis with these fun landscaping ideas around an above ground pool.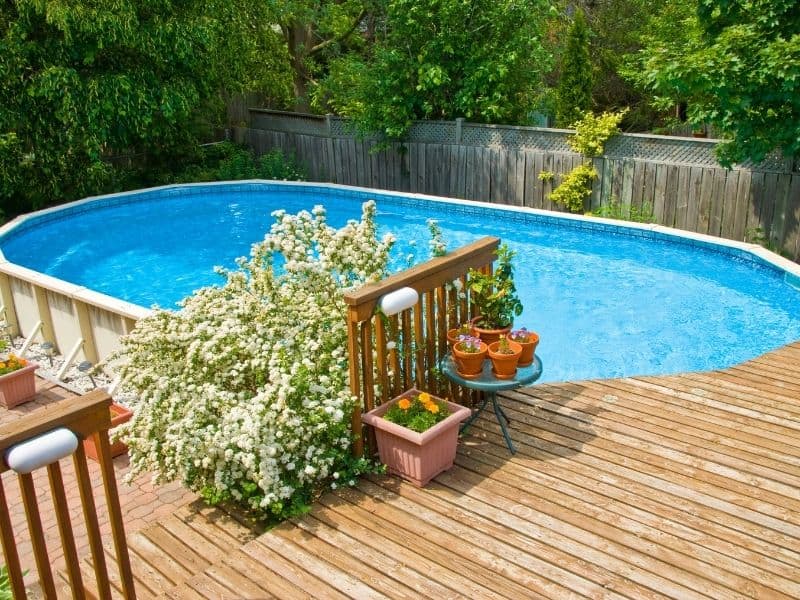 Whether you decide to maintain your pool as a standalone or enhance it with a brick patio or wooden deck, the possibilities are endless.
Landscaping Ideas Around An Above Ground Pool
Add a wooden deck next to the pool
You can never go wrong with a wooden deck when exploring landscaping ideas around above ground pool.
I must say, I sometimes feel above-ground pools don't get enough love for having the ability to stand alone and still shine. Typically, the most stunning of those you see are surrounded by a wooden deck.
Here are some of the benefits of having a wooden deck around your pool:
the pool deck is the best way to enhance the pool design and allow for sunbathing once you add some seating. It gives a natural look and does a fantastic job of emulating the consistent flow of an inground pool in many cases.
you can add a hot tub on the deck to solidify a water oasis right there in your backyard.
a pool deck is a creative idea for easy access to the pool
having a large deck (a small deck can work too with a bit of creativity) around your pool is a good idea: it allows you to add a focal point (either a snack area or a floral spot), add a few chairs and an umbrella to escape from the hot sun if needed, etc.
Don't have a deck or not wanting to build one just yet? No worries, here are some other ways to enhance your pool design.
Add some ornamental grasses to the landscape
A yard filled with healthy grass falls among the ultimate adult life achievements. Imagine your backyard, healthy and green, around and beneath your above-ground pool. How exactly can I make my pool area better, you wonder?
Ground covers.
I have ground covers in my flower beds. They are great for filling in the gaps. So, naturally, this would be a perfect way to go with upgrading the landscaping around your pool.
Mondo grass
Sometimes referred to as monkey grass, mondo grass can be a great addition to serve as a border around your pool. It's not actually a grass but has no problem playing the role.
This versatile grass-like plant is a perennial that can flourish in any soil. It can serve as a ground cover or standalone. While it requires attentiveness in the establishment stages, once it's going, it is pretty self-sufficient, outside of occasional de-clumping.
Mexican feather grass
This is one of my favorites when landscaping around your above-ground pool. While it can work well as an accent in the flower beds around your pool, the perfect place for these grasses would be along the pathway leading to the pool itself. They can be planted straight into the ground or potted.
Plant some flowers for a pop of color
Getting some vibrant color around your pool does not have to be restricted to the flower beds alone. Expand your reach with potted plants and a privacy trellis. Both allow for a pop of colors independently or collectively, making for a vibrant view and scenery around your pool.
Some of the best flowers to consider for potted plants are:
Some of the best plants for a privacy trellis, or flower wall, as I like to call them, are:
Jasmine
Climbing Hydrangeas
For more of an experience of the seaside scenery, scale back on your flowers and capitalize on the greenery and subtle plants that make you feel like you are experiencing an oasis off the coast.
Add some shrubs
Shrubs can have a dual purpose, creating privacy while beautifying your pool area. There are so many beautiful shrubs you can add! Here are a few of my favorites, by color:
butterfly bushes (these come in lots of different colors and not only look good, but they also smell great! )
Create a succulent garden
Succulents are low maintenance and add a lot of interest. They'll thrive in sandy soil, and require very little of your attention.
Create a brick/stone pathway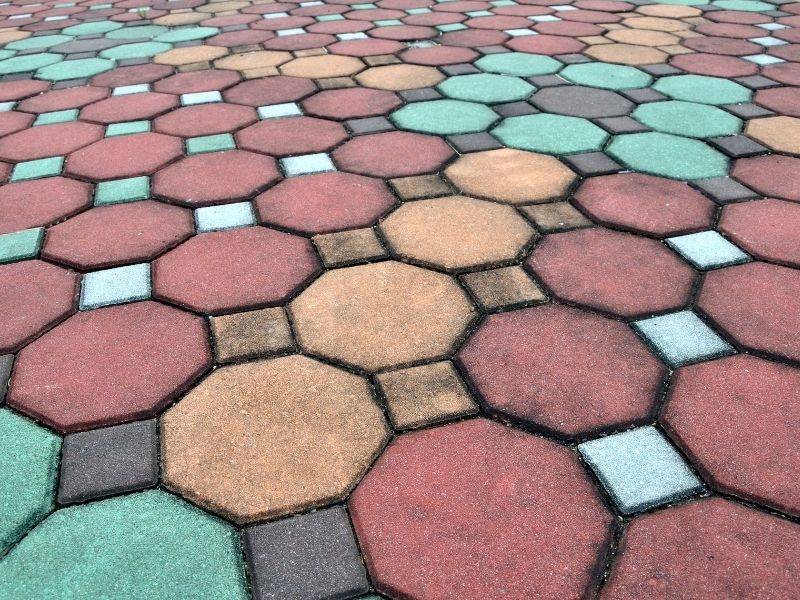 Whether you are deciding to go for the perfectly manicured brick walkway or one that is a little more spontaneously spaced, just have fun with it!
Natural stone pavers are available in different shapes and sizes. From a tiny pebble to dazzling gravel, to large, flat cobblestones or even some smooth river rock, the aesthetic enhancement that a walkway will add to your pool landscaping is endless. And creating a cool walkway is so much fun, and if surrounded by the ri9ght plants, it will give the experience of seaside scenery!
I love the above example of a walkway made from colorful pavers. What a fun mixture of colors: from earthy to turquoise blue, reminiscent of sand and water!
Maybe you would prefer to ditch the plant border and add a pool wall instead, keeping a more private pool space but opting for a more masonry look. If you are wanting to be really fancy, add in a water feature.
Add palm trees for a tropical feel
If you live in an area where palm trees survive, it's definitely a nice touch for the landscape. Add a fruity drink, and immediately you are whisked away to somewhere much more tropical than where you started. If not, that probably means that palm trees were already indigenous to the location.
Whether it's adding palm trees along your pool wall, around your sundeck, or simply as a standalone in small spaces, you'll love this addition.
Complement the base of standalone palm trees with decorative rocks for an attractive rock garden or other plant life.
Build a privacy fence
If you want to enjoy your time by the pool, you may want to invest in a privacy fence. Of course, you don't necessarily need to put up a wooden or stone fence. Trees and large shrubs will give you shade and provide an element of privacy around your pool area: just choose trees that won't drop a lot of leaves, because you don't want your entire yard and pool filled with fallen leaves.
Consider adding one or two of these privacy plants to your space.
bamboo (careful though, as it can be invasive in many areas)
boxwood are a popular choice because of the ease of caring for them
evergreen trees like cypress
Let there be light, especially around your pool
Nighttime swimming can be so refreshing after a hot day! The summer heat will leave the pool water at the perfect temperature to make your skin appreciate the balance of hot and cold.
For a better experience on your nighttime swim, add some pool lights (these submersible lights are great!). Of course, adding lighting to your pool is not restricted to inside the pool, but it can also be added to your pool landscaping. Here are a few ways to add lighting to your pool area:
String lights

String lights are probably the one trend that will never lose their place. They are perfect for creating a contemporary look and versatile enough to transform your yard into a beautiful outdoor space.
For safety reasons, be sure to do thorough research on the best string lights for your needs. Although I would not recommend string lights around your actual pool, they are sure to create a warming and relaxing atmosphere when added to surrounding structures.
Add strings of lights to your privacy walls, large or small decks, and even around or attached to any gazebo-like structures that may be in your yard or near your pool area.
Light posts
Add a light post(or two) somewhere in the pool area: it will make for easier access to the pool in the evening, make the area safer, and add a bit of character to your landscape. Here are just a few examples of light pole accessories.
Outdoor Post Lamp with Clear Glass Shade for Garden Patio Pathway
Waterproof Pole Lantern Light Fixture
Outdoor Post Lantern for Patio, Garden, Porch, and Backyard
Include a few outdoor furniture pieces
Outdoor Furniture for Pool Area, Foldable Lounge Chairs
Outdoor Hanging Curved Steel Chaise Lounge Chair Swing
Conversation Lounge Set with Grey Cushions and Glass Side Table
You've spruced up the landscaping, explored your lighting options, and may have already decided that you are going to ad a deck or a gravel area for pool chairs.
So, now you need a few pieces of outdoor furniture that will be the perfect way to feel the breeze and relax by the pool. If you want to go all out, add a few entertainment pieces such as a snack and cold drinks area, and a hammock.
Color palettes for your above ground pool decor

When designing your landscape for the pool area, don't forget the color palette.
Neutral colors are always a successful route. They are flawless, and naturally, match. Yet, don't be afraid to go bold with the bright colors that remind you of summer. You don't have to stick to the mauve-colored umbrella. If you prefer the Fuschia one next to it, go for it.
Yes, the color is in, and it will work well with your big bright blue beach ball!
Conclusion for above ground pools landscaping ideas
Pools are the epitome of summer. If you're not traveling to a space that allows you to immerse yourself in one, you are probably surfing the web for the best cost-efficient above-ground pool to plug into your backyard.
Exploring the best landscaping ideas for around above-ground pools is important, as pool shapes and sizes available on the market can vary. I hope you found some exciting ideas to use in landscaping around your pool.