Every homeowner and garden lover wants to have that luscious, green lawn in front of their home. But as the warmer months come by, and pressure on households to reduce water consumption grows, lawn drought can become an issue. Your pride and joy can turn from a beautiful, deep shade of green to a scorched, brown mess. You can avoid this by planting a drought resistant grass.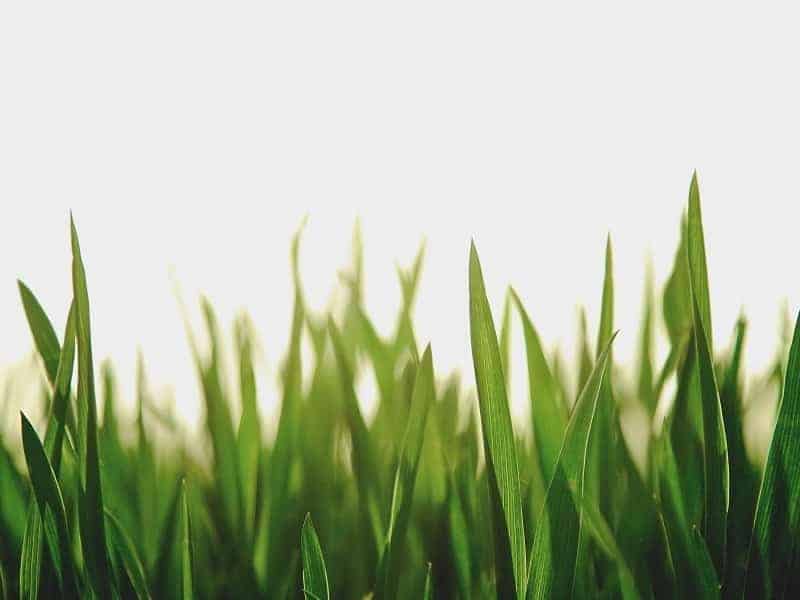 Quick Navigation
Achieving the perfect lawn can be a struggle. Finding the right grass seed for your garden's needs is the first step in maintaining a healthy lawn throughout the summer. But with so many choices and so many things to consider when it comes to creating a drought-resistant lawn, it can be difficult to know where to even begin when it comes to keeping your lawn looking healthy.
So before you buy the first packet of grass seed you come across, take a look at our list of the best drought resistant grasses below, so you can make sure your lawn doesn't only beat the heat but looks beautiful all year round.
If you're short on time but are looking for a great drought-resistant grass, check out our top pick below.
In a hurry? This is our winner!
Our rating:

Best Drought Resistant Grass – Comparison Table
Best Drought Resistant Grass – Reviews
Our Pick
Our rating:

Containing a mix of super drought resistant grass seeds such as Tall Fescue, Kentucky Bluegrass, and Perennial Ryegrass, this supreme blend from Jonathan Green will help you achieve a thick, green carpet of lawn all year round.
Able to grow well in clay and sandy soils, as well as in full sun or partial shade, this grass seed is quick to germinate and is also naturally insect resistant, so you don't have to worry about any slugs or snails munching their way through your lawn seedlings.
Once established, this grass has an invisible waxy coating that helps to preserve and trap moisture inside the leaf, leaving your turf green and extremely resistant to drought. This same waxy coating also helps to ward off any disease from entering the root system via the leaf, adding extra protection for the health of your lawn.
Customers that bought this grass seed noticed that, although it is on the more expensive end of the price spectrum, a single bag was able to cover a very large area. In fact, one 7lb bag of this grass seed can provide lawn growth for up to 2800 square feet!
Uses a mix drought-resistant grass seed including Tall Fescue and Kentucky Bluegrass

Super versatile and can be grown in tricker soil types such as clay and sandy soils, as well as full sun and partial shade

Established grass has a thick, waxy coating that helps to lock in moisture and help prevent disease
Is more expensive than other seed mixes, however one 7lb bag can cover up to 2800 square feet
Our rating:

If you're looking to achieve that perfect, green lawn but would also like to keep it as low maintenance as you can, this lawn seed mix from WaterSaver could be exactly what you're after.
A self-repairing turf, this grass will knit itself back together over patches that have become worn or damaged and therefore require less watering or mowing. It also grows amazingly well in both sun and shade, so it is great for gardens that are partially shaded throughout the day.
Able to withstand stressful weather conditions without losing any of its green color, WaterSaver lawn seed also features patented RTF Fescue, which creates a lawn with a strong root system, resulting in less room for weeds to grow and take over. The grass that grows from this seed mix is quick to establish and is also highly disease tolerant.
Customers that purchased this lawn seed noted that it required substantially less watering than other seed mixes, which is ideal for low-maintenance gardening in drought conditions.
Great for low-maintenance gardening

Able to withstand drought and other extreme weather conditions

Self-repairing turf that knits itself together over damaged areas
Gets better results in the transition zone of the US, but still suitable for use in other areas of the country
Our rating:

Able to tolerate extreme heat, this zoysia grass seed from Zenith grows into a dense, medium-textured dark green lawn that is low-maintenance and easy to care for. Also able to tolerate very low temperatures, it's a brilliant choice for keeping your lawn green throughout the year.
Requiring very little watering during its summer growth season (around 1 inch of water per week), this grass is ideal if your lawn is exposed to full sun and high temperatures throughout the day.
Zoysia is a slow-growing grass, but time and patience will see this seed mix provide you with a durable lawn that is not only extremely drought tolerant during the hot weather, but one that can also put up with a high volume of traffic, so it's great if you have a family or pets.
Perfect for home and commercial use, zoysia seed develops and grows with a thick root system, so not only does it require minimal watering but it will also help to keep out any weed growth. It also turns dormant during the winter but does not lose any thickness, so requires no over-winter maintenance.
Can tolerate both extreme heat and very low temperatures

Requires minimal watering throughout the summer

Grows with a thick root system that helps to keep out lawn weeds
Although this grass seed germinates quickly, it can take longer to establish than other seed mixes
Our rating:

If you can't be bothered sprinkling handfuls of seed over your prepared soil, or have tricky slopes to try and grow lawn on, then this seed mat from Grotrax could be a great choice for you. Simply roll out over the exposed earth, water it, then sit back and watch it grow!
Studded with extremely drought-tolerant grasses such as Perennial Rye, Kentucky Bluegrass, and Fescue, once established your lawn will be able to withstand the heat of the summer without drying out. The underlying bio fabric is also able to hold up to six times its own weight in water, reserving it for when it needs it most, therefore requiring less watering.
Another clever feature of this seed mat, is that it is designed to hold the seeds in place whilst they grow. This means that there is no risk of them being washed away in a downpour of rain, or blown elsewhere by a particularly strong gale. They will simply grow exactly where you want them to.
Easy to layout, it can be cut to shape to fit around corners or border edges. This seed mat can also be rolled over mounds and is perfect for getting even coverage on slopes and inclines. Quick to establish, your new lawn could be looking green and lush in as little as five weeks!
Contains a mix of highly drought-tolerant grasses including Fescue, Rye & Kentucky Bluegrass

Holds seeds in place without risk of them washing or blowing away, keeping everything where you want it

Easy to lay, and can be cut to shape to fit corners, edges, mounds, and slopes
Some customers found that the mat became dislodged during high winds, so it may require pegging down until fully established.
Our rating:

Designed to be able to grow well in both full sun and part shade, this Kentucky Bluegrass mix from Scotts is a great choice for drought-prone gardens.
This amazing grass mix, which as the name suggests, contains super-tough Kentucky Bluegrass, has the ability to self-repair after being exposed to long periods of heat, so is ideal if you're looking for a low-maintenance lawn that can withstand drought.
It also has Scotts 4-in-1 WaterSmart Plus Technology, which keeps the seeds moist 2 x longer, feeds them to jump-start their growth, and helps to protect against diseases. This seed mix is also the most cold-tolerant grass mix that Scotts offer, so you can rest assured it will be able to handle any hard frosts as well.
As if all of that wasn't enough, the Kentucky Bluegrass that grows from this mix is so tough and durable that it can also withstand high foot traffic damage, so is great for anybody with a family.
The seedlings from this fantastic mix will germinate within 7-14 days, and develop into fine-bladed textured grass that can be mown once it has reached 3 inches in height.
Grows well in both full sun and part shade

Has the ability to self-repair after long periods of heat and is super drought resistant

The seeds are coated with 4-in-1 WaterSmart Plus Technology that helps preserve moisture, kick start growth and protect against disease

Grows into tough, durable Kentucky Bluegrass that is perfect for high traffic areas
Due to the WaterSmart Plus coating, the smell of the seed is quite strong so is best stored in a shed or building away from the house
Best Drought Resistant Grass Buyer's Guide
Starting a drought resistant lawn from scratch, or even filling in bare patches on an existing one, requires time and patience, and there are many things to bear in mind when choosing the seed mix that is correct for your garden.
Soil Type
The first thing you should consider is what soil type you have. Some seeds will grow better on certain soil types, whereas others will struggle to grow on it at all. Clay soils and sandy soils are particularly difficult to grow on.
Clay soil tends to hold a lot of moisture, and can be very thick and heavy so will need to be properly broken up and have drainage added to it before the seed can be laid down. Sandy soils tend to be finer and drier, so seeds may not be able to find the moisture or nutrients they need to spurt into growth.
Take some time to check your soil type, and then find a seed mix that will do well in your garden.
Type of Grass
There are certain grass types that are extremely drought resistant, so keep an eye out for seed mixes that contain at least one of the following grasses:
Tall Fescue

Fine Fescue

Chewing Fescue

Kentucky Bluegrass

Perennial Rye

Bermuda

Zoysia
Sun Position
The position of the sun in your garden will be another thing to keep in mind. If you're looking to create a drought-resistant lawn, then the chances are that your garden is in full sun for much of the day.
However, if there are patches that are shaded by trees or overlooking buildings, you should look for a seed mix containing grasses that will grow equally as well in the sun as in shade.
Time of Year
Grass seed sowing should also take place at certain times of the year. If you were to sow during the winter, the chances are that your seeds aren't going to germinate and, even if they do, the young seedlings could be killed off by frost and cold temperatures.
Look to sow your seeds in either spring or fall, when the temperatures are mild enough to kick start germination and allow time for some establishment, but not hot enough to need constant watering and attention.
Durability
Drought resistant grasses are pretty hard-wearing by nature, but if you have a family or pets, you should go for a seed mix that will give you durable grass that won't mind being trampled on or having the occasional game of soccer played on it.
Application
The application of your grass seed is something else to consider. Some mixes are easy to sow by hand, and only require you to thinly spread them over your desired area. This is absolutely fine if you're repairing damaged patches or covering a smaller area.
However, for applying your seed to larger areas, you may want to consider investing in a seed spreader for more even coverage, and for less physical exertion! Seed mats are also available to purchase as well and will give you a more even coverage when placed on sloping ground.
Soil Preparation
Soil preparation is key, and very few seed mixes will begin to germinate unless you've taken the time to properly prepare your soil. Be sure to dig it over, removing any weeds as you go, and then scatter your seed according to the manufacturer's instructions.
Following these steps will help you achieve a drought resistant lawn that not only looks good all summer long but is also low maintenance and will help you do your part for water preservation.
Frequently Asked Questions
How long does grass seed take to germinate?
Typically, you should see your grass seed begin to show signs of germination anywhere between 7 – 21 days. This is dependent on the grass seed you have selected, however, and some seeds such as zoysia can take up to 30 days to germinate.
How do I prevent my lawn from drying out?
The first step to this is finding a seed mix that is tolerant of drought and high temperatures. By doing this you're not only minimizing the chances of your lawn becoming dry, but you'll also use less water to maintain it during the summer.
What is the toughest grass seed?
To build a drought tolerant lawn, you need a tough grass that is going to be able to withstand extreme conditions. Look for a seed mix that contains grasses such as Zoysia, Tall Fescue, or Kentucky Bluegrass.
Why isn't my grass seed germinating?
There are many things that can affect germination, including outside temperature and soil conditions. Take the time to research what soil type your garden has, and then find a seed mix that will grow well in it. Remember that it's also much harder to grow grass from seed during winter and the height of summer, so sow your lawn seed in either spring or fall.
How long can I store unused grass seed for?
If you've got an excess of grass seed, it can usually be stored safely for up to two years if kept in a cool, dry place. However, always check the packaging for an expiry date or alternative information relative to that brand.
Should I mow my lawn during a drought?
Mowing during a drought is fine, but there are certain precautions you should take. Firstly, raise the height of the blade so that the grass doesn't get cut too short. Cutting very short during a drought can lead to water evaporation from the soil, resulting in the grass drying out. You should also leave any clippings in place over the cut grass to act as mulch and keep water trapped within the soil.
Should I fertilize my lawn during a drought?
Once fully established, your drought resistant lawn shouldn't need to be regularly fertilized as it will be tough enough to withstand the heat of the summer. Once any risk of drought has passed, general lawn fertilizer can be used to provide the grass with any nutrients it needs to get through winter and come back just as strong next year.