If you have a small backyard, you know how hard it is to add curb appeal. Do you think your backyard's too boring? Is the small space keeping you from having the backyard of your dreams? Let's look at some landscape design ideas that will give new life to your small backyard.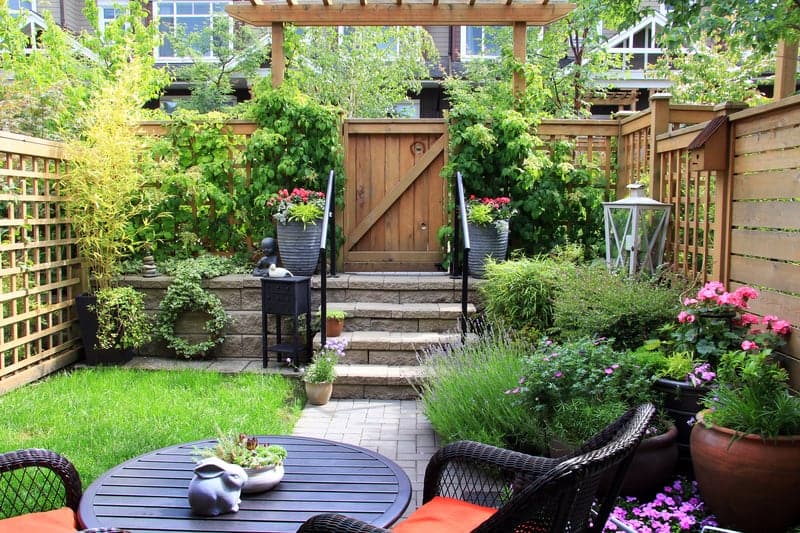 Many homeowners are under the impression that a small backyard is nothing short of a tragedy. It may feel like the backyard seems to end before it even begins. The limited space appears to be a disadvantage because it isn't big enough to build a beautiful patio. Nor can you cultivate a big blooming garden in the backyard!
But don't worry!
Today I'll share some creative landscaping design ideas that don't require the whole nine yards to make an impression.
Even small changes or miniature additions can transform your backyard from basic to brilliant.
Landscape design books
If you're more visual, flipping through a landscape design book might help you envision your future backyard decor.
Encyclopedia of Landscape Design: Planning, Building, and Planting Your Perfect Outdoor Space
Lawn Gone!: Low-Maintenance, Sustainable, Attractive Alternatives for Your Yard
Garden Design and Landscaping – The Beginner's Guide to Successfully Landscaping a Garden
Let's look at some of the things you can do to revamp your garden.
Landscape Design Ideas for Tiny Backyards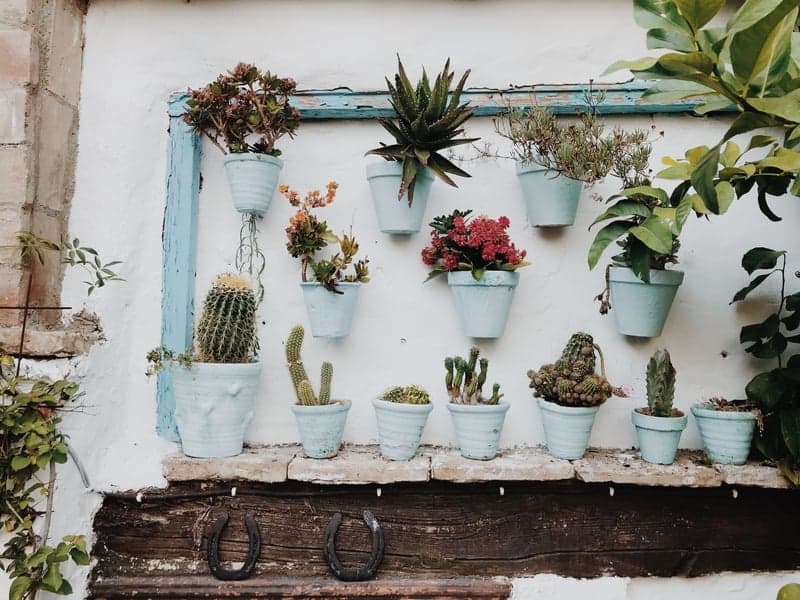 Incorporating greenery in small spaces can seem next to impossible. Yet, if you think outside the box and go past traditional gardening, you'll surely find something amazing to do.
The trick is to fill every little nook in your garden creatively. you don't want to create a "busy" look, but you want to maximize your space!
Here are a few things you can do:
1. Go vertical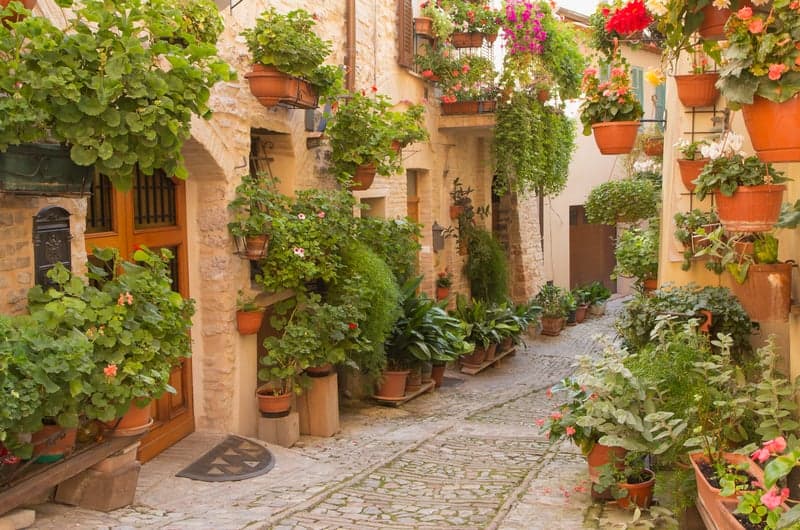 Small backyards don't always have sufficient space for cultivating gardens. From vegetable patches to rose bushes, gardening needs proper horizontal space to thrive.
However, many herbs, spices, and potted plants aren't that particular. This makes them the best option to experiment with some vertical planting.
The idea is to:
Use trellis and lattice frameworks to support climbing plants and shrubs.
Display your potted plants on a shelf or panel.
Choose plants that don't need horizontal space to grow.
You can also opt for hanging gardens for the patio, or along your walls (like you see in the image above).
2. Use tower planters
Bloomers Stackable Flower Tower Planter – Holds up to 9 Plants – Great both Indoors and Outdoors – Terra Cotta
Perfect for flowers, herbs, and vegetables, these towers are quite versatile. You can buy them easily from your local garden center, or Amazon. Or, if you're crafty and like to DIY, you can build your own from individual ceramic pots.
Here's a step-by-step guide to make it work:
get several ceramic pots, preferably in a few different sizes
place the largest pot in the designated spot for your tower garden, then place a smaller pot inside in an upside-down position (you can also use an empty milk plastic jug instead if you'd like to save money)
next, fill the area between the two pots with your soil/potting mix
keep adding plants at an angle, then fill them with your favorite flowers, herbs, and vegetables
Voila! Your 'towering herb garden' is ready to grow!
Landscaping Design Ideas for Hanging Gardens
Want to elevate your backyard's look?
Then designing a hanging garden is a great option.
Imagine walking outdoors to find a sea of vivid blooming flowers and lush green plants dangling from the air. The dramatic effect is known for adding a whimsical vibe to your patio. It's also an innovative way to incorporate green elements in small spaces.
Plus, the best part is that elevated planters offer your growing flora better aeration and drainage.
So it's actually a win-win situation for everyone.
Here are a few different ways to start your hanging garden:
3. Go Rustic
Gardens are a perfect way to reconnect with the simple things in life. And what better way to do this than choosing wicker baskets for our hanging garden?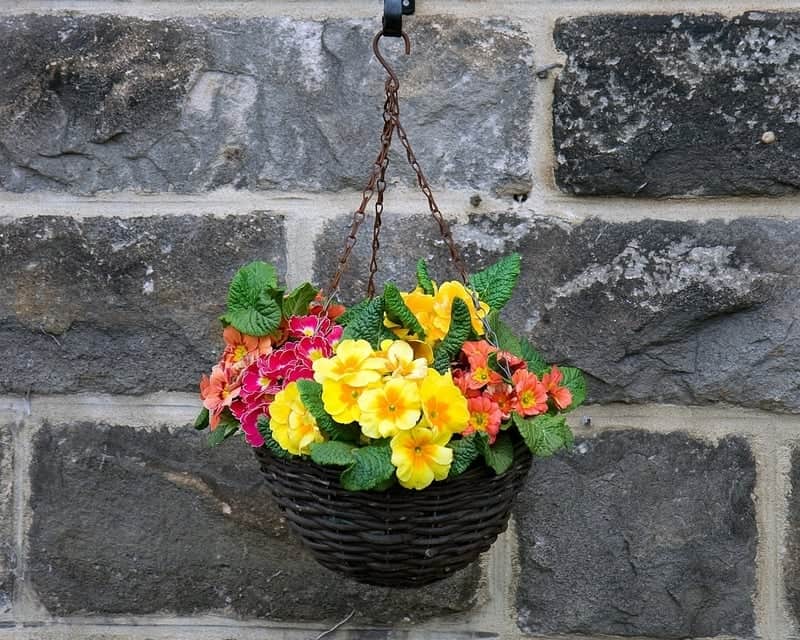 I love the colorful flowers in this basket, but you can just as easily plant herbs, or strawberries, or even cherry tomatoes.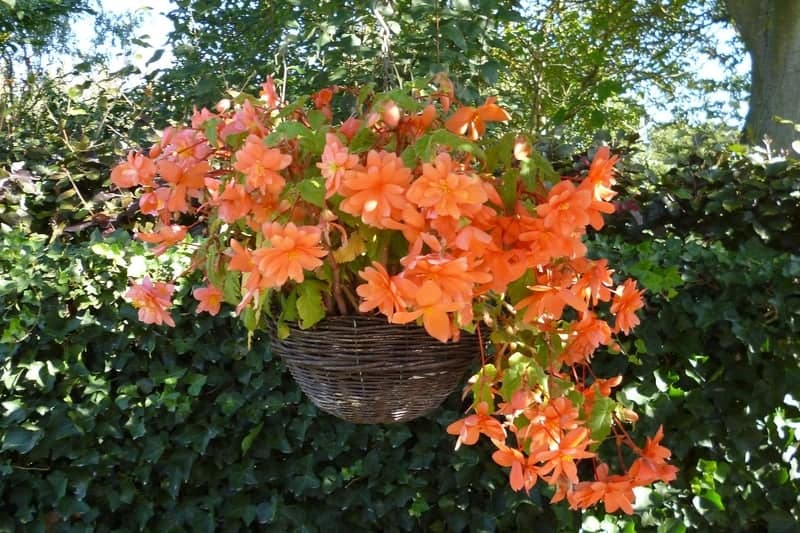 Here's another idea for inspiration: the orange flowers look amazing against that green ivy wall.
Why not pair these rustic baskets with wicker chairs and tables on the patio to enhance the old-school ambiance?
Outdoor 7-Piece Acacia Wood and Wicker Dining Set with Cushions
5 Piece Conversation Set Wicker Sectional Sofa, Couch, Chair & Table
4. Recycle some old containers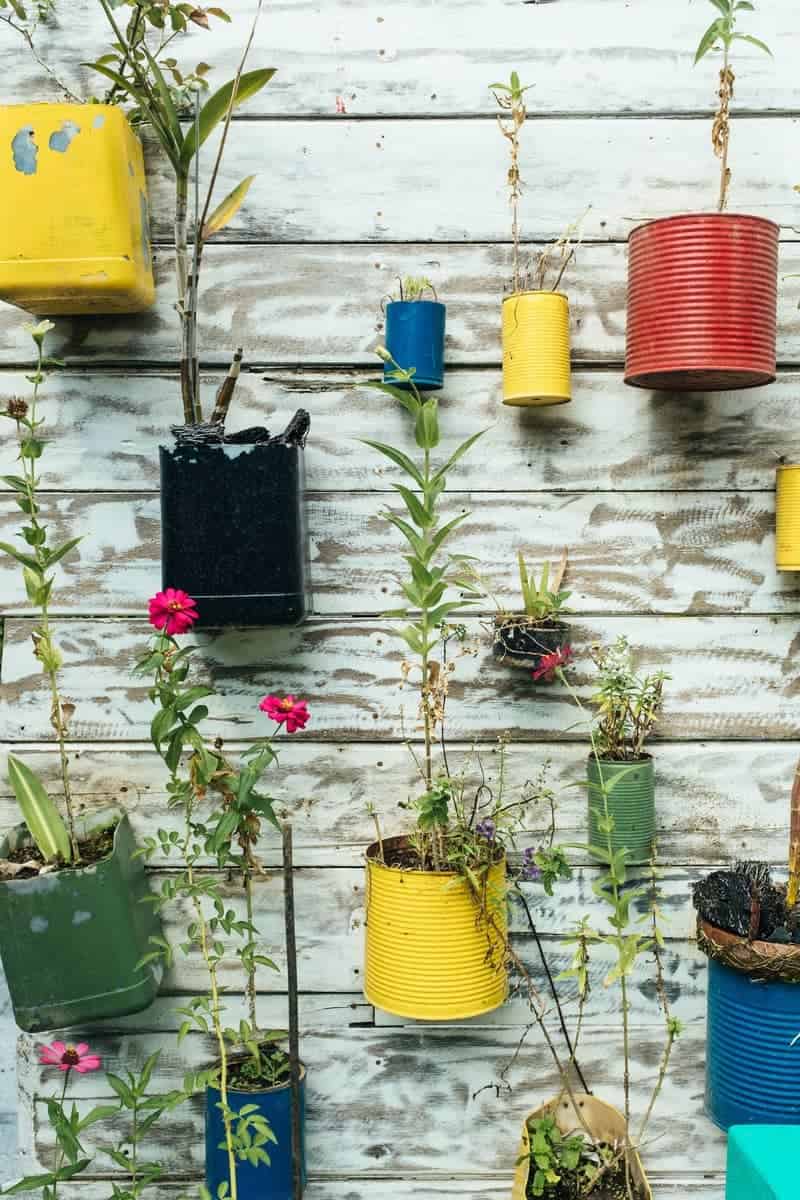 Don't have the budget to buy pricey hangers? No worries! You can always try recycling to get the job done. There are several knick-knacks in the house that can become your planters.
The crafty list includes:
Mason jars
Upside-down plastic bottles
Coffee tins
kids play pails
The list is endless. All you need is a string, a fresh lick of paint, and lots of imagination. Here are some examples: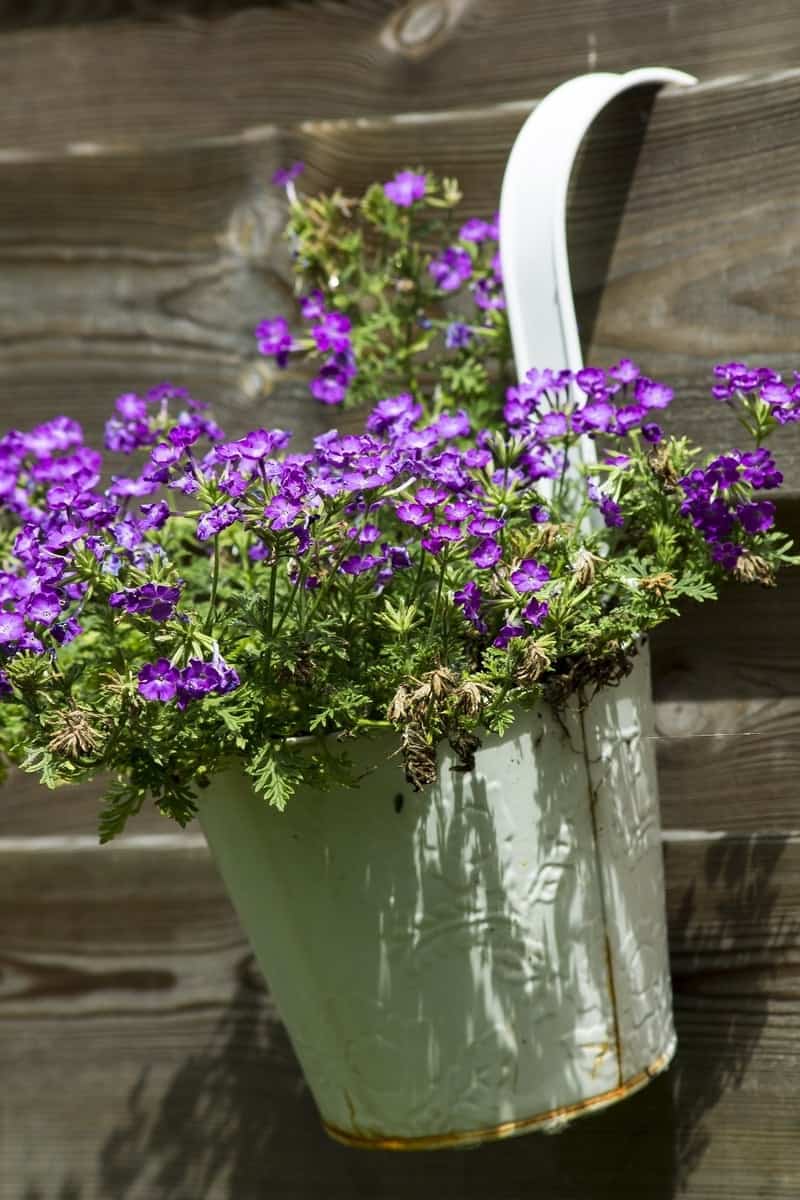 This cute white pail was turned into a hanging planter, and the purple flowers look great against the white.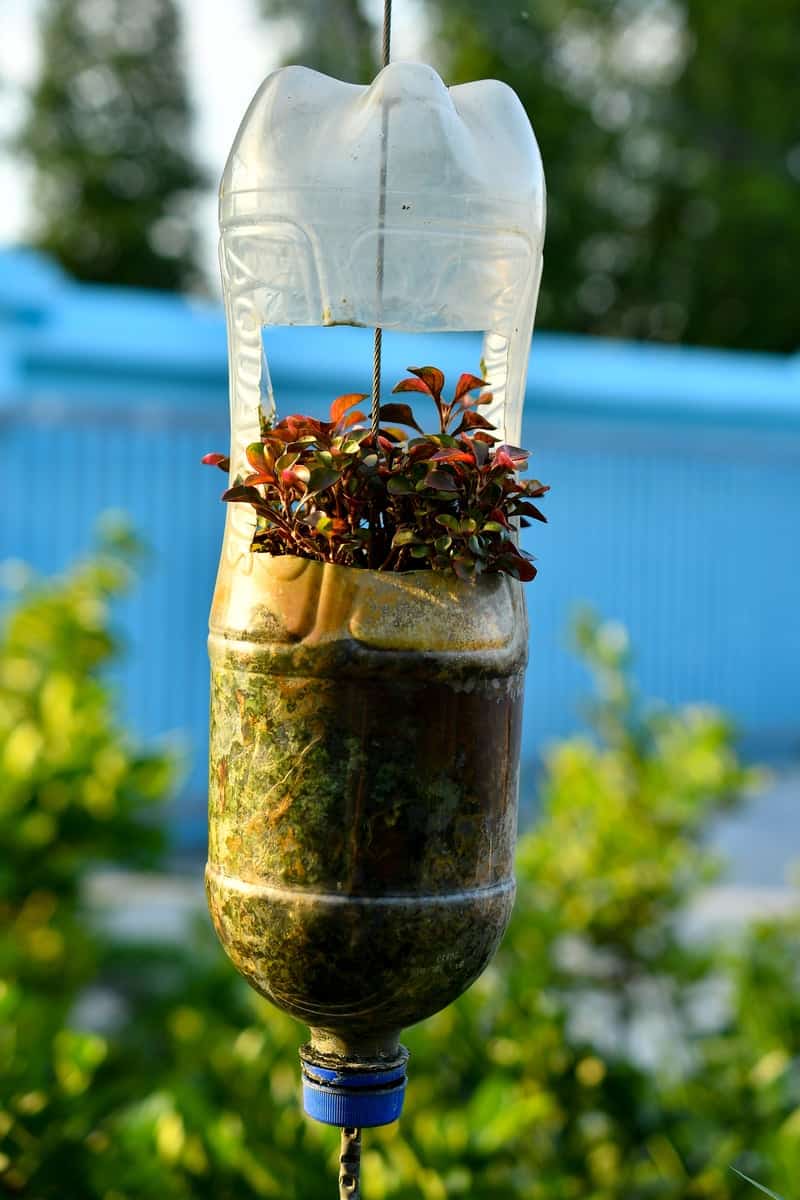 Way to recycle and beautify your backyard or patio! So simple, yet so perfect!
5. Add a pop of color
One of the easiest ways to revamp any space is by adding a pop of color. From cool blues, pastel pink to bright yellow, each color tells a different story.
You can use this strategy to design gorgeous hanging planters that are as colorful as the contents inside them. Or you can add a basket by your front door as I did here. So much color, in such a small space! Welcomed me every day for months!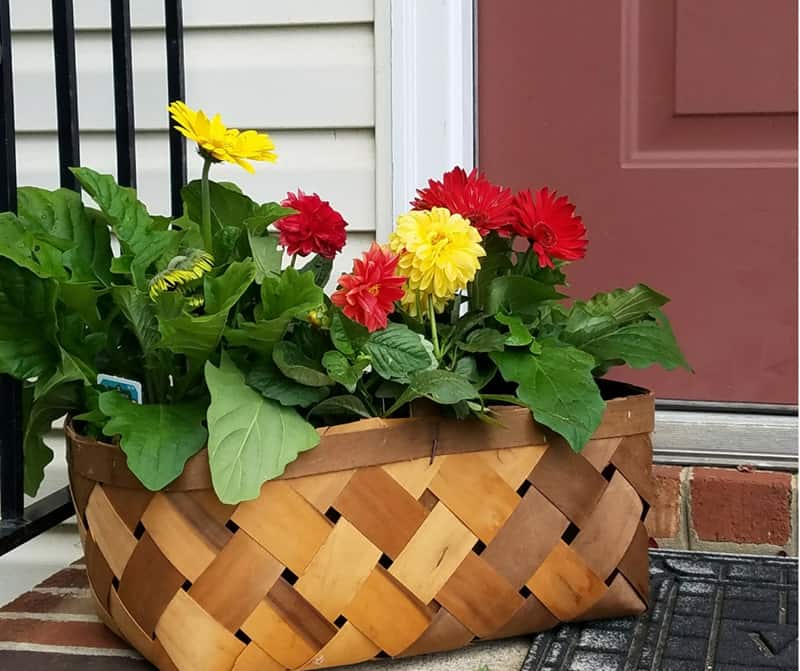 Patios Landscape Design Ideas
Word on the street is that outdoor living rooms are the next big thing in landscape design. This might seem challenging for people who've got a tiny backyard. However, a few strategic placements and some staple fixtures can really uplift your landscape design.
Let's look at a few ways to transform those compact spaces:
6. Cozy corners
You can use your compact space to create a cozy living space. It could work as a reading corner for you or somewhere where you sip your morning cup of coffee. The fresh green view will help you unwind and alleviate stress.
So think plush, soft, and comfy when you shop for this home project. I absolutely adore the above setup. Bright, fresh colors and a simplicity that's refreshing.
Here are a few ideas for cozy corners:

Go crazy with throw pillows
Add a soft rug to cover the patio floor
Place a miniature coffee table for tea-time
The key is to select pieces that add a warm and fuzzy feel to the patio.
Reversible Indoor Outdoor Stripe Patio Rug
Square Printed Cotton Throw Pillow Case
7. Add some lights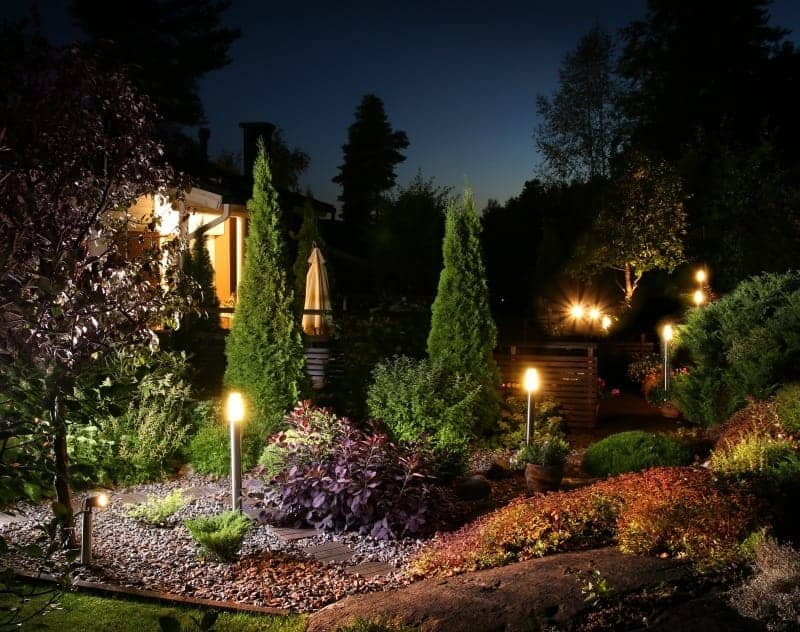 Lights are the MVP of home landscaping designs. These little fixtures are a great way to ensure that you enjoy the backyard at night time too. It is said to add a magical touch to your patio and the garden next to it.
Plus, strategically placed lights can actually highlight your favorite spots in the garden/patio. Here are a few tips:
Use string lights to cover the walls of the patio
Crisscross the string lights all over the backyard for a whimsical aesthetic
Place hanging lanterns at the edge of the patio
Light floating candles in water-filled bowls at the corners of your patio
8. Create a living space
Want to go for something bolder?
You can always opt for a properly furnished patio for this venture. The main idea is to strategically place chairs and tables to create a proper seating arrangement. So that it looks like a real living room to the onlooker. The tables don't have to be wooden either. You can make the design more personal by adding quirky elements into the mix.
Bonus: If you've got sufficient space then you can add a patio swing or hammock on your patio. A few planters and a colorful rug below can tie up the whole look.
More Landscaping Design Ideas
Don't have the time to go overboard with landscaping?
Outdoor Wall Light, Naturous PLT01 Waterproof Cylinder Porch Light Modern Outdoor Lighting Wall Sconce
That's okay! Many of us don't possess the crafty skills to embark on DIY projects. The rest of us don't have time to grow a proper garden. This is why in this case, you simply add one new feature to your backyard at a time.
These could be little fixtures that are eye-catching enough to draw attention.
Here are a few suggestions:
Place a mini fountain or water bath in the middle of the garden
Build your own colorful birdhouse
Hang a hammock or a tire swing if you've got a tree
Use a tree stump as your planter
It's a Wrap
In a nutshell, you don't need a lot of space to create a beautiful backyard. All you need is some inspiration, DIY skills, and a passion for gardening. It'll be enough for you to pick up the shovel and start your own vertical garden. You might even get inspired to invest in statement hardscape fixtures to decorate your garden.
Have fun and enjoy your little piece of heaven on earth 😉