We love dill (Anethum graveolens)! Our family uses it pretty much daily: adding it to green salads, using it to flavor cooked dishes, and mixing it into coleslaw. We use so much dill that we'd go broke if we had to buy it. Seriously! Here's how to grow dill, so you can enjoy it year round for free!!!!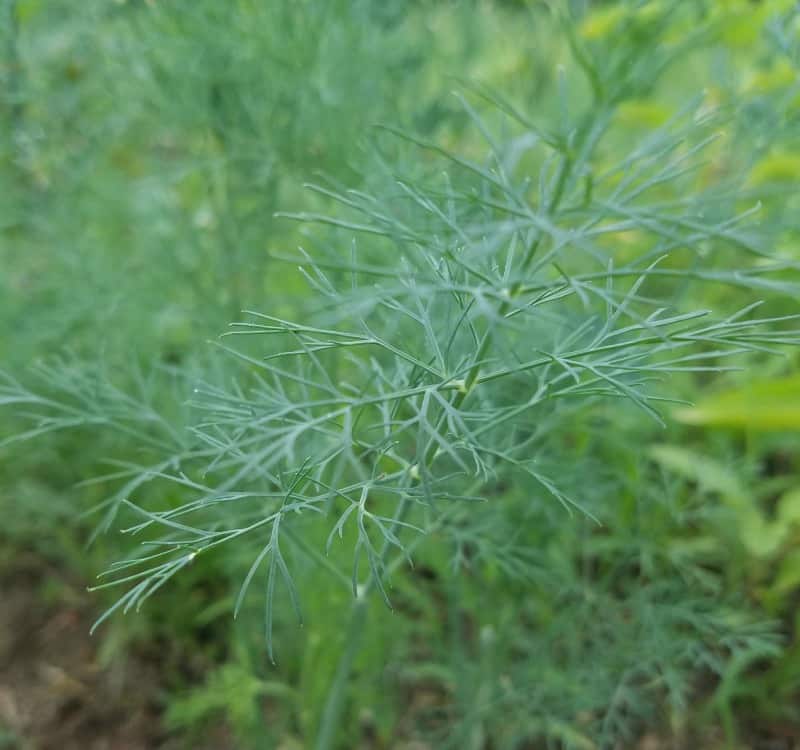 Dill plants are soo easy to grow and have a distinctive flavor and smell. Some people consider it invasive. Of course, we like it that way. In fact, we ran out of the dried dill about a month before the new dill started to grow this year. And we didn't like it.
How To Grow Dill
Dill is a wonderful herb that grows up to 6 feet tall. Its needle like leaves are very fragrant and the dill plant blooms tiny yellow flowers.
Dill thrives in a cooler climate. If you're not having an outdoor garden, try sowing it earlier in the year, when the nights are cooler and the soil a bit more moist.
Dill reseeds itself, so once you plant it you're all set.
If you are planting dill for the first time, you can do it any time after the last frost. You can plant the seeds in rows that are 16 to 18 inches apart, and about 1/4 inch deep. But we never bothered with that. We just scattered the seeds on one of our raised beds and lightly raked a bit of soil over.
That was probably 10 years ago. Since then, we've been enjoying free dill that reseeds itself year after year.
Wonder what other herbs are easy to grow? Try these for some serious flavor 😉
If you'd like fresh dill throughout the summer, plant in stages, so once the first crop goes to seed you have the next one coming right up. Plant the first sowing in early spring, as soon as you can work the soil, the second at the end of spring, and the last one at the end of summer.
Dill grows well mixed into the herb garden with parsley and chives. We have ours in the tomato raised bed: it helps keep bugs away!
Dill is NOT an indoor herb! If you don't have an outdoor garden, you can grow some dill in window boxes or in large pots on your patio or balcony.
How To Harvest Dill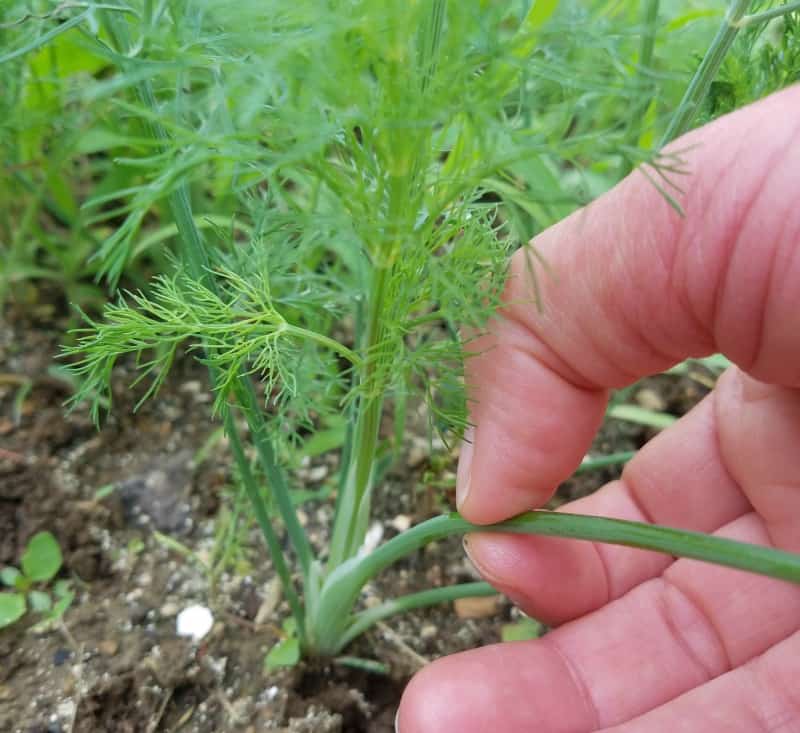 Harvesting dill is as easy as it gets. Pick the tender leaves by pinching at the stem. You can use a pair of sharp scissors when you harvest a lot (for drying), but for every day use, pinching them with your nails is the easiest.
Once it goes to seed, harvest the dill seeds too. They are delicious in coleslaw, in savory breads, soups and ground up in homemade spices.
The dried stems can be used in pickling cucumbers: YUM!
Of course, leave some in the garden to seed themselves for the next year: it's such a nice surprise to get fresh dill early in the spring!
Drying dill
If you plant more than you need for daily use in the summer, dill weed is great dried for the winter. We pick it regularly (it encourages growth too) and dry it for use in the winter (we still add it to our salads, even if it's dried).
To dry it, once we harvest the dill we wash it, pat it dry and usually dry it in a dehydrator.
If you don't have a dehydrator, here are a few more methods of preserving herbs.
Dill pests and diseases
Dill doesn't usually get bothered by disease, but it'll occasionally get invaded by aphids. All oyu need to do is spray the dill plant with a water jet from your hose an most aphids will fall off. Repeat a few times just to make sure you got them all: they could stick to the wet underside of the leaves. .
Where can I buy dill seed
Dill seeds are plentiful at any grocery store or nursery in your area. If you'd rather buy them online so you won't have to drive to get them, Amazon has several types.
Dill Seed, Bouquet, Heirloom, Organic, Non Gmo, 25+ Seeds, Herb Fresh or Dried
David's Garden Seeds Herb Dill Hera SL3149G (Green) 500 Organic Seeds
100 Dill Seeds – Bouquet Dill Anethum Graveolens – by RDR Seeds
I hope that learning how to grow dill will encourage you to add it to your daily dishes and experience its wonderful aroma.