Have you ever felt the need to escape the hustle and bustle of everyday life? To escape your busy day in a peaceful oasis right outside your door? A backyard walkway is just the thing to help create this tranquil escape. Check out the backyard walkway ideas I gathered below.
Why Add A Walkway To Your Backyard?
Backyard walkways offer a variety of benefits to homeowners. From safety and convenience to aesthetic appeal, walkways are an excellent way to enhance the look and feel of your outdoor space.
Safety
Walkways make it safe to walk from your car to your front door or from your back door to the garden. Rather than trying to navigate an uneven path, create a beautiful yet useful walkway to and from the places important to your backyard.
Curb appeal
They provide a safe pathway for you and your family, and walkways add charm and beauty to your garden or other outdoor areas.
A walkway allows you to add other elements, such as planters, benches, and lighting fixtures which can further enhance the look of your backyard. (check out how to grow grass between pavers)
Walkways can also be used as focal points in your landscape design, helping to draw attention to certain areas of your yard.
Increase home value
Adding a walkway can also help increase the value of your home because it offers an appealing feature that potential buyers might be looking for.
Backyard walkways are an excellent choice for homeowners looking to add charm and beauty to their outdoor space. With so many benefits, it's easy to see why adding a walkway can increase the value of your home!
10 Backyard Walkway Ideas To Inspire You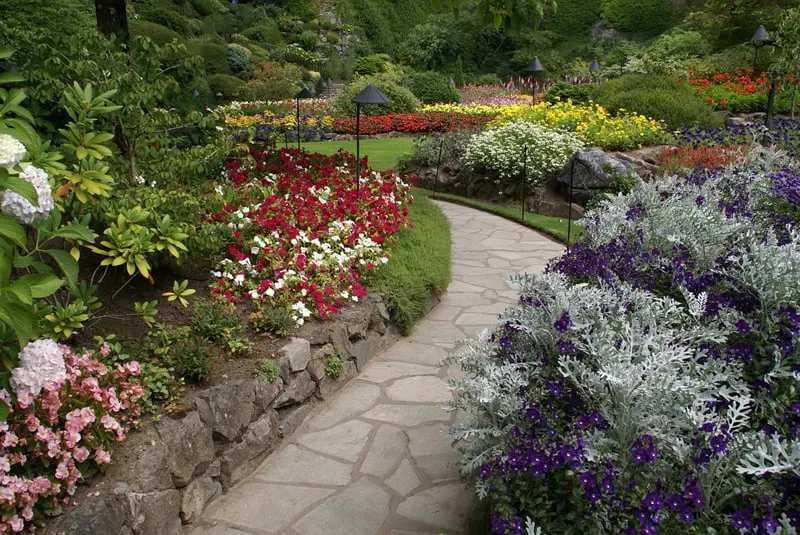 1. This path from the Butchart Gardens in Victoria, British Columbia, uses colored, unevenly cut stone to create an interesting design.
2. This is another view of the walkway at Butchart Gardens: notice how it nicely winds around beautiful flowers and bushes.
3. This flagstone garden path goes around gorgeous red and pink flowers and fresh green ground covers, creating a peaceful setting.
4. I love how this pathway snakes around the hilly part of this garden. The natural color blends well with the surrounding vegetation.
5. Who says your pathway needs to be complicated? This simple path is made of small gravel and surrounded by stunning azaleas and other brightly colored flowers.
6. Nice simple path to the house, winding through the lush green landscape.
7. Here's a beautiful walkway between bushes. The rocks give this pathway a more rugged look, nice for those who enjoy a wilder look in their garden.
8. Round-shaped, different-sized concrete tiles surrounded by mulch make this a visually appealing walkway.
9. This type of walkway could be perfect if you love your grass but need a way to mark the path to your front (or back) door. You could even plant a flowering ground cover between your stones for a prettier look 😉
10. This zig-zagged brick walkway is beautiful and draws the eye. The nearby flowers are stunning, making this a great walking path.
Garden Walkway Ideas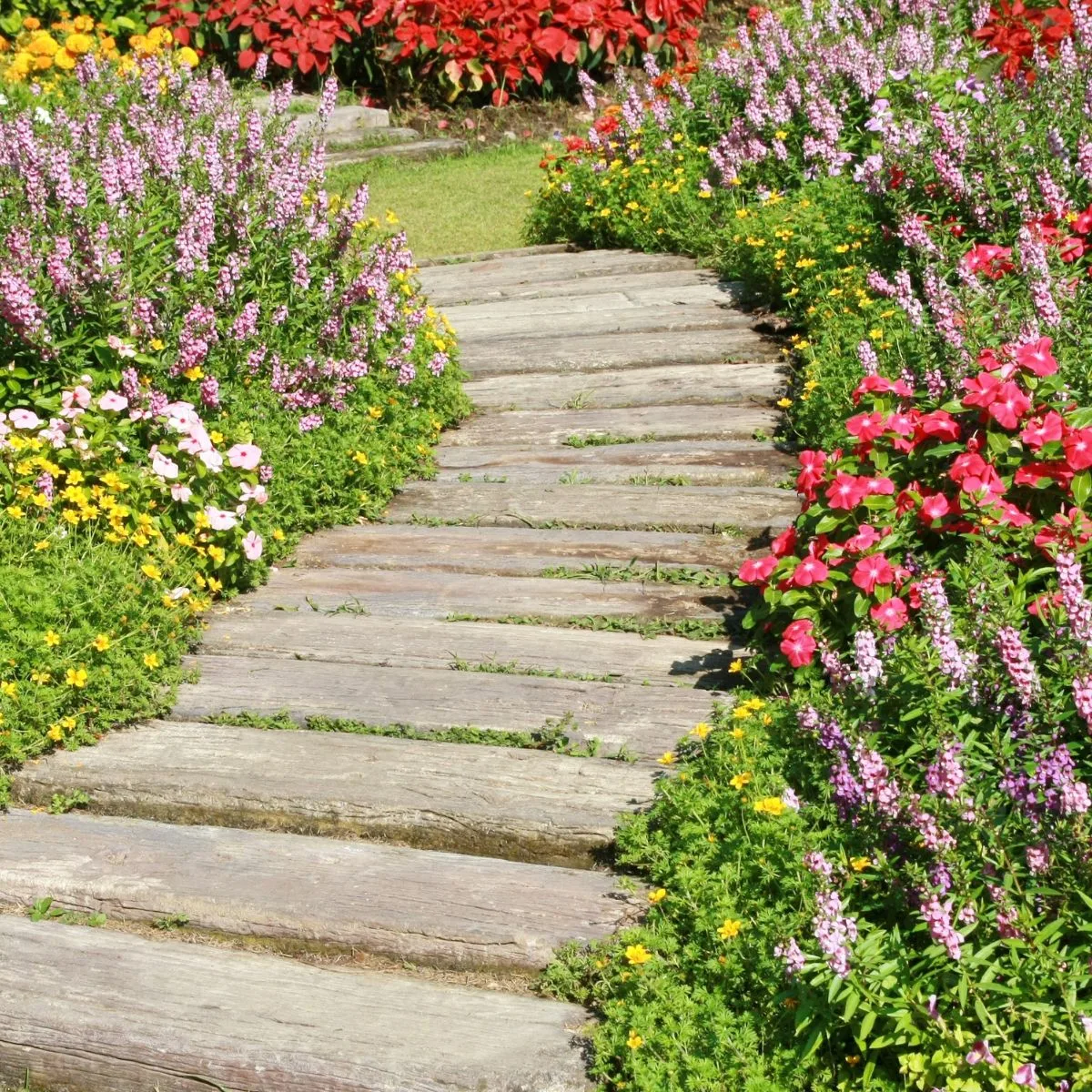 Having a walkway in your flower or vegetable garden can save you from walking in mud after rain, and it's just a good idea all around for ease of moving and working in your garden.
But what kind of pathways work best in the garden? For me, the easiest is to cover the walkway with a weed barrier and then add wood chips. You can get woodchips for free in the spring when your local electric company trims trees that touch the electric lines: stop by when you see them and let them know they can dump the wood chips at your property.
Another way to create a nice garden path is to use weathered wood planks (again, you can find these free): they make an excellent looking and practical way to move around the garden.
Other Types Of Walkways
Paver walkway ideas
With so many colors, textures, and shapes, you can easily find the perfect paver to create a unique walkway that reflects your style.
Whether you opt for classic brick pavers or more modern concrete slabs, there's no limit to what you can do with this versatile material.
You can also combine different types of pavers to create interesting patterns and designs. Why incorporate colorful stones or glass tiles into your walkway for an even more eye-catching effect?
Concrete walkway ideas
With its sleek lines and minimalistic design, concrete is perfect for creating a stylish walkway that lasts years. Whether you choose pre-formed concrete slabs or custom-made pieces, there are endless ways to customize your walkway.
Stepping stone walkway ideas
Perfect for gardens and pathways, stepping stones come in various shapes and sizes, allowing you to easily customize your backyard walkway.
Consider adding flower beds or planters around the stones to give your walkway some charm. You can even incorporate stones with inspirational words or quotes if you like!
Where to Find Inspiration for Your Garden Walkways
One of the best ways to find the right kind of walkway to fit your style is to actually see some examples, and suddenly you'll know what you want! You can find plenty of ideas in the various landscaping publications available.
Another way to find the walkway types you love is to browse through real-life yards. Stroll through back roads or in your neighborhood, or find your friends with beautiful garden pathways and visit them.
There are also pictures of walkways online. You'd be surprised at the number of people who post proud pictures of their backyards on message boards and websites, and of course, there's Pinterest! This is a great way to get inspired.
How to Get Your Own Backyard Pathway
Once you know the type of walkway you'd like, you can hire a professional landscaper. Show them pictures of what you want and ask them for their opinion about what your yard and budget can handle.
If you're like me, you'll probably want to tackle a project like this by yourself or with the help of your family. Many people feel a sense of pride in doing their landscaping. You can also save money this way but remember that you'll be trading the expertise. You can still do it on your own with the right planning.
As with most things you build or put together, you need to come up with a blueprint. Always take exact measurements of your area and the walkway you want to put in. This definitely isn't as complicated as it sounds! You want to be sure everything will fit properly and look nice.
The materials are also an essential part of the planning. If you're putting the backyard walkway in yourself, you must order it from a garden center or specialty shop. Pay close attention to choosing materials that will stand the test of time. If you're using a landscaper, they may order the materials.
Beautiful backyard walkways are a must-have; getting inspiration is half the battle. Once you know what you want, you can have your walkway in the backyard and watch the compliments pour in.
Check out our gorgeous backyard walkway ideas below and get inspired!
Now let's take a look at the types of materials you can use for your backyard walkway…
Types of Materials Used for Backyard Walkways
There are many materials you can use for creating a walkway. The possibilities are endless, from concrete pavers to white gravel, river rocks, pebble mosaics, and wood chips!
Concrete is easy to install and maintain while also being affordable.
Pavers provide a more decorative look that can be customized with different colors and patterns.
Gravel provides a rustic look and feel and is relatively inexpensive.
Wood chips offer an organic texture that adds a unique touch to any outdoor space.
There are many other materials, such as white gravel, lava rocks, decomposed granite, wood slices, pea gravel, blocks of granite, and much more. Whichever option you choose, make sure it complements the overall design of your backyard and provides safe passage for family members.
Flowers To Plant Along Walkways
Sometime there's no room for flowers along your walkway, and that's OK. But if you have a little bit of room, adding some bright flowers will enhance the look and feel of your path. Here are my favorite blooming plants to surround your walkways with:
Marigolds (Tagetes) produce bright, cheerful flowers that are perfect companions for your vegetable garden.
Petunias (Petunia) come in a wide range of colors and are excellent for adding vibrant splashes of color along walkways. They can be trailing or upright varieties. Learn more about using petunias in your landscape.
Sweet alyssum (Lobularia maritima) is a low-growing annual with clusters of small, fragrant flowers. It forms a lovely border and attracts beneficial insects.
Swwwt William (Dianthus) also known as pinks or carnations, are hardy plants with beautiful, often fragrant flowers.
Geraniums (Pelargonium) are popular for their vibrant flowers and attractive foliage, and they do well in both sunny and partially shaded areas. Here's what to plant with geraniums.
Verbena (Verbena officinalis) is a versatile plant that produces clusters of small, colorful flowers that thrive in full sun and love to cascade over edges.
Garden sage (Salvia) is known for its spiky flowers and aromatic foliage that attract pollinators and come in a wide array of colors.
Lobelia (Lobelia) produces delicate, cascading flowers in shades of blue, purple, and white. It works well as a border or for filling in gaps along walkways.
Nasturtiums (Tropaeolum) are easy to grow and offer vibrant flowers in shades of orange, red, and yellow. They can be grown as climbers or trailing plants. Learn more about growing nasturtiums.
I hope these backyard walkway ideas have inspired you to create a beautiful backyard walkway. I'd love to see what you come up with, so don't hesitate to send me your pictures (you might end up featured here on our site 😉