Are you looking for some fresh front yard landscaping ideas? If you're tired of keeping your manicured lawn in top shape, you'll love these simple ways to landscape the front of your home. I gathered 35 ways to increase your home's curb appeal that are easy to implement, and just beautiful!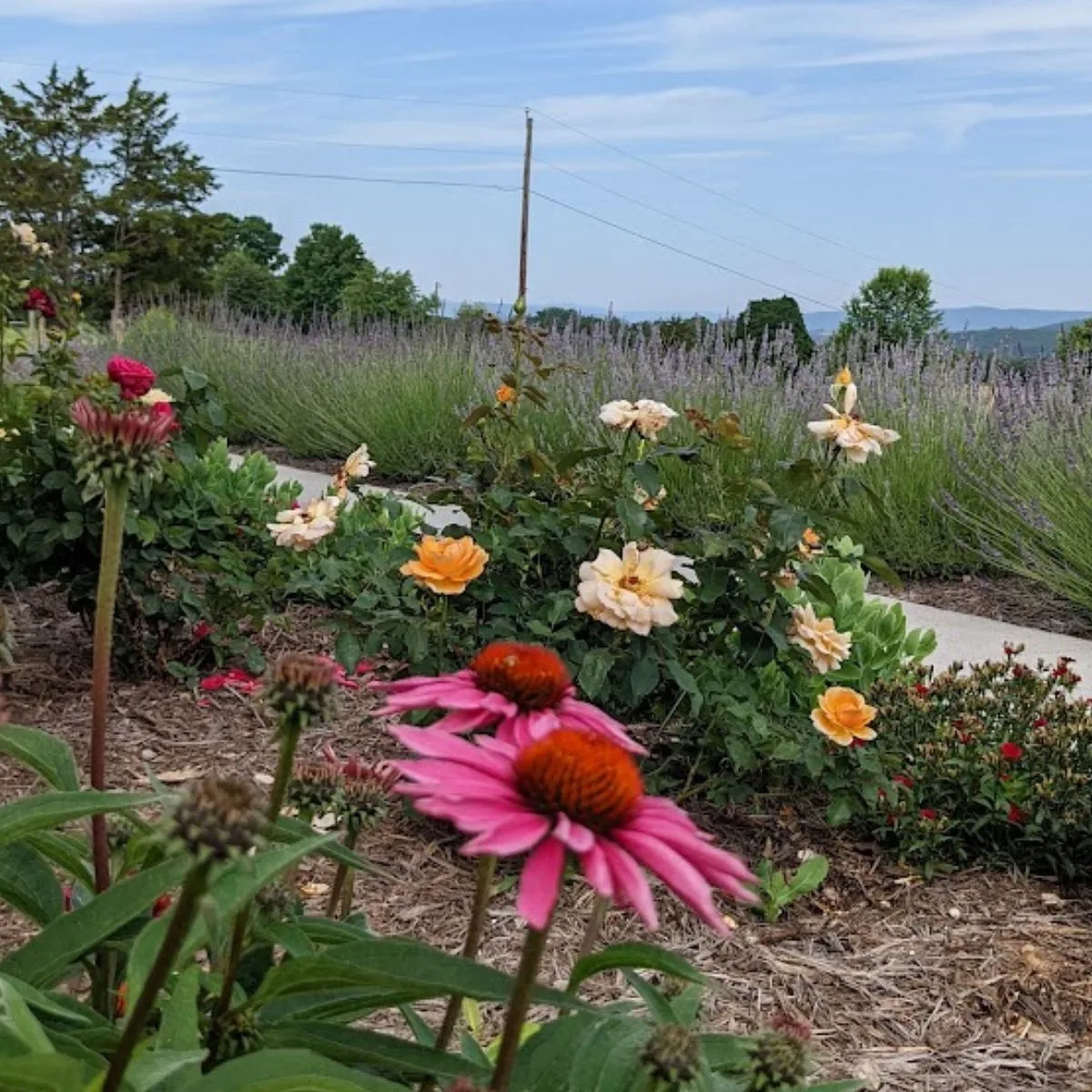 There are many ways to landscape a front yard: from adding a few annual flowers for a pop of color to creating a focal point with a water feature, some small trees, or a unique gazing ball, designing a beautiful front yard doesn't need to cost a lot or take a lot of time and energy.
That's why I've rounded up some amazing, yet simple front yard landscaping ideas to inspire budding landscapers and gardeners. There's sure to be a good idea here that will work for your needs.
Creative Front Yard Landscaping Ideas
As the age-old saying goes, "first impressions are the last impressions". That's exactly what front yard landscaping is all about. It's an opportunity for you to impress your neighbors with your breathtaking landscaping choices.
The evergreens and flowers also help you to decorate the exterior of your home without breaking the bank. A small white picket fence, some large rocks, ornamental grass, and a couple of bird baths can all be part of your garden design.
So you should think of them as seasonal decorations that amplify the visual appearance of your house. The front yard landscaping projects that I curated for you are a mix of DIY projects and some professional fixtures. They let you mix in the hardscape and softscape elements of your front lawn to create something beautiful, and even breathtaking.
From walls and walkways to entrances, I've made sure that these ideas cover every nook and cranny of the front yard. It's to ensure that one of these innovative ideas fits your house and your landscaping requirements without any issues.
Here are some ideas to get your imagination going:

1. A secret garden
This scene feels like it's taken straight out of the 'Secret Garden' and you can recreate it without any issues. The only condition is that you need an archway for this elaborate venture. The plants amplify the presence of this architectural design.
So if you've got an archway at the front of your house, I suggest you give this a try: plant creepers, bushes, and shrubs all around it. The sprawling plants are an exquisite way to frame the archway, while the shrubs act as guides for anyone who steps into your house.
2. Easy landscaping with evergreen shrubs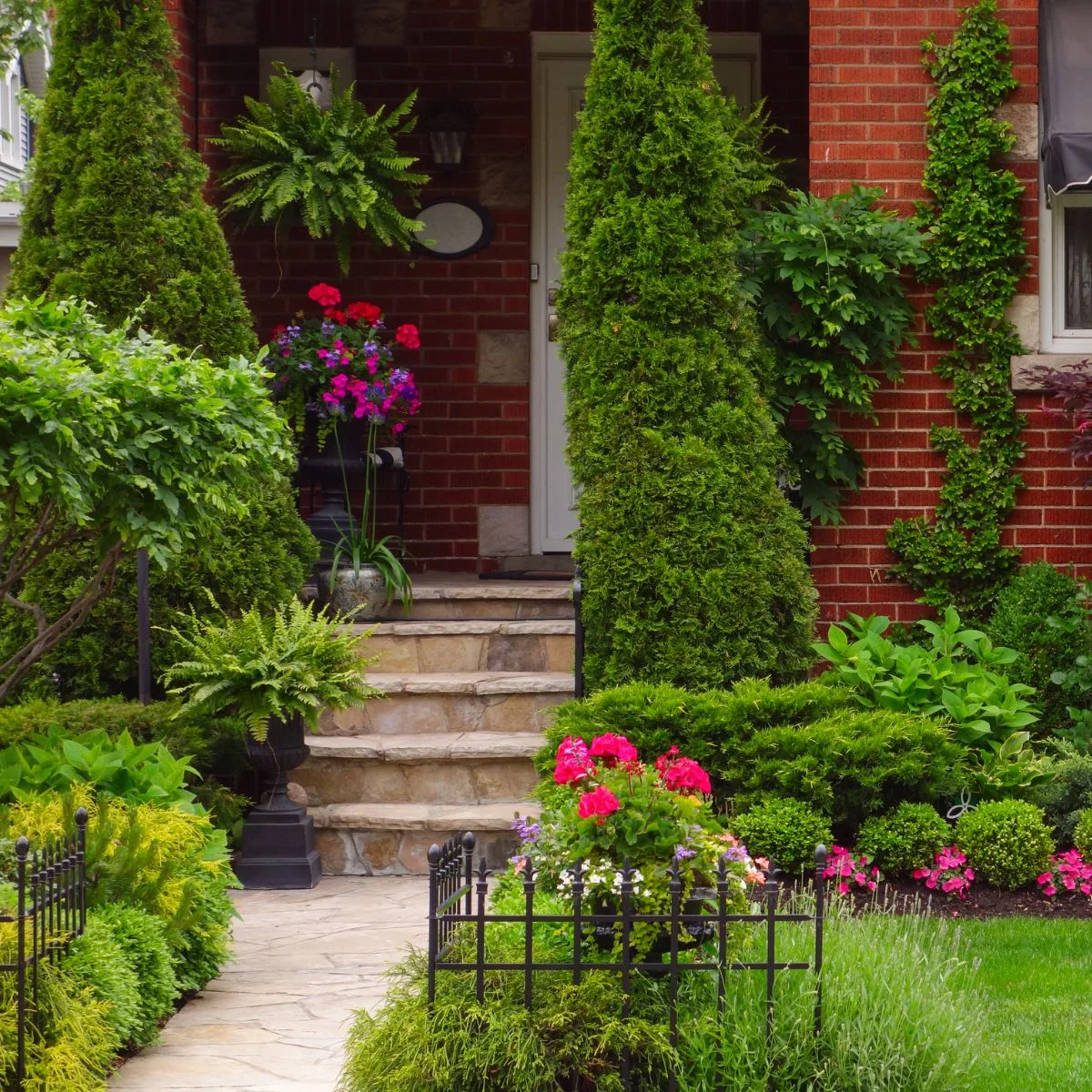 This is a carefree landscape once installed: an evergreen shrub (or two), some boxwood shrubs, a few climbing plants, ferns, and some brightly colored flowers are all this house needs for an inviting entrance.
3. Add some whimsy with garden art
Garden art can be a fun and creative way to add personality to your front yard. Consider adding garden sculptures, wind chimes, or other decorative elements to add a touch of whimsy to the space. Or, if you are artistically gifted, paint some flowers on your garden fence, like the image above.
I wish I was talented enough to paint like that!
4. Use native plants
Native plants are well-adapted to the local climate and can be easier to maintain than non-native plants. They can also provide food and habitat for local wildlife.
Check out my list of native plants by state.
5. Plant climbers next to a wire fence
Does your garden have a netted fence?
Instead of leaving it bare, you can plant some creepers and vines around it. The plants will use the fence as their support and add a fresh look to the standard fence. Tiny flowers (or berries as this image shows) peeking out from the fence will look amazing! It will round out a beautiful front yard by giving a whimsical look and also covering that unappealing fencing.
For instance, the pink and white hues, from Virginia creeper, look lovely against the green fence here. You can also use honeysuckle vines for this: they look (and smell) soo good!
Or, you can pick a plant that adds a pop of color to your landscape 😉 When working with flowers and plants, it's always recommended that you use native plants. Not only will they be easier for you to grow and maintain, but it's better for the environment.
6. Add a bird bath and surround it with bright flowers
Do you like bird watching during your free time? A birdbath is going to make a great first impression on the birds in your area, calling them in so you can watch, especially if you have bird-attracting flowers nearby as well.
This whimsical haven is the perfect fit for your front yard. You just have to pick a simple stone bird basin and place it in the middle of a flower bed. You should plant short flowers at the front of your birdbath and taller ones in the backdrop. That way the flowers are framing this stunning centerpiece.
If you have a small budget, you might be able to get a second-hand birdbath for cheaper than a new one. The great thing about this stone design is that it actually looks even better when it's a bit worn, so a used one will work just as well (maybe better) than a new one. If you don't already have a flower bed to add your birdbath to, you can plant flowers around it once you choose the best place for it.
The birdbath will become the highlight of your lawn and it will for sure attract lots of birds. Win-win for everyone!
7. Add a pop of color by painting window frames and fences
What if you've got a small front yard?
That's okay! You can use this eye-popping idea to make the most of your small space. Paint your window frames and wooden fences in a bright shade of color. Then mix and match the flowers you plant in front of the window. The important thing to remember is just to work with what you've got.
In this case, the homeowner has used a beautiful blue as its theme and then teamed it up with orange and pink flowers. You can replicate this look as it is, or customize it by switching the colors: paint your window frames a bright orange and plant some dainty blue flowers. That would look AMAZING!
A hanging basket or two might also work in a space like this. They're great for small spaces. The main idea is to select vibrant shades that compel onlookers to stop and admire your home.
8. Blooming borders will put a smile on your face every day 🙂
Creating flower borders from the house to the mailbox should be an easy project, especially if you plant perennial flowers, such as lavender, peonies, roses, or iris. And wouldn't you love to be greeted by flower blooms as you get your mail, or come home from work? I know I would!
9. Create a beautiful windowsill garden
Compact, low-maintenance, and stunning – that's what window sill gardens are all about. The miniature gardens function as adornments for your window sills and are a great way to showcase your red bricks and paneled windows.
If your front yard is tiny, and you'd still love a flower garden, this is the perfect compromise.
The best part is that window boxes open doors for lots of possibilities. You can try growing herbs, succulents, or small vegetables here too. This is great not only for small spaces but for anyone on a budget because it doesn't take much money or a professional landscaper to do this idea.
10. Mix a manicured landscape with a splash of colorful flowers, shrubs, and grasses
If you want your front yard to be organized then you can opt for this landscape design. You need to create circular planting beds for this look. The size and number of planting beds can vary, depending on the vastness of your lawn.
How do you make it?
Choose the designated spot
Dig up the area
Plant tall plants in the middle and shorter ones as the boundary
Add rocks for some extra oomph!
That's it! Your green grassy landscape will look fantastic with these big, bold, flowering beds in between. Also, it's the best way to keep the front yard neat and clutter-free.
11. Slopy front yards can be pretty too!
If you've got stairs and a sloping wall at your entrance then you can go for this option. This landscape design utilizes the slanting wall as the main planting grounds.
To amplify the beauty of your yard, you should grow lively, bright-colored flowers such as yellow, orange, and red blooming roses. Other flowers like a bed of daisies, lilies, or mums will do too. With some plush green grass and maybe a small seating area, you can really finish off the look.
See more hillside landscaping ideas.
12. Line your walkways with pretty pink flowers
Imagine rosy pink flowers welcoming guests when they step into your yard. The cheery pink shades of the flowers will be enough to brighten anyone's day and the sweet scent of the fresh flowers will have a refreshing effect on anybody who walks there.
Of course, if you have room for a white fence to set the bright flowers against, your pathways will look even better!
13. Decorate a rustic wheelbarrow
I always say that merging hard-scape with soft-scape designs leads to awe-inspiring results. That's exactly what happened in this case. The wheelbarrow is brimming with ivy and flowers of all kinds and it'll bring a dramatic effect to your entrance.
Take your home's style into consideration when you choose this one, but when done right, it can match nearly any home and garden.
Create this look by finding a rundown wheelbarrow at the next yard sale or thrift store. Then just fill it up with all the fresh blooms and colorful flowers that you can find. And lastly, select a nice spot to showcase it. The pebbled ground beneath it ensures that the decorative piece doesn't tumble over on a windy day.
14. Bring the garden to your porch
If you have a great big porch, you can use it to design a great seating spot. Start by creating a gorgeous vertical garden by hanging your favorite flowers from the porch's ceiling. To cover up more space you can place small pots of different shaded flowers beneath it. These floral fixtures will add a visually pleasing look to your porch.
Add a wooden bench, or even better, an Amish porch swing and it will become your favorite teatime spot, reading nook, or bird-watching post. You can do this with a casual style, a country home feel, or even a more modern look. It's all about your personal taste, your home style, and the front yard look you want to achieve.
Pro-tip: For a more practical approach you can hang herbs or bird feeders instead of flowers from the ceiling.
15. Create a simple but beautiful rock garden
Gravel paths are pretty common in suburban front yards. You can switch things up a bit by building a rock garden on your property line. Rock gardens are increasingly popular DIY landscaping ideas. This is partly because it's really easy to create and also because it's virtually maintenance-free. As an added bonus, it just looks great.
How to build this rock garden? Select evergreen bushes and small plants for the green element of your rock garden. Then surround them with small-sized boulders or gigantic ones, depending on your aesthetic sense (see the link above for some creative rock garden ideas). add some river rock to help the pops of color from your plants show up better.
The rock gardens will give a textured look to the garden's surface. It also creates an instant curb appeal, differentiating your lawn from the rest of the generic green lawns.
16. Create a windowsill hanging garden
Vertical gardening is an efficient way to use small spaces. They help you utilize the most unusual spaces to pursue your gardening. Now, placing planting pots by the window sill isn't something new.
Nevertheless, I like how the homeowner has chosen soft shades of flowers for this landscape design. It's a classy look for red brick houses or people who don't like over-the-top decorations. I find it super sweet and charming.
Plus, it gives you the flexibility to change the flowers according to the seasons. That's a big bonus when you compare it to other ways to landscape that you can't.
17. Build a curvy pathway bordered by lots of flowers
Most front yards have pebble or gravel pathways that lead you to the front door. If you wish to change things up, then you should replace them with sticks instead. It's definitely an innovative take on the usual landscape and incorporates a rustic feel to it.
Next, you can elevate this look by creating a color-coordinated boundary of flowers at the edge of your pathway. In the above landscape design, you can see pink and yellow flowers huddled together as they protect the pathway. They've also added grass on the opposite side to prevent it from looking overcrowded. I like that balance 🙂
18. Fairy-tale fences
I love this look! To get a similar look, select a plant that has small flowers that can grow in the spaces between the fence slats. It's a cute and playful way to embellish the garden. They've used Japanese camellia aka the 'rose of winter' for this project. I love it because it's delicate and subtle.
However, you can go for bolder shades and bigger species if you want to go all out.
19. Decorate the front door
This brilliant idea is for the gardener that lives on the ground floor of their apartment complex. You can use it for your suburban bungalow too. Yet, I think they work better for homes that are located amidst the concrete jungle.
How to do this? For starters, get some large outdoor planters for your favorite flower shrubs (try one of these bright yellow shrubs) and creepers. Paint your wooden door a distinct, complementary (or contrasting, if you prefer) color.
Not only is this a step up from welcome mats, but it's beyond beautiful. It's also pretty easy to replicate, so you don't have to do a whole lot to create this look.
20. Plant around stone walls
If you've got a natural stone wall, you should try this out.
You just need to add some shrubs, ferns, and small plants on top of the stone wall. A few creepers will also look great as they cling to the wall. You can also decorate with potted plants instead. The main idea is to beautify the stone wall with lush green plants.
Check out these cascading plants for retaining walls.
21. Big, bold, and beautiful spring flowers
This is one of those front yard landscaping ideas that are picturesque and dramatic. The tall towering flowers cover the sides of the concrete pavers walkway. They are a big, beautiful, and mesmerizing sight as someone makes their way toward your home. The walk will feel like you are walking in a field of flowers far away from concrete spaces.
I love how it's a simple landscape design, yet has a powerful impact. So if you're interested in making lasting impressions then this one is for you.
22. Blooming bouquets for your doorway
Another simple idea for adding flowers to the front yard. The short shrubs of flowers and the two narrow planters are elegant and stately.
The red and yellow flowers are a cheery sight and they look great in contrast to the red brick house. Adding to the look are twin lanterns that hang above them. It's a nice touch that will allow the guests to admire the entrance at night too. You can incorporate other lighting ideas too if you like hosting evening parties.
23. Rock garden on a hill
Do you have rocky cliffs near the entrance side that are hard to landscape?
Use that space to create a pretty rock garden. The rocky terrain will look awe-inspiring all decked up in wildflowers and moss. You can grow the flowers inside the rugged spaces between the rocks with a variety of other small plants.
I like this idea because it lets nature take over with its slightly unkempt appearance.
24. A mountain of pink roses
Do you wish to step up your landscaping game?
I like this front yard rose centerpiece. You'll find that it's pretty low-maintenance compared to a field of roses. The dainty white fence is a lovely touch that keeps the bush's growth in check. Plus, it's got a very chic and trendy appearance.
If you've got a big courtyard then you can set up three or more rose bush centerpieces like these. It'll help you cover the empty spaces in the middle of your lawn.
All in all, it's an ideal way to hold the passerby's attention as they walk past your front yard.
25. Peek-a-boo roses
Delicate, simple, and endearing: these are the first things that come to my mind when I look at this image. I like how the pretty roses look between the red brick wall and the majestic steel gate. You usually see treetops or potted plants placed at the main entrance. That's kind of the standard statement.
However, if you wish to amp up your curb appeal then this landscape design will accomplish that. This idea works both for grand Victorian homes and smaller bungalows. You just need to find the right spot to place these lovely roses.
26. The medieval charm
Technically, this image isn't showing a front yard. However, I feel that a knight in shining armor can definitely add an edge to your front yard display. You can hang it on your patio, on the terrace, or simply place it in the middle of the yard. It's a great idea to add a very unique and eye-catching element to your property.
It's going to add a striking contrast against the colorful array of flowering pots next to it. Besides becoming the talking point for guests, the sentinel can also help keep curious critters (or people) at bay.
27. A beautifully simple front path
Don't like vibrant colors and extensive landscaping?
No problem! You can do what this homeowner did by using trees, grass, and neat edging techniques to make a statement. The tall shade trees function as a makeshift canopy for you as you sit and have tea in the front yard. It also gives a warm woodsy vibe to your home.
The paved pathway, the well-maintained edges, and the planters at the entrance are subtle ways of keeping things under control. I feel that this project will pique the interest of gardeners who wish to minimize the effort it takes to maintain the front yard.
28. Vibrant visuals for the front yard
Unlike the previous landscaping idea, this one is all about the colors. I LOVE all the yellow spring flowers! It's amazing how a few potted plants and some hardy tulips can transform any space. This design can work for all types of front yards, small and big.
You just need to plant your flowers on the edges, preferably near the wall. Then place a big patio table and relaxing chairs in the center. Place a few more pots on top of the table to tie things together. Seasonal planters can work here too if you want something smaller.
This will become the ideal spot to have breakfast or supper during the inviting, fresh, spring weather. Additionally, it gives you a full view of your garden.
29. Add a cute bridge for effect
You've got a field of seasonal flowers and a paved pathway. The only addition to it is this miniature bridge that's been built over a man-made stream. Amazon has lots of bridge styles here.
I thought that this was a fun and quirky way to design your home's entryway. You might need to rope in a local landscaper to construct the bridge. Or you can build one yourself if you've got the DIY skills to create something sturdy. Or, my favorite would be to get an already-built bridge like the one below.
30. A bright-colored garden
This nature trail connects the front yard to the backyard in a beautiful manner. You'll find it really useful for garden parties and activities. Your guests can be taken directly to the garden when they visit your place.
You can follow this pattern by planting clusters of different colored flowers. The other idea is to select the same plant in different shades to decorate the pathway. As long as you choose rich, vibrant colors, this landscape feature will impress visitors and give you a sense of accomplishment.
31. More floral decor ideas for windows
What if you don't have a front yard?
That's perfectly fine. Window gardens come in handy here. They help you incorporate hints of nature into the front of your house even if you don't have a garden. Not to mention the fact that these hanging flower beds add a dramatic touch to your exterior.
You need to select flower varieties that please your senses and make the house feel vibrant. In this image, the flowers appear to be spilling out of their planters.
32. Subtle effects for minimalists
Sometimes you need to turn things down a notch. It might be because you're a minimalist or because of your budget. In that case, you can try out something like this. Plant a cluster of colorful (or fragrant) flowers right next to the wall to form a contrast to the brick wall behind.
You can plant these in all the corners of your front yard or just by the front door. The overall effect will be very charming.
33. For the lover of bold colors
Believe it or not, you don't need grand fixtures to furnish your front lawn. Sometimes a fresh lick of paint is enough to make a statement. Well, that and oodles of creativity to bring life to a boring old crate. That's what this homeowner has done to revive their front yard.
All you need is an empty wooden crate, bright paint, and tools to attach it to the window. Then just fill the crate with soil and drought-resistant plants to complete the look. You can paint the window to complement the crate if you're interested in going the extra mile.
Voila! You've got an environmentally-friendly hardscape feature for your home.
34. Elegant edging
Gorgeous! That's the only way to describe this wonderful landscape design. You need to build a two-layered brick wall to create the boundary line. Then two types of flowers fill up that space with a short plant to add diversity. After that, you can place the park benches to create seating space for you and your guests.
This one is going to take a lot of effort in terms of construction. However, it'll be worth it in the end.
35. Wildflower garden
If you live outside the city, this little idea will work for you. If you live on a homesteading farm or own a cottage near the meadows, then you should create a field of wildflowers like this.
Wildflowers planted along your driveway… what an amazing welcome every time you come home!
The great part is that wildflowers require very little attention. So you don't have to do much once you've sowed the seeds and watered them until the buds bloom.
36. Country cottage landscape
I end my list with yet another landscape idea for cottages and farmhouses. Use some of the space to grow a field of sweet-smelling flowers. Stand out from your neighbor's fields.
Why should you pick yellow? It's perfect to mimic the sunshine. The color also symbolizes prosperity, happiness, and good fortune!
That's why growing snapdragons, sunflowers, or tulips would be fitting for this outdoorsy project.
It's a Wrap
As you can see, there is no end to front-yard landscaping ideas for your home. There are lots of different directions that you can take for this project. Choose something that matches your aesthetic sense and showcases your house instead of hiding it. After all, that's the greatest technique to increase the curb appeal of your home.
Are you inspired? Itching to implement your own front garden dream landscape? I'd love to see your favorite front yard landscaping designs, so please stop by our Facebook page and share!