Rocks are one of the most common features found in any natural setting: from oceanside cliffs to deserts, they form stunning landscapes that have been admired by people all over the world since ancient times. With their sheer diversity and usefulness both inside and outside homes, it's no wonder that rock landscaping has become increasingly popular over time. Landscaping with rocks is a great way to add some color and texture to your yard and increase your home's curb appeal.
The most important thing for people to know about this landscaping type is how to use it properly. There are different types of rocks and also different ways that they can be used. And if you're new to all of this, you may not know where to begin. That's why we're going to cover some of the basics here today to get you started. Feel free to dig deeper and do more research once you decide what type of landscaping project you are about to undertake.
Landscaping With Rocks
Natural stone is an easy material to work with for landscaping and it's very versatile. You can really accomplish a lot in a landscaping makeover with some natural stone. You can also use rock or gravel to section off certain parts of the property from driveways and parking to mulch or drainage. The best part is that it requires little to no maintenance, depending on the rock that you use. Once you place it, it's there.
Types of rock you can use in landscaping
When working on landscaping with rocks, you first need to choose the right rocks. You can choose from these types of landscaping rocks:
pea gravel
flat rocks
stained or colored rock
small stones
large boulders
and much more
The type of rock you choose will set the tone for the rest of your garden or landscaping so if this is a brand-new landscaping job, you have a lot of freedom there.
However, if you already have an existing theme or style to your landscaping, and just want to add the rock elements, then you'd want to choose a rock style that goes with your existing landscape. So, how can you use rock?
Here are some ideas.
1. Use rocks to create a stone walkway
Sidewalk landscaping is a way to use rock around your property and it's both functional and aesthetic. Anywhere that you would want to create a path or walkway throughout the garden or property, you can do with rock.
If you have a large section of steep landscape with an awkward slope, you might want to add a retaining wall
2. Create a gabion planter
This is a great way to use rocks in your garden. If you love a good DIY project, this could be a nice weekend activity. But if you'd rather have some help, Amazon sells the framework for these, where you get the wire form and just fill it with rock. These gabions come in different shapes, so you are not stuck with one type you might not like. Here are the most popular ones:
3. Replace mulch with stone
You can also use rocks in your landscaping to replace the mulch. If you want to call attention to your favorite garden, flowers, or shrubs, this can be a way to do it. Mulch landscaping needs to be redone each season, but the rock can stay year-round, so in the long run, it will be easier and more cost-effective for you.
Just make sure to place some heavy fabric under the rocks to control weeds.
4. Create a raised flower bed (some call it a fairy ring)
Another idea is to create a fairy ring with your rocks. You can stack landscaping rocks a few rows high for a whimsical and practical fairy ring. This creates a barrier between the plants and other areas of your lawn and garden.
It's a good way to add some flower beds to your beautiful landscape.
5. Big boulders can be used in a seating area
You can also use rocks in your landscaping to create a seating area or a sectioned area for grilling or a picnic table.
Put down stones that you walk on top of, place a picnic table on, or place benches or patio furniture on. It will look great, and you also don't have to worry about weeding and maintaining.
6. Some rocks make great stepping stone paths
Much like the earlier suggestion of creating a rock sidewalk, you can also use larger stepping stones to create a walkway or path throughout the landscape.
You can use very large stones, or you can use stones just big enough for a footstep. You can spread them out more or put them close together. And you can measure and follow or pattern or you can make it more random and spread out. It's all about what kind of look and feel you want.
7. Use rocks to build a fire pit
Another way to add interesting elements to your landscaping with rock is to build a rustic fire pit. A small fire pit that is embedded in a stone patio, for example, would look great.
Some people also use lava rock to create a platform for the fire pit, and that works well and looks great! Lava rocks come in a variety of colors: from brown-reddish to light tan, and smoky gray, or a mixture with a wide variety of colors.
8. Large boulders can become a focal point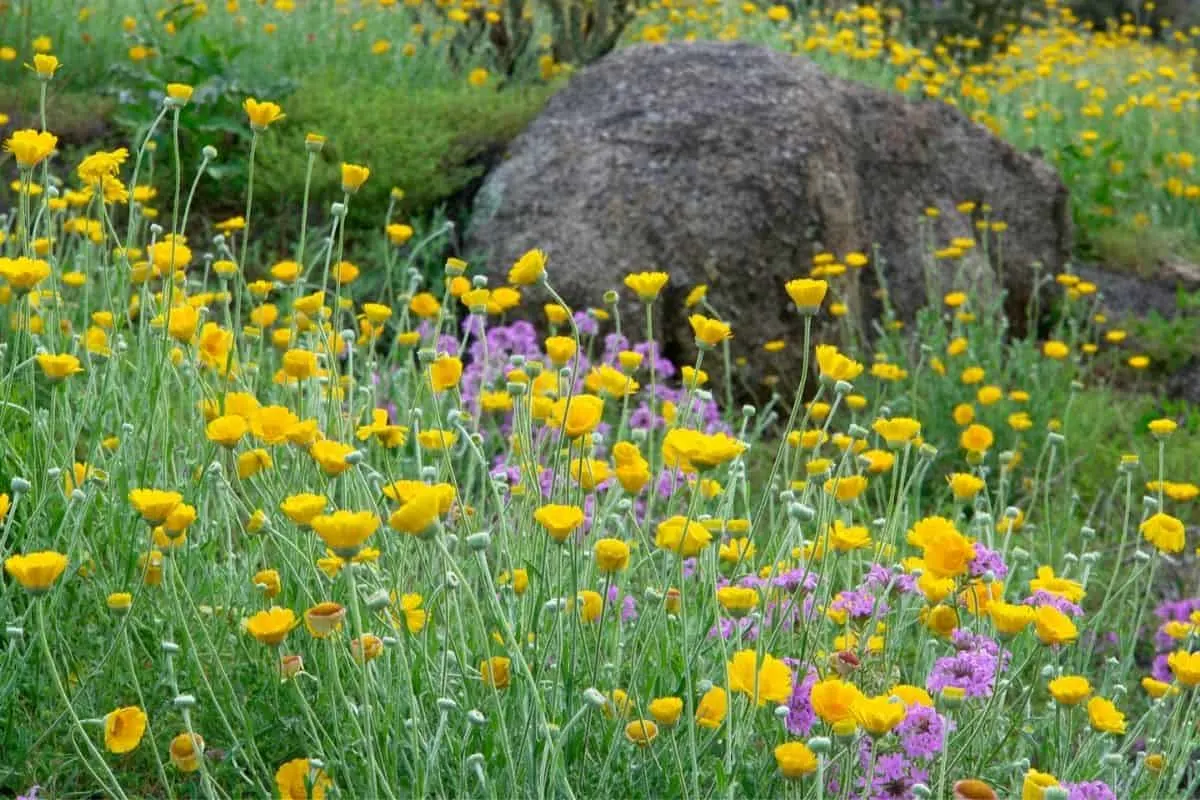 A large stone can also make a great focal point or centerpiece in the yard or garden. This can be a great way to draw attention to a certain spot in the garden or to highlight and accent a flower or plant or another part of your landscaping.
If you have a hilly front yard, you can add ground cover plants between rocks of different sizes: larger rocks mixed with smaller rocks will add a textural element to your landscape design.
9. Build a pond or water fountain border
If you have a pond or fountain or other water fixture in your landscaping, rocks can be used to help border around it. This can be for looks as well as for practical function.
Or, you can create your own waterfall on a hillside with some large rocks and beautiful flowers.
10. Accent a front entrance
You can also use landscaping rock to accent your home's entryway. It can lead up to or around your front door and it can also highlight other landscaping elements you might have at the front door such as plants and flowers or statues.
11. Create a container garden
Another way to add a container garden to your property is to use landscaping rock for your outdoor garden. It's a bit of a mix between container gardening and regular outdoor gardening and can also give a unique look.
12. Rocks mixed with flowers for a pop of color
What a beautiful pop of color! The phlox peeking out between the larger rocks looks great!
Just as stunning as the above, these yellow flowers peeking from behind the large boulders will brighter your day every time you pass by.
13. Hillside rock wall
If your house is on a hill, creating a retaining rock wall might be needed anyway. So why not add some colorful flowers behind it, and let some of them drape over the stone wall? Beautiful!
Make sure you choose the right rocks
If you decide you want to do landscaping with rocks, it's important to choose the right type of rocks. There are many available to choose from and they vary in size, shape, color, texture, and purpose. If you have a minimalist theme in your garden and landscaping, you want to choose a rock design that complements this.
If you have a Japanese garden or a beach-themed garden, the rocks you choose will be completely different.
In addition to just aesthetics, you also want to choose based on the function. If the rocks are not the right color or style, it can throw off the entire theme you have going on already.
When you're starting fresh with a new landscaping project, then you don't have to match the rocks to what is there already. You can have more freedom to choose whatever you want, but the process is the same if you're going with a theme or specific design type.
A cute way to help you decide is to look at pictures and videos of landscaping rocks online. Then you're able to see the big picture of what it will look like completed and that will help you choose the right rocks for your own needs.
How to care for your landscaping rocks
How you care for your landscaping rocks can help you get more enjoyment and use out of them for more years. While rocks are very low-maintenance, there are some things you can do to keep them fresh and like new for as long as possible.
When cleaning boulders or large rocks, you can use a broom to remove loose dirt. Then you can rinse the rocks with a garden hose. If needed, you can scrub with a brush to remove mud, algae, moss, etc. Then you can rinse a final time.
If you have a rock garden, rock pathway, or bed of rocks, you can also clean with the water hose. You want to choose a setting that gives you enough water pressure to cleanse the rocks, but not so much that it blasts them around and displaces them. Using a water hose nozzle with various settings will help you achieve this.
Conclusion of Landscaping with Rocks
Now that you know these great ideas for landscaping with rocks, you can begin planning for yourself. Learning about the different options, determining what works best for your landscape, and then putting it all together is a fun and rewarding experience.
There's so much versatility to using rock in landscaping, that there is no shortage of ideas to consider. What is one thing from our list that jumps out at you the most? Do you think you'll try it?
Lisa Clark is a freelance writer who grew up on farmland, then moved to the city, and has now retired back to her rural roots. She's having fun teaching her kids about gardening, planting flowers, and collecting houseplants.