Small shrubs are a great way to adorn the front of your home or other parts of your landscaping that is also low maintenance. Landscaping with small shrubs gives you the chance to put in some greens, increase curb appeal, but reduce the amount of lawn space you need to mow and upkeep. In addition to looking nice, there are some other benefits to shrubs in your landscaping.
So, how can shrubs be used in the landscape? Let's take a look.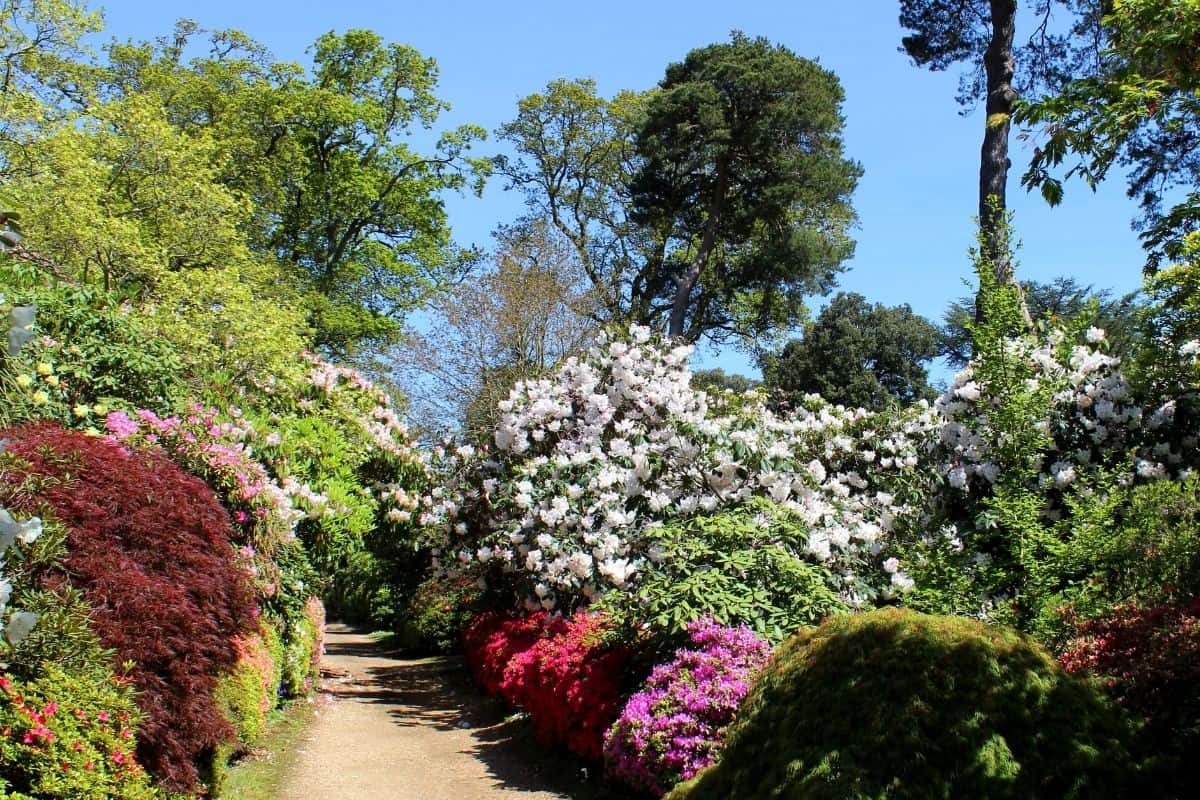 Landscaping with Small Shrubs
Landscaping shrubs are typically classified as small, medium, and large. The largest varieties look more like trees than shrubs. Before you place any shrub into your landscape, you need to learn all you can about it, including how tall it will grow and what soil conditions it prefers. Some landscapes will not do well with large shrubs, for example.
You also need to know what you are planting ahead of time so that you can plan out the overall look of the landscape. It's important to know how the shrubs will look and fit at the time of planting, and over time as they grow to maturity. The best time to plant shrubs is in the fall or the early spring.
Here are some ways to use small shrubs in your landscaping.
1. Privacy hedges
You can use small shrubs to create privacy hedges around your property. They can be used as a property border between you and a neighbor, or they can be used along the front of your property or to separate the yard from the sidewalk or street.
2. Foundation plantings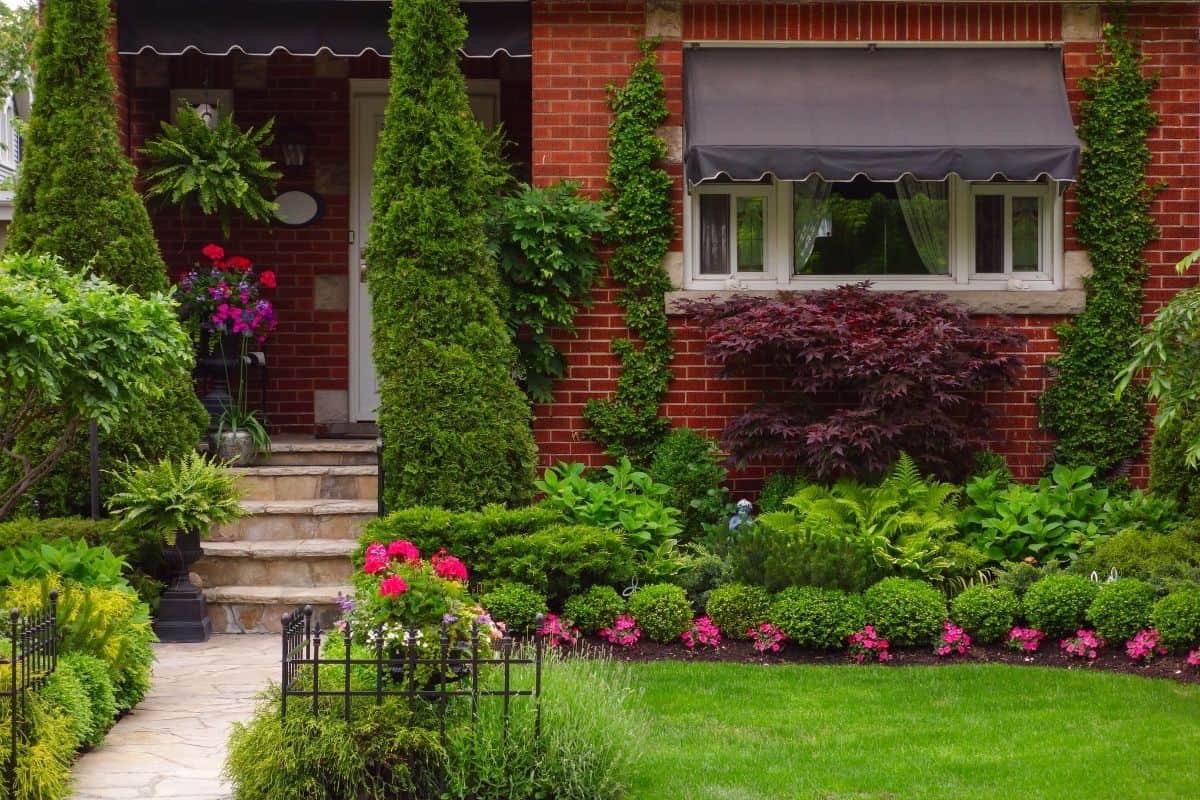 Another idea to do with your small shrubs is to use them as foundation plants. They can cover the entire perimeter of your home, or just around the front or one side. Be sure to plant foundation shrubs at least two feet away from the foundation for small shrubs. Medium shrubs will need to be four to five feet away. Small shrubs are great for this use because they will not grow tall and cover your windows.
What a beautiful use of small shrubs, carefully manicured to create the perfect front yard landscape.
3. Backdrops to garden beds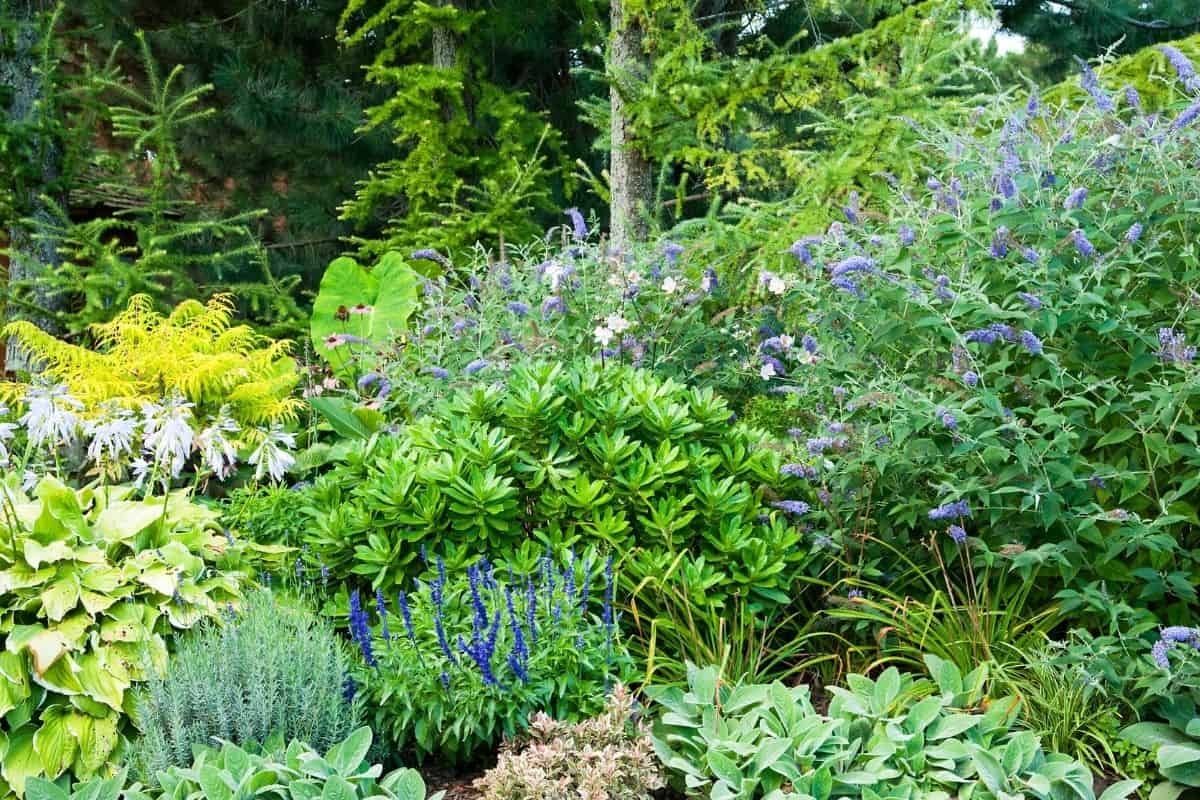 Shrubs can make a great backdrop to your garden beds also. If you use small shrubs, they will not overpower or overtake your garden but can serve to highlight the flowers and other plants you have in the garden. You can use all-green shrubs, or you can use flowering shrubs that add more interest.
I love the above setup: butterfly bush in the back, and then a combination of smaller shrubs and other flowers in between, such as hosta, Russian sage, azaleas, etc.
4. Add seasonal interest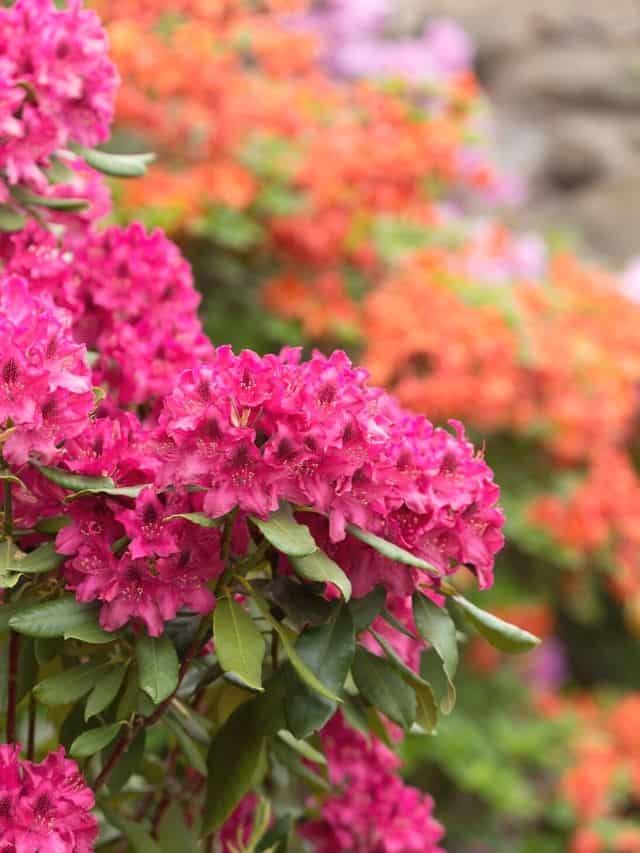 Another way to make use of shrubs in your landscaping is to add seasonal interest to the property. Evergreen shrubs are a staple to most landscaping projects, but you can also choose seasonal plants or shrubs that bloom with the seasons to really add more depth to the landscape. You can choose shrubs that do well in your area since seasonal plants can vary greatly from climate to climate.
5. Section off portions of the property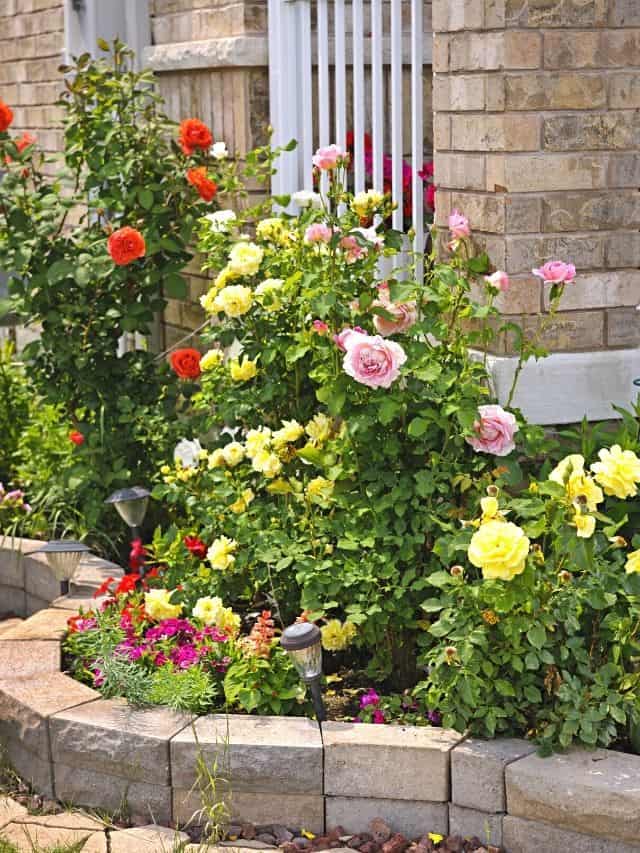 Shrubs make a great divider between different parts of your property, garden, or lawn. You can section off the front from the back, your front lawn from the sidewalk, a path to your door, or sections of your back or side lawn. There is a lot of flexibility and room to be creative here.
6. Line your walkway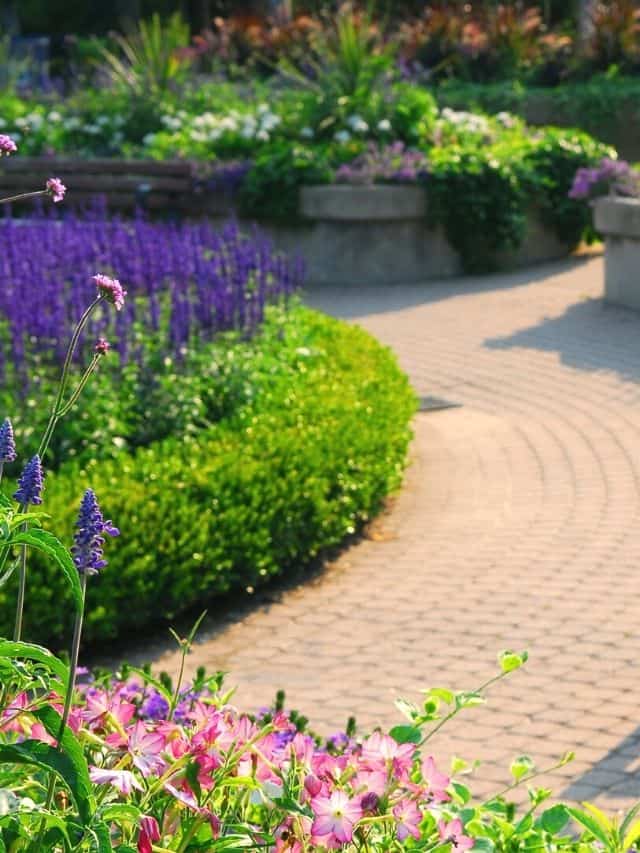 You can also use small shrubs to line the walkways on your property. You could use them to lead up to the front door or porch or to lead around the side or back of your home, throughout your garden, or any other walking paths in your landscaping.
Small shrubs are best for this because they will not get so big or tall that they grow over your walkway or impede the path.
Advantages of Landscaping with Small Shrubs
Some of the advantages of landscaping with small shrubs are:
they can provide shade
are beautiful to look at
enhance air quality
improve soil stability
create habitats for local wildlife
Evergreen shrubs are a great choice that require little maintenance and look great year-round. Small shrubs do well in the front of the home and front lawn landscaping and will increase your curb appeal, along with providing beneficial elements to the landscape.
They can also help lower your energy bills and provide borders and privacy around your home. Because of all the value they bring, and because they are nice to look at, they can also increase your property's resale value.
All in all, there are many advantages to using small shrubs in your landscaping. So, what's the catch?
Disadvantages of Landscaping with Small Shrubs
Here are some disadvantages to landscaping with these shrubs that you may want to consider.
It takes time to plant and tend to the shrubs
You need to know where and how to place them for optimal growth and benefit
Some shrubs need to be trimmed regularly to keep their shape
Most of these disadvantages are not major when you compare them to the many advantages of shrubs in your landscaping. It's also important to consider the different types of shrubs.
Types of Small Shrubs
There are many types of landscaping shrubs and if you've just started researching this for your own property, it can seem a bit overwhelming.
First, there are evergreen shrubs and then there are deciduous shrubs. Both have small varieties so if you're looking for something that will not grow too big, then you have many options to choose from.
Here are some good small shrubs to consider:
Pink elf French hydrangea
Dwarf Norway spruce
Azaleas/ rhododendrons
Barberry
Landscaping with Small Shrubs FAQ
There are many questions that arise when we talk about shrubs and landscaping. Here are some of the ones commonly asked.
What kinds of shrubs stay small?
There are many shrubs that stay small. If you're looking for some that will not grow past a certain point, consider boxwood shrubs, any varieties labeled "dwarf", sapphire surf Bluebeard, coral beauty cotoneaster, fire dance dogwood, and pink sparkler spirea. There are also varieties of hydrangea that stay small.
What are the best low-maintenance shrubs?
Some of the best low-maintenance shrubs are blue star juniper, skyrocket juniper, weigela, and its hybrids, smokebush, Virginia sweetspire, and Japanese spirea.
Can you put small landscaping shrubs near the house?
You can put small landscaping shrubs near the house. However, you should leave at least 6-8 inches from the structure for small shrubs (and more for medium shrubs). This is because the shrubs can damage the siding of the house and also because they retain moisture so you don't want them directly on the structure.
What are the best small shrubs for landscaping?
The answer to what small shrubs are best for landscaping can vary from person to person. What works best for one lawn may not be best for yours. You will want to consider climate, soil type, location, and the overall goal you have with your landscaping.
Conclusion of Landscaping with Small Shrubs
With this information, you are ready to plan your landscaping project. Whether you are starting new and fresh, or renovating an existing landscape, small shrubs have many great uses. The right choices in shrubs can add value, curb appeal, and functional use to your landscaping at a minimal cost investment and with low maintenance.