Thanks for stopping by Backyard Garden Lover. We're so excited to share with you gardening ideas, pictures of GORGEOUS flowers, tips, tricks, and more to make your gardening life easier.
We are here for you, regardless of where you are in your gardening journey. You could be an avid gardener just looking for community, or just beginning to dream about starting a garden in your backyard or balcony, depending on where you live.
We (Florin and Adriana) have been gardening for over 30 years, and we're still learning new tricks. As we learn, we'll share with you what we discover.
We'd love to hear from you: never hesitate to send us your questions and share with us your gardens and backyards.
If you have a special backyard project you're proud of, send us some pictures and a bit of information about your project and we'll feature you here on our site. We'll let the world know about your accomplishments in the garden.
We're glad you stopped by: pull up a chair, and stay awhile to see the many ideas we have for you here.
Follow us on social media
To stay updated on current garden tasks (and see our new content), follow our Facebook page here.
And if you'd like to save some of our pictures for inspiration, make sure to follow us on Pinterest.
Meet the team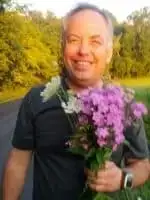 Florin Copaceanu is the one who makes my dreams come true, both in life and in the garden. He does all the hard labor around our backyard. Since he grew up on an experimental farm in Romania, he knows a lot about growing food!
He is a nature and beauty lover, and never misses an opportunity to gather some wildflowers in a bouquet, whenever he's out and about. And, get this: he picked over 150 roses from his garden the night before our wedding: white roses for my bouquet and a rainbow of colors to decorate the church.
Of course, gardening is his hobby. He is one of the best Real Estate Brokers in Shenandoah Valley: get in touch if you are in the area, and he'll show you around 😉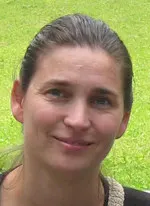 Adriana Copaceanu, came up with the idea of a backyard garden blog in the spring of 2016.
I lived in an apartment building until the age of 26 and always craved nature. I remember my grandfather, pulling rocks out of a small plot in the city, trying to prepare the soil and grow some food. A great example of hard, but satisfying work in the garden!
And when we moved to Virginia, even though we only had 0.3 acres in town, we HAD to have a garden. We built 3 small raised beds (and later added a couple more in small nooks of the property), and for 19 years we grew an abundance of tomatoes, hot peppers, and lots of herbs.
We have now moved to our dream property, with a lot more space, and the projects I'm dreaming up are piling up. But life is good, and we are enjoying a nice, big vegetable garden, a few chickens, a lavender patch, a meadow, and very soon, a cut flower garden. Oh… how exciting! I hope you'll stick with us as we embark on all these wonderful projects we want to share with you.
Adriana also published 2 books in the spring of 2023 to share her tips for raising chickens and growing lavender, both of which she loves dearly. Check out her books: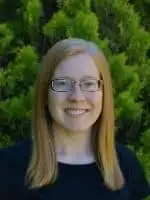 A lover of all things green and wearer of many hats, Serena Manickam is a freelance editor and writer, and sustainable market gardener in rural Virginia. She holds a BA in environmental science from Goshen College, where she studied agroecology with the goal of becoming a sustainable farmer and earned a minor in journalism.
In the spring of 2020, she started Fairydiddle Farm, which currently consists of a no-spray market garden and herbs that have slowly begun to fill not only the herb garden but nearly every flower bed around the house as well.
When not attempting to outwit voles, caterpillars, and other veggie-munching critters, Serena enjoys hiking with her husband, laughing at the antics of her two house rabbits, knitting, reading, and baking. She also blogs about editing, writing, and working from home at serenamanickam.com.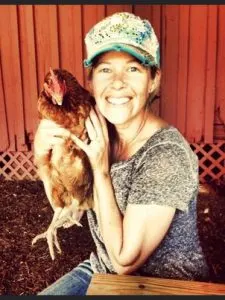 Sheri Hayden is a professional vocalist who has always had a passion for the outdoors and farm life.
She has been raising chickens for over a decade and has gained a wealth of insight into her feathery friends through years of experience and hands-on interaction. Her flock currently hovers at around 100 birds and her focus is on breeding for disease resistance.
Sheri also runs a Facebook group called Virginia Backyard Chickens. If you have questions about chickens, her group is a wealth of information.
Lisa Clark is a freelance writer and retired copywriter who grew up in the country on farmland, then moved to the city to raise her own family. She's now retired back to her rural roots and having fun teaching her kids about gardening, planting flowers, and collecting houseplants.
She's worked with houseplants and container gardening for over a decade and since buying her own place with a plot of land, she can now expand that green thumb to the outdoors, too.
When she's not reading or writing, she's working on the lawn, trying to teach her three rescued kittens that houseplants are not for eating, or hiking at one of her favorite State Parks.
Stella and Simon are back-to-the-land, mother-earth-type baby boomers who have wholeheartedly fallen for homemade hydroponics. While Simon developed his green thumb as a child by helping in his mother's prolific garden, Stella began her back-to-the-land movement as a mother of two in the 1980s. When they met in 2000, both were living in the city.
After getting married and buying three acres of Florida piney woods, Stella and Simon found inspiration in Epcot Center's "Living with the Land" hydroponics exhibit, and the wheels started turning.
They have since learned about and experimented with the six major hydroponics methods used today, using different systems, configurations, and crops and planting gardens both inside and outside. They even built a prototype ultimate food-factory homemade hydroponics greenhouse, which you can read all about in their book, Simon's Super Simple On-the-Grid, Off-the-Grid Hydroponic/Aquaponic Survival Greenhouse.
Read content by Stella and Simon