Terra-cotta garden gnomes have decorated front lawns and gardens since the mid-1800s. More recently, cute Christmas gnomes have become increasingly popular in the U.S. as holiday decorations both indoors and out.
Cute Christmas Gnomes
Before they became a whimsical garden accessory, gnomes were mythological creatures in traditions throughout northern Europe. The appearance of these creatures ranges from a small, ugly goblin to a tiny, bearded, old man in a pointy hat, but they always move easily through the ground and live in forests or gardens.
Considered an earth elemental or nature spirit, their character varies as well: they might defend plants and animals, help humans in the garden or home, live as forest recluses hoarding treasure, or act mischievously or even harmfully toward humans.
So how did we end up with cute Christmas gnomes? In Scandinavian culture, gnomes took on a beneficial role, and more recent tradition portrays them as bringers of Christmas presents, much like Santa Claus.
These whimsical little men with large noses, pointy hats, and long, white beards have become popular holiday decor in the U.S. over the past several years, popping up in flower beds, porches, and living rooms across the country.
Outdoor Christmas gnomes
One of the most common places to find gnomes is in the garden, so it's only natural to incorporate these little figurines into your outdoor holiday decorations. The possibilities are nearly endless, from traditional garden gnomes to more stylized ones, such as a Santa gnome or one with a design that fits your unique personality.
Whatever style you choose, make sure the gnome is made to live outdoors, with UV-resistant paint to prevent fading. Display your new friends prominently in the front yard or tuck them into various nooks as a joyful surprise to visitors or as you wander the garden. Some can even be used as candle holders to light your front walk!
Zen Garden Gnome Statue
Lighting Santa's Path Whitey The Holiday Gnome
Loonie Moonie Bare Buttocks Garden Gnome Statue
Serious Garden Gnome
Christmas gnomes for porch
The porch is also a great place for Christmas gnomes, and there are even more options available for this since a porch roof will protect gnomes that may not be designed specifically for outdoor use. Place them next to the front door or at the top of the steps to welcome guests, or display one on a patio table.
You might even be tempted to leave your gnome out all year, especially if you have one riding your favorite dog breed or representing a fandom you enjoy.
And although terra-cotta or ceramic gnomes may be what first comes to mind, you can also make an evergreen Christmas gnome for a natural yet fun addition to your front porch holiday decorations. Instructions are included later in the article if you'd like to try it out.
Indoor Christmas gnomes
Bring the whimsical fun inside with indoor Christmas gnomes. These often have a more Scandinavian design, with just the nose and long, white beard poking out beneath a tall, pointed hat. Small fabric or plush gnomes can decorate a side table or perch on the mantel to guard your stockings, while larger ones look great beside the hearth or next to the staircase. You can even buy gnome ornaments to hang on the Christmas tree.
But why stop with the living room? If you love baking as much as I do, consider a gnome cookie jar for a fun way to store the all-important Christmas cookies.
Gnome napkin rings and dishes add cheer to the dinner table all season long, and those gnomes perfect for the mantel also make a fun centerpiece.
For the bathroom, look for gnome hand towels and bath towels.
Christmas Tree Gnomes
Gnome Plush Decorations For Christmas
Handmade Swedish Tomte
Christmas gnome pillows
As suggested above, gnome decorations come in all forms and throw pillows are one that has many uses. Christmas gnome pillows can decorate not only the living room couch but porch or patio furniture, the bench in the front hall, or any or all of the bedrooms.
Use them alongside other gnome decorations to tie everything together and create a cohesive theme, whether in a single room or throughout (and around!) the entire house.
Retro Christmas Pillowcase with Gnome Design
Xmas Gnome Decor
Christmas Gnomes Throw Pillow Case
Merry Christmas Throw Pillow Cover
Scandinavian Christmas gnomes
Now that you have some gnome Christmas decoration ideas tickling your brain, let's back up a bit and revisit the Scandinavian tradition behind Christmas gnomes.
Known as a tomte or nisse, the gnome is the secretive guardian and helper on a farm. He has a long beard and a red hat and is no taller than three feet, though he is unusually strong for his size. If respected, he protects animals and children on the farm, but if unsatisfied, he may revoke that protection or even cause mischief. One way to acknowledge the gnome was to leave out a bowl of porridge – often with a pat of butter and maybe some honey – on Christmas eve.
In the 1800s, the gnome also became the bearer of Christmas gifts and took on the name jultomte or julenisse. Rather than traveling around the world in a sleigh and sliding down chimneys, the Christmas gnome lives on or near the farm and comes through the front door to deliver gifts. As with many ancient traditions, this folklore has several variations, as well as names for the gnome, throughout Scandinavia.
How to make Christmas gnomes from tomato cages
If you're feeling crafty and want to make a more botanical gnome Christmas decoration, try your hand at creating a gnome out of a tomato cage and evergreen branches. These evergreen Christmas gnomes are especially fun for decorating the front porch. Here's what you need:
tomato cage
evergreen branches
20 x 20″ red fabric
needle and thread or sewing machine
old pantyhose (just the leg section)
cotton stuffing
red mittens (optional)
Set the tomato cage upside down and tie the legs together with a piece of floral wire. Then, starting from the top and working your way down, attach each evergreen branch to the tomato cage using pieces of floral wire.
Next, you'll want to add the hat. Lay out the red fabric and fold it in half diagonally, corner to corner, to create a triangle. Cut a slight curve across the open edge, then sew the straight edges together to form a conical hat. Place it on the gnome.
To make the nose, cut the leg off of a pair of pantyhose and stuff a large handful of stuffing into the middle of it. Twist the ends together and tie them or secure with a rubber band. Use floral wire to attach the nose to the branches and tomato cage just under the hat.
You can display your gnome as-is, or if you want to add mittens, stuff them with additional cotton stuffing and attach using floral wire.
The video below offers excellent visual instructions for making an evergreen Christmas gnome.
Christmas gnome coloring page
Need a fun activity to occupy the kids this holiday season? Print out a few Christmas gnome coloring pages and let them color away! Of course, you can then proudly display their festive artwork among your other gnome Christmas decorations.
Especially crafty little hands might enjoy making or decorating a frame to put it in: craft stores often have cheap wooden or foam frames for painting or covering in Christmas stickers.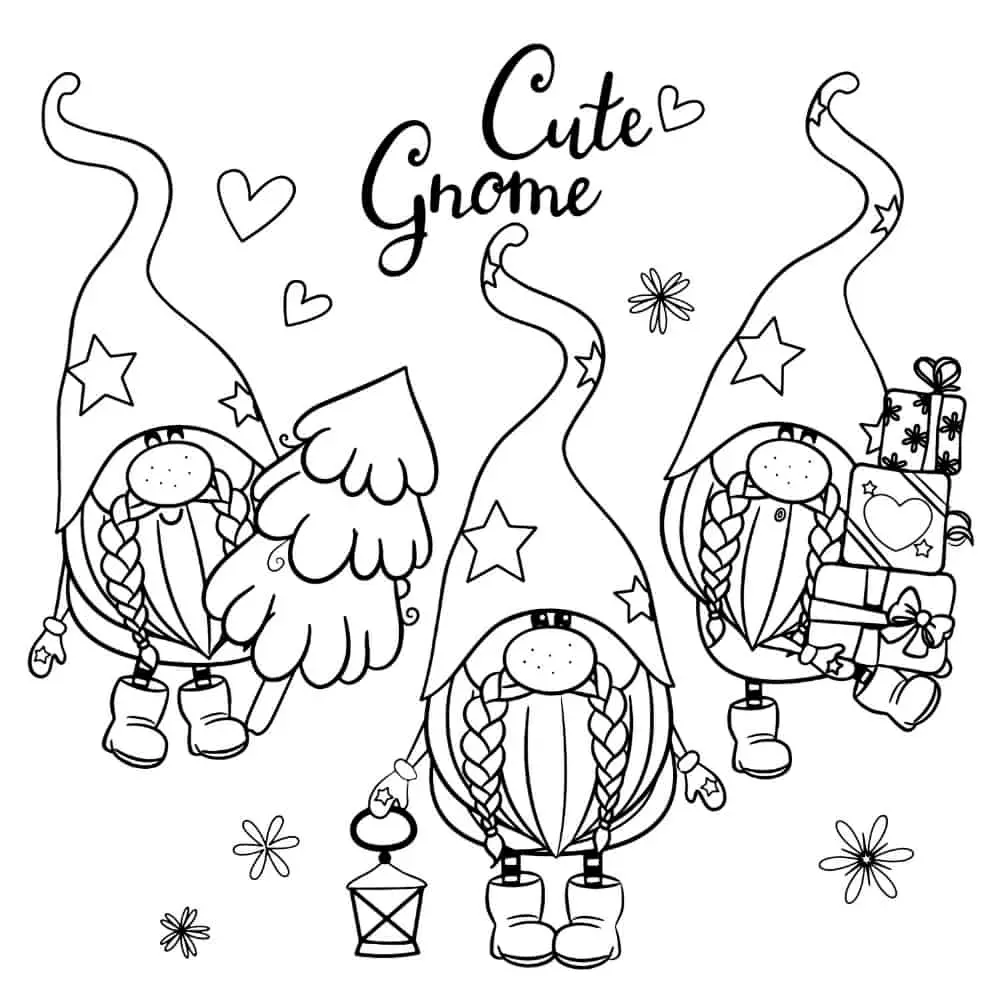 FAQs
Why are Christmas gnomes so popular?
The recent surge in popularity of Christmas gnomes is a bit of a mystery. Some attribute their fame to movies, advertising, and social media – the latter being a method for sharing about and spreading games such as "gnome-spotting" and "gnome-napping."
Others trace the trend further back to books featuring gnomes, like The Life and Adventures of Santa Claus by L. Frank Baum (1902) or Gnomes by Wil Huygen (1976), or even to Sir Charles Isham, who brought 21 terra-cotta gnomes from Germany to his home in England in 1847 and started a sensation across the UK. But I think the reason might just be that they're so irresistibly cute.
Where do Christmas gnomes come from?
Gnomes were originally a part of northern European folklore, believed to be small creatures that lived underground and protected plants and animals, sometimes helping humans and other times causing mischief.
The Christmas gnome tradition evolved in Scandinavia with the practice of leaving porridge out on Christmas Eve to appease a farm's gnome, who eventually became a bringer of Christmas gifts for the family.
Where to buy Christmas gnomes?
Christmas gnomes can be found just about anywhere holiday decorations are sold, including big box stores, online businesses, local shops, and even local farmers markets or holiday markets, where vendors might sell cute handmade Christmas gnomes.
What do Christmas gnomes represent?
Gnomes are thought to be guardians and helpers of the home or farm, and they come out at night to help in the garden. Some consider them a symbol of luck, as they may also guard minerals or buried treasure.
Christmas gnomes, specifically, bring gifts to good children in exchange for a bowl of porridge left out on Christmas Eve.
Gnome for the holidays
I hope you've found some inspiration here for decorating your home and garden with a few Christmas gnomes to add a touch of whimsy or to acknowledge the ancient tradition of these tiny garden guardians. May your garden flourish and your gnomes not cause mischief!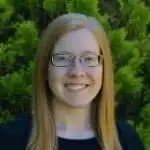 Serena Manickam is a freelance editor and writer and sustainable market gardener in rural Virginia. She holds a BA in environmental science and runs Fairydiddle Farm, a small market garden in which she grows no-spray produce and herbs to sell at a local farmer's market.