Shrubs come in all different colors, and pink is by far one of the most popular options to incorporate into your garden. Pink flowering shrubs are very easily drawn to. Are you looking for an eye-catching statement to place in your backyard to instantly add a pop of color? Pink flowing shrubs are an excellent way to go about it.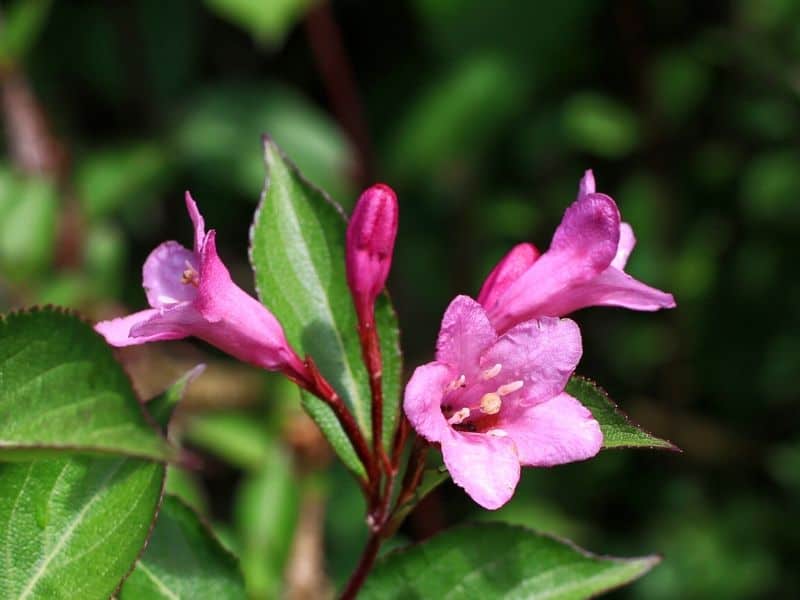 The pink flowers that grow on shrubs come in seemingly endless variations, including pink roses, azaleas, and hydrangeas. What's more, is that there are also different hues of pink that you can choose from, including magenta-colored shrubs like weigela and some rhododendron shrubs.
Quick Navigation
But what if you want a calmer, light pink flowering shrub that adds more brightness and tranquility to your space? We'd suggest looking for more muted pink flowing shrubs, such as a Rose Daphne.
But what are the best pink flowering shrubs available for you to choose from? We've found the top five options for you to look at, so you can spend less time scrolling and more time planting.
In a hurry? This is our winner!
Pink Flowering Shrubs – Comparison Table
Pink Flowering Shrubs – Reviews
Our Top Pick
Our rating:

The Rosa Pink Double Knock Out Rose comes in a three-gallon container and is fully rooted and ready to plant in your garden. This shrub will grow to 3 to 4 feet in both height and width. There is very little maintenance needed with this shrub. They drop their leaves and petals when needed so you don't have to prune them.
For optimal results, plant in a sunny spot. You don't need to fertilize them to ensure they grow. However, you can if you want to speed up the process. This shrub is extremely hardy in the summer and can tolerate relentless sun. However, they may need some help to get through harrowing winters.
You can choose between three different hues of pink from this seller. This ensures that you can match your new shrub to your garden theme.
Ready to plant right out of the box

Minimal maintenance is required

You can choose between three different pink colors
Dormant in winter, all leaves will fall off.

The packaging is not the best.
Pink flowering shrub pictures
One of my favorites is pink hydrangea! I love picking a few fluffy hydrangea heads to add to my dining room table.
Learn more about hydrangeas from these guides:
This hot pink rhododendron is gorgeous against the white picket fence.
I LOVE these hot pink shrubs! Here's a pink bougainvillea draping over a brick wall. Beautiful!
Pink azaleas are another choice of shrub you can use in your garden.
Or, add a few weigelas in a shade of pink you prefer. These shrubs come in shades of pink from light to magenta.
Of course, don't forget the butterfly bush! A magnet for butterflies, it also smells divine! Mix it up with white or lavender-colored ones and you have a nice, inviting pollinator heaven.
Pink shrubs for sale
Proven Winners – Weigela Flordia Sonic Bloom Pink (Reblooming Weigela) Shrub, Pink Flowers, #3 – Size Container
SPRING HILL NURSERIES – Double Pink Knockout Shrub Rose, Live Bareroot Plant with Pink Flowers (1-Pack)
Pixies Gardens (1 Gallon Red Cardinal Hydrangea Glorious Red Hydrangea Very Big Reddish Pink Blooms
SPRING HILL NURSERIES – Pink Home Run Shrub Rose, Live Bareroot Plant with Pink Flowers (1-Pack)
Pink Flowering Shrubs – Buyers Guide
Now that we've looked at the top pink flowering shrubs on the market, there are a few considerations to think about. Before deciding on your new addition to the garden, take a look at our buyer's guide. This will ensure you choose the right shrub for you and your backyard.
Space
How much space your shrub will take up is a big deal. Shrubs can grow into all different shapes and sizes, so you'll also have to check how large your chosen shrub will become.
Bear in mind that shrubs not only grow in height, but also in width. This means that you have to account for both measurements when planting. If you plant shrubs too close together, they could become too compact and die prematurely.
Blooming season
You don't want to choose a shrub that only blooms for one week out of the year, and spends the other 51 dormant and bare. Often, dormant shrubs will be reduced to mere twigs. This won't help the beauty of your garden much. It is best to check that the blooming season will last at least throughout the whole of summer.
Choose when you're most likely to entertain or spend the most time in your garden. You might consider choosing a shrub that blooms to correspond with this. For example, if you prefer spring to summer, choosing a spring-blooming shrub may be better suited to you.
Or maybe you love spending summers in your garden. If so, make sure you plant some of these summer blooming perennials, not just a few shrubs.
Maintenance
You may be an avid gardener who spends a good amount of time in their backyard, gloves on, and equipped with your trowel and shovel. However, you may be someone who wants to plant a couple of shrubs and call it a day. No matter which category you fit into, you'll want to choose a shrub that matches your gardening style.
The best way to see how much maintenance a shrub needs, is to look through the customer reviews. This is where people who have experienced the exact shrub will tell you how high or low maintenance it is.
Maintenance may include fertilizer, watering, and weeding. If your shrub needs a lot of attention and you don't conform, you may be left with a dead plant on your hands.
Sunshine
South-facing gardens will get copious amounts of sunshine. East- and West-facing gardens will get morning and evening sun respectively. North-facing gardens will get the least amount of sunlight.
Knowing which direction your garden is facing will allow you to determine which shrubs you can plant.
Some shrubs need more sunshine than others. If you give your chosen plant too little sunshine, it may not grow or become dormant prematurely. On the other hand, if you give a low-light shrub too much light, it could get sunburned and wither. Choosing the right shrub for your garden will ensure you're not disappointed due to a suffering plant.
Time to Grow
You may have a deadline that you want your shrub to be fully grown for, or at least grown to a decent size. Choosing a slow-growing shrub could put your plans in danger.
It is important to see how long it will take for your chosen plant to grow. Bigger plants will often take less time to mature, so if you have a tight deadline, don't opt for a smaller plant.