Have you been looking out towards your garden with a nagging thought that something is missing, but you can't place your finger on it? How about a concrete garden bench? Pop it next to your solar birdbath fountain and you can enjoy your visitors in comfort.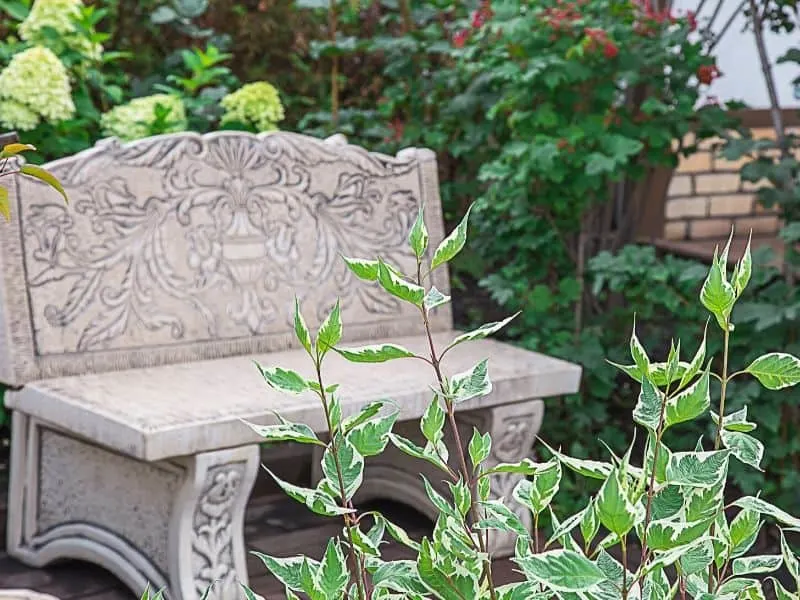 What's more, is that your garden bench can actually double as various different things – a storage space, a plant runner, or a memorial. This versatility makes the possibilities endless!
While you can choose from a number of different bench materials, you may be wondering why concrete?
Concrete garden benches are an excellent option for people who want their gardens to look natural and not too flashy. In fact, concrete benches can often be mistaken for a pile of rock which you can coincidentally sit comfortably on.
Quick Navigation
Concrete Rock Garden Bench
48″ Concrete Curved Garden Bench
Concrete Lava Rock Lounger
Concrete "Petrified Wood" Bench
Concrete Serenity Garden Bench
A concrete bench is perfect for any garden thanks to its natural look and coloring. Purchasing a concrete bench will add a rustic feel to your garden and you don't have to worry about it not matching your flowers or other features as the colors are often very minimalistic and subtle.
Our rating:

Concrete Garden Benches – Comparison Table
1
Concrete Rock Garden Bench
2
48" Concrete Curved Garden Bench
3
Concrete Lava Rock Lounger
4
Concrete "Petrified Wood" Bench
5
Concrete Serenity Garden Bench
Concrete Garden Benches – Reviews
Our Top Pick
Our rating:

The Concrete Rock Garden Bench is a lovely addition to any garden with the realistic and natural look of stone.
A concrete bench is perfect for people who want an understated look that won't overpower their other impressive features. In fact, this bench will likely blend into its surroundings and look like it was there all along.
A few days with this bench in your garden and you won't be able to picture what your backyard looked like without it!
You can choose to get this garden bench in a number of different colors such as pumpkin orange, terracotta, and coffee leather (can you imagine this bench in the autumn, surrounded by beautiful fall foliage?).
I also love the slightly curved seat: a beautiful addition to any garden!
The three-piece design is very easily constructed so you can spend less time trying to figure out tricky instructions and more time enjoying your new concrete bench.
Weight capacity of an impressive 2000 pounds.

Handcrafted so your bench is completely unique.

Can be used as a memorial bench.

It can be imprinted with a special memory
The uneven shape may prove difficult to fit into your garden space.

Ships within 7-10 days of purchase.
Concrete Garden Benches – Buyer's Guide
Colors for concrete benches
Concrete garden benches may be more subtle and understated than other alternative materials. However, you can still choose different colors. More natural colors mimic the color of natural stone such as grey, slate, and sandstone. But there are other, bolder colors such as orange, yellow, and blue.
These bright colors all mimic the style of other naturally formed stones, so do some research before choosing what color you want.
For example, your garden may be aching for a bench that looks like it's made from limestone, which means you should look for a dark grey concrete bench that has a blue hue to it.
Is it comfortable?
Of course, you're likely to want a garden bench to sit on and enjoy the summer sun in your lovely garden, so your bench needs to be comfortable. While concrete doesn't sound super comfortable, concrete benches can actually feel no different from a wooden or stone bench.
However, just like any bench, there are ways to make your bench more comfortable. For example, choosing a bench with a backrest and armrests can make your bench instantly more enjoyable. Or, add an outdoor pillow or two, and you'll not only add comfort, but also a pop of color.
Durability
How important the durability of your concrete bench is will depend on your personal style and preference. Concrete is relatively easy to scratch, stain, and chip. That means this isn't the most durable material to choose if you prefer a pristine and clean look. However, if you prefer a rustic looking garden you may not care as much about your bench weathering naturally.
If you prefer to have your bench more durable and resistant to these imperfections, you can use a concrete sealant to prevent it from becoming damaged too quickly. While you may think you don't need to buy a stain as you don't mind the rustic look, it is advised to protect it anyway.
Excessive weather conditions, without any protection, may cause the concrete to become weaker and may even shorten its lifespan.
Bear in mind that this is an added expense, so you may want to consider choosing a concrete bench that has already been sufficiently sealed.
Frequently Asked Questions
Are concrete benches expensive?
Concrete is a less expensive alternative to stone garden benches. However, it can still be expensive due to its weight and size. Having said this, the price of your concrete bench will depend on whether you're having it professionally installed or not. If not, your concrete bench won't be much more expensive than another bench made of other high-quality materials.
How do you clean concrete outdoor furniture?
Concrete furniture can stain easily so it's important to clean it as soon as you spot a mark that you want gone. Outdoor garden furniture is especially susceptible to stains, thanks to the natural weather conditions and certain bugs. It may be tempting to take your pressure washer on full pelt and go to town on your furniture but refrain from high pressures. We'd advise using a garden hose instead, as it's a lot gentler.
You can use soap and water to get most stains off your concrete furniture, but for harsher stains you may choose to use a diluted bleach solution with one part bleach for two parts water. Don't use a concrete cleaner you find in-store or online, as these often contain a higher acid concentration which is supposed to be used for commercial concrete and is too erosive for concrete furniture.
Adriana Copaceanu is a passionate nature lover living in the country on her dream property where she grows vegetables, lavender, and wildflowers that she shares with the wildlife they attract. When she's not in the garden, she loves spending time with her chickens and planning her next nature project.