Modern life, with all its man-made trappings, has certainly made us less in touch with nature. No matter how hard we try, we are unintentionally sucked into a setting where our interaction with nature gets more and more limited. Landscaping your property is one way to get some outside time back in your life or by preparing a garden/vegetation area in the available space of your property where you can plant some flora and fauna. Solar bird baths are a great way to add a fine touch to your landscape.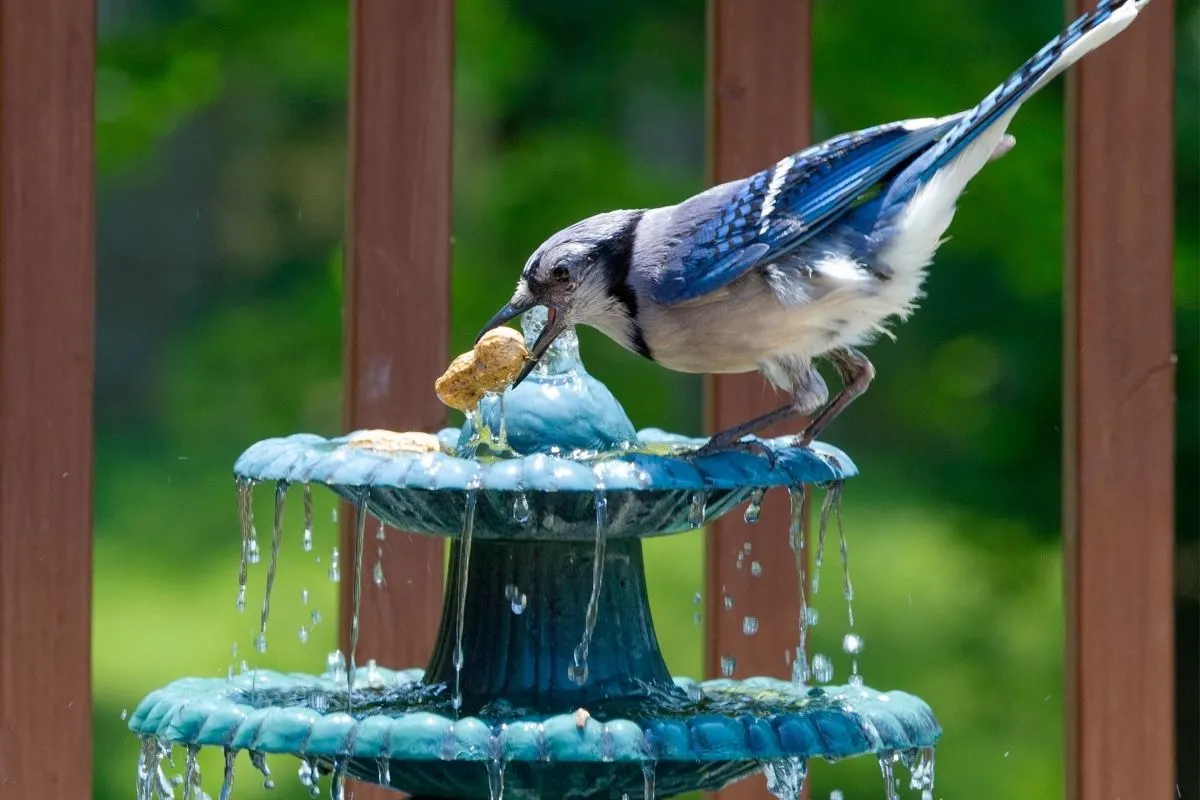 However, the question remains how one can make landscaping/gardening a wholesome experience with limited resources and from nominal space? The one easy way to decorate your house with nature is to have a birdbath fountain in your garden or patio. In recent years solar birdbath fountains have become available in the market. They are ergonomically designed with a smaller footprint so you can easily fit them in the smallest of spaces.
They also don't put any extra burden on your utilities because they run on solar power, so there are no additional costs. Lastly and most importantly, they can turn around the stale look of your garden and lawn. The sight of water sprinkling and birds flocking around it is one to cherish. On top of that, the gentle sound of water mixed with birds chirping becomes a melody in itself. This sight and sound make you realize how wonderful nature is.
You could also place your solar bird bath near small ponds or other water features. This is also true of a traditional birdbath, but there are some things about solar baths that take them up a notch.
Our rating:

Quick Info
Not in the mood to read the entire article on best solar birdbath fountains? Just want to know which product to buy for your outdoors? In that case, we would recommend you to get Viajero Latest Upgrade Solar Fountain Pump. It is one of the most well-thought-out solar fountains you will find in the market right now.
Its external covering is made of PET lamination that ensures the solar cells continue to run the fountain even in the harshest weather conditions. You can use this solar fountain in the shallowest of waters. You just need a 2.5-inch water level to get the fountain going. Its water flow capacity is also quite impressive. It can circulate up to 50 gallons of water in an hour.
The spray height of this Viajero Solar Fountain is also as good as any other top-of-the-line model. It can generate the water column up to 20 inches. The intuitive working of this solar fountain is another reason why it has ended up as our top pick. This fountain will keep on spraying the water even if some of its solar cells are not getting any light.
​In addition, you don't have to worry about the fountain running dry and idle because the motor automatically stops when there is not enough water or debris has stuck inside. The four nozzles that come with the fountain allow you to have the spout in different patterns. Last but not least, the 800 mAh battery backup makes sure you can have the fountain running even after the sunsets.
Solar birdbath fountains are relatively new among gardening supplies and accessories. Therefore, many homeowners don't know where to find the best solar bird bath fountains. We have made it easy for all those people and devised a list of five of the best solar birdbath fountains of this year. These solar fountains have reasonable price tags and are suitable for all sorts of small and large open spaces.
Best Solar Birdbath Fountain Comparison Table
[amazon box="B07S3K71DT,B07QBXYPTD,B07WZSXTZK,B013LCI5J6,B07QH94H1C" template="table"]
Best Solar Birdbath Fountain – Reviews
Our Top Pick
Our rating:

Viajero has been making birdbath fountains for a long time. Recently, it has decided to revamp its fountain range and designed some state-of-the-art models. Let's take its Upgraded Solar Fountain Pump into consideration. With nearly every feature, it is different from the majority of solar models falling in the same price range.
To begin with, Viajero has used industrial-grade PET lamination to construct the panel that is installed in front of the solar cells. This top-quality lamination provides the fountain with high tensile strength and greater dimensional and chemical stability. In other words, this fountain can withstand the harshest of weather conditions and high temperatures without getting warped.
The other impressive bit about this Viajero solar fountain is its intelligent and intuitive circuitry that is not reliant on every single solar cell. Therefore, the fountain continues to spout water if its couple of cells are damaged or blocked. Even if the fountain's panels are partially blocked by birds or a floating leaf, it will not shut down. You won't find such adaptive working in many solar fountains.
We also love the fail-safe motor construction of this Upgraded Solar Fountain. Upon detecting low water levels or debris inside, the motor automatically stops working, thus protecting the fountain from idling and burnout. The manufacturers have also designed the fountain in such a way that it is perfect for all sorts of small and large water bodies. Whether it is a deep bird dish or a swimming pool, Viajero Solar Birdbath Fountain will work everywhere.
Pros
Comes with a 30-day refund policy and a 1-year product replacement service— reliability ensured
Works with weak sunlight too
Comes with four nozzles to offer different spraying patterns
Features an 800-mAh battery
Cons
Biling Solar Bird Bath Fountain
Our rating:

This patio and garden accessory by Biling is definitely one of the top-quality solar birdbath solar fountains you will find in the market right now. There are many reasons why it is a better option than many solar fountains available online or at a nearby gardening store. Unlike other solar fountains, it continues to work even if a couple of its solar cells are blocked.
Biling has also taken special care in the external construction of this solar fountain. It has taken into account the rough outdoor use and thus used top-grade solar laminates instead of shoddy epoxy panels. The lamination of Biling Solar Birdbath Fountain exhibits weather resistance. It doesn't crack or warp even after extended use.
The other impressive bit about this solar birdbath fountain is its intuitive working. This means it doesn't run empty. For instance, if the pump is stuck by impurities or if there is not enough water around, the motor of the fountain will stop. This feature prevents motor burnouts so the fountain can work above and beyond its operating life.
Even in such a small and compact package and low price, Biling provides users with six different sprays options with the fountain. You get a set of different nozzles and water columns that allow you to make different water patterns. Moreover, the water splashing out of the fountain has a gentle touch that doesn't deter the birds and butterflies away. Therefore, a Biling Solar Birdbath Fountain floating in a pond will attract the nearby fauna that loves to indulge in water.
Features a power storage function with battery backup (800 mAH)

Can work even with weak sunlight

Can be used in fish ponds and swimming pools too

CA truly wireless and portable device

Worry-free use— comes with a 3-month money-back guarantee
Some people may not like the free-floating nature of the fountain
Out of stock!
Our rating:

​​​Following Biling, IDEALHOUSE has also made a solar bird bath fountain that is reasonably priced and offers impressive performance. Like the Biling fountain, this one is also made of laminated solar panels. Many inexpensive solar fountains feature epoxy panels that significantly shorten the operating life of the device since they are not strong enough to withstand rough and tough outdoor conditions.
Besides adding a hard-wearing casing to the solar panel, the manufacturer has also designed it for extended daily use. This means you are not bound to use it only when the sun is shining will all its glory. The fountain features a battery backup that can be fully charged on a bright sunny day. This backup can run the fountain for up to five hours without needing any solar charge. This impressive power backup makes this solar fountain a great addition to your garden in summers when you can run it all through the afternoon till nightfall.
The other great thing about this solar birdbath fountain is it doesn't need a full-fledged water body (pond, swimming pool, etc.) to work. You just need one-inch water depth, and this solar fountain will start spouting. The manufacturer has also made sure that you can do fun experiments with the fountain. The package includes multiple nozzles and water columns so you can customize the fountain's spray as per your liking.
The maintenance of the fountain is also pretty easy. The pump cover is easy to remove (without any tool). You just need to open the cover and get rid of the solid impurities blocking the pump's paths to make it work again as if it was a brand new piece.
Entails versatile use— birdbath pounds, swimming pools, gardens

Compact design and easy to maintain

An Amazon's Choice product
Won't work even if a single cell is broken
Ankway Solar Bird Bath Fountain
Out of stock!
Our rating:

This Ankway product is another eco-friendly solar fountain for your outdoors. Like all the other fountains we have reviewed here, this one also possesses a smart footprint that allows you to use it even with the smallest of water bodies. You can float it in a pond as well as a fish tank. The fountain is designed to work with shallow water levels.
The most striking bit about this solar fountain, however, is its futuristic operations. Just leave it on the water, and it will automatically start sprouting water when there is enough sunlight falling on it. The manufacturer hasn't used any battery to keep the construction of the fountain simple and lightweight. Therefore, this Ankway Fountain is perfect for those who need to run a birdbath for a couple of hours every day.
It is an absolute wireless device that needs no external stimulus/input to get going. This simplicity of its construction makes its use entirely hassle-free. Since it is not fitted with a battery, you don't need to worry if it is getting charged or not. Just enjoy the real-time spraying of the fountain amid the bright sun.
We also like this solar fountain because you can run it in many different patterns. When the majority of solar fountains come with 4-6 nozzles, Ankway provides eight different nozzles and water columns with its product. Even with such a minimalist design, this solar fountain is able to generate an 18-inch high spurt.
Can circulate 40 gallons of water in an hour— suitable for swimming pools and large ponds

Easy to maintain and clean

Comes with a worry-free 12-month warranty
Skywoo Solar Birdbath Fountain
Out of stock!
Our rating:

If you are looking for a solar fountain that you can use in your aquariums and water ponds with equal ease, then this Skywoo product is definitely worth considering. It is another lightweight and simple solar panel construction that is perfect for real-time use. It is simple— when the sun is shining out there, this Skywoo Solar Fountain will work.
It is important to mention here that its simple battery-less construction has no bearing on its versatility and utility. For instance, it just needs 2 inches of water depth to operate. This means you use it in the small water-filled pots and containers too. On the other hand, it can circulate 40 gallons of water in an hour, making it an equally good choice for large water bodies.
We also like the sprouting capability of this Skywoo Solar Birdbath Fountain. Depending on the nozzle you are using, you can get a 20-inch tall water spray from the fountain. In general, it keeps on spurting water to 14-15 inches of height with all different nozzle combinations.
Despite such a low price, the fountain is designed to ensure 100% satisfaction with its usage. It comes with a 30-day money-back guarantee and a 12-month full-service warranty. The reasonable price, ease of use, and versatility make this Skywoo Solar Birdbath Fountain a best seller. It also enjoys the prestigious tag of Amazon's Choice in the category "solar fountain."
Comes with four fountain styles— four nozzles of different shapes and patterns

Brushless pump input ensures seamless performance

Equally good for deep and shallow water bodies
Vulnerable to harsh outdoor conditions

No battery backup
Best Solar Bird Bath Fountain – Buyers Guide
The five products we have reviewed here are the best of the best solar birdbath fountains of this year. However, one should also know how to make the best pick even if no listicle is around. Following are some of the important features one should consider while assessing any solar birdbath fountain. If you love birds, then you're going to love having a bird bath and these tips will help you be sure you get the perfect one for you.
Once you choose the right fountain, put it in a sunny location and let the moving water do its thing. It will provide more than a regular birdbath and the birds will absolutely thank you for it.
Size of the fountain
A large fountain produces stronger jets that can be detrimental for small birds living in the vicinity of your garden. Solar fountains are intrinsically good for birdbaths because they don't come in large and extra-large sizes. The diameters of the above-reviewed fountains linger around 7-10 inches. For making a bird lagoon in your garden, patio, or backyard, this size is perfect.
The other benefit of picking a small-sized solar fountain is it entails ease of use. You are not bound to use it in large water ponds and swimming pools that the majority of homes don't have. If you have a small aquarium-size water body or even deep bird dishes in your outdoors, a solar fountain will work along. A small fountain also means less muddy mess around.
In short, the best solar bird bath fountain is the one that has a diameter of fewer than 10 inches.
Fountain construction
Epoxy is quite popular for floor finishing due to its economical price and durability. However, it doesn't offer the same utility when used in solar fountains due to excessive exposure to moisture. The majority of budget solar birdbath fountains in the market have epoxy-finished covers. We would recommend you steer clear of those models because saving a couple of dollars is not worth it, given that these fountains go kaput in no time.
From the above reviews, it has become clear that top-quality (preferably PET) lamination is a better choice for the outer construction of the solar panel of the fountain. The laminated solar fountains don't work as a disposable accessory. So, make sure the solar birdbath fountain you are finalizing has laminated finishing. The #1, 2, and 3 solar birdbath fountains on our list feature top-quality laminate covering.
Intuitive performance
A simple solar fountain stops working even if one of its photovoltaic cells malfunctions or gets blocked. This is a major drawback of many solar fountains because a single cell renders the entire fountain useless, which is still fitted with many working solar cells and the motor. Now, manufacturers have succeeded in developing intuitive circuitry for solar fountains that continue to work even if a single cell stops working.
Solar birdbath fountains with such innovative circuits are relatively more expensive than regular models. However, they offer more reliable and long-lasting use that eventually offsets their higher prices.
Fail-safe features
If you want to buy a quality solar birdbath fountain with a longer life, then it would be better to also factor in its fail-safe features. The most important characteristic in this regard is the auto-shutoff function of the fountain's motor. Solar fountains are used completely open outdoors where they are exposed to dirt and debris all the time. These impurities via water often end up inside the motor. A motor that doesn't have auto-shutoff keeps on running even when there is an obstruction. This eventually results in motor burnout.
Similarly, a solar fountain running in an insufficient amount of water also heats up and breaks down after a couple of such instances. Here too, the auto-shutoff feature of the motor switches off the fountain to protect it from further damage.
If you buy a solar birdbath fountain with the auto-shutoff feature, you actually get a product that continues to work even after its prescribed utility life.
Battery backup
If you want to run the fountain in the evenings and at dusk, then you should opt for a model that comes with a battery backup. Our list of best solar birdbath fountains also contains some products with batteries. They can run for 3-5 hours on their stored charge without needing sunlight.
Spray patterns
A solar birdbath fountain you are going to buy must come with a set of nozzles that let you make different spray patterns with the water column of the fountain. This just gives a good visual touch to the sprouting of the fountain.
Frequently Asked Questions
Does a solar fountain automatically start working under the sun?
Yes, the majority of solar fountains are designed in a way where you don't need to switch them on through a button. Just put them in a water body exposed to sunlight, and they automatically start sprouting. A nice sunny spot for your solar-powered birdbaths will keep them working well all through the day.
What to do if a solar fountain stops working all of a sudden?
This usually happens due to the obstruction of the motor's rotor caused by the debris. If a solar birdbath fountain has stopped working, take it out, open its frame and clean the rotor and the passage for any debris. Also, clean the solar panels while you are at it. Then assemble the fountain and completely immerse it in water and leave it to float. It will start working again.
Will my solar fountain work on cloudy days?
It depends. If the clouds are thick, it probably won't work. But if the clouds are thin and it's still quite bright outside, your birdbath fountain will still work: just with reduced water flow. Some solar kits are made to store the energy from sunny days and keep it working on cloudy days.
Do birds actually like birdbath fountains?
Absolutely! Birds love water! Bird fountains are great for bird socializing and you'll see a bunch of them chit-chatting and enjoying your birdbath. Nice fresh water is great for drinking and for swimming and splashing around in.
How often should I change the water in my birdbath?
It depends on the season. In the winter, you should be OK changing it weekly (make sure it doesn't freeze). But in the summer, you should change the water every 2 to 3 days to keep it clean, cool, and refreshing. It's very important to keep clean water in it so make it a habit to do so on a regular basis. Stagnant water can develop bacteria that make the birds sick.
We really hope that this detailed discussion, including product reviews, buying guides, and FAQs will help you in choosing the best solar birdbath fountain for your outdoors. This is the best option if you want to create a focal point in your lawn or garden, and if you want to boost your garden decor while also creating something the birds can enjoy. Smaller birds and large birds can enjoy it if you have a large bird bath.
Which one will you use?
Adriana Copaceanu is a passionate nature lover living in the country on her dream property where she grows vegetables, lavender, and wildflowers that she shares with the wildlife they attract. When she's not in the garden, she loves spending time with her chickens and planning her next nature project.