The beginning of a new year is a great time to look through old stuff lingering in your backyard shed, or in your garage. I'm doing just that this week, and I gathered a few upcycling garden ideas for inspiration.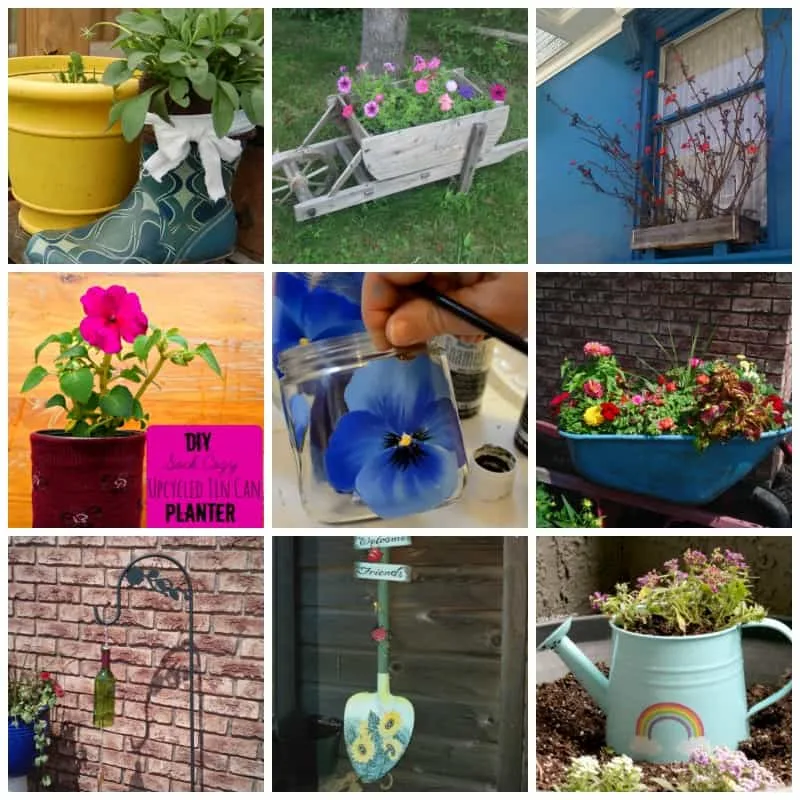 Gardening on a Shoestring: 100 Fun Upcycled Garden Projects
Let's see what I found so far that either needs to go to the trash or find a way to recycle it into something useful. If I can't find a use for these, maybe I could turn them into some sort of garden art, or even a new container for my flowers.
Upcycling Garden Ideas
Wheelbarrow Garden
I've seen this over and over again: an old barrel transformed into a beautiful wheelbarrow garden. you can make it the center of attention in your front yard, or you can move it around as you feel inspired.
In the end, it's beautiful no matter where you place it.
If you love working with wood, you can make a wooden wheelbarrow to display your plants and flowers. This one looks gorgeous!
Garden shovel welcome sign
Do you have a rusty or broken garden shovel? You can make this beautiful sign to greet your family and friends when they visit 😉
Hanging bottle wind-chime
You can use just one bottle, or several of them to create a musical garden wind chime.
Wood pallet window box
Got some old pallets? this window box looks really easy to make. Add some lovely flowers and you'll have a beautiful (maybe fragrant) windowsill garden.
Rain-boot planter
What a cute project! Alecia over at Chicken Scratch saved a pair of broken pair of rubber rain boots and make them into beautiful containers for some dwarf coreopsis she received as a gift. I love how her projected came out!
Watering can planter
I hate it when my watering can gets a hole and it starts dripping. Sometimes, I can still use it for a while, but it's not fun loosing half of the water in the process.
So, I was really exited to find this watering can planter idea. So easy to do, and it gives new life to that useless broken watering can 😉
Here are some more planter ideas!
Sock cozy upcycled tin can planters
Who knew? Chrysa used up empty tins and lonely socks form the mismatched pile to create a beautiful planter.
Painted pansies on glass
This project is adorable! Pamela has tutorials on painting flowers on glass, and these pansies are literally popping off the glass. Gorgeous!
You can watch her do it here:
Recycle a broken bird bath into a plant stand
Once you get your mind into recycling mode, you'll see "gold" everywhere. That's what happened to Richard when he walked by this broken bird bath. Take a look and see how he re-purposed it into a beautiful plant stand.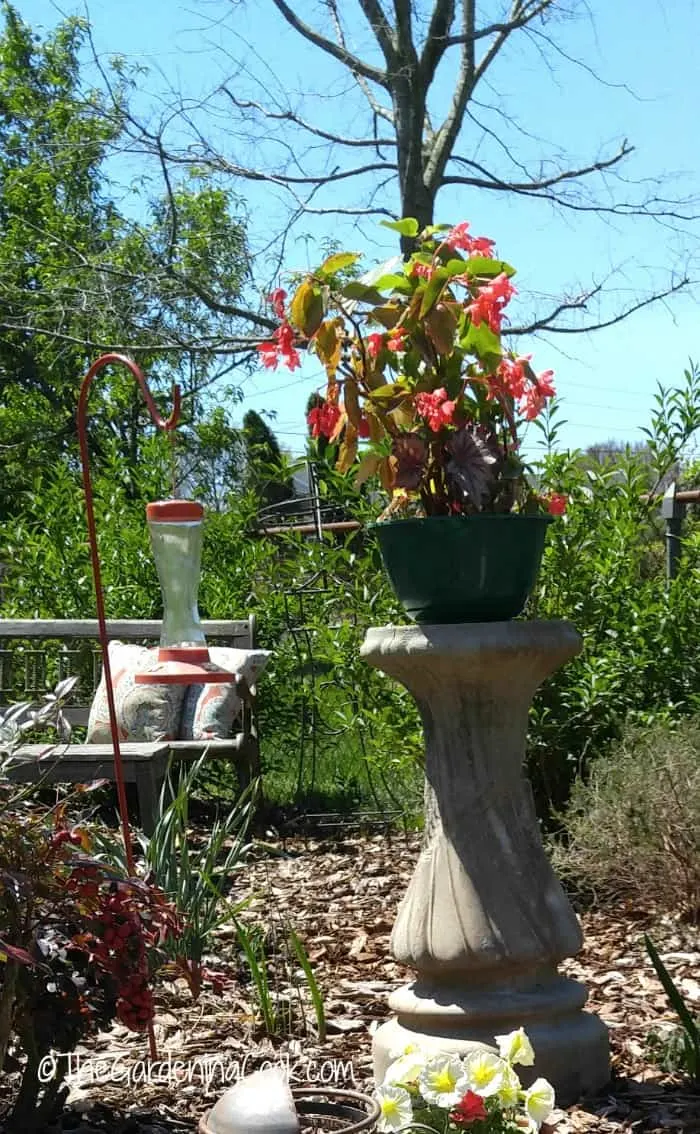 Did you get some upcycling garden ideas you'd like to try? I sure hope so.
There is so much potential out there to up-cycle (or recycle), and create beautiful items for your landscape!
I'd love to see what YOU come up with. Do you have a recycled garden project? Share it here in the comments or on our Facebook page others can get inspired.