Roses add classic beauty to any garden, their thorny stems topped by ruffled, elegant blossoms in shades of yellow, white, pink, or red. Many cultivars also perfume the air with their fragrance. Unfortunately, though, roses can be finicky and difficult to grow, requiring deadheading, pest and disease control, and otherwise careful maintenance to ensure they produce lovely flowers during their bloom time. That's where landscaping with Knock Out roses comes in.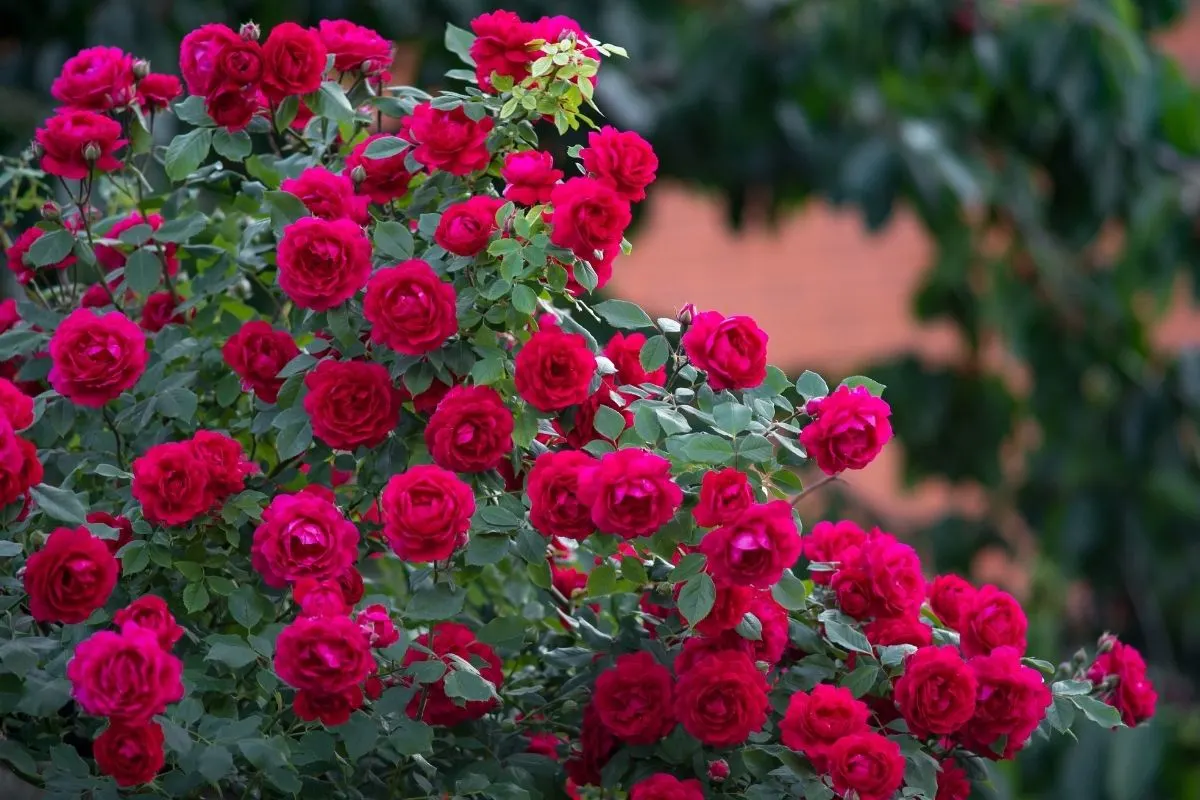 What Are Knock Out Roses?
In 1989, after 15 years of trial and error, Will Radler developed the first of what would become called Knock Out roses in his basement. When finally introduced to the public in 2000, they were an instant hit.
Knock Out roses require no deadheading yet bloom all season long, exhibit remarkable disease resistance, tolerate drought, and are hardy in USDA zones 5-11 (some down to 4).
A whole family of this hybrid shrub rose has been developed, with a range of sizes and bloom colors. Although some critics note that Knock Out roses lack the classic rose scent, they do give off a delicate, sweet, fruity fragrance. When considering Knock Out roses for your garden, you have the following options:
Knock Out (Rosa 'Radrazz') — 3-4′; cherry red, hot pink
Double Knock Out (R. 'Radtko') — 3-4′; cherry red
Pink Knock Out (R. 'Radcon') — 3-4′; bright pink
Pink Double Knock Out (R. 'Radtkopink') — 3-4′; pink
Blushing Knock Out (R. 'Radyod') — 3-4′; light pink
Rainbow Knock Out (R. 'Radcor') — 3-4′; coral pink with yellow center
Sunny Knock Out (R. 'Radsunny') — 3-4′; cream, yellow
Coral Knock Out (R. 'Radral') — 4 1/2′; brick orange, coral
Peachy Knock Out (R. 'Radgor') — 3′; shell pink with yellow center
White Knock Out (R. 'Radwhite') — 3 1/2′; white
Petite Knock Out (R. 'Meibenbino') — 1 1/2′; fire engine red
Landscaping With Knock Out Roses
1. Site selection
One of the best things about Knock Out roses is you can grow them just about anywhere. Knock Out roses prefer full sun but will tolerate partial shade as long as they receive at least six to eight hours of sunlight each day. Except for Petite Knock Out, they should be planted at least three feet apart to allow room for growth and good airflow.
2. Borders
Knock Out roses serve as colorful border plants, brightening up edges with their lovely flowers from spring until frost. Plant them along a fence or around an island bed, or use them to add color to a naturalized border where the edge of the yard meets woodland. The back or middle of a mixed, sunny border is also a great location for sun-loving Knock Out roses.
3. Perennial beds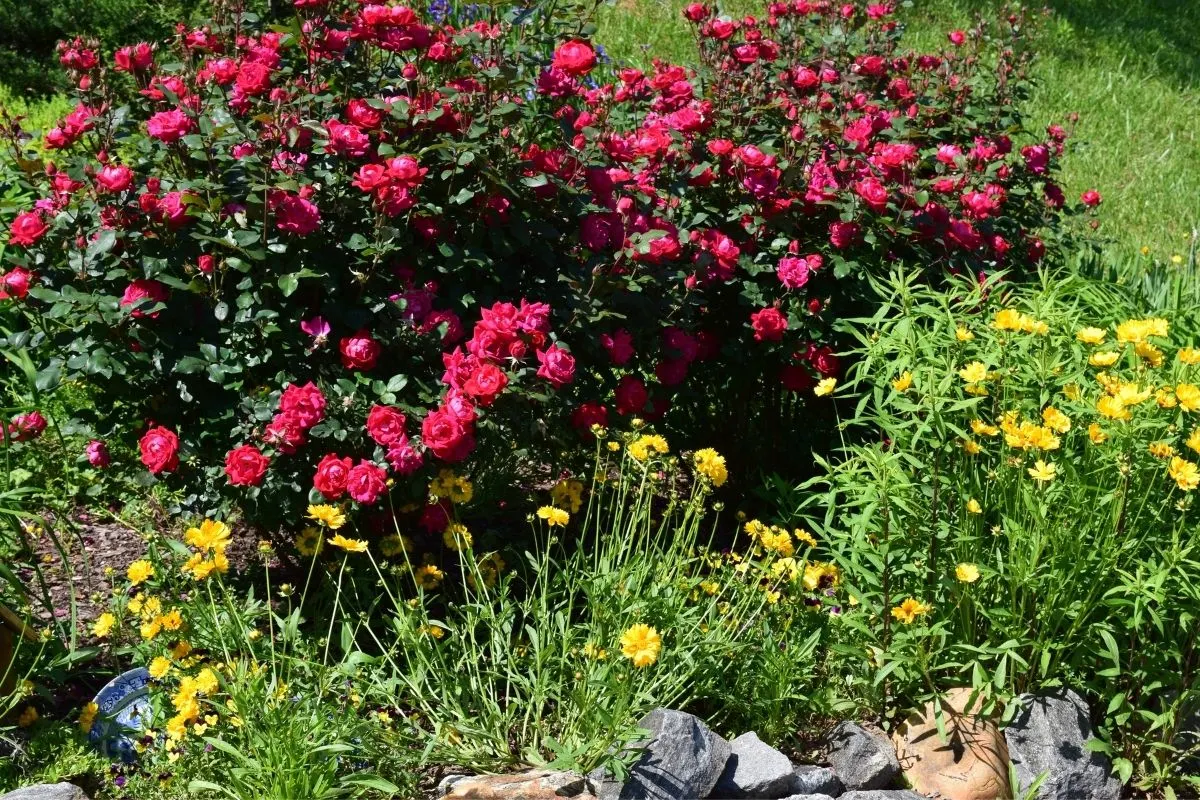 Mix Knock Out roses into perennial flower beds, where gaps may otherwise occur between spring- and summer-blooming plants or in early fall after many other flowers fade. Choose several cultivars to ensure a range of colors throughout the growing season and add new hues to your garden, or stick to one or two if you prefer a simpler color scheme.
Knock Out roses fit well in almost any garden style, from formal beds to pollinator gardens. Although pruning isn't necessarily required, knockouts can be trimmed to keep a tidy appearance, if desired.
Learn more about pruning roses:
4. Hedges
A mass planting of Knock Out roses makes a striking hedge covered in lovely, ruffled blossoms almost continuously. Using a single color makes a bold statement, and you can pair them with boxwoods for both privacy and beauty.
Welcome visitors by planting Knock Out roses along your driveway or beside a path, or use a rose hedge to define a perimeter, such as around a patio or the whole garden. Imagine sipping tea in your own relaxing "secret garden" surrounded by vibrant Knock Out roses in a corner of your yard. Heavenly!
5. Foundation plantings
Instead of (or perhaps alongside) the usual evergreen shrubs, use Knock Out roses as beautiful, blossoming foundation plantings around the house. They look wonderfully inviting planted on either side of an entryway and add graceful beauty under windows or next to stairs.
Lighter shades of flowers brighten up dark siding or brick, and vibrant hues provide a pop of color against white walls. Plant a row of low-growing foliage plants in front of the roses to define the bed.
6. Cottage gardens
These versatile shrubs are perfect for cottage gardens, where they offer a touch of formality without adding the high maintenance requirements of most other roses.
You can choose to let Knock Out roses be or tend to them as you potter around the garden. Pair them with delphinium, coneflowers, Shasta daisies, and other classic cottage plants for a delightful variety of colors, shapes, and textures.
7. Specimen plantings
Make a Knock Out rose the star of the show by designating it a specimen plant. Choose a taller variety, such as Coral Knock Out, and center it in a circular bed. Fill in around it with low, mounding foliage plants that will complement the Knock Out rose and allow the spectacular plant to really shine.
8. Containers
Yes, Knock Out roses can even be grown in containers! The container should be about two sizes larger than the nursery pot the rose comes in and have sufficient drainage holes. In a thriller-filler-spiller container arrangement, a Knock Out rose takes the spotlight as the "thriller."
While any Knock Out rose will work beautifully as a patio plant, the Petite variety is perfect for containers, growing to only 18 inches tall and producing miniature, one-and-a-half-inch flowers. For a lovely fragrance around sitting areas, choose Sunny or White Knock Out, which tend to have a stronger scent.
9. Companion plants
Knock Out roses pair well with many other plants, so feel free to get creative as you delve into landscaping with Knock Out roses. In a formal garden, these classic plants look elegant next to boxwoods.
Or plant them alongside dianthus, hostas, delphinium, coral bells, Shasta daisies, or artemisia. In container plantings, surround a Knock Out rose with bacopa, licorice plant, sweet potato vine, calibrachoa, or blue star creeper.
Learn more about the best companion plants for roses and how to create a stunning rose garden.
Whether you are just now learning about these wonderful, low-maintenance roses or have been a fan since the beginning, you will find that landscaping with Knock Out roses is enjoyable from beginning to end. I love exploring garden design ideas, and admiring a new or updated garden is always delightful. With Knock Out roses, you can drink in the beauty of colorful blossoms from spring all the way until frost, without having to worry about deadheading and other tasks. Happy gardening!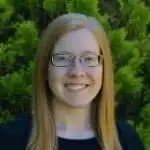 Serena Manickam is a freelance editor and writer and sustainable market gardener in rural Virginia. She holds a BA in environmental science and runs Fairydiddle Farm, a small market garden in which she grows no-spray produce and herbs to sell at a local farmer's market.