Originally believed to ward off evil spirits and bring good luck, gazing balls have been used as garden decor for centuries.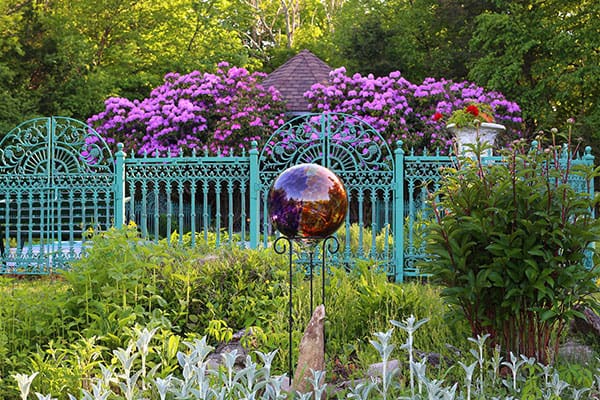 However, with such superstitions being less believed in the modern ages, they are now used in gardens all around the world simply as beautiful ornaments that provide an interesting focal point, drawing the eye to the next area of your garden.
They're also a really good way of creating an illusion of extra space within your garden. Mirroring their surroundings and reflecting the sky, gazing balls make the area around them seem a lot bigger than it is. This makes them a perfect addition to any smaller outdoor garden space or courtyard.
Not all gazing balls are mirrored though. Many are available in different colors, patterns, and textures, great for placing around your garden as points of interest. Some can even be used as water features to bring a tranquil sound to your outdoor space.
Quick Navigation
When it comes to purchasing a gazing ball, there are a few options available to you online, and finding the right one for your garden can seem a little daunting. It's an ornament that will be in your garden a while, after all, so it's important to get the right one.
To give you a better idea of what's available, we've listed our five favorite gazing balls below, along with a handy buying guide that will help you find the best gazing ball for your outdoor space. Keep reading to learn more!
If you're in a hurry and need to find a shiny garden ball that will add an interesting, dramatic focal point to your garden, take a look at our top pick below.
In a hurry? This is our winner!
Gazing Balls – Comparison Table
Gazing Balls – Reviews
Our Top Pick
Our rating:

Why have just one gazing ball when you can have six?! This set of six stainless steel gazing balls from Zonda gives you the opportunity to strategically place multiple balls around your outdoor space and create loads of different points of interest.
The mirrored surface of each ball will reflect the ball's surroundings as well as the sky. This creates an illusion of extended space and adds extra light to your garden, which makes them ideal for big and small spaces alike.
Ranging in sizes from 150mm to 50mm in diameter, you'll be able to space them individually throughout your garden, or group a few of the balls together to make an impactful focal point in your borders.
Their stainless steel construction ensures that they are highly durable and have maximum corrosion resistance, so you can rest assured that they'll stay looking beautiful and reflective for many years to come.
A set of six gazing balls ranging in size from 150mm to 50mm in diameter

The mirrored surface provides reflection and extra light, resulting in an illusion of extended space

Perfect for both small and large gardens for creating interesting points of focus

Made from super durable stainless steel that has maximum corrosion resistance
Some customers noted that these gazing balls were quite light in weight. However, this will make them easier to place and move around the garden
Gorgeous Glass Gazing Balls
Glow-in-the-Dark Gazing Globe
Solar Hanging Glass Gazing Ball
Mosaic Gazing Globe Yard Ornament
Embossed Glass Lawn Ball
Solar Hanging Crystal Ball Light
Glass Globe Décor w/LED Light
Baroque Splendor Mosaic Glass Ball
Mosaic Flowers Gazing Globe
Colorful Mosaic Glass Gazing Ball
Buyer's Guide For Gazing Balls
If you're looking to add a gazing ball (or two) to your garden, it's important to make sure you get one that will not only become a point of interest but will also complement the surrounding planting and not look out of place.
However, before settling on your final decision, there are few things to bear in mind. We've outlined some key points below to help you make the best choice, and find the perfect gazing ball for your garden.
Size
The first thing you'll want to think about is how big the area you're looking to place a gazing ball into is, and then look into how big the ball is itself. If you sit a smaller ball into a large flower bed, it will become totally lost and have absolutely no effect, especially during the growing season.
Likewise, placing a large ball into a smaller border will dominate the planting, and will look entirely out of place.
It's all about finding the perfect balance and getting the ball to work in harmony with your existing landscaping, so head outside with a tape measure and make sure that both the ball and the garden area will work together to create a beautiful space.
Style
Traditionally, gazing balls have a mirrored surface that reflects light and surroundings. However, there are loads of colored and patterned choices available that can bring a different level of interest to your garden.
Give some thought to what you want your gazing ball to achieve before you purchase one. If you're looking to create an illusion of extended space, then a mirrored one would be the best choice. If you'd like a gazing ball to provide an unusual, dramatic focal point, then a colored one would be a great choice.
Depending on the design of your garden, look for a colored or patterned gazing ball that will work in harmony with the existing garden design. Anything that's on the opposite side of the color wheel will pull focus from the garden itself. Again, it's all about finding that perfect harmony between both.
Material
Your gazing ball is going to be outside and will have to face a variety of weather conditions which it's going to need to be able to withstand without showing any signs of damage. So, always be sure to take a look at what material the ball is made of.
Stainless steel balls are a good choice as they will be able to take a fair amount of rain without showing any signs of corrosion. They are very durable, so if they were to be blown across your garden in a particularly bad storm, they are unlikely to smash or crack.
Ceramic gazing balls are also a good weather-resistant choice. However, they are much more fragile so they may suffer some damage from strong winds and stormy conditions.
Weight
Give a bit of thought to the weight of your gazing ball as well. You're most likely going to want to place it in a position where it will stay for a long time as part of a specific design, so it will need to have enough weight to ensure it stands in place without moving.
However, if you have a container garden that is constantly evolving and changing, you may want to think about getting a gazing ball that is lighter in weight. that way you can easily move it around and change the layout of your garden whenever you want.
Fun fact
During the Victorian era, gazing balls were used in high society by the butlers to see if their guests needed anting, without having to stare, or hover over the table.
Frequently Asked Questions
What is a gazing ball?
Gazing balls are round balls used to create a focal point in the garden. They will create interesting points of interest for drawing the eye to certain areas of the garden. Highly reflective, they are great for creating an illusion of extended space and adding more light to shadier areas.
Can gazing balls be left out in the winter?
It depends. Garden globes made from glass or ceramic are better stored inside during the cold months. With the cold, freezing temperatures, they can break easily. If you have stainless steel outdoor balls, it's your choice. They definitely lose most of their charm in the winter, as the vegetation around them is gone.
Do gazing balls scare birds?
Shiny little lawn balls might scare some birds away if they are positioned just right to catch the sun rays. But the large, decorative balls will rather attract birdies.
Do gazing balls attract birds?
Absolutely! Especially if you place your gazing balls close to a birdbath. Birds will likely believe there are more birds, as they see their reflection in the shiny ball.
Do gazing balls scare deer?
Probably not. If deer are bothering your flower beds and veggies, here's how to stop them.
How to clean gazing balls
To clean the interior, squirt a bit of dishwashing liquid, add some water, and swish around. Dump the water and rinse well.
Next, clean the exterior of the garden ball with a kitchen sponge, rinse, and set on a towel to dry. Once dry, spray some window cleaner and dry with a paper towel to give it back its original shine.
You are now ready to place your lawn ball back outside.