It's easy for new or aspiring vegetable gardeners to get discouraged these days. With so many bugs and diseases, many choose not to even start a garden. But I'm here to tell you that easy vegetable gardening is still possible if you know a few things.
Start with a small patch in your backyard where you can keep up with the needs of a garden: weeding, watering, nourishing, etc. If you start with more than you can handle, you'll give up before you even get started.
You can enjoy an easy vegetable garden by choosing vegetables that provide large crops in a small space (also called bumper crops).
These crops are easy to grow and take little time and effort to look after, but at the same time will provide plenty of produce for you to enjoy.
Favorite Veggies For Easy Vegetable Gardening
Grow zucchini and squash
Zucchini and squash are great crops: one plant can produce as many as 30 fruits in optimal conditions. If you have a small family, one of each would be plenty, but for larger families (or those like me who LOVE zucchini), plant more. you can always gift some to your neighbors 😉
Usually, you would sow from seed in April and plant out in June in rich manured soil. They will also benefit from a mulch of garden compost midway through the summer, and if the weather is dry, keep them watered.
Zucchini is very versatile in the kitchen:
great for pasta dishes
pan-fried and chilled for salads
lovely picked young for the BBQ
zucchini can also be frozen; simply slice, blanch, cool, dry, and freeze on trays before bagging up
you can make some delicious soups (we usually batch cook soups and freeze them in 2 portion bags)
Beans & peas grow fast without much fuss
Beans are an easy to grow crop that needs very little attention but rewards you well. We use an old bean trench method to grow our beans and peas which starts in Autumn when we dig a trench in the position we want our bean frames, lining the trench with newspaper and filling with kitchen waste before back-filling. Although beans take their nutrients from the atmosphere the rotting waste adds a little more, and the trench settles in a shallow to help retain water.
Most beans freeze well: simply blanch for 30 seconds, plunge into cold water, drain until dry and freeze on trays.
I prefer string-less bean varieties like:
As a treat try freshly picked runner beans, sliced and gently boiled, with butter and topped with a poached egg, free range of course.
Easy to grow tomatoes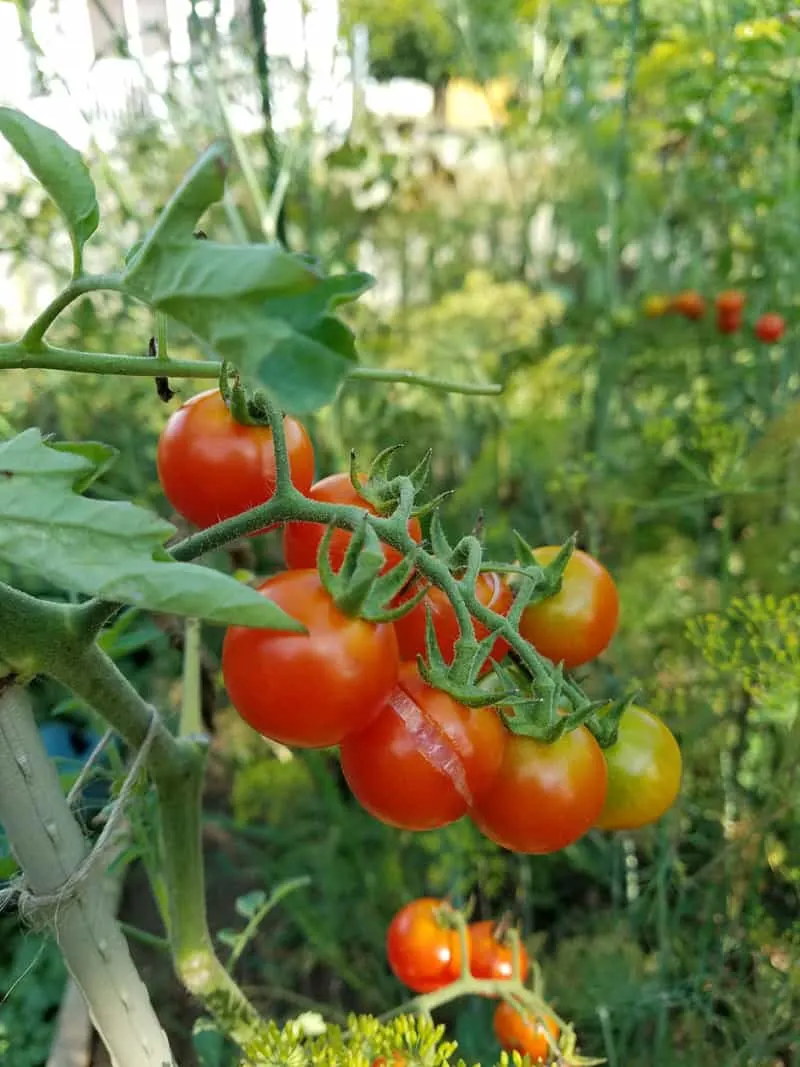 Although the greenhouse cordon tomato are not what I would class as an easy vegetable garden plant, a bush or window box tomato variety is.
Bush tomatoes can get quite big and as long as they are fed well with a liquid tomato food, they will keep you in baby tomatoes all summer long.
The smaller pot varieties are not as prolific but put them in window boxes, pots, or hanging baskets and they will look attractive and give you plenty of salad veg.
50 Tiny Tim Tomato Seeds – Dwarf Heirloom Cherry Tomato
Bush Early Girl Hybrid Tomato 150 Seeds
10 Seeds San Marzano Bush Tomato – Prolific Producer
Easy To Grow Broad Beans
A very forgiving plant that is one of the hardiest vegetables, and they provide a lot of beans per plant. The broad bean is one of the first to be planted. As long as the weather isn't extremely cold, they will be up and running in no time.
They are not too fussy about soil, but dressing with manure or potash will help them out. They are not exactly trouble-free, as they are susceptible to black fly, chocolate spot, and rust, but neither of these is difficult to deal with, and no matter what the issue, it is a very prolific bean.
Kale is a great winter vegetable
Kale is a brassica with open leaves, very close to wild cabbage, and has become one of the most talked vegetables of the day. The best time to eat kale is when the leaves are small and crispy and can be treated just like cabbage.
This doesn't necessarily mean boiled, but rather pan-fried in stir-fries, with pasta, in risotto, curries, pies, and soups. As you may guess, very versatile veg and well worth growing.
Prolific Cucumbers
Cucumber is an easy vegetable garden plant that can be grown in a greenhouse or outside. If you are growing outside either sow seeds in a propagator in May or sow direct under a cloche in June.
Cucumbers love full sun and rich soil, so adding some manure would help it a lot. Compost or pelleted fertilizer are good alternatives. Simply pinch off the growing tip when your plant has seven leaves and allow side shoots to trail or climb.
Homegrown cucumbers are so much better than those you buy in the supermarket: they are juicy, crunchy, and full of flavor. Even if you only grow one cucumber plant, you may need to get imaginative in the kitchen as just one plant will give you more than enough for having with salad.
You can also try chilled cucumber soup or gazpacho, cucumber water, or a tasty cucumber relish.
As you can see, easy vegetable gardening is possible and it will give you lots of yumminess in the kitchen! Oh, and if you like plants that come back year after year without your intervention, here's a list of perennial vegetables.
Adriana Copaceanu is a passionate nature lover living in the country on her dream property where she grows vegetables, lavender, and wildflowers that she shares with the wildlife they attract. When she's not in the garden, she loves spending time with her chickens and planning her next nature project.