When looking to update your outdoor space, you can hire professionals to do the work for you, or for a more customizable and budget-friendly option, you can slip on a pair of gloves and implement some easy DIY landscaping ideas. We've compiled a list to help get you started, as well as some simple tips and tricks for beautifying your yard.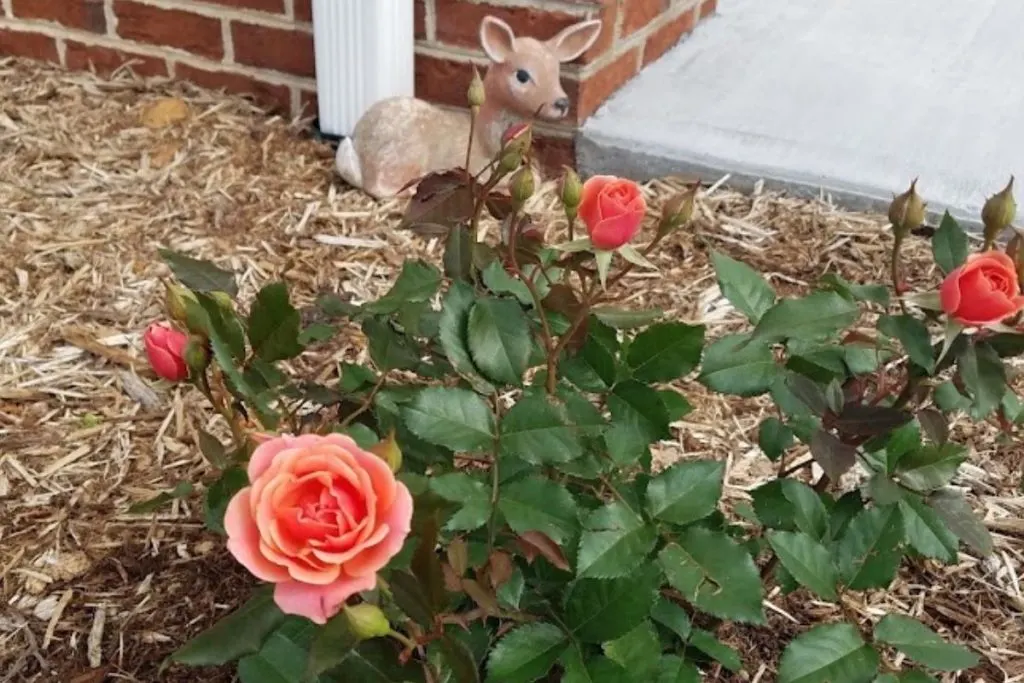 9 Easy DIY Landscaping Ideas
Even the smallest changes can have a big effect on your backyard or front yard landscape. Add some color or texture, improve visual flow, create clean lines, or improve usability. When taking a DIY approach, you want these changes to be easy, and they can be!
1. Play with layers when planting
Landscape layering involves arranging a variety of plants into the foreground, middle ground, and background using the design principles of flow, depth, repetition, and scale. Create a balance between evergreen and deciduous trees and shrubs, perennial flowers, ornamental grasses, vines, ground covers, herbs, bulbs, and annuals, using more of the latter, smaller items, and fewer of the larger plants.
Flow – Instead of playing connect the dots with separate "zones" in your yard, make sure that everything flows together, with each area tying into another.
Depth – Make your beds wider, if possible, and stagger rather than line up plants for a more natural appearance and greater depth.
Repetition – Plant groupings of visually similar plants to create repetition throughout the space, using different plants with the same color or texture to help tie everything together.
Scale – Keep in mind the size of the bed and the mature size of the plants being used, and place plants of varying sizes and shapes next to each other.
2. Opt for natural perennial ground covers
Perennial ground covers provide an excellent low-maintenance way to suppress weeds, control erosion, make your garden look lusher, and reduce the need for mulch. They can even replace part of your lawn, especially sloped and otherwise hard-to-mow areas. Opt for native varieties, which attract birds and other wildlife, whereas nonnatives can become invasive. Here are a few popular natural perennial ground covers:
Common wild ginger/Canadian wild ginger
(Asarum canadense)
A shade-loving deciduous plant, the common wild ginger has low, densely-growing round leaves that make a fun addition to moist shade gardens. It spreads by rhizomes when provided with rich, well-drained soil.
Green-and-gold
(Chrysogonum virginianum)
These bright green plants with small yellow flowers should be planted densely and then divided every few years. Green-and-gold prefers part shade and well-drained soil, and deer don't seem to like it.
Dwarf cinquefoil
(Potentilla canadensis)
This hardier, low-growing plant does well in poor soil and enjoys sun to part shade. It produces tiny yellow flowers that attract native bees and other insects and spreads readily through runners.
Wild stonecrop
(Sedum ternatum)
As its name suggests, wild stonecrop does well in rock gardens. This enchanting creeping succulent prefers part to full shade and blooms in the spring with star-shaped white flowers.
3. Add fresh mulch
A relatively quick and easy way to add a fresh, clean look to your garden is to add a new layer of mulch. In addition to being attractive, mulch improves moisture and nutrient retention in soil.
Use natural, undyed mulch for a more sustainable option, and if you have access to a pickup truck, purchase it in bulk rather than by the bag to reduce costs and the waste of plastic bags. This is also a great time to use an edger or install plastic edging, landscape blocks, or other border materials for cleaner lines around your beds.
4. Light up your landscape
Add landscape lighting to beautify and improve visibility in your outdoor space when the sun goes down. Light up walkways, stairs, or a beautiful Japanese maple. You can even install underwater lights in water features. Just remember: less is more.
Indirect lighting is best, so have most of the lights point downward for a softer glow, and ensure none of them will blind anyone strolling through the garden or sitting on the patio. Staggering lights along pathways will provide a more natural look than lining them up.
Use solar lights only in areas that receive plenty of sunlight, or choose those that have the sensors separate from the lights, so the sensors can be placed in full sun. If solar lights don't fit your needs, choose LEDs for lower energy usage.
5. Use sustainable landscape design
For a greener yard and greener earth, use sustainable landscaping practices. Perhaps the most obvious thing is to avoid using chemicals on your lawn and garden, from pesticides and fertilizers to dyed mulch. Water conservation also ranks high on the list. If you live in a drier climate, fill your garden with drought-resistant plants to cut down on watering.
Water only in the early morning or evening to reduce evaporation, and always aim the water at the base of the plants.
If your house or shed has a metal roof, consider installing a rain barrel. You can make a rain barrel from scratch or with a kit, or you can purchase a premade one: there are some very attractive options available so you can incorporate them seamlessly into your landscape design.
Planting native perennials has multiple benefits when it comes to sustainability. First, because they have adapted to your local environment, plants native to your region will require little water or pest control. They'll also attract birds and pollinators, especially if you choose flowering and fruiting plants.
Consider converting a little-used section of your yard to a wildflower meadow, and enjoy the presence of butterflies and hummingbirds when the flowers bloom.
6. Include potted plants
Arrange clusters of potted plants around your garden, especially if you have a large patio or paved walkways. Choose planters of varying shapes and sizes to group together, but stick to a theme: whether a color scheme, certain material, or texture or otherwise – so they fit in cohesively with the overall landscape design. Three is a good number for each cluster, and the pots should be filled with a mixture of vertical, horizontal, and cascading plants for the most striking display.
7. Mix up the colors and textures
This one is similar to the layering concept. In addition to varying heights and shapes, choose plants with different colors and textures for a vibrant backyard landscape.
Ornamental grasses, ferns, and evergreens offer unique textures, while wildflowers, planters (see above), and perennials with red foliage provide bursts of color.
Even a garden with a calmer, more muted theme can offer variety: focus mainly on textures, but also look for plants with varying shades of green or even variegated leaves, as well as those with deep red foliage or simple white flowers.
8. Install raised garden beds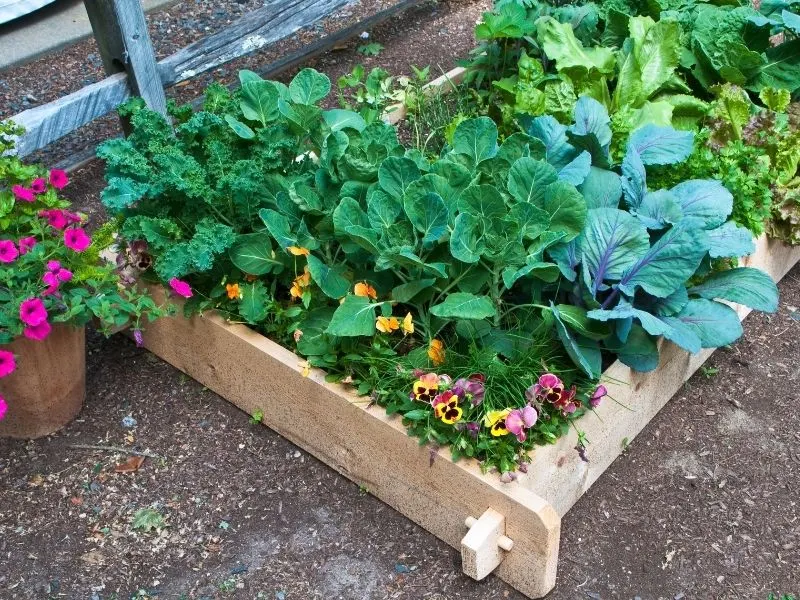 Raised beds can be an attractive, low-maintenance way to grow vegetables, herbs, and even flowers. They're especially helpful if you have a small backyard or poor soil, as they can be made to fit the available space, and they sit on top of the native soil.
Create a round flower bed as a focal point, or grow veggies and herbs in neatly contained beds in a sunny location. If well maintained, vegetable raised garden beds can even be pretty enough to place in the front yard. Many garden centers and home improvement stores carry easy-to-assemble raised bed kits, though it's also fairly simple to build the beds yourself.
9. Update garden paths
If your garden paths are weedy or nonexistent, it may be time to update them! There are many ways to do this yourself without calling in a contractor to lay down cement or flagstones.
Stepping stones are perhaps one of the easiest options for pathways. Lay them directly in the lawn, making sure they're flush with the surface of the soil so they can be mowed over. Or for a lower maintenance option, plant a hardy, low-growing ground cover between and around the stones.
Other ideas include gravel or bark mulch pathways, either on their own or with stepping stones or wood planks set in them.
Make sure that the materials and shape of your pathway match the overall aesthetic of your garden. While straight and angular paths have a crisp, orderly appearance, meandering lines often look more fluid and natural.
Landscaping Design Styles
When considering landscaping ideas for your outdoor space, it is often helpful to choose a style to help everything flow together. First, go outside and look at your space.
How much sunlight does your yard receive, and where are there pockets of shade?
What kind of plants grow in your area?
How much rain do you receive?
What size and shape of space do you have to work with?
Once you've answered all of these questions, consider where your desires and these realities overlap. This will likely require some creativity, such as creating an English cottage garden aesthetic with native, drought-tolerant plants. In case you're not sure yet what you want, here are a few common styles:
Woodland garden
Especially apt for shaded yards, the woodland garden incorporates trees and understory plants like ferns, false Solomon's seal, and hostas. It typically has a calmer feel and appears less manicured.
English cottage garden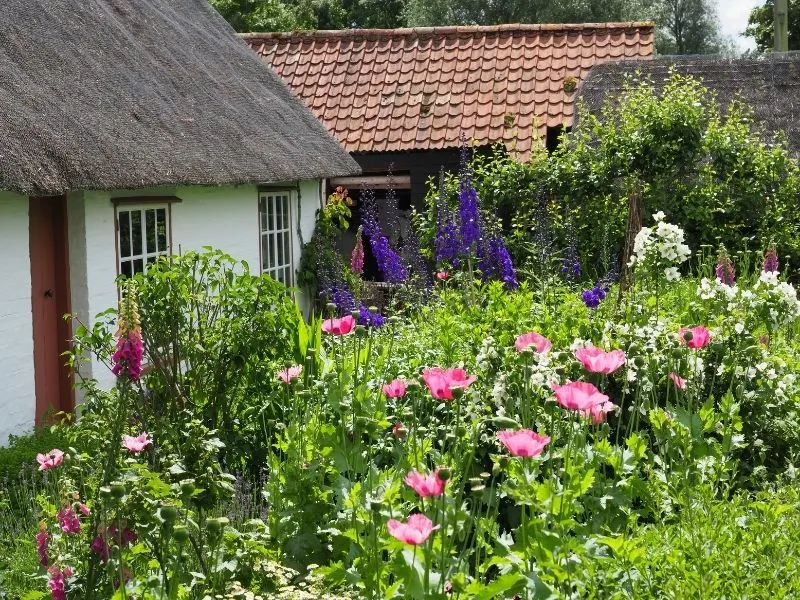 English cottage gardens feature a potpourri of vibrant, tightly arranged flowers tucked up against the house and flowing away from it. They also often include a rolling lawn, shade trees, and a pond or other water features.
Japanese zen garden
A more peaceful, relaxing style, the Japanese zen garden was originally designed by Buddhist monks with a minimalist design featuring rock, sand, wood, and a few plants. Today, those in backyards may incorporate curving pathways, fish ponds, and bridges.
Formal European garden
Straight lines, geometric designs, and carefully pruned shrubs feature prominently in formal European gardens. This orderly style often includes fountains and benches, with neatly planted flowers adding color amid the greenery.
American Southwest garden
Perfect for drier areas, the American Southwest garden utilizes gravel, boulders, sand, and drought-tolerant plants. Succulents and desert or Mediterranean wildflowers add life and color.
Wildlife garden
This style is designed with birds, insects, and other critters in mind. A wildlife garden includes lots of wildflowers as well as native shrubs, trees, and grasses. It tends to have a wilder, more natural look, though it can also be designed and maintained for a neater appearance.
Choosing Landscaping Materials
The landscaping materials you choose are almost, if not equally, as important as the plants themselves. Keep your style in mind when considering materials for walkways, edging, raised bed frames, and other features.
Wood has a rustic, natural appearance but may need to be replaced in a few years, while rough-cut stone is more durable but also natural. Pavers and cement offer a modern aesthetic, and brick can look more formal.
Figuring Out Landscaping Priorities
When you're doing things yourself, even easy DIY landscaping ideas can't be implemented all at once, so it's important to prioritize. Think about maintenance needs, like drainage or erosion control, as well as how space will be used: for entertaining, relaxing, or playing, for example.
Perhaps water tends to pool in the middle of the lawn where the kids like to play, or mulch always washes down onto your patio from the sloped flower beds. These might be areas to prioritize, while other landscaping projects can be put on the calendar for next year.
Whether you end up laying down fresh mulch and arranging colorful planters to improve curb appeal or tackling larger-scale projects for long-term enjoyment, I hope these landscaping ideas have given you some inspiration to get started beautifying your yard.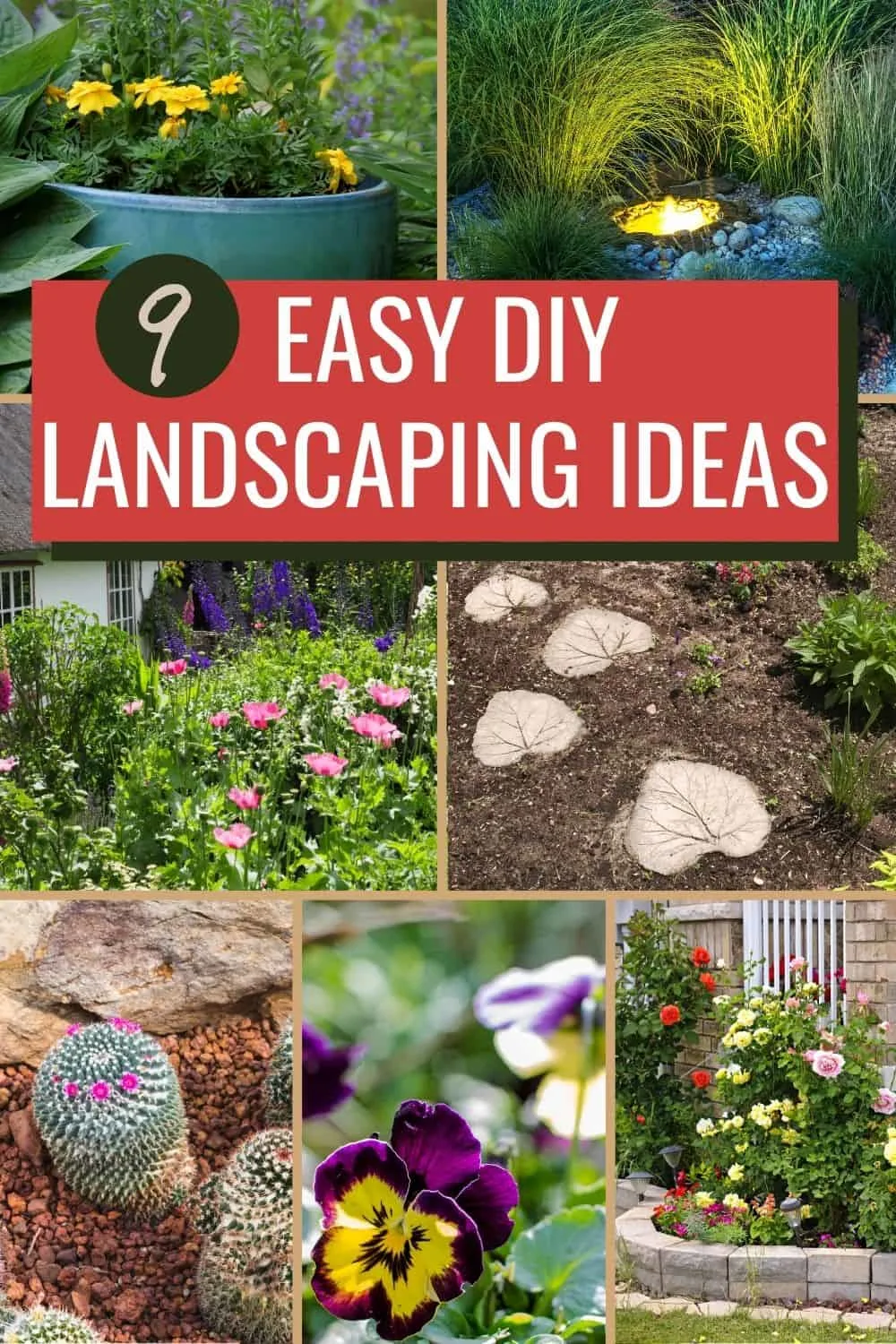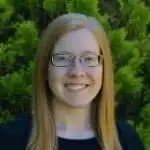 Serena Manickam is a freelance editor and writer and sustainable market gardener in rural Virginia. She holds a BA in environmental science and runs Fairydiddle Farm, a small market garden in which she grows no-spray produce and herbs to sell at a local farmer's market.