All of Alabama is lush and green, and thousands of plant varieties grow freely in this state that gets plenty of rainfall. The state is long, however, and the bottom part of the state is a much different ecosystem than the top part of the state. North Alabama gets freezing temperatures every winter and snow most years. The southern part of the state is hot and full of swamplands and a subtropical climate, making the Alabama native plants list include a wide variety of amazing plants.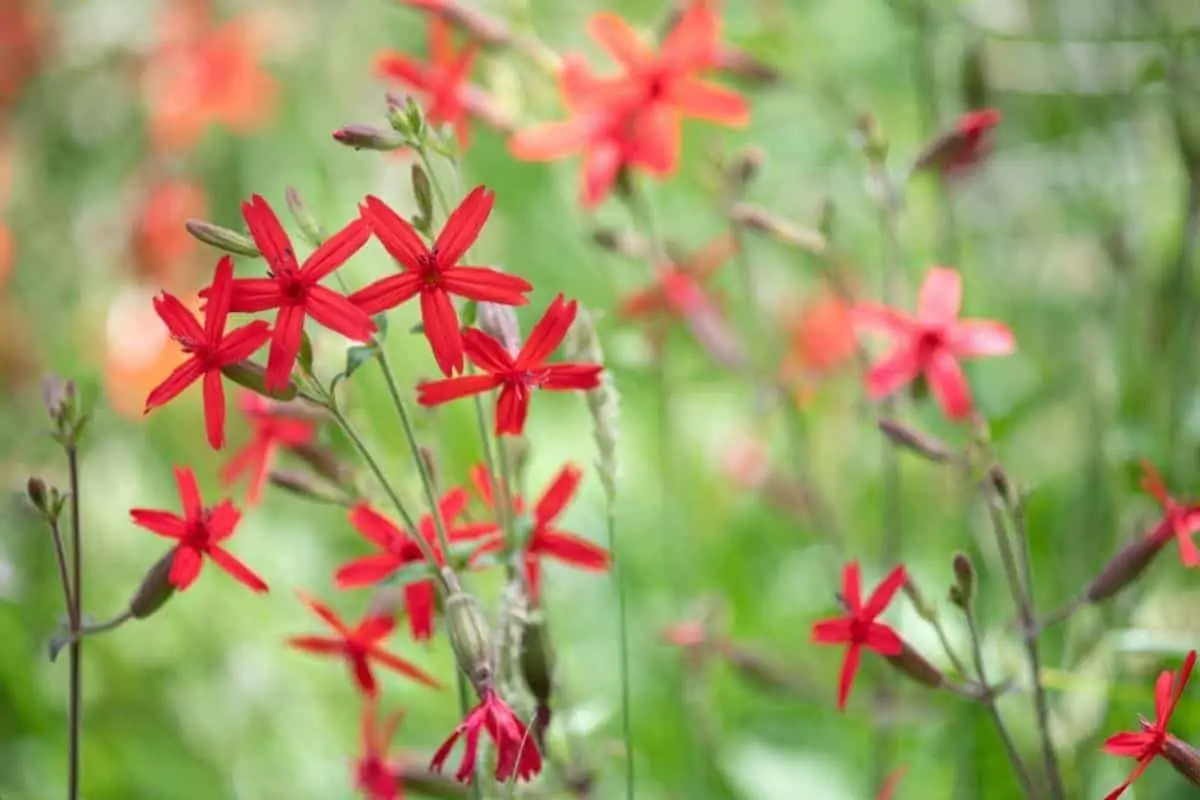 Alabama Native Plants List
Among the many plants that are native to Alabama are everything from fruits to vegetables to flowering plants and herbs. The state always features a dazzling array of wildflowers, and there is a statewide program to use these native plants on roadsides for everyone to enjoy.
1. Red buckeye (Aesculus pavia)
Red buckeye, often called a firecracker plant, is found in virtually every county of Alabama. This large shrub can grow to be up to 25′ tall. It's a deciduous plant with colorful flowers, and it can be grown in nearly any soil type. Red buckeye is also resistant to pests.
Striking red flowers grow on spikes that are 4″ to 8″ in length. It's considered a good ornamental bush that has showy flowers that bloom in the late spring and grows a brown fruit in the fall. ]
And for those who want to attract hummingbirds, it's the perfect bush, as it's pollinated in the spring by hummingbirds. This plant can be grown in virtually any amount of sunlight.
2. Climbing aster (Ampelaster carolinianus)
Climbing aster is a deciduous perennial that blooms with lovely purple flowers with yellow middles. The stems of this plant are climbers that can get 10′ high or even higher. Climbing aster often spreads at the top of fences and will climb a trellis.
This flowering plant grows in the southernmost area of Alabama along the Gulf Coast and is often found at the edge of swamps, on the banks of streams, in marshy areas, and other locations that have plenty of water.
Expect it to bloom in the later summer and into the fall, and make sure it gets full sunlight.
3. White prickly poppy (Argemone albiflora)
White prickly poppy is a flowering plant that grows in the southernmost third of the state. This attractive annual flowering plant can be found in different areas from sand dunes to fields, with pretty white flowers with a yellow center.
The white prickly poppy gets its name from the sharp prickles found on the stems and leaves. Prickly poppy requires soil that drains well and full sunlight.
It is considered an herb and is used in many medicinal products as well as the dried flowers being available commercially. Prickly poppy was long revered by the Native Americans for its many medical uses.
4. American bluehearts (Buchnera Americana)
American bluehearts is a wildflower that grows in various regions across Alabama. It has large purple blossoms and blooms from June through September.
This showy plant typically connects itself to the roots of other plants and takes their nutrients for itself. There are some varieties of American bluehearts that can live with no host plant to steal from, but those plants don't grow as well as those that are parasitic.
This plant a good attractor of butterflies and bees. It needs full sunlight, can grow to as tall as 2′, is drought-resistant, and can grow in poor soils.
5. Many flower grass pink (Calopogon multiflorus)
The many flower grass pink is a type of orchid that's native to the southern part of the state near the Gulf Coast. This colorful flower is often found in sandy areas as well as in grasslands and pine forests.
This grass needs soil that drains well, and it should be watered regularly and planted in full sunlight.
Multiple pink flowers grow on a thin stem that will likely need to be supported by a post and clips. Though this grass grows in the coastal region of the state, it's often found growing in dry areas. The plant is now considered rare, as much of its habitat has been destroyed.
6. Bandana of the everglades (Canna flaccida)
The bandana of the Everglades is sometimes called yellow canna or golden canna. The plant grows large, bright yellow flowers and grows in the southern part of the state.
The flowers are made up of three large petals that are bright against the deep green foliage. The plant can be grown in either partial shade or full sun and in many different soils as long as they are moist.
This perennial naturally grows in swamps and marshes as well as next to ponds and lakes. If you want to attract butterflies, bees, and dragonflies, this is an excellent plant to attract them. Bandana of the Everglades grows to an average of 3′ to 5′ tall.
7. Rosy sedge (Carex rosea)
The rosy sedge grows mostly in the north part of the state but also has a presence along the Gulf Coast. It's an evergreen, ornamental plant that is hardy and easy to grow.
The long leaves grow in clumps, and the plant blooms with purplish flowers in the late spring. It's drought-resistant and can be grown in either wet or dry areas and in full sun or partial shade.
You will need to water these plants often to keep the soil evenly moist, and the soil must have good drainage. The rosy sedge is often used as a filler plant in plant arrangements and a border plant in flowerbeds.
Native Flowers Of Other States
Adriana Copaceanu is a passionate nature lover living in the country on her dream property where she grows vegetables, lavender, and wildflowers that she shares with the wildlife they attract. When she's not in the garden, she loves spending time with her chickens and planning her next nature project.