If you're thinking about doing some landscaping, money is probably going to factor into the equation. You probably have certain things you want to include in your landscaping project. You have so many wonderful ideas! You'd like to be able to do anything and everything you have in mind. But the plain truth is that before you get started, you're going to have to ask yourself: "how much does it cost to landscape a front yard?"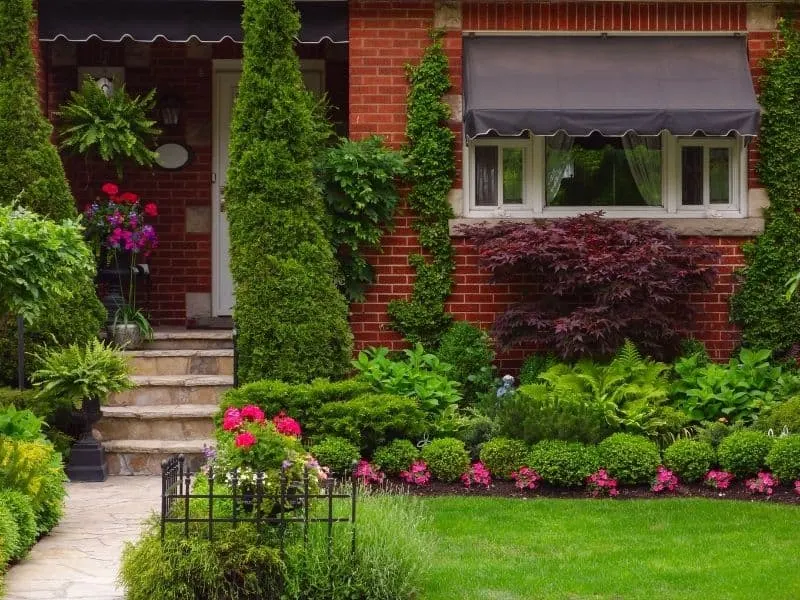 Few of us can take on any household job without considering a budget, so there are several things you need to consider before you get started. The first thing I look at is what other people have paid to have a similar job done.
What Does a Front Yard Landscaping Project Cost?
Before I spend good money, I ask for advice. I talk to people that have done what I want to do. So I checked with the Home Advisor website. The company matches contractors with homeowners. They'll ask a homeowner what she needs done and use her answers to find the perfect contractor for the job. Offering this service generates a lot of statistical information. Regarding a typical front yard landscaping project, this is what Home Advisor has to say.
"Landscaping a front yard costs $1,500 to $5,000 on average."
That estimate is an average for homes in the United States. It takes into account basic landscaping tasks. If you just need someone to lay down sod and bushes, trees and plants, that Home Advisor price range will probably apply.
Yours could cost a lot less or a lot more. If you need hardscaping (things like walkways, pavers, stones, and other non-plant items), you can expect to pay more money.
Maybe you're starting from scratch. Are you a new homeowner? New landscaping costs between $3,000 and $15,000 according to Home Advisor.
Those estimates could be applicable in your case, but let's get a second opinion. Whenever I'm about to spend my hard-earned money, I want more than just one piece of advice. I did some digging and came across this estimate from Landscaping Network.
$15,000 is a common budget for landscaping an average-sized front yard
Notice they say average. What's an average-sized front yard? Online news site The Atlantic says that as homes have grown larger in size over the last few decades, lawn sizes have become smaller. The typical lawn for an average American home is just 0.14 acres or just over 6,000 square feet.
To give you an idea of that size, imagine a front yard that's 150 feet wide by 40 feet deep. You can multiply the width by the depth of your yard to compare. Is your yard smaller? Congratulations then, you won't have to spend as much money. If you own a larger home, prepare to expand your budget.
Landscaping Network also says you can expect to spend about 10% of your home's value on landscaping your entire property. The front yard nearly always requires less of a monetary investment than landscaping the backyard. So you can figure less than half of that 10% home value figure for sprucing up your front yard.
When I look at those estimates, I see the numbers are all over the place! Someone might spend as little as $1,500 or as much as $15,000. I understand every situation is different, but that's a pretty big discrepancy. Sure, a smaller home will require a smaller investment. And it's obvious that a bigger property will probably have the homeowner spending more money.
But if I want to get a better idea about my actual cost, what else do I need to know? Are there other things that can influence how much money I'm going to have to spend? Let's take a look.
Get inspired here: simple front yard landscaping ideas.
Extra Factors That Influence Landscaping Costs
Laying sod and planting or transplanting flowers, shrubbery, and trees are physically intensive. There's a lot of labor involved. Unless you're buying rare and expensive plants, most of the cost of the job is going to be physical labor. How much of a front yard landscaping job is labor?
The Home Guide website says you can expect to pay between $50 and $100 per hour for a simple landscaping project. They say that labor alone could be as much as 80% of your entire project cost!
What can you take away from that number? I immediately think if there is some labor I can do myself then I won't have to pay for it. Talk to your landscape designer. Get a breakdown of everything involved in your job from the person you hire. Ask them if there are any tasks you can take care of yourself. This can help you keep your overall costs down.
Do you need a sprinkler system installed? That can really raise your costs. Now you're talking about paying for a person's plumbing expertise as well as his landscaping know-how. Adding or replacing a front yard sprinkler system could cost several thousand dollars. This is on top of what you're going to pay for standard landscaping tasks like planting flowers and shrubs.
You should also keep in mind replacement costs. What's the weather like where you live? A hard freeze can wipe out annuals that haven't had a chance to drop seeds yet. Storm damage can wreck your beautifully landscaped front yard overnight. In some situations, you're going to have to replace plants, so keep this in mind when you get an estimate for initial landscaping costs.
Think about the time of year you're having the work done. If the weather is perfect for the job, your landscaper might only take a couple of days to finish everything. Inclement weather can extend a two-day job to a week or more. Time is money. The more time a landscaper or contractor spends on your job, the more that job is probably going to cost.
I talked earlier about hardscaping. This has to do with installing things that aren't living, like pavers and trellises. Some other examples of hardscaping items are gravel paths and fences.
Maybe your project involves adding stairs or walls to your landscape. Hardscaping requirements like these can add a ton of money to your overall cost. You should also ask yourself the following question:
What does a front yard landscaping project cost to maintain year-round?
Are you going to do the maintenance or hire someone? Your landscaper might provide maintenance services. If so, make sure you discuss this cost before he goes to work. Monthly landscaping costs vary depending on what you need done. People that offer monthly landscaping services price their jobs with one dominant factor in mind … time.
They can charge a lot less for a monthly job that doesn't take very much time to finish. Landscapers want to complete as many monthly maintenance jobs as they can every day and every week. That means more money for them.
Is your dream project going to require a lot of maintenance each month? You have to be realistic with yourself about this figure so you can afford that monthly fee.
You could hire a neighborhood kid to mow your lawn for $25 to $50. Depending on where you live, this could be a monthly or weekly cost. Maybe you could get him to do some simple weeding or other basic garden maintenance tasks. Make sure this is a resource you have available before you plan for it. There's no guarantee that a teenager who wants a few extra dollars in his pocket is going to be available or even reliable.
Maybe you love digging in the dirt and performing the maintenance yourself. You're reading this right now for two reasons. First and foremost, you love nature and gardening, and secondly, you want to know how much your front yard project is going to cost you.
Your love of mother nature might mean you're more than willing to handle any ongoing maintenance this landscaping project will create.
Even if that's the case, you should have some backup plan. Locate someone you can count on in a pinch.
If you go on a two-week vacation, who's going to look after your lawn? You may have to travel for some other reason and will be gone for an extended period of time. While this isn't an upfront factor you need to consider, you don't want to spend a lot of time and money now just to see your hard work fall into a state of disrepair.
I know what you might be thinking. You were just asking the question, "How much does it cost to landscape a front yard?" Your upfront cost is an important number to know. But whatever decision you make, maintenance costs should be considered before you begin to build the front yard of your dreams.
There is another cost factor to think about. Who's going to design your dream landscape? Would you rather pay someone else who is skilled at designing landscapes or do you want to try to figure it out on your own? To help you make that decision, let's look at the difference between a landscape designer and a landscape architect.
Hiring a landscape designer versus a landscape architect
Okay. You've looked at what you want to accomplish. You don't think you want to risk designing the project yourself. You're afraid that if you do the design work, you won't get the result you're really looking for. So you've decided to hire a professional to design your front yard landscape.
Do you hire a landscape architect or a landscape designer?
That's a good question. You need to know the difference between these two professionals to figure out the cost of your landscaping project. Legally, a landscape architect has to have a bachelor's or master's degree in landscape architecture. If you choose to go this route, look for accreditation from the American Society of Landscape Architects (ASLA).
You might not need this level of detail if you aren't building steep slopes, retaining walls, or drainage systems. A landscape architect can tell you the appropriate way to incorporate driveways, parking areas, entries, and exits into your project. Because of the education requirement, a landscape architect is going to charge a good deal more money than a designer.
You can be a designer. I can call myself a landscape designer as long as I know how to use software that does the job for me. There are no educational requirements. Landscape architects are more likely to be involved in commercial projects, but will also take on residential jobs. Even though a landscape designer might have all the abilities of an architect, if that person doesn't have the required state license and education requirements, they can't call themselves an architect.
Many landscape designers are self-taught. They will have experience with hardscapes and plants, and won't cost as much as a landscape architect. If you want to keep your front yard landscaping costs down, you can hire a garden designer. This is something you want to consider if you have a basic job that doesn't require more technical or detailed expertise.
Why not purchase your own plants to save money?
So… how much does it cost to landscape a front yard?
It can cost a lot less if you buy your own supplies. Did you know you can save as much as 50% on the material cost of your project by buying your own plants? It's true.
Landscapers routinely double the price of material costs because they have to purchase, handle, store, and transplant the living materials for your job. You can save some good money on your front yard landscaping project by buying your plants yourself.
Remember, cost is just one factor to consider
The tips I shared with you can help you answer the question, "How much does it cost to landscape a front yard?" You should certainly worry about how much money you're going to spend on any landscaping project.
Money doesn't grow on trees, so you're probably going to have a budget you need to stick to. Just don't let money be your only consideration when creating this first impression of your home.