River rock is an attractive and low-maintenance way to spruce up your landscaping. There are many different things you can do with river rock. There are different colors, sizes, and styles, which helps you to create different looks or designs with your landscaping.
One of the main benefits of landscaping with river rock is that there is little to no maintenance. It won't require the same upkeep as living elements in your landscaping like plants, bushes, and grass. It's very much a set-it-and-forget-it material.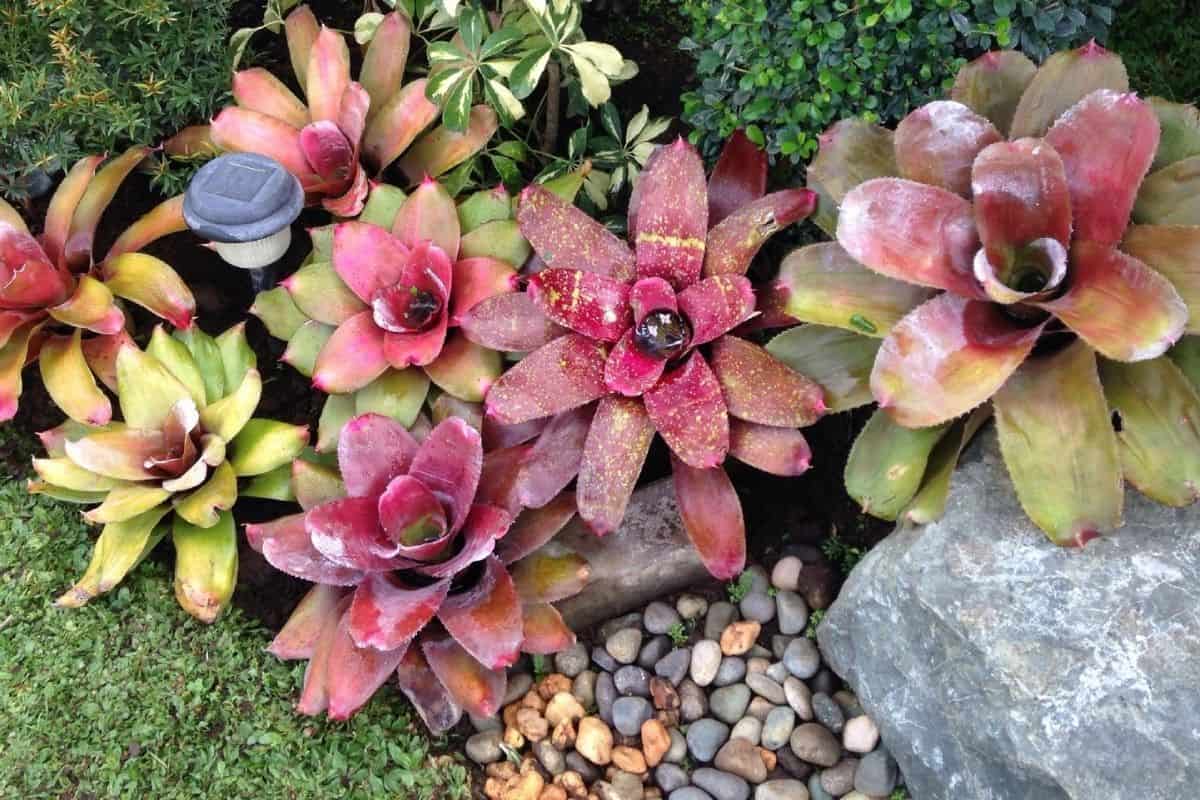 Ideas For Landscaping With River Rock
Some other benefits of river rock are that they last forever, and it is immune to sun damage and water damage. It's one of the most versatile landscaping materials and comes in a variety of textures, sizes, and colors. You can completely change the look and feel of a landscape with river rock.
When designing spaces with your river rock, it can be very helpful to see what other people have done with it to give you some ideas. It also helps to understand what river rock is and where it comes from. We'll explain more about that below.
Here are some ideas:
1. Create a walkway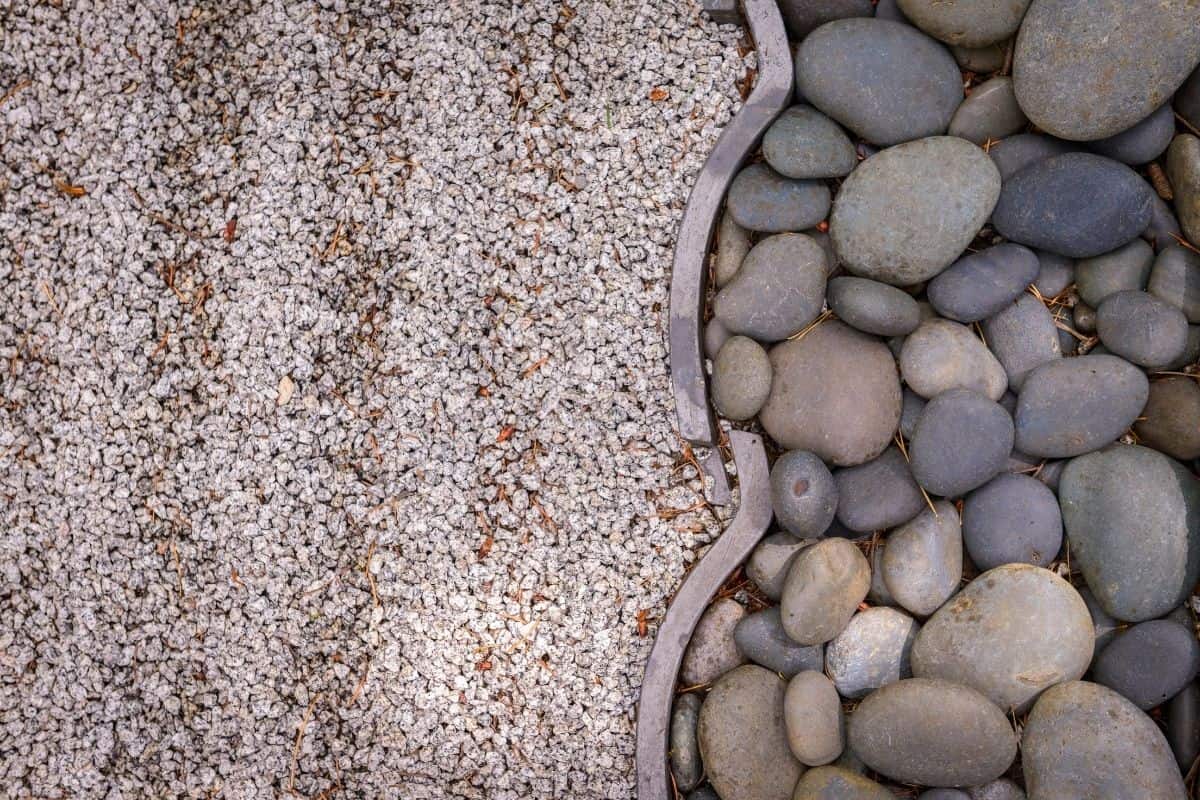 One way to use river rocks in your landscaping is to create a walkway or path throughout your garden or yard. This could be a small path from the driveway to the front door, or a larger or more elaborate pathway anywhere you want in your lawn or garden.
See some beautiful garden walkways for inspiration.
2. Design a mosaic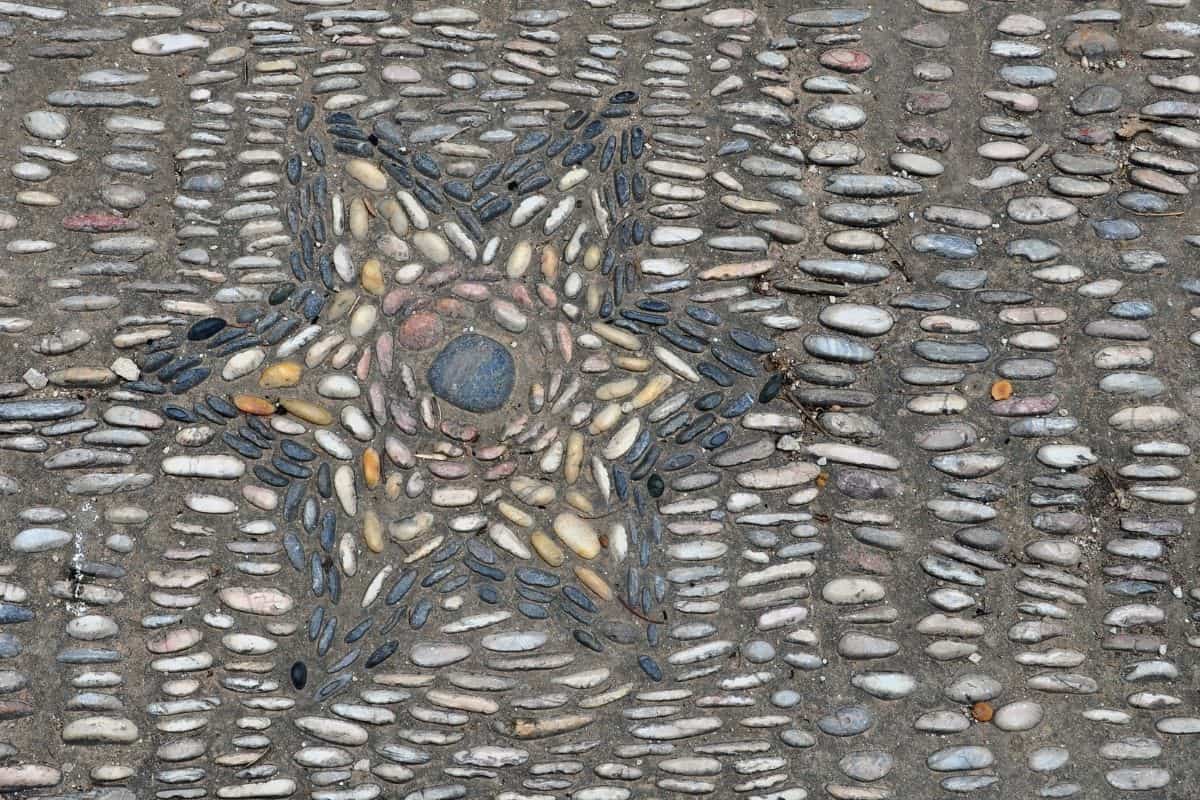 You can also use river rocks to design your own beautiful mosaic. You can create your own or use a pattern to put any type of design into your landscaping that you choose. Some people like to put a monogram, family crest, or initials. Or you might design a flower, bird, or other natural elements.
3. Replace mulch
Another great use for river rock is to replace mulch. Mulch typically has to be replaced each season, but river rock will stay for many, many years: just make sure to lay a thick, durable weed cloth barrier on the ground before you add your river rocks.
4. Line the front of your home
You can also use river rock to line the front of your home or all around the perimeter of your home. It gives a sleek, clean appearance and helps reduce and prevent weeds from growing right alongside your house.
5. Line your driveway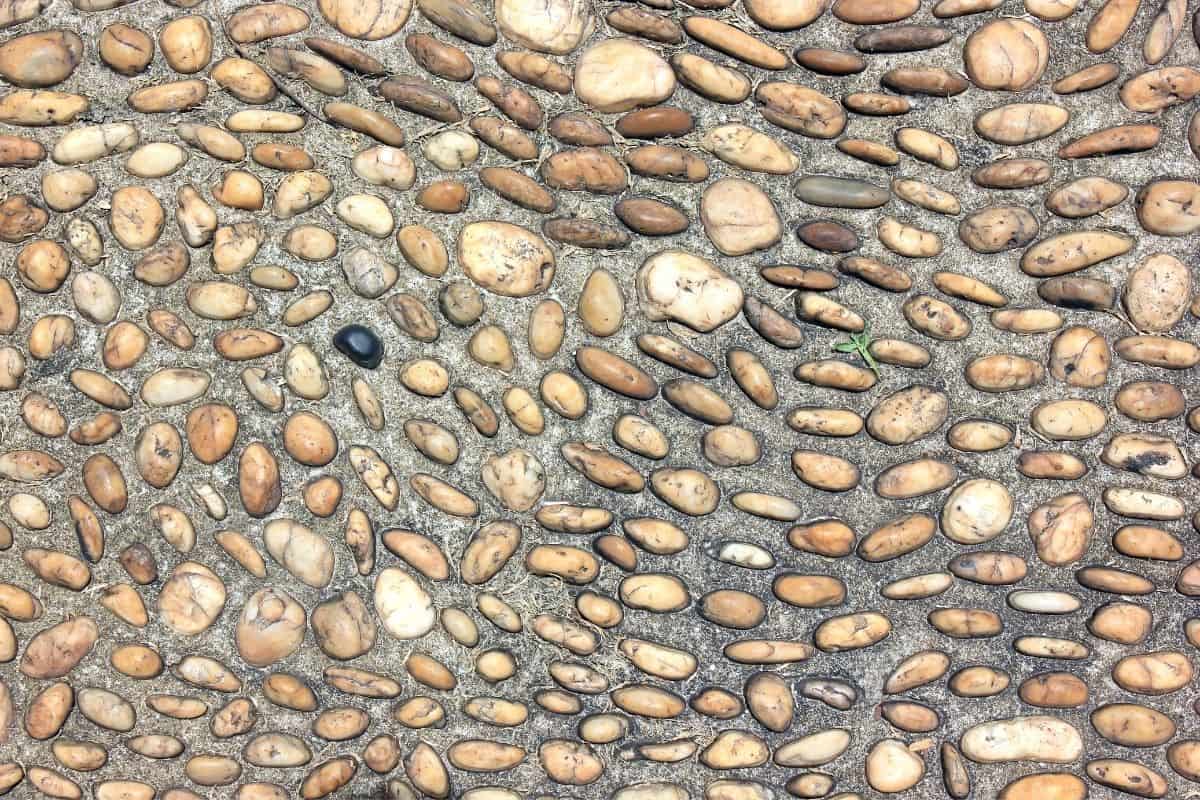 You can use river rock to decorate one or both sides of your driveway. You can use the rocks alone, or with plants and lawn décor added in as well. If your local climate is ideal for it, succulents and cacti do really well like this.
You can also incorporate river rock into your driveway cement, like in the image above. It creates a unique and beautiful look.
6. Decorate a slope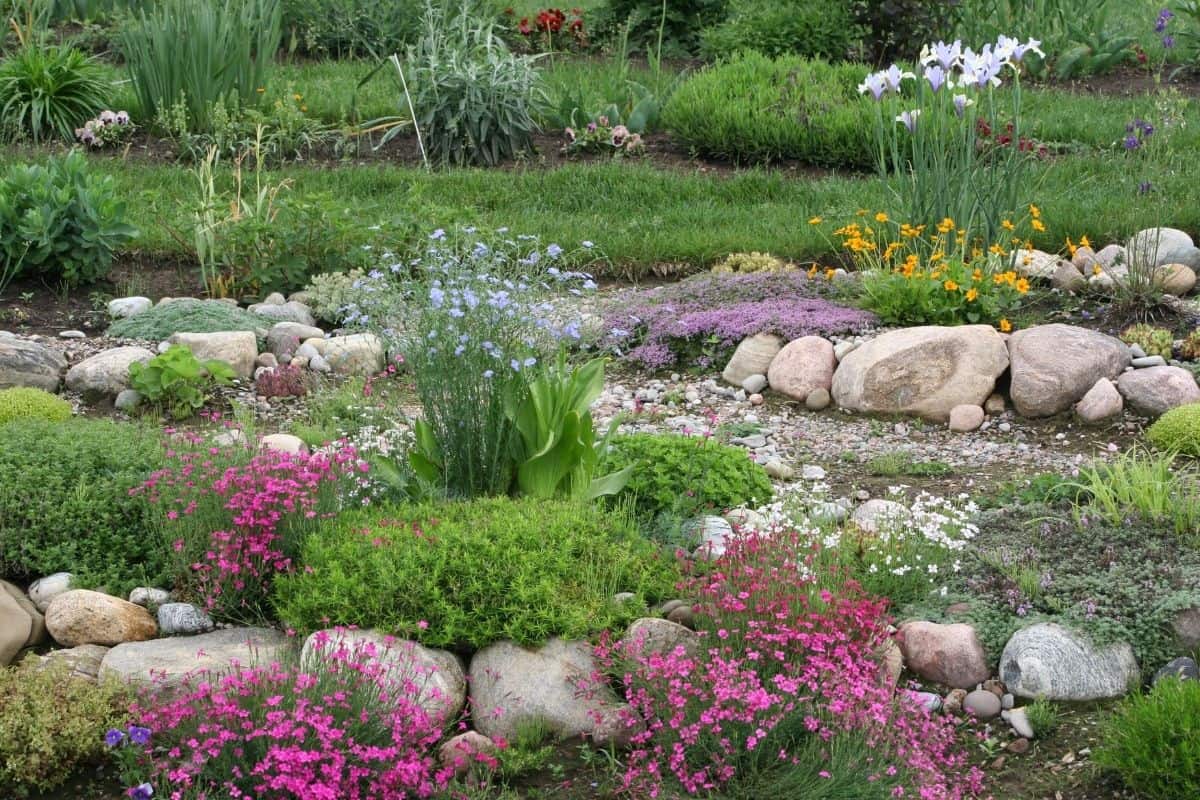 If your yard has a slope, it can be difficult to find plants that grow well there and other landscaping elements that will not run off when it rains. River rock can be a great, low-maintenance choice for decorating a yard slope.
In the image above, you can see a beautiful marriage of colorful flowers, large rocks, and river rocks, that is pleasant to look at and easy to maintain.
Here are some important things to know about landscaping with river rock.
Advantages of Landscaping with River Rocks
There are several advantages to using river rock in your landscaping but one of the first is that the maintenance is so easy. There is virtually no maintenance once you install the rocks. If they get dirty and you want to hose them off with a water hose, you can. Many people don't even bother to do that, since a bit of dirt just gives it a more natural look anyway.
Some other advantages are:
doesn't attract pests
has many colors and options available
can help improve drainage in the landscape
holds up well in high-traffic areas
lasts much longer than mulch
helps you save money
durable and doesn't break down easily
Now let's take a look at some of the potential disadvantages.
Disadvantages Landscaping with River Rocks
There are always some downsides to consider, even with the best of ideas. Possible disadvantages of river rock include:
River rock can get hot
Rocks often leave cracks that weeds can grow through (you can avoid this by laying a weed barrier under the rocks)
River rock can sink into the ground over time
Rock provides no nutrients as a ground cover
Now that you know the advantages and disadvantages, it's possible to see that there are certain types of property that will do better with river rock in the landscaping than others.
Types of Property that Work Well with River Rocks
Some properties that work well for river rock landscaping are very dry climates. If grass doesn't grow well, or if you don't have the time to devote to maintaining the grass, you might use rock instead.
You might also use river rocks in a property that has a lot of flower beds: use them as edging, or in the flower beds to prevent erosion or mulch spilling out when it rains.
Types of River Rocks
5 Pounds River Rocks, Pebbles – Natural Polished Mixed Color Stones
Natural Decorative Polished Mixed Pebbles for Landscaping
River Rocks Polished Decorative Pebbles
River rock refers to the group of rocks that are worn with soft, rounded edges from the action of moving water. Naturally, you can find river rocks in rivers, streams, and around beaches and other bodies of water. They can be sedimentary, igneous, or metamorphic. It all depends on the geography of the area they are found in.
For landscaping purposes, you can also find river rock that is artificially manufactured. Due to high demand, there will be manufactured rocks that have the same look and shape as they would if they occurred naturally, but without upsetting natural resources. Different types of river rocks give you different looks in your landscaping.
Choose the Right Rocks
The type of river rock you choose will make a big difference in the overall look and feel of your landscape. Because river rock is so versatile, it can be very helpful to learn more about the types of rocks available first before making a decision.
Granite river rocks
A popular type of river rock is granite. This is the most common and easiest to find for landscaping and decorative purposes. Granite will usually have a banded or speckled appearance and it is made of coarse grains of minerals. Typically, you will have quartz in granite rock. It can vary in colors and hues of black, white, gray, green, purple, and brown.
Basalt river rocks
Another option is basalt, which means it formed when lava cooled above the surface of the earth's crust. This type of river rock has a finer grain and can be in colors and hues of green, dark green, gray, and almost black. Smaller versions of this stone are often used in flower arrangements. It can give a sleek, dark look to your landscaping.
Schist river rock
This is a type of metamorphic rock formed deep in the earth under a lot of pressure and heat. It's less common in availability when it comes to landscaping. They are usually light to dark grey shade. And they are rectangular in shape. They give a nice, natural feel to the landscaping.
Polished and manufactured
And the easiest to find for landscaping purposes are polished and manufactured rock. These are not found naturally in the world, but they are created to look like the ones that appear naturally. They are cheaper and easier to make, which means you can get more of it for your needs, and for a good price.
Landscaping with River Rock FAQ
Here are some commonly asked questions about landscaping with river rock.
Where do river rocks come from?
Despite their name, all river rocks do not come straight from rivers. Some river rock used in landscaping is artificially manufactured.
How do you clean river rocks?
Typically, river rocks don't need to be cleaned. Natural rain will rinse them off, as needed. However, if you do need to clean them, you can just spray them down with the water hose.
Do you need a barrier under your river rocks?
Yes, you should put a weed barrier down underneath your river rocks before you place them in your landscaping. This will help keep the rock from sinking down into the soil and it also reduces weeds coming through cracks in the rocks.
Conclusion of Landscaping with River Rock
Now that you know these great ideas for landscaping with river rock, you can begin planning for yourself. We hope that these ideas will help spur some creative ideas for your own landscaping and that you now know more about how to use river rock.
Which ideas do you think you might want to try for yourself?
6 low