As people realize how much beauty they add, backyard waterfalls are becoming more popular. Water has long been a symbol for serenity and peace so it's not hard to figure out why waterfalls are such a hit. Want one in your own backyard? Let's look at a few backyard waterfall ideas.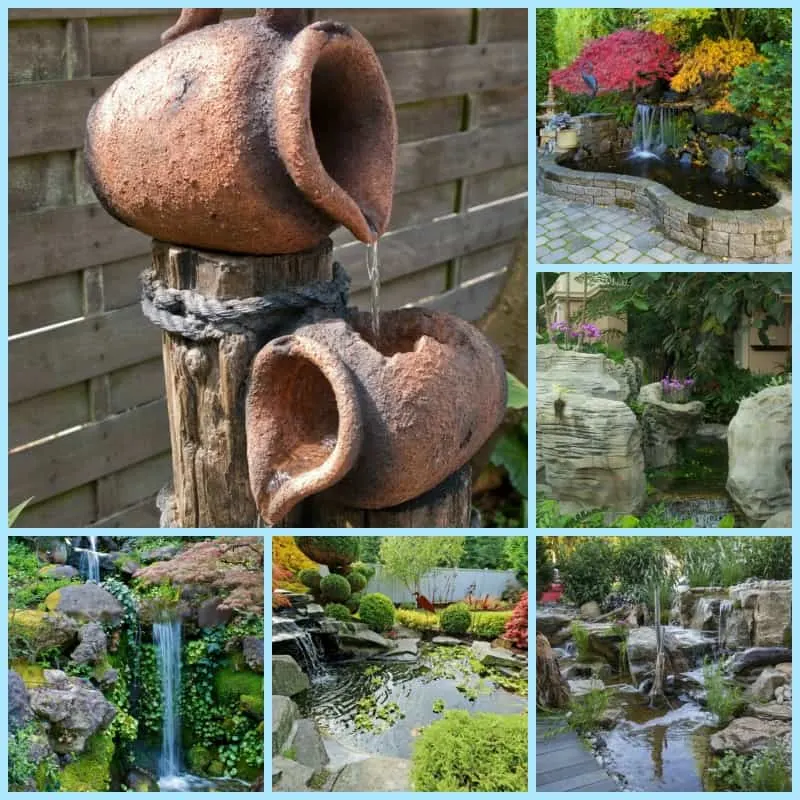 Building A Backyard Waterfall
There are some things that you need to think about before you even get started creating your waterfall.
is there enough room in your backyard? If you want your yard to stay functional you don't want something that will be too large for the area.
where is the best place in your backyard to build a waterfall? Since you probably want a waterfall in part because of the peaceful sound it makes, you should consider where to put it so that you hear it best where you go to relax.
would you like a pond with your backyard waterfall? How about adding some koi fish in that pond?
what kind of waterfall would you like? You'll find that different waterfalls make more or less pronounced sounds. You can have the water falling on rocks, straight into the pond, or however you like. It's amazing how small changes can make a big difference in the sounds you hear.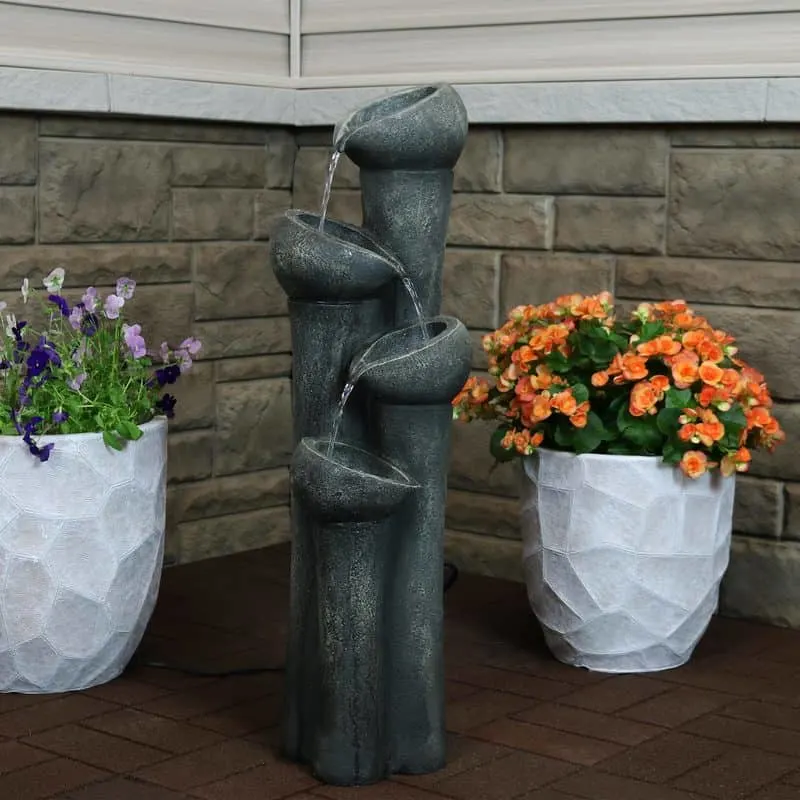 Check out a variety of gorgeous outdoor fountains here!
Build or buy?
Are you going to build a waterfall, or buy one ready to install?
There are many backyard waterfall kits ready to ship, but if you're looking to save money, you can create something just as beautiful with a little time and dedication.
Take a look at this short video to see how easy it is to build a small waterfall in your backyard.
Backyard Waterfall Ideas
Now that you made some decisions about where and how to add a backyard waterfall, let's get some inspiration 😉
And since we are talking about water, here's how to conserve eater in the garden.
Backyard rock waterfall
This is fun if you have a rocky backyard, or simply if you like rocks and lush vegetation.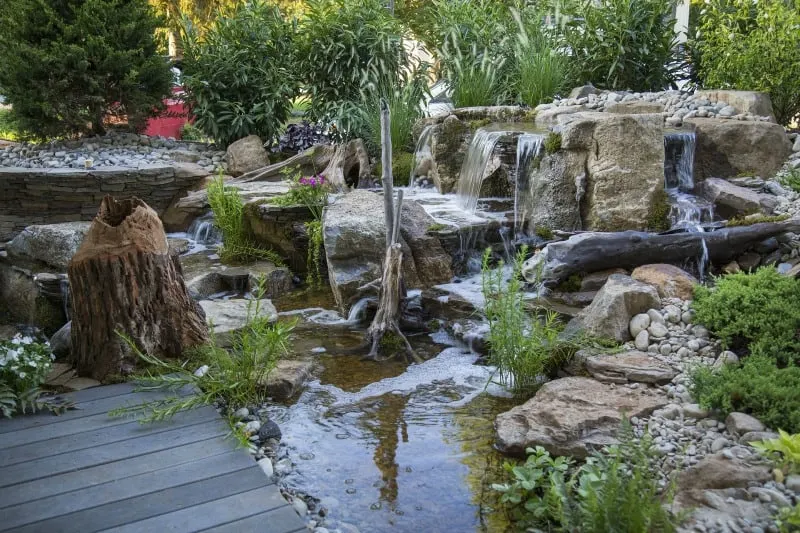 Amazon has some beautiful rock waterfalls ready to install.
Birds Choice Layered Rock Waterfall
5-Step Rock Falls Tabletop Fountain with LED Lights
Sunnydaze Stacked Rocks Tabletop Water Fountain
Feng Shui Rock Like Waterfall Fountain with LED Light
Rock Creek Cascading Fountain with Illumination
Garden Water Feature with Elegant Waterfall Flow
Backyard pond waterfall
Get a pump and create your own pond with a waterfall.
Aquascape Backyard Waterfall Fountain Kit for Landscape and Garden | 83013
TetraPond Water Garden Pump, 325 GPH
Atlantic Water Gardens Pond Filter & Waterfall Spillway, 17-inch Spillway
Backyard waterfall pictures
A few more pictures for inspiration.
This is a lovely spot in a small backyard. I love the pink flowers growing out of the rock's crevices 😉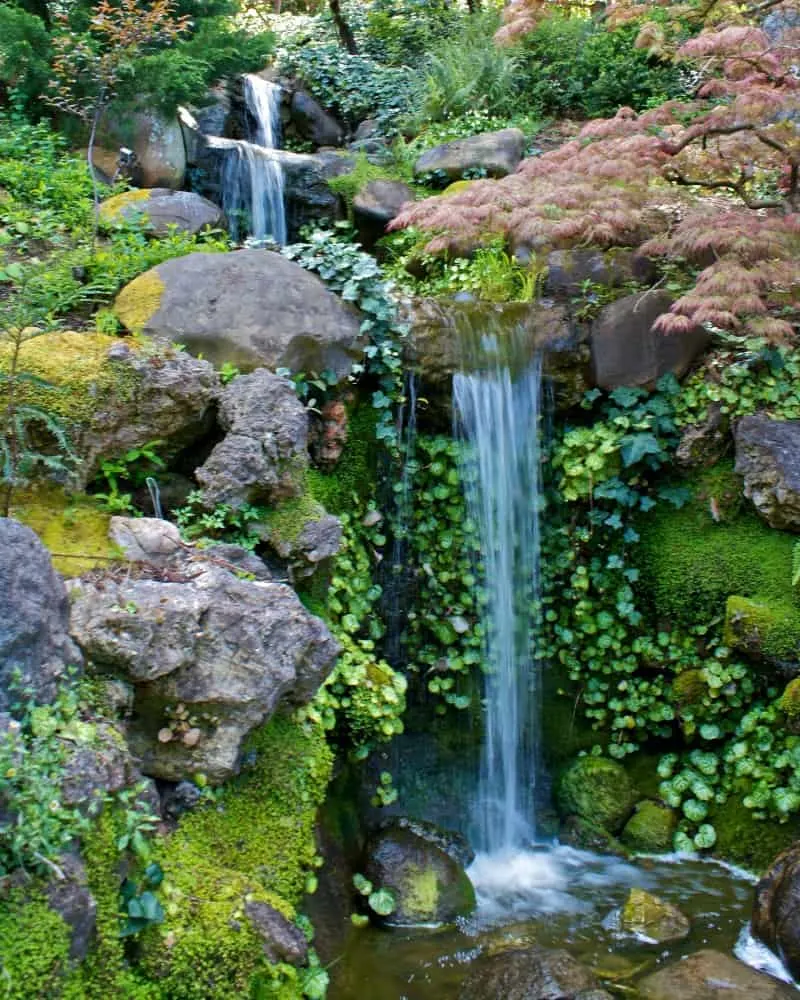 If you have a hilly area in your backyard, it can become a natural spot for a waterfall. Beautiful spot to sped the afternoon relaxing.
Perfect backyard oasis with lush vegetation and a cute wooden bird.
Small backyard waterfall ideas
Some backyards are so small, you'd think there's no way to add a waterfall. Don't despair: there's a backyard waterfall for every garden 😉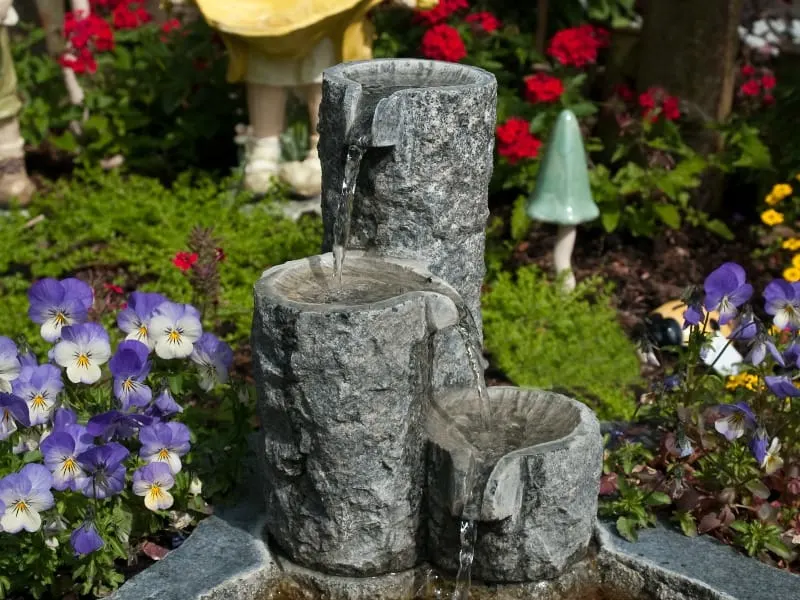 Beautiful decorative three levels granite waterfall for those of us with the tiniest of backyards. Isn't this cute?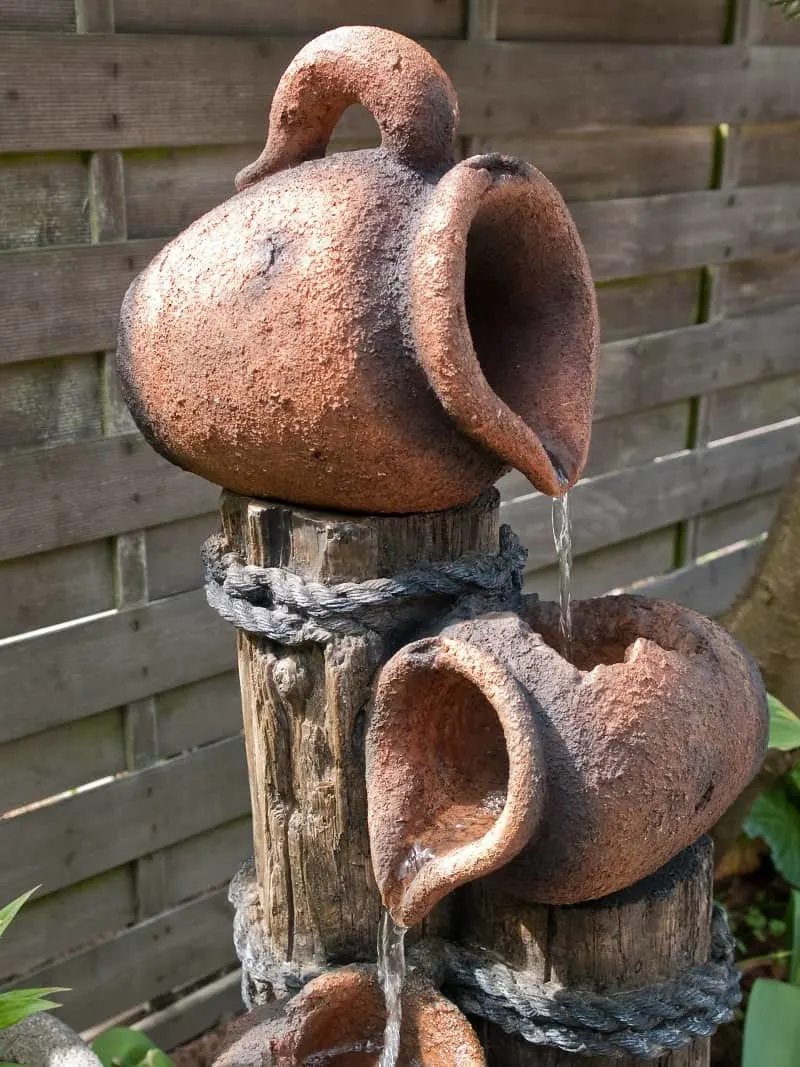 I LOVE this one! Makes me want to go on a hunt for old stone jars! This one is perfect for the DIY gardener who loves up-cycling projects.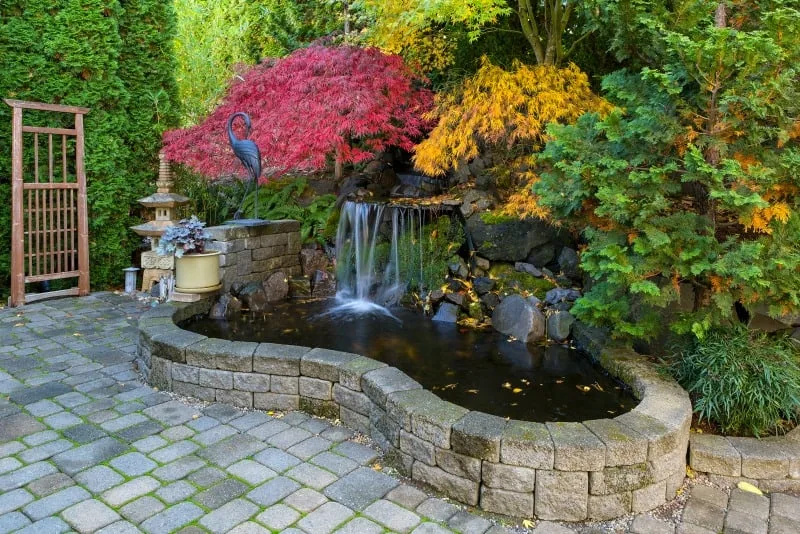 Still small, this garden waterfall pond with brick paver stone hardscape is just the right feature by your gate.
I hope looking at these backyard waterfall ideas got your brain workign on how you'd like to create your own waterfall.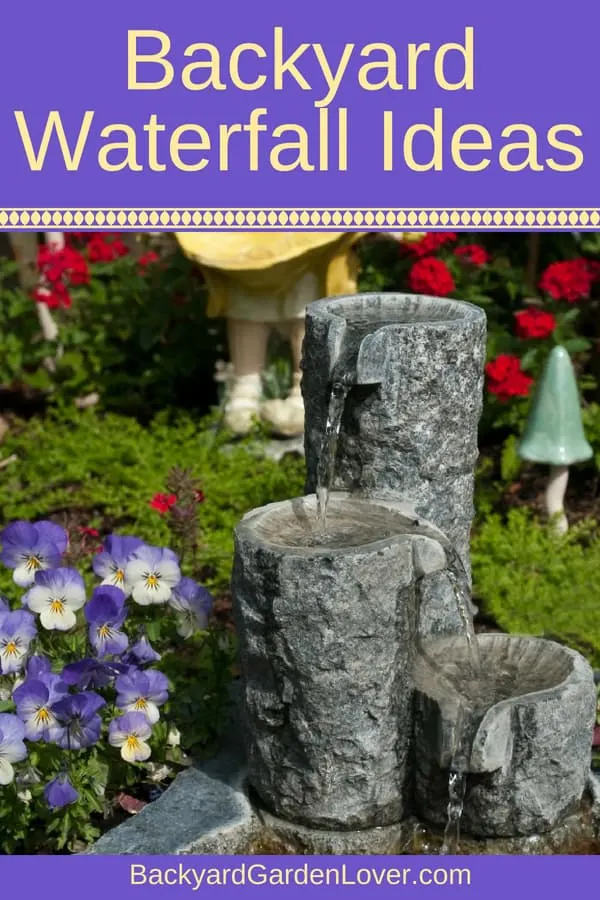 Adriana Copaceanu is a passionate nature lover living in the country on her dream property where she grows vegetables, lavender, and wildflowers that she shares with the wildlife they attract. When she's not in the garden, she loves spending time with her chickens and planning her next nature project.