Japanese gardens (also called dry rock gadens) are exquisitely designed spaces that are often created to give you a place to go and relax and find your Zen. They are often used to meditate, inspire the gardener, and just transform your garden into a beautiful place. These types of gardens don't have to be large, either, which is why small backyard Japanese gardens have become such a popular trend. If you need a few small Japanese garden design ideas, check out my findings below.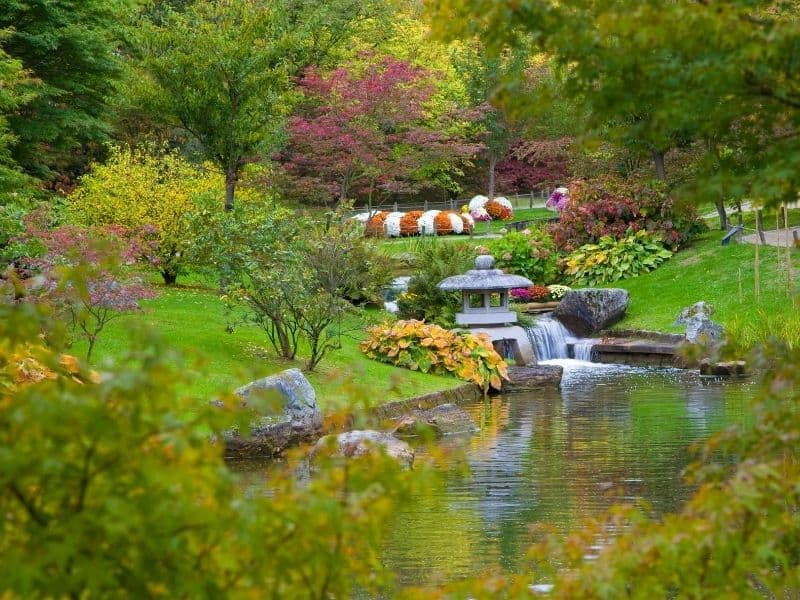 Japanese gardens are known for their beauty, their lines, their peaceful serenity, and the ability to provide moments of pure zen. Creating a Japanese garden begins by bringing together the old and often overlooked with the beauty of the sought. Plants and worn materials are often used in the design, to give an ancient and faraway, but natural landscape design. Here are some ideas for creating a Japanese garden in your yard.
Small Japanese Garden Design Ideas
If you're like me, it helps if you can see what a small Japanese garden looks like before you start planning yours. Here I'm sharing a few fo my favorites. I hope you love them as much as I do.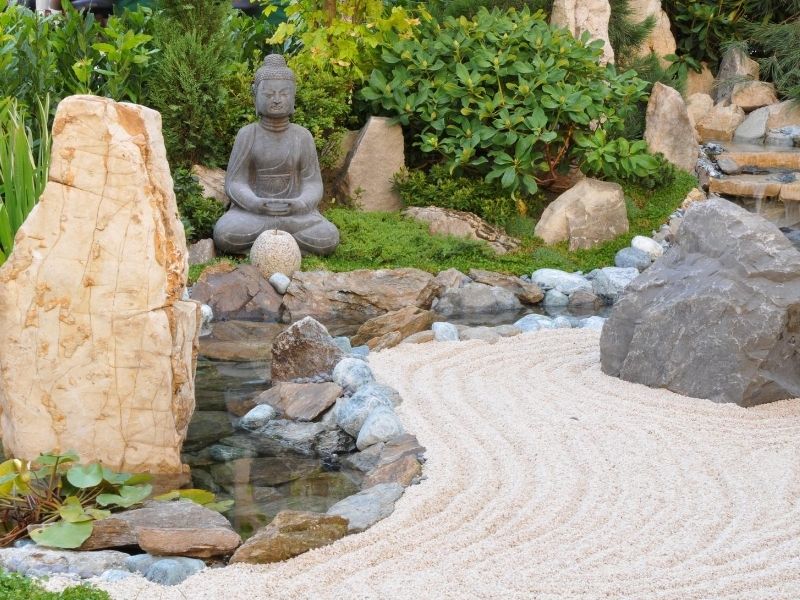 This simple design can be tucked in any corner of your yard to create a relaxing spot: a few rocks, some sand, and a Budha statue is all you need.
Set the tone with a Japanese style entry to your garden. The curved lines of this structure's roof make a statement without much else.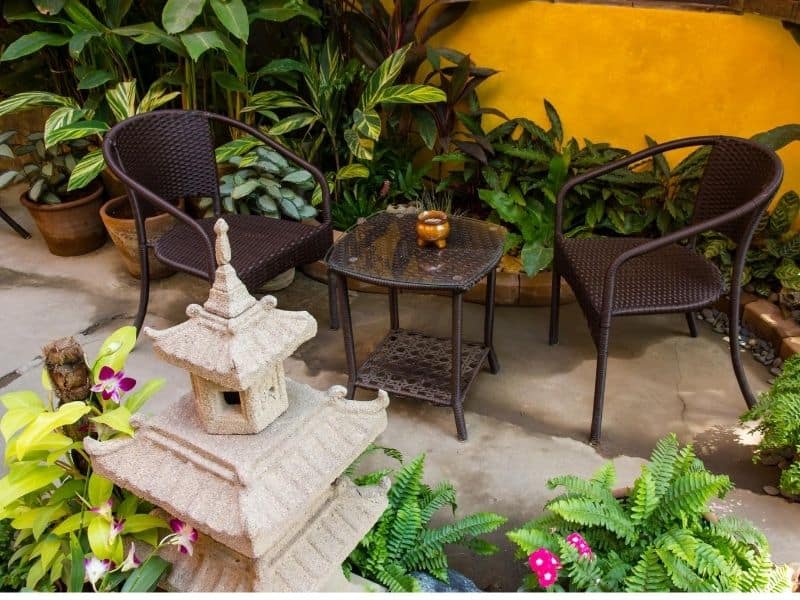 Don't let the lack of space keep you from creating your zen garden. As you can see here, a small table, a stone pagoda, and a few lush plants are enough to create the right atmosphere.
As you can see here, even a small ornament is enough to give your garden a Japanese flair 😉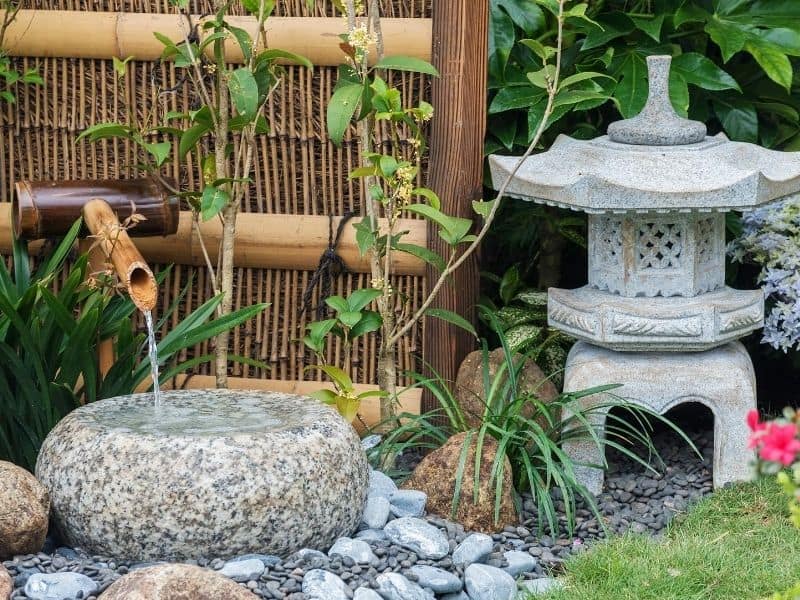 So simple, yet so perfect! The bamboo fountain trickling water on a large rock makes for a very serene space. This is such a peaceful place!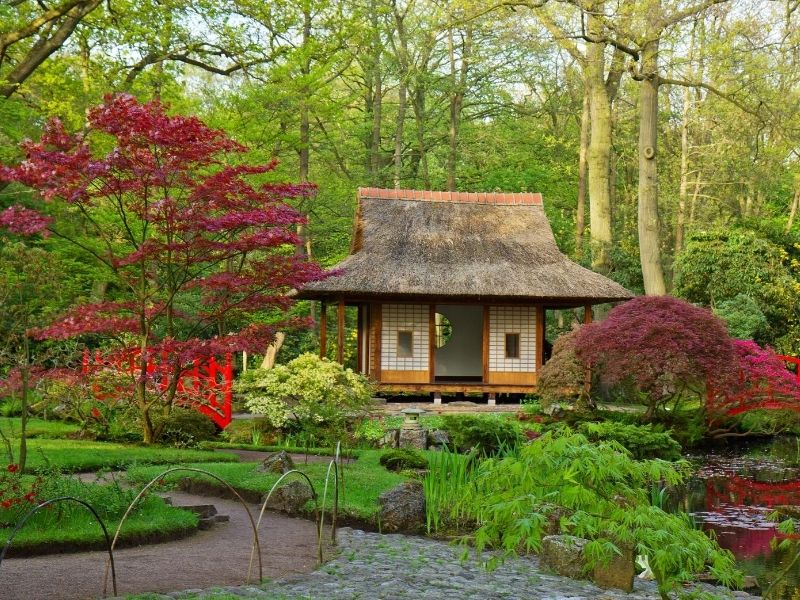 This is such an adorable Japanese style relaxing spot! With winding stone paths, beautiful red bridges and gorgeous trees, it's the perfect place to take an evening stroll, or get deep into a book!
I hope these small Japanese garden design ideas have inspired you to try a version of your own. You'll love the cozy, quiet place at the end of a busy day 🙂
Simple Steps for Creating A Japanese Garden in your Yard
One of the nice things about Japanese gardens is that they can be huge and sprawling or they can be quite simple and quaint, like a sitting area in the corner of your yard. It is all about being able to create a place where you can be, where you can meditate, and where you can find your zen.
Accent pieces for Japanese gardens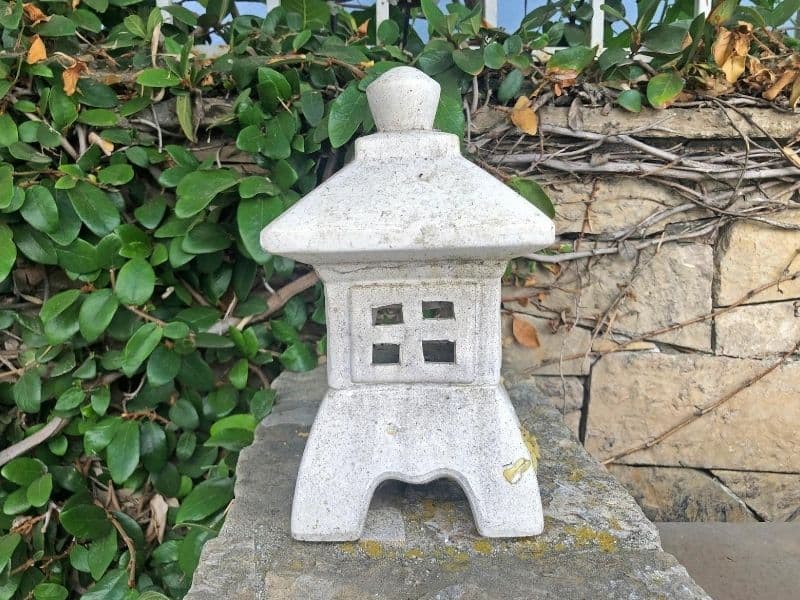 Once you pick the spot and, more importantly, the size for your new place of zen, you'll want to pick out your accent pieces. Now, remember, it is all about that ancient and faraway look and you don't want it to be too crowded either. Here are some accent ideas:
Pagodas. You will often see little stone type temples in Japanese gardens. These are called pagodas and are common in Japanese architecture. You can choose one that appears worn down and aged or perhaps, one that doubles as a light. Often stone lanterns shaped like pagodas are enough to bring the Japanese style in your small garden.
Water Features. Water features are always included in garden designs because of the peacefulness that the sound of water can bring. The sound of a cascading waterfall or even, the trickle from a bamboo pipe fountain can be very zen-like. If you have a large space, consider a small pond!
Symbols. There should be something that symbolizes balance and/or peace. Many people choose balancing rock sculptures, while others go the more traditional route and include a Buddha statue.
Japanese garden plants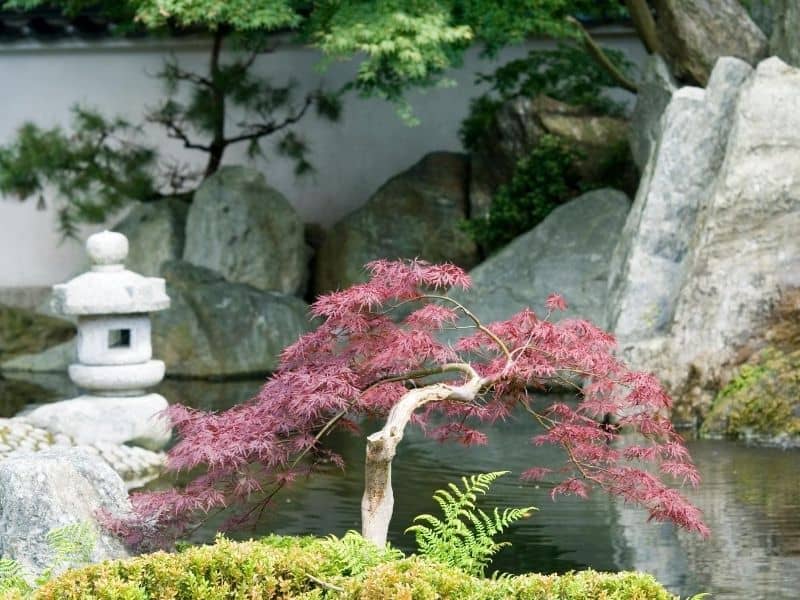 When creating a Japanese garden, you want to keep in mind that the goal is to create simplicity and peace with the appearance of ancient Japanese wonderment. These gardens often feature shades of green (the color is often fleeting), along with very natural looking plants and growth. They are meant to emulate nature.
What plants go in a Japanese garden:
Japanese garden fountains
A prominent feature in Japanese Gardens is a water fountain, mostly made of stone or wood.
Fountains made of stone are traditionally crafted to look like rocks placed on top of one another with water cascading down from every angle (this one is absolutely gorgeous!). However, more modern fountains can be designed in any shape, whether it be simplistic or intricate looking.
Wooden fountains are traditionally made of bamboo and feature a cylinder angling down with water pouring out of the bottom. These fountains are very simple but calming to look at, making them excellent for your small backyard Japanese garden.
Traditional Japanese Bamboo Rocking Water Fountain
Other unique Japanese gardens include a fountain that instead of water, uses stones and pebbles to create the flowing look. You can also make makeshift waterfalls to become a centerpiece of your garden.
Add a Japanese garden bridge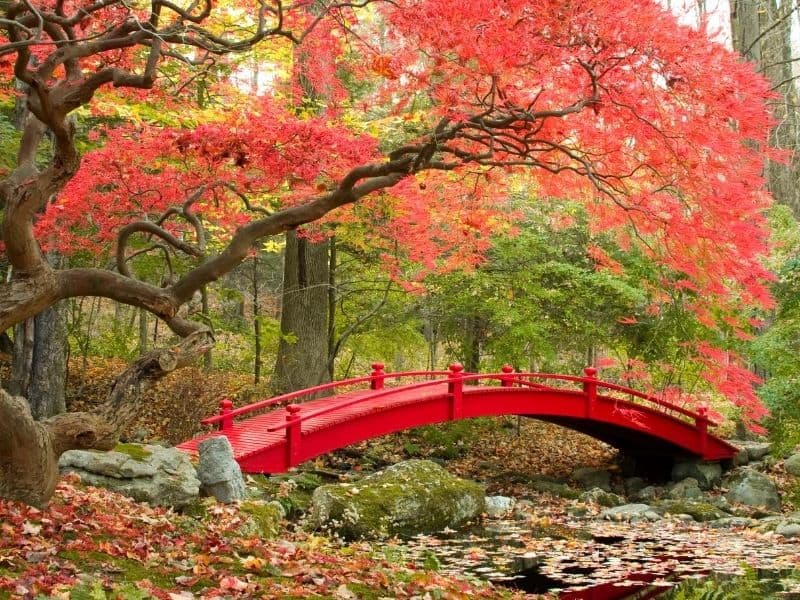 Bridges are another main component of Japanese gardens, usually giving you a walkway over a small lake. They are usually made of wood and left naturally brown for a simple yet effective look. However, painted red bridges are also very popular among traditional Japanese gardens.
Not every garden has a lake in it for you to place an arched bridge over. However, you can also place them down and surround them with flowers and pebbles to make them more of a centerpiece. It is popular for bridges to be placed over the soil with shrubbery where the water should be, so don't fret about how you're going to fit a body of water into your garden.
Light up the garden with a lantern
Japanese Style Garden Lantern – Pagoda Light
Lanterns are the most common light source to place in your backyard Japanese garden if you want to keep as close to traditional gardens as possible. You can get lanterns made of all sorts of materials, such as concrete, stone, wood, and metal.
Lanterns can be placed anywhere in your garden, but you should remember to place them where you need the light the most. Depending on the material of your chosen lantern, bear in mind that they have the potential to heat up. This may affect plants and cause them to prematurely wilt, so it's best to place your lanterns away from sensitive shrubs and flowers to avoid disappointment.
Japanese garden ornaments
Japanese Concrete Koi Fish Statue
Japanese Style Standing Pagoda
Buddha Head Sculpture
Japanese Garden Bridge
You can also place smaller ornaments in your small backyard Japanese gardens, such as statues, bonsai trees in decorative pots, and stones.
Stepping stones are very popular for Japanese gardens, and they're also very inexpensive and easy to obtain. Stone statues are also popular and can be shaped into a number of things. Some popular choices are religious figures, minimalistic art pieces, and animals.
Ultimately, you can place anything in your backyard Japanese garden as long as it brings you peace, mindfulness, and joy.
How to build a Japanese garden
There are two main types of Japanese gardens that you may want to recreate or take inspiration from, which we will detail below.
Rock garden: This type of garden is supposed to display an image of mountains and rivers. However, it does not require any water. Instead, you use raked sand to portray the water. This makes rock gardens ideal for small backyards.
Moss garden: Moss gardens are more colorful and incorporate more greenery into them. Moss is easy to maintain and doesn't require much effort from the gardener, so it is ideal to place it into your garden, even if you want a maintenance-free garden. Moss is considered comforting to the mind and soul.
Unless you want to create an exact replica of what a Japanese garden should look like, you can feel free to take inspiration from both of the types we looked at above. A Japanese garden is supposed to be calming to you, so you should design your own with your own Zen in mind.
Japanese garden landscaping
Japanese gardens were originally designed to draw attention to the beauty of a natural landscape, so there is not much landscaping that needs to be done. These types of gardens call for straight lines that you can create with rocks and flowers, so make sure to plant these in a minimalistic fashion.
You can also plant trees, such as conifers and cherry, to create natural shade for you when you choose to sit and relax in your garden, removing the need for artificial coverings. Bonsai trees are also very common, as they symbolize the bond between humans, nature, and the soul.
Tools for creating Japanese gardens
It's one thing to build your small backyard Japanese garden, but another thing entirely to maintain it. To keep it at its most relaxing, you'll need to carry out some routine maintenance to prevent it from overgrowing and becoming hectic.
Here are eight of the most beneficial tools to purchase to keep your Japanese garden looking its best:
Hori Hori garden knife: a hybrid between a trowel and soil knife, used for planting flowers and removing weeds.
Bamboo saw:

Perfect for gardens that feature bamboo as you can harvest it without ruining the shoots.

Loppers:

Long-handled branch cutters for pruning shrubs or trees.

Pocket saw:

Works on larger branches that loppers can't cut through.

Jikatabi:

Shoes with soft soles and a split between the toes, this type of footwear allows you to walk over moss without ruining it. You can also feel more through them which gives you a better connection to the earth.

Bonsai scissors:

Used to prune and trim bonsai trees.

Sickle/ Hoe:

Ideal for weeding to get all the roots, preventing them from growing back.

Hedge shears:

Used to shape bushes and shrubs. Japanese gardens often include curved hedges, which can be created with some hedge shears.
Are you ready to create your own small Japanese garden design? I'd love to see what you come up with.