The Sunshine State, Florida is famous for colorful, beautiful flowers, abundant fruit, and lush foliage. Florida is a state that stretches many miles with Central and South Florida featuring a hot humid climate all year long and northern Florida having a cooler seasonal fall and winter. There are actually four growing zones in Florida (8-11). Florida has many native plants, that grace the landscapes of this popular American destination. Take a look at our top 10 Florida native plants list.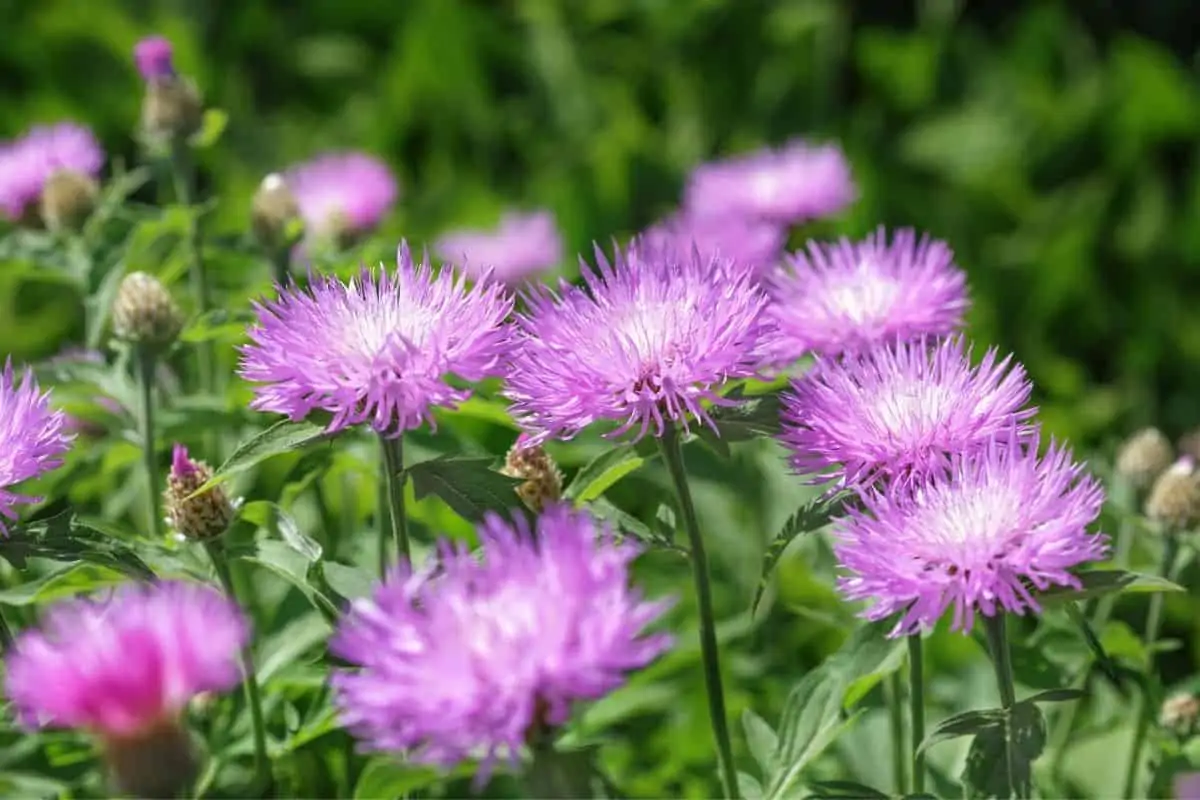 Florida Native Plants List
1. Beach sunflower (Helianthus debilis)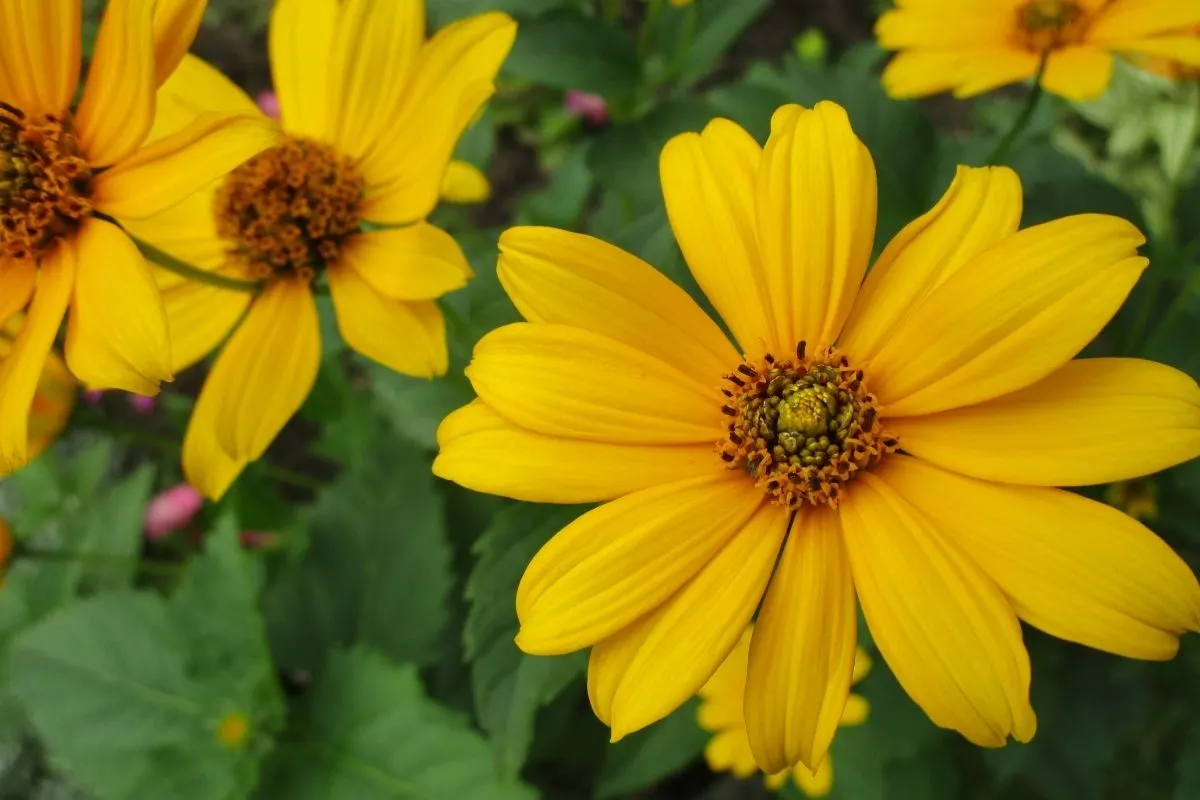 The beach sunflower, part of the Asteraceae family, is a popular flowering ground cover that thrives in the well-drained sandy and saltwater coastal areas. Beach sunflowers bloom into sunflower-inspired yellow flowers that attract butterflies. This perennial is perfect for cascading landscapes, borders, and edging.
2. Tickseed (Coreopsis)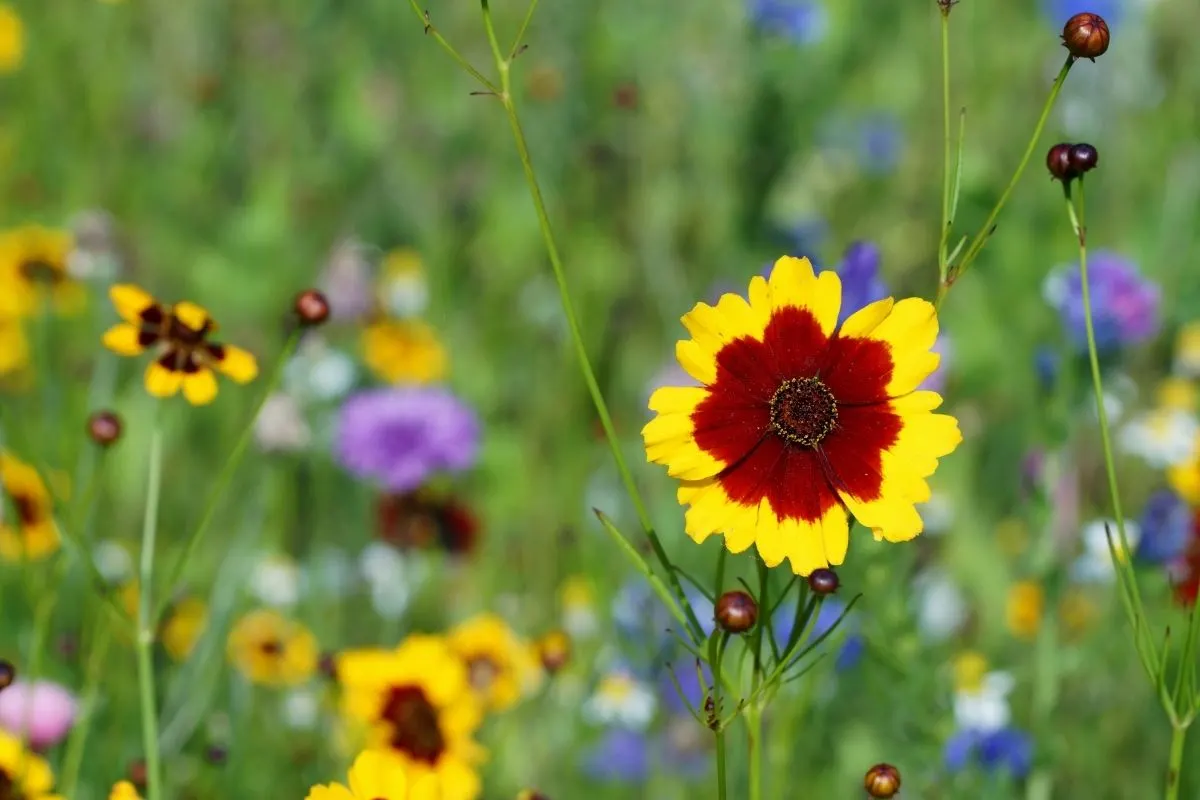 Tickseed is referred to as Florida's official state wildflower and is a member of the Asteraceae family. This showy drought-resistant perennial grows abundantly in sunny mixed flower beds, potted containers, and along garden borders.
The Tickseed usually grows well in wetlands like Florida's marshes. Coreopsis is Greek for "bug-like", a nickname for the flower because of their attaching ability and the seeds resemble ticks.
The bright-colored flowers boast golden yellow petals with an amber-colored center resembling the rays of the sun. Tickseed blossoms continue to bloom throughout the entire summer and fall.
3. Sunshine mimosa (Mimosa Strigillosa)
The Sunshine Mimosa, also known as powderpuff mimosa, is a fascinating, fast-growing plant native to Florida. It features ball-shaped pink puffy flowers that look like little clouds. The blooms look fragile, but are very hardy and grow well without much care.
Butterflies love this versatile plant that features bright green fernlike leaves. It is nicknamed Sensitive Plant because when someone or something touches its leaves, they instantly fold or close up. The joke is that the Sunshine Mimosa doesn't like to be picked on.
This wonderful low-growing plant is perfect for covering bare patches in a yard or garden. It is a fast grower, loves full or partial sun, and quickly grows back after being mowed. It boasts a deep root system that helps with erosion. It grows well with other plants and is a good addition to potted plants.
4. Skyblue cluster vine (Jacquemontia Pentanthos)
The Sky-Blue Clustervine is a perennial plant native to Florida and features pretty soft vining blue flowers and oval leaves. It is considered an endangered plant throughout Florida. Learn more about endangered flowers.
The flower's blooms can vary in color from sky blue to pinkish lavender and their green leaves are oval-shaped. With the assistance of a trellis (frame support for climbing plants), the sky blue cluster vine can grow to 12 feet tall. However, without a trellis, the vining plant serves as a gorgeous ground cover.
Skyblue Clustervine provides food for birds and moths. This popular plant among Floridians is referred to as the Key West Morning Glory because the flower opens up in the morning and closes at night. They are also referred to as pineland cluster vines.
Skyblue Clustervine can survive in a windy and salty atmosphere and is known to bloom throughout the entire year, including winter.
5. Wild columbine (Aquilegia canandensis)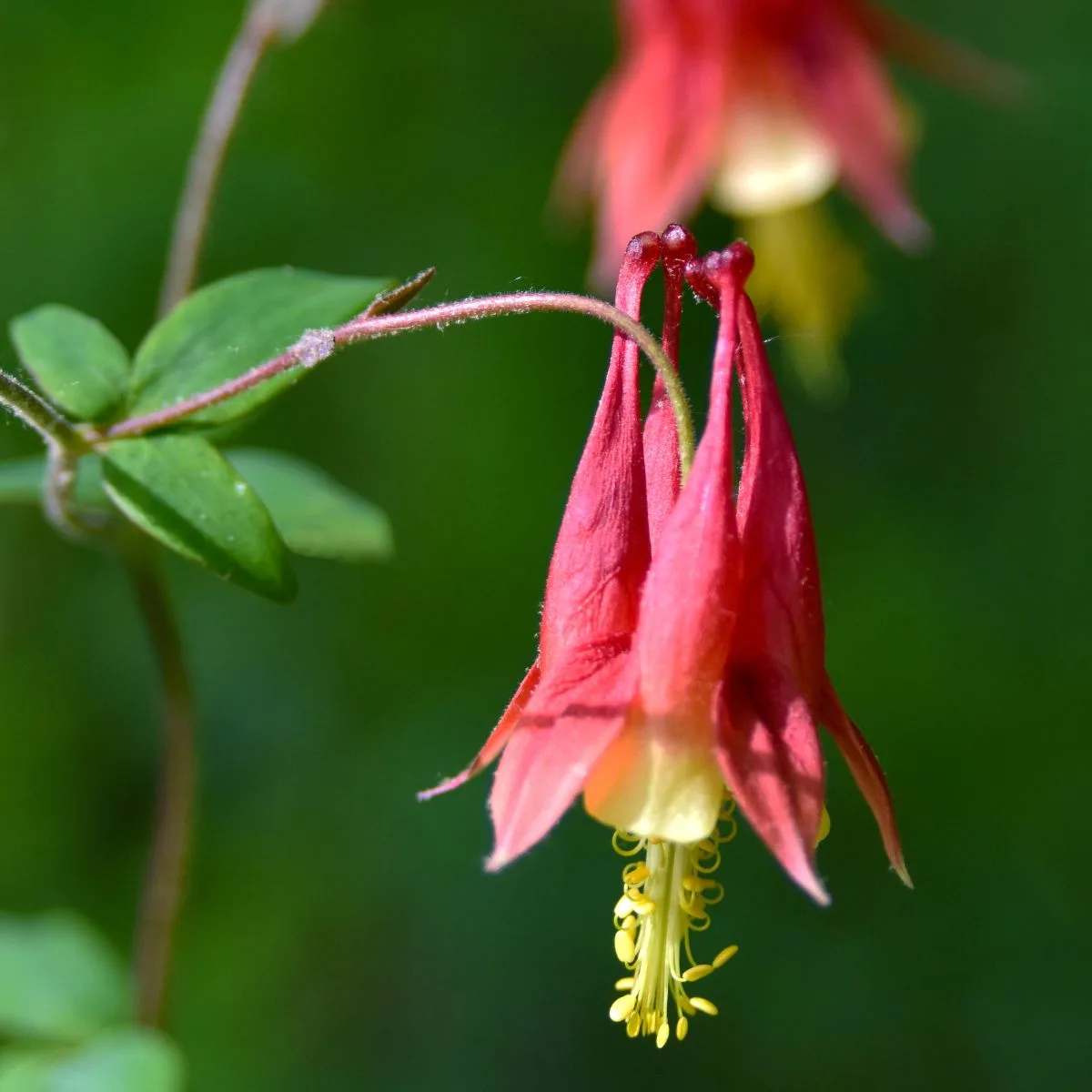 Wild columbine is a beautiful perennial wildflower that grows between 1 and 3 feet tall, with delicate, leaves and dainty, bell-shaped red flowers with bold yellow sepals. The flowers have a unique shape, with long, curved spurs that extend behind the petals, giving the plant its common name of columbine, which means "dove-like" (the flowers resemble the tail of a dove).
Wild columbine blooms in the spring, and it's a favorite of hummingbirds and other pollinators. The wild columbine is a great addition to any wildflower garden, naturalized area, or mixed border. It prefers moist, well-drained soil and partial shade, but it can also tolerate full sun if provided with adequate moisture.
This plant is easy-to-grow and requires little care once established, making it a great choice for those of us who want a beautiful, natural-looking garden without a lot of upkeep.
6. Passion flower (Passiflora incarnata)
Passionflower, also called maypop, is a beautiful and unique climbing vine that can grow up to 20 feet. The leaves are large and lobed, with a glossy green color that makes them stand out against the vine's tendrils.
The most striking feature of the passion flower is its flowers. They are large and showy and come in shades of purple. The flowers have a unique structure, with a central corona of thread-like filaments surrounding a ring of colorful petals. The flowers are also fragrant, and their sweet scent can be enjoyed on a warm summer evening.
Passion flower is a hardy plant that prefers well-drained soil and full sun, but it can also tolerate partial shade. The plant is also drought-tolerant and pest-resistant, making it a great choice for gardeners looking for a low-maintenance landscape.
7. Alligator lily (Hymenocallis Palmeri)
The Alligator lily is a native plant of Florida and grows throughout the tropics. It is commonly seen in the warmer parts of southern and central Florida. This interesting perennial thrives in cypress swamps, wet meadows, wetlands and is even seen growing in ditches along roadsides.
Their fragrant showy flowers are white, with a distinctive funnel shape with a green center. Alligator lilies attract butterflies, bees, and birds. There are six long yellow segments and six stamens that some say, resemble a filament in a traditional light bulb.
Alligator lily seeds develop in a pod and as they mature the seeds become heavy and fall over. This unique plant is related to onions, tulips, and asparagus.
8. Butterfly weed (Asciepias Tuberosa)
Butterfly Weed is appropriately named for its color and fragrance because it attracts butterflies. This flower might take some time to mature and bloom. It is known to take up to three years!
When it does bloom, this special plant native to Florida boasts beautiful showy orange-yellow or red tubular-shaped flowers. They create spectacular visuals, not just for their beautiful appearance but because their nectar attracts butterflies, hummingbirds, and bees. Their flowers appear to sit on top of their fuzzy green leaves creating an amazing contrast of color.
Butterfly weed grows in many climates and thrives in Florida's prairies, open fields, meadows, and along the roadsides. Butterfly weeds require little effort to grow and maintain, so they are perfect additions to cutting gardens, rock gardens, and borders.
9. Blazing star (Liatris)
Blazing Star is a gorgeous flower that is also referred to as gayfeather or colic root. It was used years ago to relieve colic symptoms.
This perennial is slender, tall, and has upright fantastic purple spike-like flowers that attract butterflies, bees, and insects. It can grow up to five feet tall. In the summer, their leaves are green and grass-like and as fall approaches they transform into a rich bronze tone.
Blazing stars are as hardy as they are beautiful and are found growing in some very difficult areas including flat woods, sandhills, and during droughts. Blazing star flowers offer a height and color to a backyard garden and look just as lovely combined with other flowers in a bouquet.
10. Southern Magnolia (Magnolia Grandiflora)
Southern magnolias are gorgeous trees that can grow up to 90 feet tall. They feature evergreen-like foliage and produce extremely large cream-colored flowers and waxy glossy leaves. The flowers bloom throughout the summer months.
Southern magnolia has an enticing lemony, citrus-like fragrance. This very popular tree thrives in tropical climates and is a common sight throughout Florida. When a Southern Magnolia is grown in rich, moist well-drained soil and a humid climate, it can live for up to 120 years.
Native Flowers Of Other States