Petunias are such great flowers for landscaping! Brimming with brilliant colors and a delicate smell, petunia flowers are great for adding a splash of color to your gardens. Landscaping with petunias is as easy as it gets, as long as you plant them in a sunny spot and give them water and well-fertilized soil.

Petunias spread easily and the show of color they present is breathtaking. They come in so many colors! From pink to red, white, blue, and purple, some are pink tinged with a white border, and others dark purple with spots. And of course, the candy-striped petunias and even yellow ones.
Here are just a few ideas to help you incorporate petunias into your yard's landscape.
Landscaping With Petunias
Grow petunias in containers
One of the easiest ways to add color with petunias is to create gorgeous containers filled with a mix of cascading petunia flowers. You can mix contrasting colors, or add a selection of similar shades: it all depends on the effect you're looking for.
Adding petunias to hanging baskets will give you a show of color throughout the summer.
Pair your petunias with geraniums, periwinkle, lobelia, and bright yellow African daisies for some dramatic looks. See what to plant with petunias.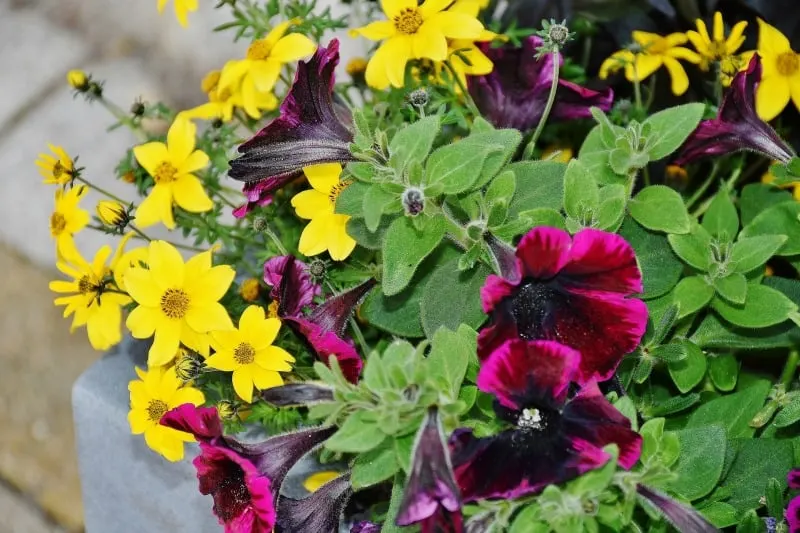 Place these potted petunias in places you'll enjoy them daily: by your front door, back porch, or even your mailbox 😉
Wave petunias window boxes are beautiful
Have you ever seen those gorgeous explosions of color in window boxes? They are mostly wave petunias: so pretty! A real show stopper!
What an amazing show of beauty! These red and white petunias will make your day, every day!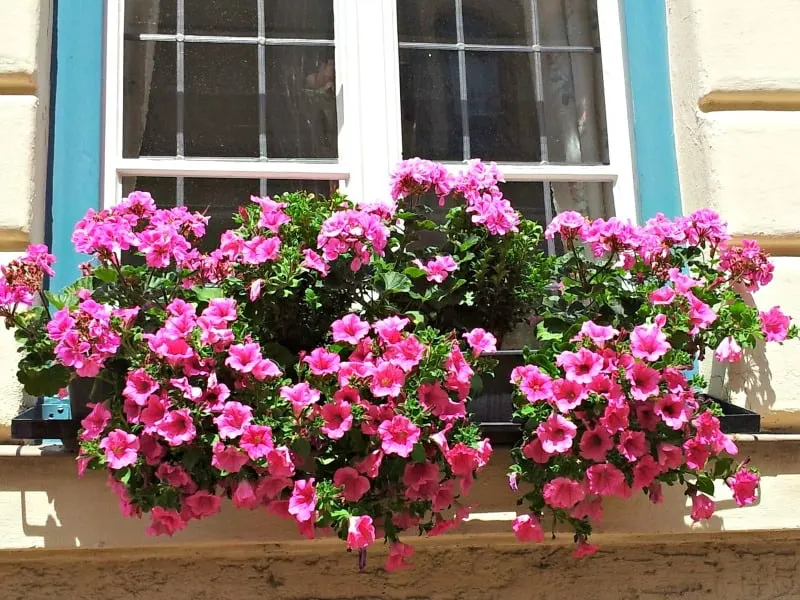 A beautiful combination of pink petunias and pink geraniums: WOW!
Add petunias to your night garden
Are you familiar with night gardens? I remember when visiting my grandparents in my early years, and being greeted by these small white flowers that smelled amazing! They were Nicotiana, also known as tobacco plants.
Many petunias have this same property: their smell accentuates in the evening. You can create a night garden by your window or door and enjoy the amazing fragrance in the evening. One of the most fragrant petunias is the Thumbelina: they create double blooms and come in many colors.
Create a petunia lined border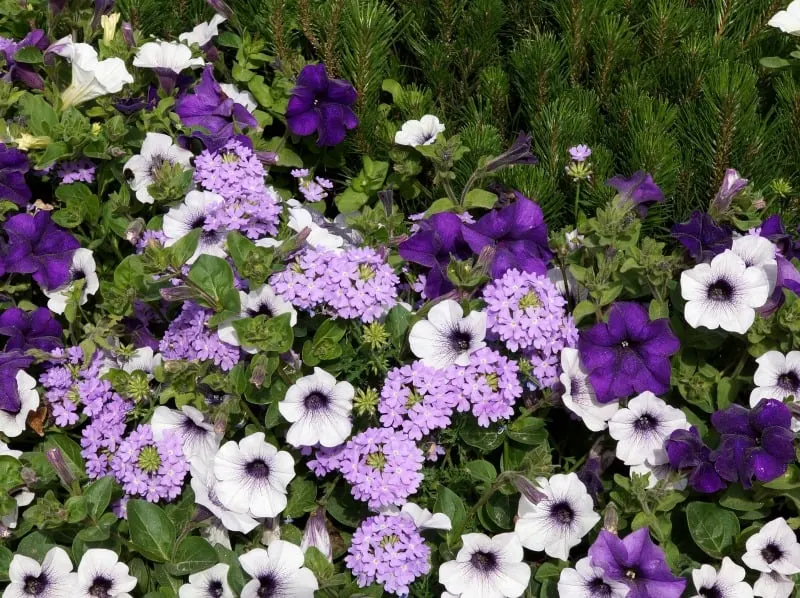 Create a garden edge to your backyard filled with petunias. They'll keep blooming without much intervention from you: a very low maintenance landscaping idea for busy people who love a well-maintained landscape without too much work.
Related: how to prune perennials.
Of course, it helps if you take an hour or so every week to deadhead: this will boost production and will pay dividends for you.
Plant petunias in flower beds
Tuck a few petunia plants in between the perennials already in your flower beds. They'll add a pop of color and bloom profusely throughout the summer months.
While adding petunias to your flower beds doesn't need to be taken quite literally, you can do it if you have a bed frame sitting around. This looks like fun, though I'd probably add more than one color if it was me.
A very interesting flower bed made from large rocks and planted with layers of colorful flowers, including marigolds and petunias.
Other ideas for landscaping with petunias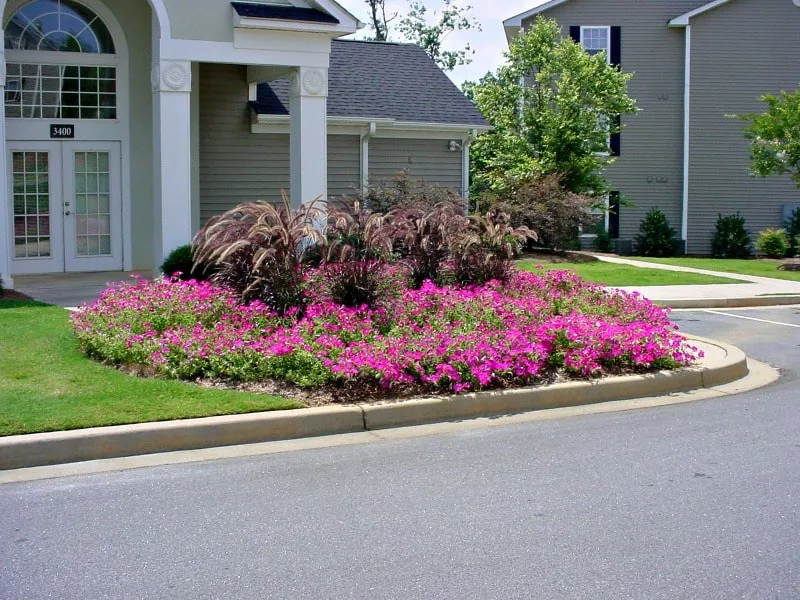 I love this splash of hot pink petunias on the front yard landscape. Makes for a very inviting front lawn.
What a nice way to add a show of color to your yard! This cart is filled with a combination of petunias and geranium.
Someone was very creative here: a cute donkey pulling a cart filled with gorgeous yellow and pink petunias.
I hope you've been inspired to landscape with petunias: they are absolutely gorgeous and don't require too much work.
Main image credit: JR P on Flickr.
Petunia color combinations used in landscaping
With the endless colors petunias bloom, there's no shortage of color combinations to use when landscaping with petunias. From mixing red, white, and blue petunias in a hanging basket, to adding two-tone colored flowers, and spotlighting petunia flowers that are edged by a white border, you'll be surprised at how many color patterns you'll find you can use in your landscape.
Here are a few of my favorites:
What a beautiful and happy combination of flowers, mixing shades of purple and lavender with bright yellow!
If you'd rather stay with one color, you can try and mix flowers in the same hues. Here's a nice petunia bed with flower colors ranging from pale pink to bright fuchsia. Beautiful!
If you like contrast, you'll love mixing bright red and pure white petunias: such a beautiful combination!
Special petunias you must try
Now that you're planning to use lots of petunias in your landscape, there are a few petunia types you absolutely must try! Here are just a few:
petunia bravo
crazytunia
littletunia
evening scentsation
What to plant with petunias
While petunias are great on their own, they also love companionship;)
Since petunias are low growing, they'll look really good with taller plants as a backdrop.
Plants to put behind petunias include:
Snapdragons
Delphiniums
Alliums
Lupines
Black-eyed Susans
Daisies
Iris
Here are a few pictures of petunias planted with other followers, and complementing each other.
Nice contrast here, between the purple petunias and the bright yellow snapdragons.
There's a lot going on here, with petunias mixed in with pink and blue lobelias, and a few fuchsia flowers too.
Lobelia mixes really well with petunias in hanging baskets: they are gorgeous!
What a beautiful explosion of color to greet you when you come home from work!
Adriana Copaceanu is a passionate nature lover living in the country on her dream property where she grows vegetables, lavender, and wildflowers that she shares with the wildlife they attract. When she's not in the garden, she loves spending time with her chickens and planning her next nature project.