Some plants just need a tall planter: no other container would do them justice. Tall planters are perfect for adding a splash of green in a corner of your home. Because they are tall, they'll be visible, no matter what's around them. Let's see why they are a popular choice for many people.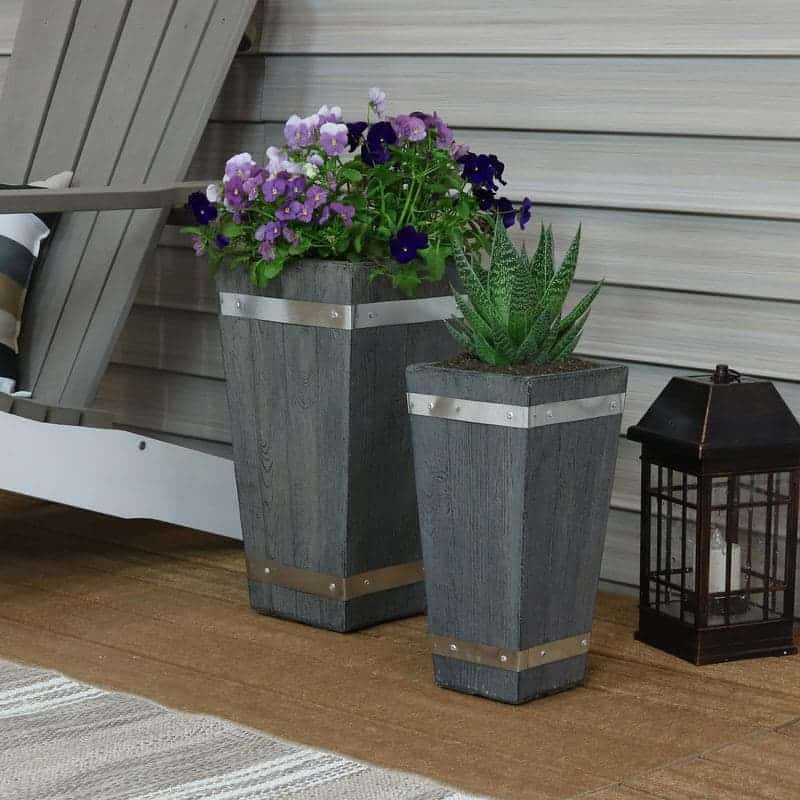 Are you looking for a simple but elegant way to decorate that empty space in your home or garden? A few tall planters placed in the right spots throughout the house may be exactly what you need. Use them to add a decorative touch, or to create a focal point that grabs your attention.
I also love them in entryways because they can really bring a dramatic feel to the area.
Here are some great ideas on how to use these planters.
Fun Tall Planter Ideas
If you're looking for taller planter ideas, you'll LOVE the selection here. Depending on how tall they are, you can't use your tall planters in the same ways you would use other types of planters. However, that also means you can use them in ways that you wouldn't be able to use others.
Jug PlanterDetails
Sunnydaze Metal Iron Plant StandDetails
Dolabra PlanterDetails
One thing that makes planters so popular is their portability. Normally, you can move them around easily. However, if you fill a tall planter with potting soil, it will be too heavy to move. Place some type of filler in the bottom half of the planter to eliminate this problem and to save money on potting soil.
Some of the most popular fillers include:
plastic water or soda bottles with lids
cans
milk jugs
packing peanuts
Place cheesecloth, mesh, or landscaping fabric on top of the filler, add your potting soil and you're ready to go.
One beautifully designed planter standing tall may be all you need to dress up small areas. However, using three or four planters of different heights or one tall planter surrounded by several small ones will help create depth and proportion for large areas.
Now, what about large, tall planters? How and where could you use them?
Large Outdoor Tall Planter – 20"
Tall Planter Antique Copper
Nantucket Tall Planter
Self-Watering Tall Planter
Cambridge Tall Planter,
Plow & HearthTall Planter
Large tall planters
Large towering planters really stand out and make a statement. They make it easy to create a focal point that draws your attention as soon as you walk into a room.
You also have to be careful with them and make sure it is on flat, level ground, and that you don't overload the planter. You definitely don't want to have any safety concerns.
Smart tip: Prevent your large planter from toppling over as your plant grows by placing a layer of small rocks in the very bottom, then a layer of filler and potting soil.
Cosmo Tall Planter
Cambridge Tall Planter
Outdoor Tall Planter (large)
Tall wooden planters
Primarily used outside, long wooden planters are strong and durable. The wood provides natural insulation for your plants, which helps to protect them in cold weather.
Some are made from treated wood to improve durability, but painting untreated wood is also an option. The many decorative and exciting designs really dress up decks, patios, and gardens.
Wooden Wishing Well Bucket Flower Planter
Elevated Garden Bed Planter Box Kit
Ceramic tall planters
Tall ceramic planters with light creamy finishes, such as the ones below, add a touch of style and calmness to your home.
You also have the option of choosing ceramic planters with artistic designs and bright, vivid colors if you prefer. The wide selection makes it easy to find just the right planter for your needs.
Ceramic Planter with Stand, 17″
Rivet Mid-Century Ceramic Planter with Iron Stand 18.9″
Tall plastic planters
Plastic planters are lightweight, which makes them perfect for moving around to different locations. These are a great choice if you have trouble lifting, or to use for plants that you move often.
Place a few tall plastic planters in the garden during warm weather, and bring them back inside before the first frost hits. They come in a wide variety of shapes and designs that include planters that look like wood, stone, ceramic, and concrete.
Honeysuckle Planter
Plastic Round Tall Planter
Freesia Planter with Etched Leaves
Modern tall planters
If you love modern décor, then these might be the right choice for you. Create a visual point of interest that grabs your attention the minute you walk in a room with modern tall planters.
Some modern planters are designed with smooth lines and calm neutral colors like the ones in the pictures below. Others feature bright, bold colors and amazing artwork designed to amaze you.
Tall Square Planter
Modern Large Planter
Tall Planter Pair
Square Garden Planter
Cheap tall planters
As you look for planters that are tall, you'll be glad to know that there are some cheap ones, that still look nice. Beware though, as they might not last very long.
Nonetheless, if you really need one and funds are low, get what you can afford now. you cal always transfer your plants to a more quality planter later.
Black tall planters
Classic and elegant, the tall black planters I've seen are suited for almost any décor. They're extremely popular because black never goes out of style. And the shapes they come in are lovely too. I especially love oval-shaped planters 🙂
You don't have to worry about your flowers or other colorful plants clashing with your planter. Instead, they enhance the beauty as you can see from the images below.
Black Cambridge Tall Planter
Patio Planter, 20-Inch, Black
Nantucket Tall Black Planter
Mayne tall planters
When both durability and style matters to you, add some personality to your home, garden, or patio with one or more towering Mayne planters. I really love everything about these – from colors to sizes and shapes.
They're elegant, charming, and designed to last for years. The hardest part will be deciding which styles you like best.
Mayne Cape Cod Polyethylene Clay Planter
Modesto Tall Maybe Patio Planter
Mayne Inc Cambridge Tall Planter
DIY tall planters
Are you a DIY kind of person? You're in luck because you can also DIY your tall planters and make whatever kind suits your needs. I found a really great video that even shows you how to do it.
In the video below, you'll learn how to take ordinary round trash cans and turn them into beautiful tall planters. The process is quite simple and they're inexpensive to make.
The video shows you how to make drainage holes and how to add some dimension to your DIY planters when painting. Once the paint dries, you're ready to add your filler, potting soil, and some of your favorite flowers or plants.
Tall indoor planters
Choosing the right shape and size of your tall indoor planters is not always easy. Before making your decision, consider the size of your room and the location where the planter will be placed.
Also, how do you plan to use your planter? Will it stand alone as the single focal point of the room or will you use a combination of planters to create depth and proportion.
Your planter or arrangement of planters should be small enough that it doesn't consume the whole space, or it will be too overpowering.
However, you want them to be large enough to create a focal point that draws attention. If you enjoy moving things around often, choose a lightweight material and a shape that you can easily handle.
Self-Watering Garden Planter
Vintage Indoor Log Planter
Indoor Planter with Stand
Tall planter stands
Did you know you can create the illusion of a tall planter by adding a tall planter stand?
If you already have plants in normal-sized containers, but would like to give them some height, you can place your plant on top of a tall planter stand and have instant height.
Thorne & Co Plant Stand for Indoor & Outdoor Pots
Classic Tall Plant Stand
Mid Century Modern Tall Flower Pot Stand
How to fill tall planters for stability
Wonder how to keep tall planters from blowing over? As you can probably imagine, a tall and skinny planter might have a hard time standing firm in powerful winds. It's easy to knock one of these over. But don't worry: if you fill the planter with the right filler, it will stay firm in place.
Add a bunch of rocks at the bottom of the planter (about 1/3 of the way): this will give it stability. Then fill the middle of it with some light materials, so it doesn't become too heavy. And finally, add your soil at the top and your plant.
Filled this way, your tall planters will have no issues staying in place.
Final thoughts
Plants and flowers have a way of turning a cold, lifeless space into a warm, beautiful living area. They add warmth and represent life in a very stylish and decorative manner. Tall planters make it easy to display your plants and they come in a wide variety of materials, shapes, styles, and designs.
When choosing a planter, consider where you plan to use it to determine how durable it should be. For example, outdoor planters will need to be made from durable materials to withstand the elements.
Consider portability if you plan to move the plant outside when it's warm, and back inside when the weather turns cold. Portability is also important if you like to move your furnishings around a lot inside.
Take everything into consideration to help narrow down your options. Then, add a touch of nature to your home, garden, or patio with tall planters that suit your lifestyle perfectly.
Which ones do you like the best?