If you're looking for some great self watering planters, you will be happy to know there are so many different ones to choose from. You can select from a wide variety of styles, colors, designs and types. This means there is truly a self-watering planter for every gardener.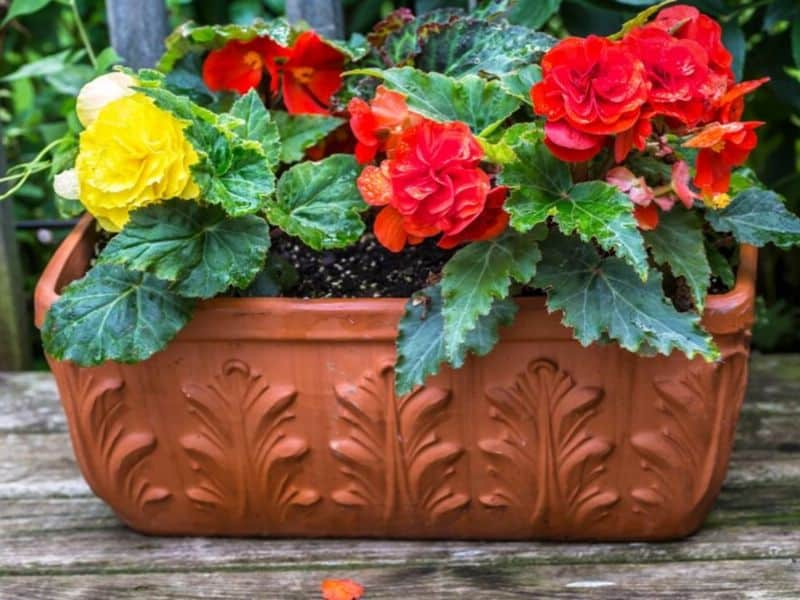 Let's take a look at some information about these planters and some possible designs and styles you may like.
What are self watering planters?
These planters do not actually water themselves (like magic). That's not exactly what self-watering means. A self-watering planter is a watering system that uses containers with a reservoir of water at the bottom.
Learn more about how a self-watering planter works.
Why Should I Use Self Watering Planters?
In my opinion, EVERYONE can benefit from using self-watering planters. But busy people and beginner gardeners who might forget to water their plants will benefit the most.
Maybe you've heard of self-watering planters but not yet had the chance to try them out for yourself. And you might ask yourself: are they any good? The simple answer is yes: as long as they are used correctly, self watering planters are good.
They are very good for certain types of indoor plants. They provide consistent moisture with less frequent watering. Usually, you need to refill your self-watering pots about once a week. However, there are some that are made to go longer than that (up to two or three weeks) which you might consider if you were going on vacation and wanted to keep your plants hydrated while away.
Related: Interested in unique planters? Take a look at these head planters.
Self watering planter with trellis
Wouldn't it be wonderful if there aw a self watering planter with a trellis already attached? Of course it would! And I went searching for one and found several! These are amazing little inventions that give you more freedom than planting in the ground.
Regardless if you want to go on vacation or are just too forgetful to water your plants, you'll love these! They are great for growing tomatoes on your porch!
Calypso Planter with Trellis and Self Watering System
Hydrofarm 10 Gallon Self Watering Tomato Trellis Garden on Wheels
Self-Watering Elevated Spruce Planter
Using self-watering planters for indoor plants
You can use self watering planters for indoor plants and it will make it so much easier to grow your favorites without worry that they will die from lack of water. It's also super useful if you travel a lot, or will be gone for long periods of time.
Here are some self-watering planters for indoor plants that you might consider:
If you're looking for a unique statement piece, this might be the planter for you. It's oval shaped, and comes in a variety of colors to choose from. Has a self watering wick system with a clear view window so you can see when you need to refill.
Oval Shape Indoor Flower Pot With Self Watering System
I love the shape, color, and design of this pot. The round, plastic self watering planter is great for many different types of plants and it has an elegant style that will really go great in any room.
Plastic Round Self Watering Planter
Here we have a beautiful self-watering option with Coconut Coir Soil. This is great for house plants or indoor herb gardens and it looks really nice with any décor.
Elongated Self Watering Window Box with Coconut Coir Soil
If you love succulents, then you will definitely love these decorative self-watering planters. Succulents cannot be over-watered, so this is actually the perfect solution.
Foolproof Indoor Self Watering Decorative Pot
Best outdoor self watering planters
If you have a small backyard and need to garden in containers, you already know your plants will need more water. Busy people like us might find it hard to remember to water container veggies and flowers twice a day. If you work, it's close to impossible. But not if you think ahead and plant in one of these self watering outdoor pots.
Here are some of my favorite designs:
This one is classy, simple, but still very useful. It would look great on a porch, backyard, or other garden space.
I can see these in rooftop herb or vegetable gardens and other urban settings, although you can really use them anywhere you choose.
Urban Garden Self-Watering Planter
I love the authentic, rustic feel of this planter. It would look great in your backyard or on the deck. Comes in three color choices.
A classic box-style planter, this one is a full watering bed and has a lot to offer for gardens and plants of all types.
Outdoor Resin Self Watering Garden Bed with Drainage
Lechuza self watering planters
Made in Germany, Lechuza planters are a mixture of beauty, elegance and function. These pots come with Pon (kind of a fancy gravel) that is supposed to make the self-watering system work better and have a water level indicator to help you know when it's time to refill the basin.
The color, shape and design of this cube Lechuza self watering planter is very unique.
Here is another winner in a classic color and style. You can use this one indoors and out.
Lechuza Classico Color Self-Watering Garden Pot
When you want something that will really POP, check out this round, scarlet planter with a high-gloss finish. It's stunning.
High Gloss Scarlet Red Self Watering Traditional Round Planter Pot
Self watering hanging planters
Hanging containers are GORGEOUS! But they need lots of attention, and it's harder to keep them watered. Who wants to get on a ladder (or chair) to water their hanging baskets daily? A pot that only needs attention once a week is a lot more attractive! Here are some hanging planters with self-watering abilities:
With a classic wicker design and a few colors to chose from, this one is definitely a winner. I especially like the red one, filled with some white daisies. Beautiful!
Self-Watering Hanging Planter with Water Level Indicator Gauge
Your hanging baskets get a modern feel and self-watering with this planter choice.
Multi Colored Self-Watering Hanging Planters with Chain
Self watering vertical garden
Vertical gardens are getting more popular. With the tiny house (or smaller houses in general), many avid gardeners choose to create a living wall, gardening vertically both indoor and outdoors! Depending on how tight your vertical garden is, it could be hard to water. But not if you plan in advance. Here are some self-watering systems for your vertical garden.
I love the look of this one for an herb garden, or any vertical garden or wall plants you want to show off.
SELF Watering Indoor Outdoor Vertical Wall Hangers with Pots
Simple, but does the job and looks nice.
Vertical Garden Planter Living Wall With Self-Watering System
Homemade self-watering pots for the DIY lover
In a few short minutes you'll learn how to make an auto-watering or self watering system for plants all on your own. You can grow your plants faster, or give them water when you are away. It's very easy and you just need some simple supplies and an old plastic bottle. Of course, if you want a better looking planter, just drop your homemade container in a nice looking planter.
Must have self watering accessories
Already bought your planters before knowing about self-watering ones? Don't worry: I got your back! You can add these self-watering accessories and still enjoy the benefits explained above.
Here are some of my favorite self-watering accessories:
These mushroom terracotta watering globes are so cute! They would make a beautiful addition to your garden or indoor collection. I think it'd be perfect in a little fairy garden.
Mushroom Terracotta- Watering Globes
And here we have some beautiful watering globes that serve the same purpose but offer a different style.
Colorful Hand-Blown Glass Plant Water
And finally, this one from Plant Nanny is simple but effective. You just drop these into your planters or pots and let them do their thing. It's really that easy!
Terracotta Plant Watering Stakes
Now that you know all of this great information about self-watering planters, you can decide if they are right for you. While you may not want to use them for every plant you have, they are very beneficial, especially for certain types of plants.
Let me know if you decide to get your own own self-watering planters or accessories: I'd love to see your plants in these amazing containers.
Like to garden in containers? Check out this list of unique garden planters.