Looking to inject some real drama and vibrancy into your garden? You need to incorporate some red flowers. And, for a real statement, add a few red flowering shrubs.
Beautiful, scarlet flowers will set your outdoor space ablaze with color throughout the summer. Some red flowering shrubs, like the Scarlet Firethorn and Winterberry, will even produce their glorious blooms/berries throughout the winter months, providing you with a dazzling display of color when most other plants have finished flowering for the year.
There are many different red flowering bushes available. Each of them will produce blooms in different shades, so you might feel overwhelmed by the tricky task of choosing the perfect shrubs for your garden.
Quick Navigation
To help make things easier, we've listed five of our favorite red flowering shrubs below, along with a useful buying guide that's packed with hints and tips on what to look for before you make your final decision.
Let's begin with our top pick…
In a hurry? This is our winner!
Our rating:

[amazon box="B07D72WB74″]
Red Flowering Shrubs – Comparison Table
[amazon box="B07D72WB74,B076KPLK6P,B0767D1XNV,B07K8QZTD3,B07MC91WHL" template="table"]
Red Flowering Shrubs – Reviews
Our Top Pick
[amazon link="B07D72WB74″ title="Weigela x Date Night Maroon Swoon (Weigela) Shrub"]
[amazon fields="B07D72WB74″ value="thumb" image_size="medium" image_align="center"]
Our rating:

[amazon fields="B07D72WB74″ value="button"]
Producing an abundance of seductive, deep red flowers throughout the summer, Weigela 'Maroon Swoon' is a wonderful choice for bringing a dash of color to your flower beds and borders.
Reaching an ultimate height of up to 5ft, it will help to add some dramatic structure and vertical interest to your garden as well and can be used as a stand-alone specimen bush as well as incorporated into existing planting.
The dark green, deciduous foliage makes the perfect partner for its red blooms, and the flowers are also incredibly attractive to a variety of pollinators including bees and butterflies.
Hummingbirds are also particularly fond of this shrub, so it's a good one to go for if you'd like to attract more wildlife into your garden.
Weigela is also happy to be grown in a container, so if you have a patio or courtyard that you're looking to add some more color to, it could be the perfect plant for you!
Produces an abundant display of deep red flowers all throughout summer
Can grow up to 5ft in height, making it a good choice for adding structure to the garden
It's dark green foliage pairs beautifully with the red flowers
Highly attractive to wildlife and will help draw in hummingbirds, bees and butterflies
Is also happy being grown in containers, so a good choice for patios and courtyard gardens
The foliage is deciduous, so you won't get any winter interest from this shrub
[amazon fields="B07D72WB74″ value="button" button_text="Check out reviews on Amazon"]
Pictures of red flowering shrubs
If you're like me, it helps to see a bloom before you decide to add that plant to your garden. Here are just a few pictures of my favorite red flowering shrubs. I hope these get you inspired!
Cherry explosion hydrangea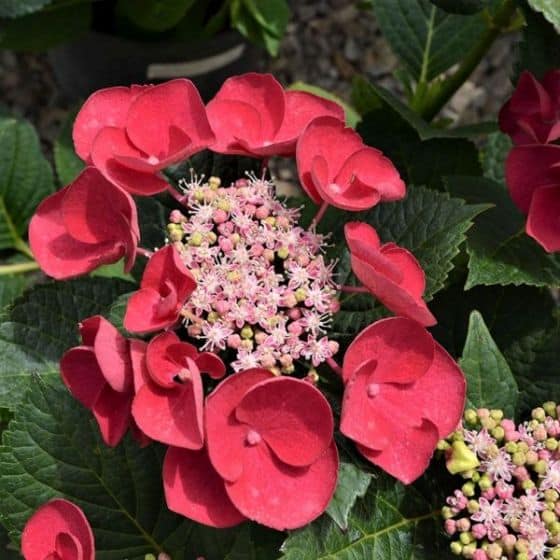 Beautiful colored hydrangea shrub, perfect for creating low hedges, or to add a pop of color to your garden or porch. The blooms of this particular hydrangea plant put on a show from summer all the way through winter. They go from cherry-red to deep pink, then mauve, and finally, dry up.
Get this gorgeous hydrangea shrub from Nature Hills. They also have grateful red hydrangeas, a unique shrub you can't find in stores.
Texas scarlet flowering quince
What a beauty! This gorgeous red shrub will attract birds and butterflies, it's drought-tolerant and will put on a complete show. It works well planted as a focal point, maybe at the front of your property, or close to your front door.
Chilean fire bush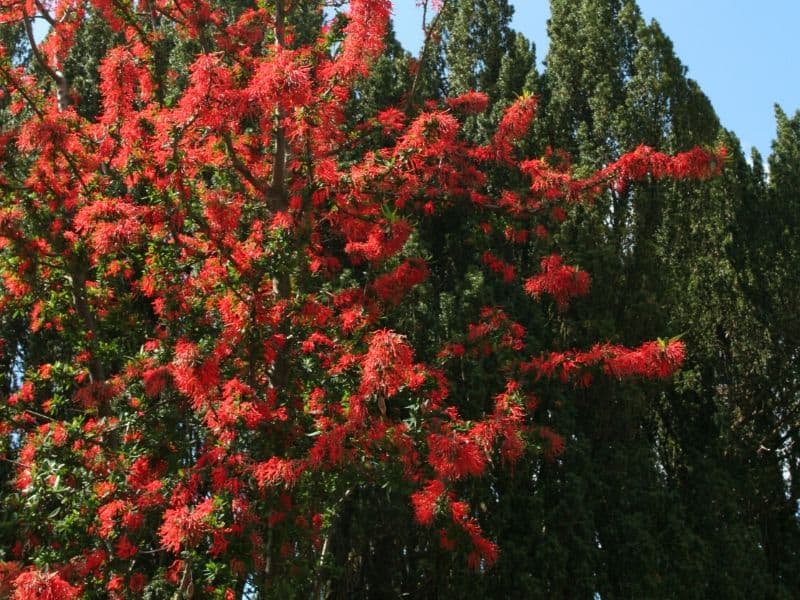 Perfect for adding privacy to your backyard, this fast-growing bush is great for mild temperature areas. It has beautiful flowers in the summer and greenery in the winter.
Red knock out rose shrub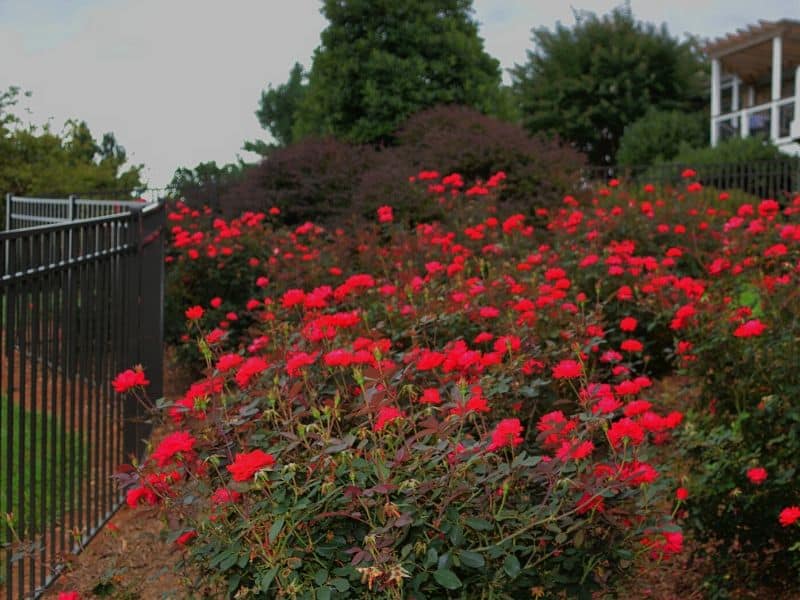 If you want a burst of red color without a lot of fuss, you must get one of these red knock out rose shrubs. They bloom from May till the first frost, thrive in all climates, and are disease resistant. Every garden needs at least one of these!
Bloom-A-Thon® red reblooming azalea
Nature Hills has this gorgeous reblooming azalea shrub that will make you happy all summer long. Blooms first appear in April, and then again in July (they last until the first frost, giving you several months of pretty red blooms). Great planted in borders, but does amazingly well potted up on your porch too!
Red Flowering Shrubs – Buyers Guide
Here are a few things to keep in mind as you decide which red flowering shrub would be best for your garden.
Season of Interest
One of the most important things you need to think about when you're looking for a flowering shrub is what season you want it to display its blooms. Do you want it to work in perfect harmony with other plants? Or would you prefer it to stand out all by itself?
Summer flowering shrubs will add a pop of color to your existing garden. However, when the colder months kick in, the blooms will have fallen and the shrub won't give you any winter interest.
If you would like some winter color as well, choose a red blooming shrub that will give you a showy display throughout fall into winter. This will add color to your garden when most other plants have finished blooming for the year. Camellias are one of these.
Related: how to care for camellias
Give some thought to foliage when considering the season of interest as well. Evergreen shrubs will give you year-round interest, and provide structure even when they've finished blooming.
Deciduous bushes will be bare over winter, but will often put on a glorious display of autumnal shades before they lose their leaves.
Color
Red is one of those colors that comes in so many different shades that it's almost impossible to list them all. Some are extremely bright and vibrant, while others are a little more muted and almost dark in color.
Make sure the colors in your garden mix well with the shade of red you wan tot introduce. If you're after a really dazzling pop of color, then a flowering shrub that produces scarlet or crimson flowers would be best (I have some examples below).
However, if you're looking for jewel tones to match seamlessly with purples and oranges, deeper shades of red such as maroon and burgundy would be perfect for your planting scheme.
Fragrance
You might also want to think about getting a red flowering shrub that produces fragrant blooms, as this can add an extra layer of interest to the plant.
Flowering shrubs that produce a delicate scent would be best placed near a seating area, where you can enjoy the floral fragrance as you relax and unwind on a sunny day.
Some shrubs produce flowers that are very heavily scented, and these are a good choice for incorporating into your borders as the wind will carry their delicious fragrance through the air and all-around your garden.
Position
Where you place your red shrubs in your garden is important. Spend some time monitoring the sunlight in your garden. Any area that gets more than 8 hours of full sun exposure a day will be perfect for a flowering shrub that needs to be planted in full sun.
Likewise, a flowering shrub that prefers shadier conditions will only thrive when placed in an area getting less than 4 hours of sunlight. When you keep the shrub's preferences in mind, it will reward you with a display of its glorious red blooms in return.
Space
Some flowering shrubs can grow up to 20 feet. So it's super important to make sure that the area you're thinking about planting one into has enough space to allow the shrub to grow.
These tall flowering shrubs can steal nutrients from surrounding planting as they grow. They'll also throw shade on smaller plants placed underneath.
So give think about the needs of all the plants in the area. Make sure the shrub you choose doesn't have a detrimental effect on any existing plants that are part of your landscape.
Maintenance
Finally, think about the amount of maintenance your chosen flowering shrub will need as it grows and matures over the years.
Some will need annual pruning to encourage strong growth. You'll need to make sure that any dead or diseased branches are removed in order for the plant to grow healthy and strong.
Others don't need any maintenance at all, and can simply be planted and forgotten about.
It's all about how much time and effort you're willing to put into caring for the shrub once it's planted. If you're super busy, then a low maintenance flowering shrub may be the best choice.
Likewise, if you're particularly green-fingered and enjoy spending time in your garden, you may get some pleasure from caring for a shrub that needs a little care and attention every now and again.
Hardy Hibiscus Seeds
Encore Azalea Embers Azalea
Red Double Knockout Rose
Chaenomeles Japonica Red Flowering Quince
Red Yellow Rose Flower Bush
Carolina Allspice Fragrant Calycanthus Floridus Shrub