If you have a sloped yard, it may seem daunting to come up with – and implement – hillside landscaping ideas.
Hillside Landscaping Ideas
Mowing and erosion control on steep inclines can be difficult, and accessibility for weeding and other maintenance is a valid concern. However, a hillside property presents the opportunity to create beautiful scenes with a unique view and varied heights.
Flowing patterns create a sense of movement, and contrasting textures make for a pleasing appearance. In addition, plenty of options exist for low-maintenance landscaping.
Tips on how to landscape on a hill
When brainstorming ideas for beautifying your sloped yard, consider the angle of the incline as well as the amount of sunlight it receives. A steep incline will require greater attention to preventing runoff and perhaps a bit more creativity, whereas a gentle slope may offer more flexibility.
The amount of sunlight, of course, will determine which plants are more suitable for each space. Thyme offers excellent groundcover and enjoys full sun, while azaleas and rhododendrons provide a splash of color in shadier areas.
Rocks, boulders, and garden statues can provide additional visual interest when placed tastefully among the flowers and greenery and may even be used as a focal point in dry climates where irrigating numerous plants is less practical. Consider water features as well, whether fountains or tumbling waterfalls or a series of terraced ponds.
Hillside landscaping pictures
It's often difficult to visualize an attractive scene on a dull blank slate, so we have rounded up a few inspiring photos for you to help get the creative juices flowing.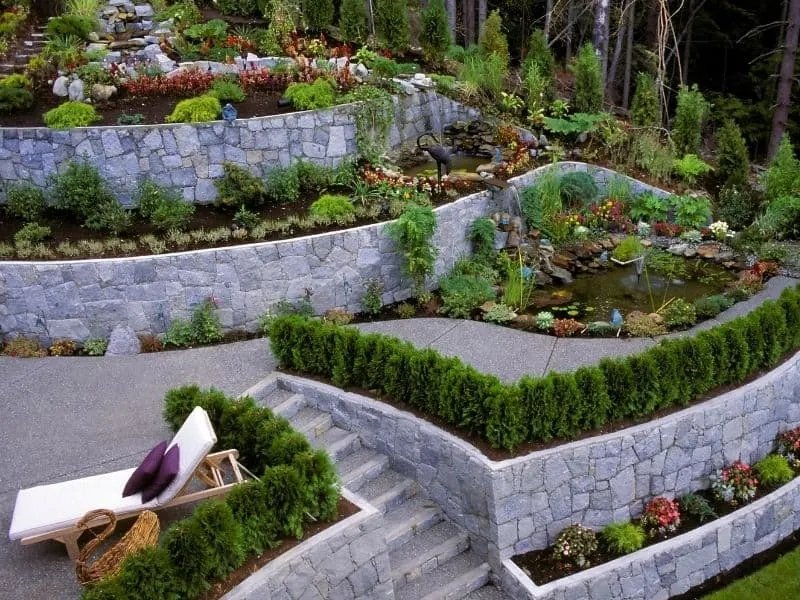 A terraced hillside with stone retaining walls and curved beds of varying widths makes a stunning visual display. While an evergreen border ties everything together, the plants within display varying shades of green and red in an orderly yet natural arrangement. A series of small ponds connected by waterfalls complete the scene and add a soothing auditory experience, and a few scattered garden statues provide a touch of elegant whimsy.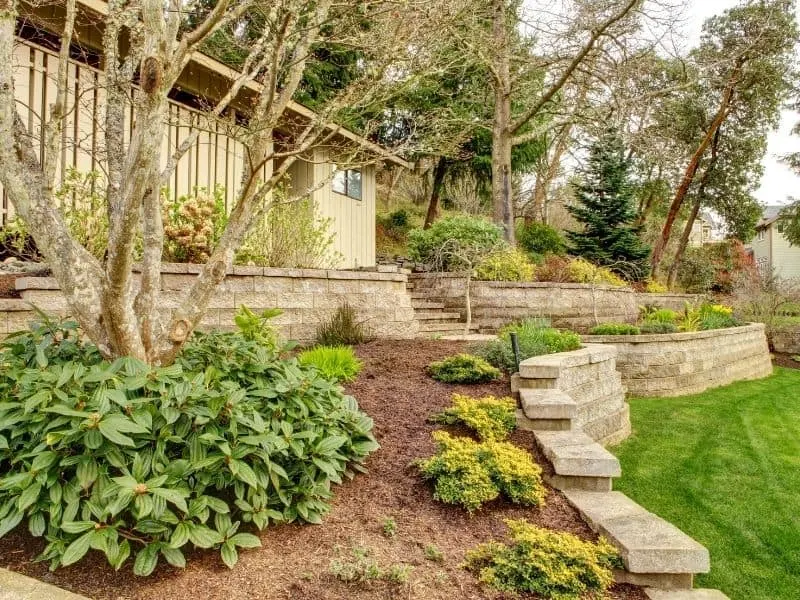 This contemporary home uses shallow terraces on a gentler slope for a less dramatic effect. Light-colored stones blend in well with the siding of the house and the trunks of the trees, and shredded bark mulch adds to the natural appearance. Evergreen shrubs and trees make up the majority of the plants for year-round beauty and a quiet, woodsy feel.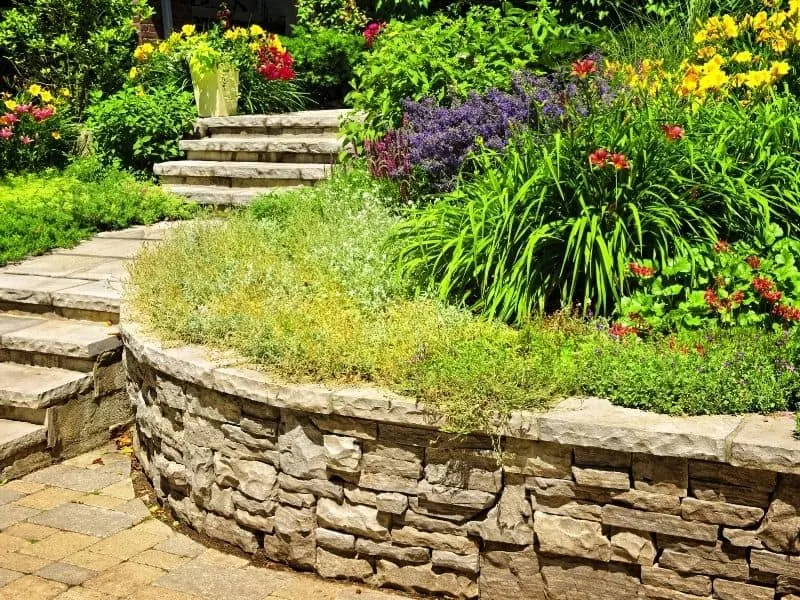 Some yards require only a single retaining wall rather than multiple terraces. Rough-cut stone adds more dimension, and brightly colored plants of varying textures combine with it to provide the ambiance of an English cottage garden. The purple foliage of one plant contrasts nicely with the yellow and red flowers against a vibrant green background. For a fuller, lusher look, the plants are spaced tightly together with low ground cover bordering and even tumbling over the wall. Potted plants at the top of the stairs provide additional height and fullness.
Natural rock and generously spaced flowers create a bright, clean, tidy appearance. Dark bark mulch provides a nice contrast with the light gray rocks and vibrant green yard, and stepping stones help tie everything together. Not only do the flowers offer distinct colors, but they vary in texture and shape as well. Notice the use of organic lines with the wavy bed and jagged rocks.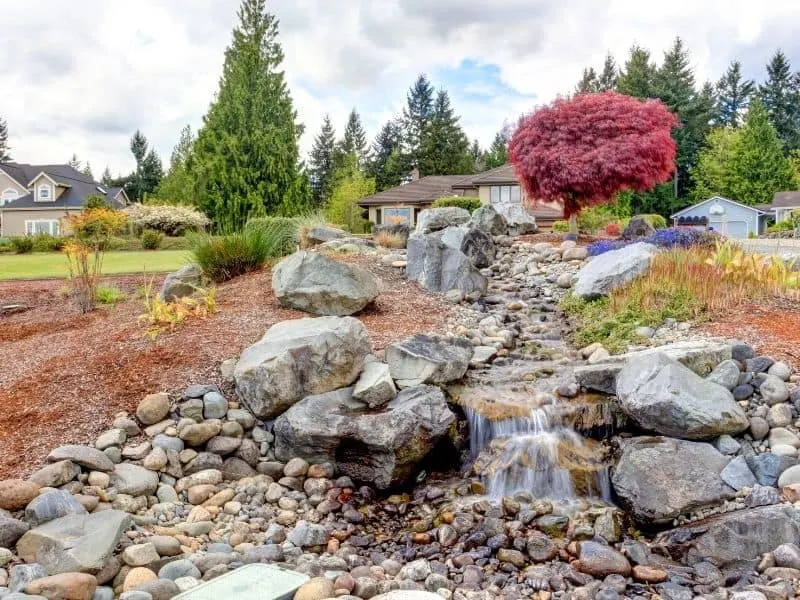 On this small hill, a water feature has been constructed to simulate a natural, rocky stream with a waterfall. The rocks vary in size from river stones to small boulders, with some of the larger rocks placed throughout the garden to tie the scene together. Ornamental grasses, shrubs, and trees dot the red mulch with only a few flowers, bringing the focus more on textures than color.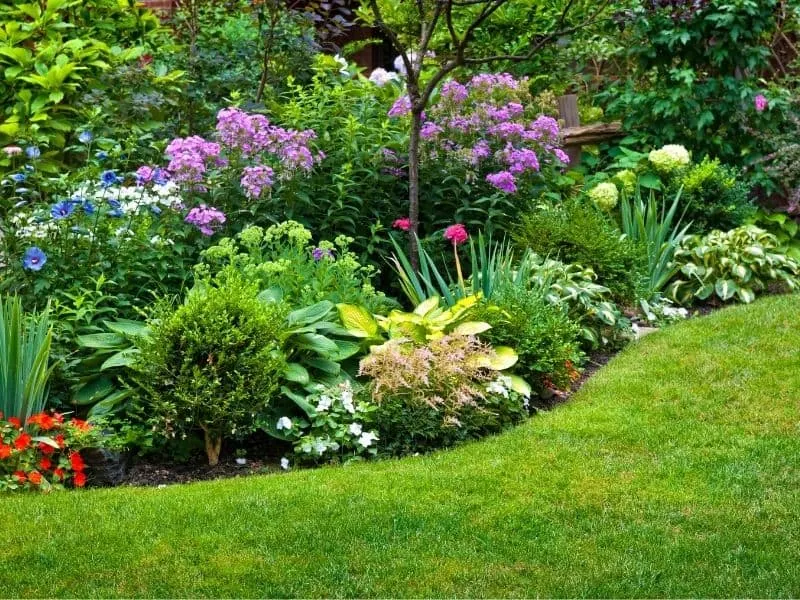 Even on a gentle slope, the incline can be used to create a wall of green. Place large shrubs in the back, followed by tall flowers and then a border of shorter plants for the greatest effect. Small, spindly trees provide additional height while still allowing a view of the plants around them. This garden also uses a spectacular display of textures and tight plant spacing, which has the added benefit of suppressing weeds.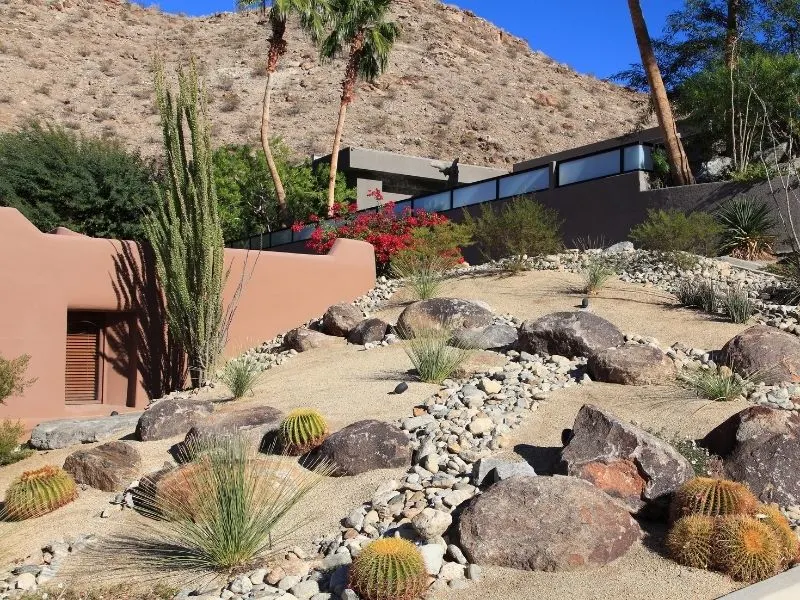 In a desert landscape, sand and rock feature prominently, with drought-resistant plants for added interest. Desert grasses, cacti, and other hardy plants add life to this richly textured scene, with shrubs tucked in closer to the shelter of the house. To prevent runoff when rain does occur, the larger rocks are placed strategically across the slope to hold in the sand, while gravel runs down the hill as a natural waterway.
An excellent ground cover for sloping land, rock cress thrives in rocky, well-drained soil. This herbaceous alpine perennial makes an attractive border in rock gardens and grows beautifully along rock walls and ledges. Pink, white, or purple blooms create a mat of color in the spring and have a lovely scent.
Where rain is plentiful, a spectacular array of flowers can capture runoff and turn it into beautiful displays of color. Beds along the sides of the house make use of water from the downspouts, while those placed strategically around the gently sloping yard catch water that would otherwise run down the yard to puddle in low areas. Careful attention to contours can make this design especially efficient.
How to anchor a hillside garden
When planning a sloped garden, it is important to consider how to anchor, or stabilize, the soil. On a steep, bare slope, topsoil can easily get washed away by heavy rainfall and take nutrients with it. You may need to bring in additional soil if this has already become a major problem.
Terracing is one popular method and can range from shallow do-it-yourself levels to large, professionally installed terraces large enough to hold patios and ponds.
Similarly, barriers in the form of partially buried timber or stone, set along the contours of the slope, help prevent erosion on more gradual slopes. Another method is to spread riprap, or a rough, loose stone, over the hillside to slow the flow of water. Hardy ground covers and common rock garden plants can help soften the harsh effect of the stark, gray rock.
Hillside erosion control plants
Plants can be used in addition to or instead of the anchoring methods listed above, as their roots help stabilize the soil. Keep in mind that seeds can wash away before the plants become established, so it may be best to start with seedlings, especially in steeper areas.
Wildflowers and other native plants often adapt more quickly to slopes and poor soil conditions. In general, groundcovers and creeping shrubs are excellent erosion control plants, as they spread widely and rapidly to cover and hold the soil. Choose perennials over annuals when starting a hillside garden, as they will develop larger, stronger root systems over time. Some great plants for erosion control include the following:
Wild hydrangea – native shrub, prefers part to full shade
Ferns – great for damp, shady hillsides
Woodland phlox – produces a bright carpet of flowers in spring
Liriope – popular evergreen border plant
Creeping juniper – short, sun-loving evergreen shrub
Wild bergamot – tall, red flowers that attract hummingbirds and butterflies
Creeping myrtle – drought- and shade-tolerant groundcover
Little bluestem – attractive native prairie grass
Hosta – hardy, shade-tolerant, and easy to divide
Virginia creeper – native quick-growing vine, leaves turn red in fall
When choosing plants for your hillside garden, avoid invasive species, which can crowd out other plants, can be difficult to remove, and are bad for the natural environment.
Steep hillside landscaping ideas
Having an exceptionally steep hillside can be especially frustrating, but there are many ways to overcome this challenge and turn it into a beautiful oasis. Terraces offer an obvious and practical solution to erosion, and they really open up other possibilities by providing flat ground. Use cement for a modern look or stone for a natural feel.
If terracing seems too extreme or expensive, use some of the plants listed above to anchor the soil and provide natural beauty. Use groundcovers or densely planted perennials to prevent weeds and thus reduce maintenance. Planting a variety of trees, shrubs, flowers, and creeping plants adds visual interest through varying textures and colors. A few well-placed boulders can provide extra support where erosion is especially problematic.
Whether or not you use terraces, water features are always fun to include. A steep slope offers the perfect canvas for a tumbling waterfall, and a low, wet area below the incline may be begging for a pond surrounded by water-loving plants. It often helps to work with nature rather than against it – look around and see what the landscape is trying to tell you!
One thing you may notice is that there are few straight lines in nature. Instead of harsh edges and corners, use curved terraces, winding staircases, and meandering borders for a more organic appearance. Wood, rough stone, or gravel in a timber frame create more natural-looking stairs and prevent slipping in wet conditions.
Lights offer an additional safety feature in a steep landscape. Place lights along a staircase or at the bases of trees for greater visibility and a soft ambiance at night.
Hillside flower garden
A hillside doesn't have to be dominated by soft, neutral tones. Add flowering perennials or native wildflowers for a pop or even swath of color. Hydrangeas, phlox, violets, daylilies, roses, and coneflowers are all excellent options for a hillside flower garden. Add some ornamental grasses, such as little bluestem or switchgrass, for variety.
What can you grow in a hillside vegetable garden?
Yes, it is possible to grow vegetables on a slope! On a gradual incline, it may be enough to simply create your beds along the contour of the slope. However, steeper hillsides will require raised beds or even terraces to prevent erosion.
With the right bed construction, almost any vegetable will thrive on a hillside. Green leafy vegetables like spinach, lettuce, and chard do best on north-facing slopes, which tend to be shadier and cooler. A south-facing slope, on the other hand, receives more sunlight and will be warmer, making it ideal for crops like corn, beans, and squash. Keep in mind that cool air can gather at the base of a hill, creating a cooler microclimate that is better suited for cabbage, broccoli, and other cool-season vegetables.
Hillside landscaping with rocks
Rocks are a wonderfully versatile element in hillside landscaping. They can be used for structures such as terraces, retaining walls, and stairs or for purely ornamental purposes. Place flat rocks or paving stones for a minimalist pathway, or line a drainage ditch or other water feature with river rock.
18 Pounds River Rocks, Pebbles, Garden Outdoor Decorative Stones
Landscaping with Stone: Create Patios, Walkways, Walls, and Other Landscape Features
Landscape Rock and Pebble – Natural, Decorative Stones and Gravel for Landscaping
Hillside landscaping with boulders
Boulders of varying sizes can serve as both an attractive and functional addition to a hillside garden. Place a few randomly throughout the garden or arrange them with smaller rocks, succulents, and drought-tolerant plants for a beautiful rock garden that also helps prevent erosion. If your hillside is already naturally strewn with boulders, rather than try to dig them out, work them into the landscaping design.
Hillside landscaping with grasses
Another low-maintenance option is to use ornamental grasses, many of which spread readily and require little attention. Mixed in with other plants, they also add texture to the landscape. Varieties native to your area will likely establish themselves sooner and better than nonnatives, as they will be better adapted to your climate and soil type.
Blue Fescue Ornamental Grass Seed – 5000 Seeds
Lemon Grass Plant Seeds – 2000 Seeds
Feather Reed Ornamental Grasses, With Yellow Spikes
Hillside landscaping with railroad ties
Like rocks, old railroad ties have many uses in a hillside garden. Build attractive wooden retaining walls, terraces, barriers, or stairs with railroad ties. For slip-resistant stairs, create frames with the ties and fill them in with gravel. However, you may want to avoid using railroad ties for vegetable or herb gardening, as they often contain the toxic preservative creosote.
Hillside landscaping on a budget
Landscaping on a hillside doesn't have to be expensive. If you have or can find access to discarded logs, bricks, or stones, use these to build terraces or barriers to prevent erosion.
Start plants indoors from seed, which is cheaper than nursery-grown plants. A sunny, south-facing window might be enough for this purpose, or you can set up a grow light with a simple industrial fluorescent fixture from the hardware store.
Wood chips can often be found for free or cheaply if you ask around; just make sure it's disease-free. Another option is to add a few plants and features each year rather than all at once to spread out expenses: start with the areas most susceptible to erosion and work from there.
Hopefully, these hillside landscaping ideas have helped take some of the overwhelm out of beautifying your yard. All you have to do is look at what you have, work with nature rather than against it, and use a variety of elements for the greatest value in both beauty and function. So have fun, and enjoy your new oasis!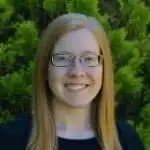 Serena Manickam is a freelance editor and writer and sustainable market gardener in rural Virginia. She holds a BA in environmental science and runs Fairydiddle Farm, a small market garden in which she grows no-spray produce and herbs to sell at a local farmer's market.