Choosing native plants for your garden and landscaping is always a smart choice, no matter where you live. There are so many great benefits to going native and the south has specific climate and soil conditions that are best served by those plants that are indigenous to the area.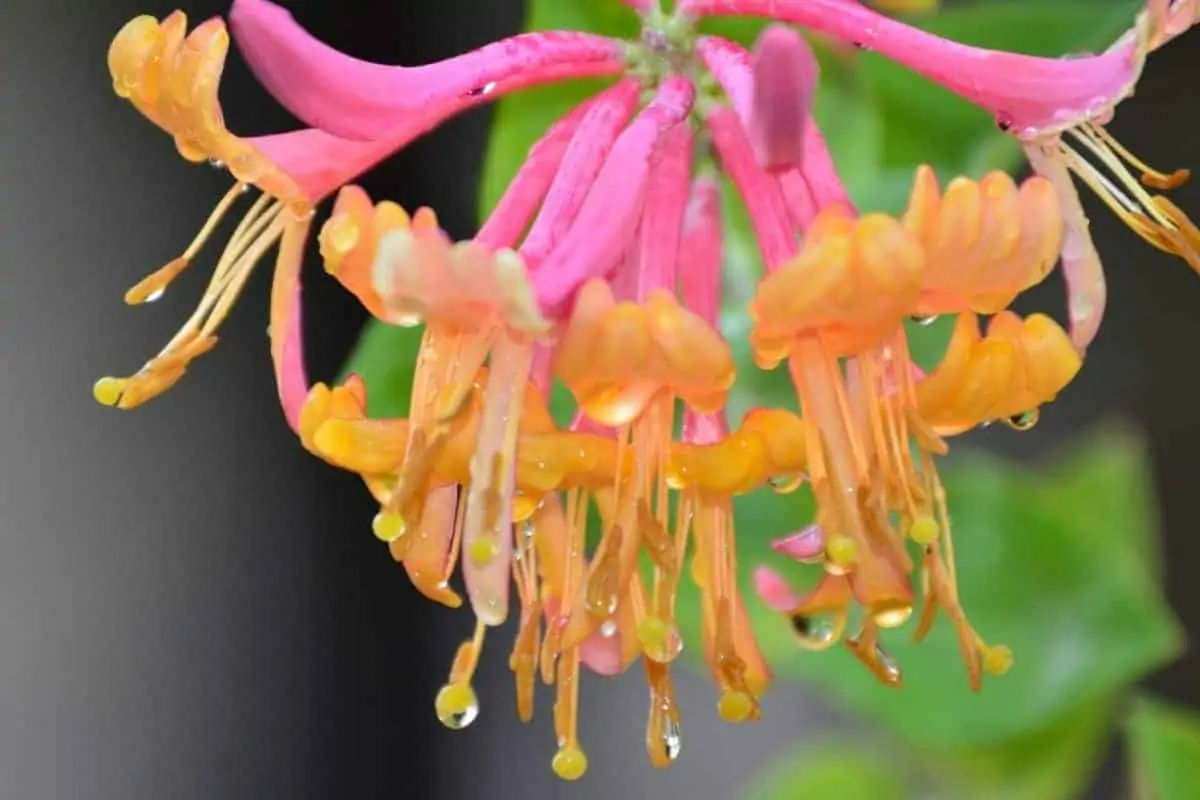 This Georgia native plants list will help you choose some great plants for your garden or landscaping. We've included a mix of trees, bushes, and flowering plants to get you started, but there are many more wonderful choices.

Georgia Native Plants List
Here are some top picks for Georgia native plants that will look beautiful in your landscape:
1. Crossvine (bigonia capreolata)
Crossvine got its name from the cross-shaped pattern that is revealed when you cut the stems. This woody, climbing vine can reach up to 50 feet in length and the orange-red trumpet-shaped flowers are about 2 inches long and 1 ½ inches across. The blooms can also contain yellow colors.
Blooming usually happens from March to May. This will brighten up your garden or landscape during the spring and early summer weeks.
2. Southern sugar maple (acer floridanum)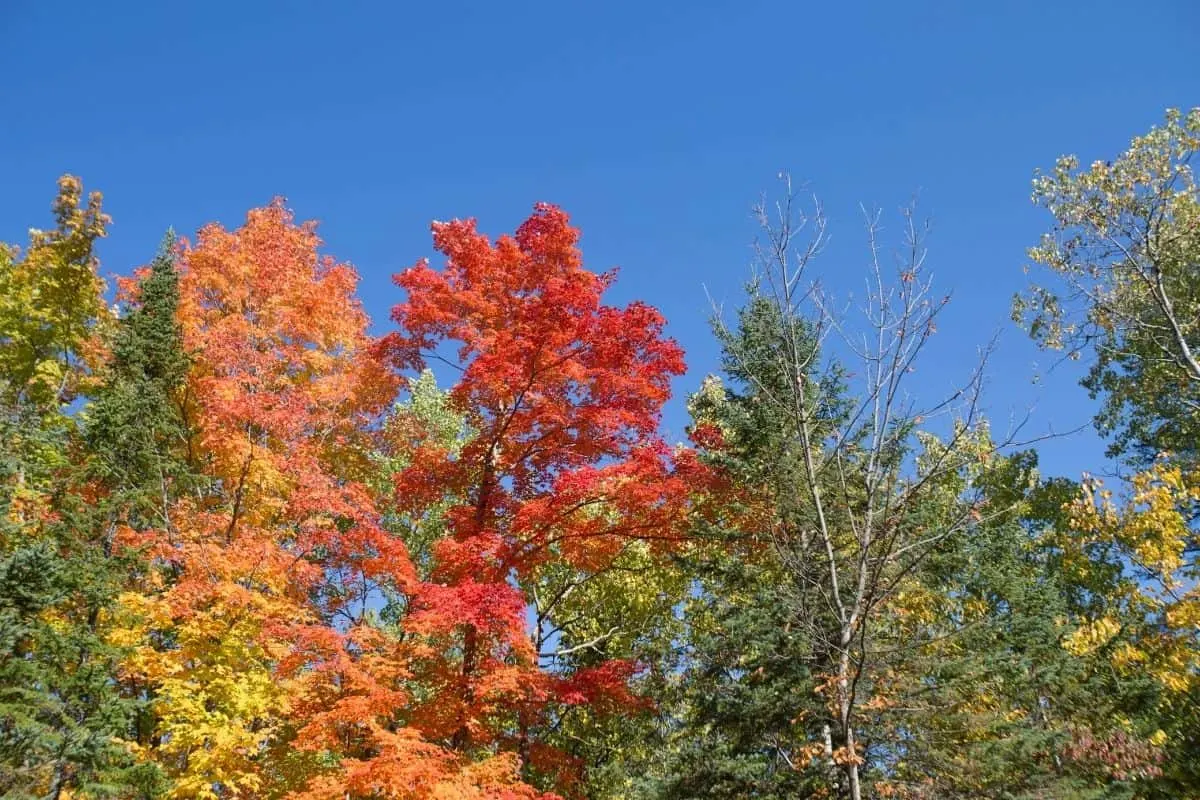 Southern sugar maple is also known as the Florida maple, rock maple, and Caddo maple. It's a small, spreading tree that turns colors in the fall. This perennial grows to about 60 feet at full maturity, making it on the small side of the common maples. Small flowers hang from a stalk in clusters. It blooms in April.
3. Scarlet buckeye (aesculus pavia)
Scarlet buckeye is also known as the firecracker plant or red buckeye. It is a stunning but highly toxic flowering plant that can look great in your landscape. They can grow from 10-20 feet high and have a spread of just as much at full maturity. Even when still small, they add a real pop to the garden. If you have outdoor pets, be sure they don't try to eat them, though.
4. Bottlebrush buckeye (aesculus parviflora
Next on the list is bottlebrush buckeye. It is often considered one of the best summer-flowering shrubs for shade. It's dense, grows in easily and fairly rapidly, and likes evenly moist and well-drained soils.
It will do well in part shade to full shade and is intolerant of very dry soil. It doesn't have any serious issues with insects or disease, making it a good choice for your landscaping.
5. Red maple (acer rubrum)
Another tree native to Georgia is the red maple. It is most known for its beautiful red color in fall. They are sometimes called swamp maple due to the environment they like to grow in.
The U.S. Forest Service says it is the most abundant native tree in eastern North American. They are strong, bold, and beautiful and look great in your Georgia landscaping. They are fast-growing, so if you don't already have any on your property, it's an easy enough addition.
6. American beautyberry (callicarpa americana)
Also known as French mulberry, American beautyberry is an open-habitat shrub native to the area. It's often used as an ornamental in gardens and landscapes.
This perennial has showy purple fruit in the fall. It likes full sun and will grow in all types of soil if there is proper drainage. Its natural habitat is meadows or thickets, so it does best in mass plantings, naturalized areas, or large landscapes. It can also be a great choice for container gardening.
7. Coastal pepperbush (clethra alnifolia)
You may also want to try coastal pepperbush if you live in an area of Georgia where it will do well. This narrow shrub grows from 6-12 feet and often spreads into mounded clumps. There are tall, upright clusters of white flowers that have a nice scent to them, which is where it gets one of its common names.
It is often called alderleaf pepperbush or summer sweet. It's pest and disease resistant, has brown fruit, blooms in white or pink from July to August, on average, and it blooms on new growth.
It does well in full sun, part shade, or shade but likes moist or wet soil. It's great for coastal gardens because it thrives in sand or clay soils with moisture.
8. Kentucky yellowwood (cladrastis kentukea)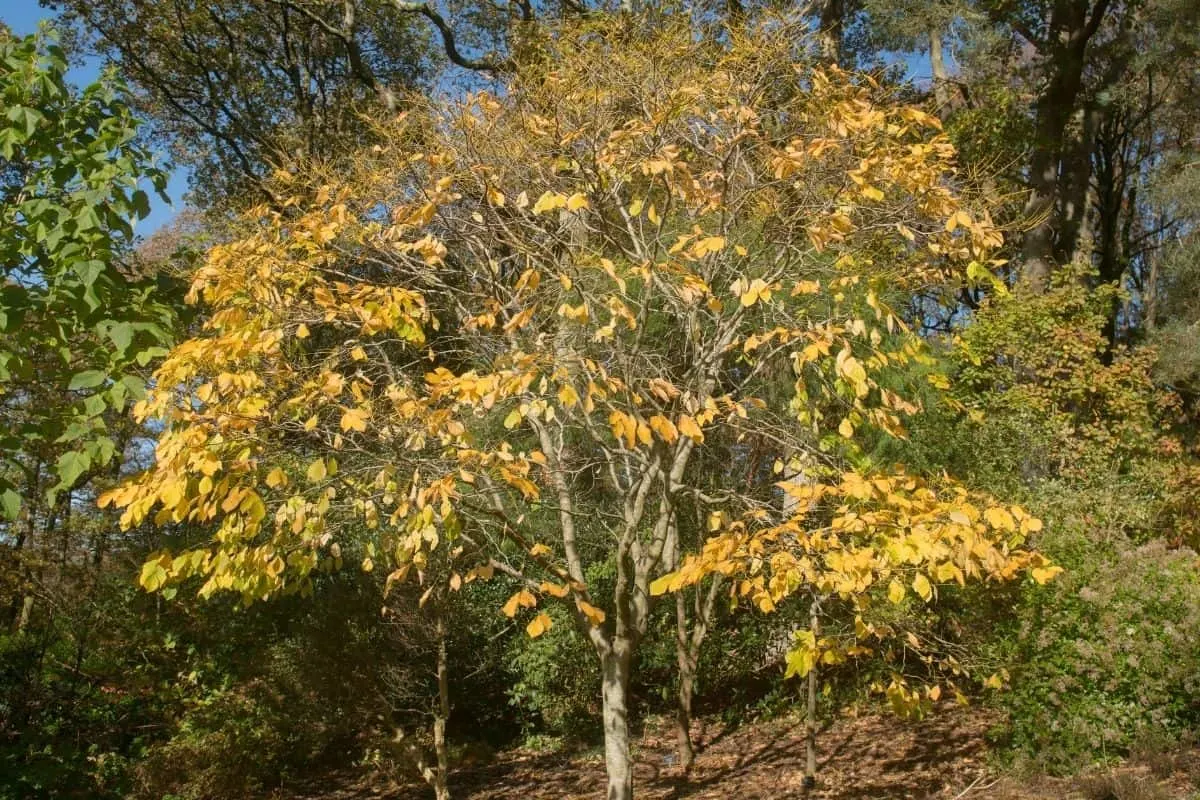 Kentucky yellowwood is a large, deciduous tree native to the area. It's actually part of the legume family and it can grow from 30-50 feet high. This tree has beautiful white flowers bloom in May, and it likes full sun and medium water.
It's low maintenance (requiring no maintenance after initially planted, once it takes root). It will do best in a place that does not get super strong winds. It's great for residential landscaping and even small lawns and gardens with limited space.
9. Flowering dogwood (cornus florida)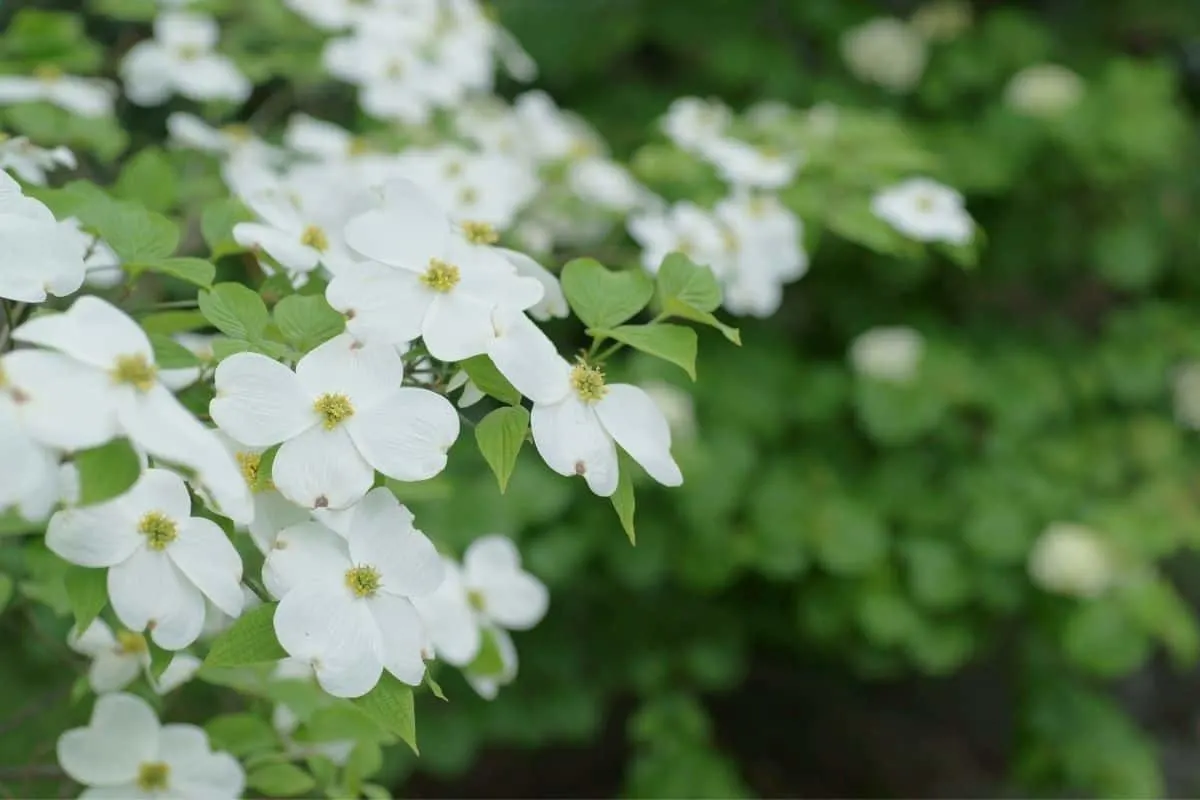 Flowering dogwoods are famous in the southeastern states. Most people are familiar with dogwoods even if they are not from the area. It's one of the most beautiful flowering trees found in the area.
They grow from 20-40 feet high, from a single or multi-trunk tree that has a spreading crown. The showy white or pink flowers are what this tree is most famous for. They can bloom from March to October, meaning you get a lot of beauty from these blooms.
They need to be planted in shade, as too much full sun can scorch them. In addition to looking great, dogwood also has benefits to the environment. They are good for birds, small mammals, and deer that eat the fruit.
10. Mountain silverbell (halesia tetraptera)
With mountain silverbell in your landscape, you can't go wrong. This perennial tree grows from 36 feet to a whopping 72 feet, blooms white flowers around May, likes part shade, and moist, well-drained soil. It is found natively in coastal areas of Georgia and may not do as well more inland.
11. Florida anisetree (illicium floridanum)
Florida anise tree is also known by the common names anise tree, Mexican anise tree, or Florida anise. This is a medium to large evergreen shrub, grows upright and compact, and spreads by root suckers.
While it is fast-growing and very low maintenance, you should know a few things about it first. First, the foliage and the fruit are poisonous to livestock. It's also not a good choice if you have pets who like to munch on trees and shrubs. Otherwise, it has a lot of great benefits, is fairly low-maintenance, and will make a great addition to your landscape.
12. Tulip tree (liriodendron tulipifera)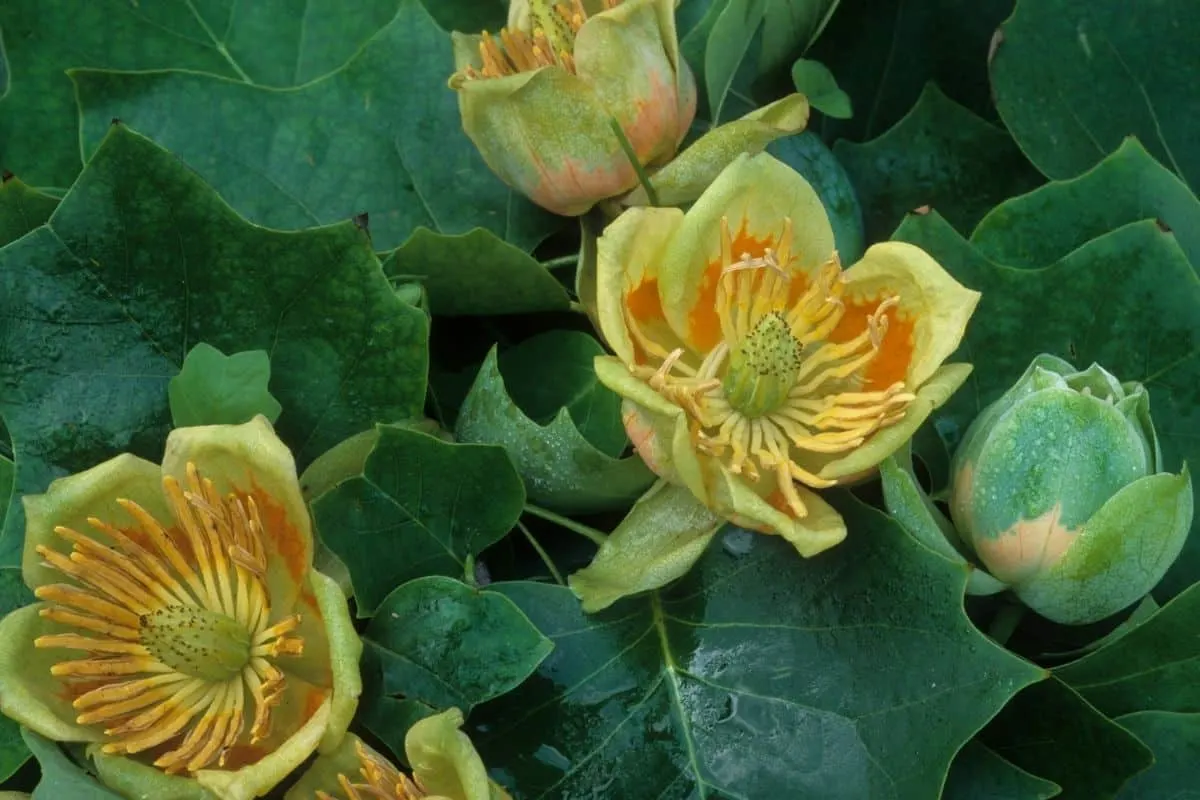 The tulip tree might be another good choice for you if you're looking for something attractive that also grows fast. They don't have to be pruned or shaped as they mature. They name their cone shape naturally, and they are a very low-maintenance tree. However, if there are damaged or diseased limbs, you need to prune them from the tree so they don't spread to the entire tree.
It is also known by the names tulipwood, tuliptree, tulip poplar, whitewood, fiddle tree, and yellow-poplar. They have bright green leaves that look like tulip flowers (hence the common name) and they turn yellow in the fall. It thrives in full sun and can grow as much as 24" per year.
13. Coral honeysuckle (lonicera sempervirens)
Coral honeysuckle is a high-climbing, twining vine. It can grow from 3-20 feet long, but it can take five years or more before honeysuckle fully reaches its potential.
It looks pretty, smells great, and is a big favorite of hummingbirds and bees. It's great as a climber and also as ground cover and it's not especially aggressive so it won't overtake your landscape or garden.
Coral honeysuckle usually blooms red, which is where it gets its name, but it can sometimes bloom yellow, depending on the variety. It blooms from March-June, on average. This honeysuckle likes sun or part shade and moist soil. It's fairly cold tolerant and can survive in a variety of soil types, but it does prefer rich soil.
Plants that attract Georgia wildlife
If you want to plant things in your garden or landscaping that will attract local Georgia wildlife, then you might consider the following:
Bachelor button
Zinnia
Petunia
Verbena
Cockscomb
Chickory
Black cherry
Pawpaw
Persimmon
Redbud
Willow oak
Salvia
Lantana
Impatiens
And there are many more. You can learn more at GeorgiaWildlife.com. Next, let's answer a few of the most frequently asked questions about native plants in this state. If you have other questions we didn't answer in the post, feel free to leave them in the comments. We'll do our best to answer.
Georgia native plants list FAQ
Before you plan your garden or landscaping, let's take a look at these commonly asked questions about native plants to Georgia.
How many plants are native to Georgia?
There are many plants native to Georgia. Some of them are very regionally specific and others can be found across the entire state. In Georgia, there are 3,600 species of native wild plants, making the state seventh in the nation in vascular plant diversity. You can learn more at http://eeingeorgia.org.
What perennials are native to Georgia?
We have some perennials on our list above, but if you're looking for more that are native to Georgia, consider the following:
Spiderwort (Tradescantia)
Black-eyed Susan (Rudbeckia)
Coneflower (Echinacea)
Scarlet sage (Salvia coccinea)
Galax (Galaxurceolata)
Fly poison (Amianthiummuscitoxicum)
Goat's beard (Aruncusdioicus)
What makes a plant native?
For a plant to be considered native to Georgia, it occurred naturally in this particular region without any human introduction. This means it was found in Georgia before settlers moved in or without being harvested from another part of the country and replanted. There are many plants that are common naturally in the world in Georgia today but they did not originate here, so they're not technically considered natives.
If you're in doubt about a particular plant or species, you can also consult an expert source like the resources we've included in this post (Wildflower.org allows you to search by state and other factors (such as lifespan and care) to help you choose). Local nurseries also have information about native plant life and will be experts on the soil conditions, weather conditions, and hardiness of particular plant species in your area.
The information in this post will help you get started, but there are so many other species of plant life to explore in the beautiful state of Georgia. We encourage you to continue learning about the trees, shrubs, and flowers that are native to your area. Bring a bit of Southern comfort and charm to your garden or landscaping with native choices.
Native Flowers Of Other States