Although plants take center stage in any garden, the importance of edging should not be overlooked. Garden edging serves both a functional and aesthetic purpose. It creates clean lines to keep grass out of mulch and mulch out of the grass, as well as to enhance curb appeal. In this article, we've compiled a wide range of garden edging ideas along with tips for installation and maintenance.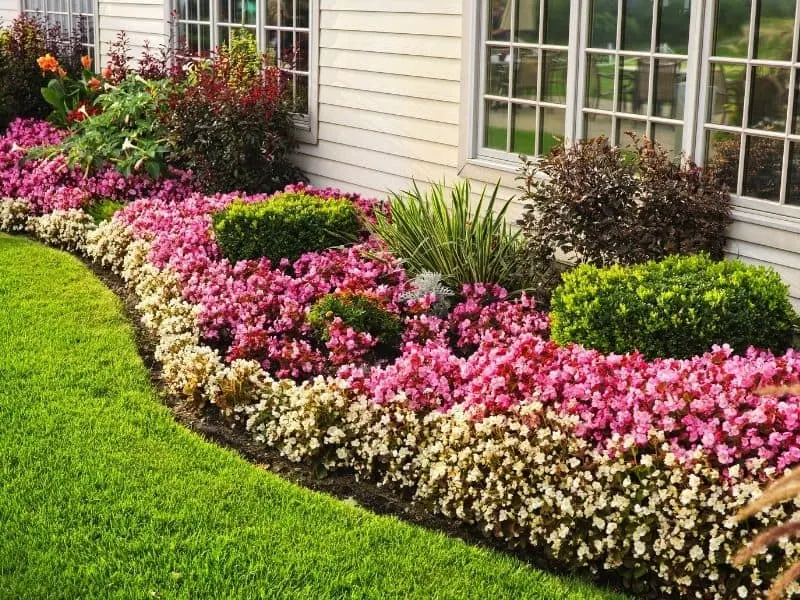 Garden Edging Ideas
Garden border ideas range from easy-to-install landscape edging to creative DIY garden edging made from recycled materials. As with all garden features, edging should be chosen to fit with the overall theme of your outdoor space. Consider materials as well as shape, height, and width.
Curved garden edging may fit better with a natural theme, and a narrow bed is easily overwhelmed by a wide border, just as short plants would be by a tall one.
The idea of garden edging is to reduce work, so maintenance should be minimal. Depending on the type you choose, you may need to perform some weeding, string trimming, or even cutting out grass with a shovel or power edger. Some edging materials may also degrade over time and need to be replaced after a few years, while others are more permanent.
Easy garden edging ideas
One of the simplest options is to purchase landscape edging from your local garden center or home improvement store. It tends to be fairly easy to install and works well for garden beds, pathways, and lawns. Landscape edging comes in a variety of materials and designs ranging from inconspicuous to decorative.
Plastic landscape edging
Plastic landscape edging is relatively cheap and comes in either flexible rolls or pound-in sections, both of which cater to a wide range of garden shapes.
It may not be the most attractive option, but plastic landscape edging is often sunk into the ground, creating a clean edge without drawing attention to the border itself. Look for recycled plastic edging for a "greener" option!
Metal landscape edging
Metal landscape edging offers a more durable, longer-lasting alternative to plastic, though it does tend to also cost a bit more. Unfinished metal has a lovely rustic appearance, while painted or galvanized metal will last longer.
Depending on the type of edging you choose, it can be sunk into the ground like plastic edging or sit higher. It can even serve as an attractive raised bed border.
Composite landscape edging
Often made from recycled materials, composite landscape edging looks like wood but will not rot, splinter, or suffer pest damage. Choose boards with joint connectors or a flexible roll for softer curves and seamless lines. This type of edging also comes in a wide range of colors.
Trench edging
Although this involves some sweaty work since it must be redone once a year, trench edging can actually be quite easy if you have a power edger or already hire a landscape crew who can add it to their mulching and trimming. This method does not require any edging materials but simply clean lines cut between the lawn and garden beds.
Decorative garden edging ideas
Looking for more attractive edging ideas? Try molded landscape edging or a decorative garden fence to add beauty to your borders.
Concrete edging stones
You've likely seen the classic brick-colored edging stones with scalloped edges commonly circling trees and lining flower beds in front yards. While this is the most common design, many other shapes and colors of molded concrete edging stones are now available.
When placed in a shallow trench, these durable and long-lasting edgers effectively separate lawns from beds while also serving as an attractive garden feature.
Edging with pavers
Similar to edging stones, pavers are made with concrete and come in a variety of shapes and colors. However, these have added flexibility in that they can be used in a single layer or stacked, buried, or above-ground.
Pavers are an excellent choice for sloped yards where gentle terracing might be beneficial, or for containing raised flower beds. Or, set them flush with the ground in a single layer for easy mowing. A great hybrid option is to set one row of pavers on edge to hold mulch in the bed, with another row of pavers laid flat along the lawn side.
Decorative fence
Metal Arch Garden Border Fence
Garden Fence Edging
Wood Picket Fence Edging
If you want an attractive border but don't necessarily need something that will contain or exclude mulch or plants, consider a decorative garden fence. Typically shorter than two feet, these pretty fences usually come in sections that lock together and have prongs that easily press into the soil.
Material choices include metal, plastic, and wood in a wide range of designs. The taller decorative fences may even deter hungry rabbits.
Natural garden edging ideas
Use natural edging materials to create a beautiful border that fits seamlessly into the landscape. Some of these can be gleaned from your own property or that of a friend or family member, making them great options for cheap landscape edging.
Stone garden edging ideas
Stone works well in a wide variety of garden styles, especially woodland and cottage, and it can be used in several ways. The simplest method is to line up large rocks – about softball size or larger – in a single or double row along a curving edge. This is a great way to use up all of the stones you pull out of the vegetable garden!
Flagstones can be treated much like pavers, either set flush in the ground or stacked on top of each other.
Another creative option is to dig a trench around the edge of the bed and fill it with river rock; add plastic or metal edging on one or both sides for a cleaner appearance. This border looks especially charming alongside a wooden walkway.
Wood garden edging ideas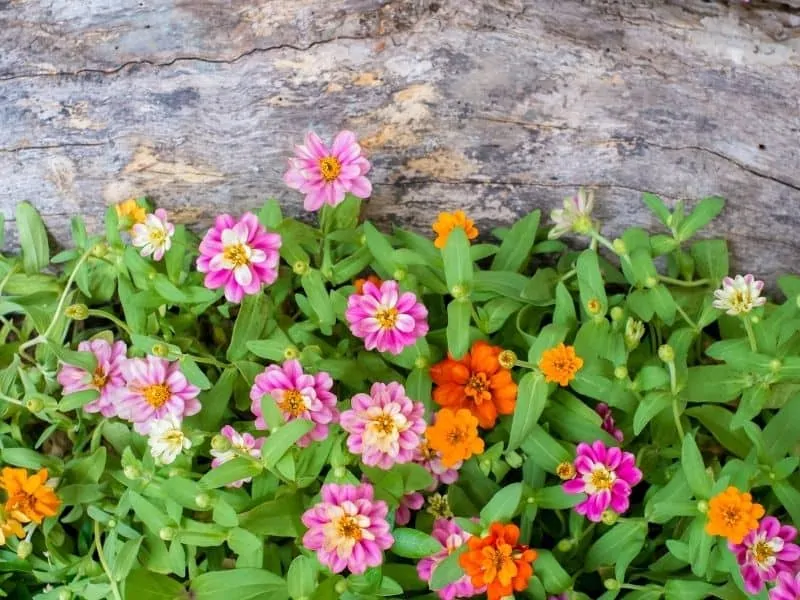 Another versatile material, wood can also be found or purchased. Line up logs for a rustic border or landscape timbers for a neater appearance. Smaller pieces of wood — either sections of flat boards or chunkier pieces — can be set on end in the style of a tiny picket fence. Use wood pieces of varying heights and textures for a unique, rustic look, or even paint it for a pop of color. If you like the appearance of this type of edging but not the work involved, you can purchase wood landscape edging in premade sections that easily pound into the ground.
Cedar boards make great raised bed borders since they're naturally rot-resistant. Add a built-in wooden bench to raised beds bordering a patio for extra seating. And if you're feeling especially patient, consider weaving willow branches into a beautiful short fence or raised bed frame. This woven wood edging, or "wattle," pairs well with herbs or English-style gardens.
Keep in mind that while treated lumber will last longer, it also might leach chemicals into the soil. Look for untreated, rot-resistant wood like cedar or reclaimed redwood, and either be prepared to replace it in several years or consider a natural preservative like linseed oil.
Bamboo garden edging
Although not appropriate for all garden styles, bamboo provides a natural edging option for zen or other Asian-style gardens. If you or someone you know has a stand of bamboo, this can be a great DIY garden edging idea. Alternatively, pound-in bamboo landscape edging is available for purchase at many garden centers and home improvement stores. Like some wood edging, it is often designed with bamboo canes set on end in the style of a picket fence. Shorter, even-edged bamboo borders are less obvious and fit in a wider variety of gardens, and long, thin canes can be woven into a fence, much like willow.
Coco fiber edging
Coconut fiber edging, often simply referred to as coco fiber edging, offers the look of mulch but can be mowed over and suppresses weeds more effectively.
This lightweight, permeable edging is easy to install with landscape staples along flower beds, walkways, or driveways. Use it alone or to suppress weeds under a fence or stone border.
Coco fiber edging is also available in circular mats of varying sizes to place around trees. Although coco fiber can last several seasons, as a natural material, it will eventually fade and fray and need to be replaced.
Living edging
Of course, you can also use plants as living edging. This method works best along walkways, driveways, and patios, though it can also work in beds bordering lawn when used in conjunction with trench edging to keep the grass out.
Choose short plants that can be clustered together in a tight line along the border, such as short ornamental grasses, cascading flowers, or ground covers. Liriope is one popular border plant, as are hostas. For a hybrid edge, plant succulents or other rock-loving plants in the crevices of a stone border.
Recycled garden edging ideas
In addition to the recycled and reclaimed edging ideas already mentioned (recycled plastic or composite landscape edging and found rocks or wood), there are many other cheap garden edging ideas that give new life to otherwise unwanted materials.
While many of these can be bought, consider what you already have on hand or might be able to easily acquire from friends and family. Your neighbor might actually be quite happy to get rid of that pile of bricks tumbled beside her shed!
Cinder block garden edging
While cinder blocks may not seem like the most attractive garden edging idea, consider that they make great planters! Set them on top of the soil or partially bury them, then fill the holes with potting soil or a compost-topsoil mixture and tuck small plants inside.
Choose colorful flowers, trailing plants, or herbs that do well in containers. If you don't feel inspired by the gray cement, try painting the cinder blocks with non-toxic outdoor paint.
Brick garden edging ideas
Much like pavers, bricks can be used in numerous ways. Line them up on top of the soil, bury them level with the ground, or stack them up. Place them end-to-end or side-by-side, or even bury them at an angle, leaning against each other so the top corners form an interesting, decorative border.
One of the great benefits of bricks is that they last nearly forever but can be easily pulled up and rearranged at any time.
Using plates as garden edging
If you have a collection of mismatched dinner plates or enjoy browsing through the china at thrift stores, this creative garden edging idea might be perfect for you!
Line beds around a small patio with plates to create a tearoom ambiance or use mismatched dishes around an herb garden for a fun effect.
Choose a color theme or use an eclectic mix of plate designs – chips and cracks are fine because the best way to use the plates is to partially bury them so that they stand along the border in half-moon shapes.
Unfortunately, this may not be the best edging material for families with young kids or rambunctious puppies that might accidentally break the dishes while playing in the yard.
Glass bottle garden fence
This one is for the wine lovers looking for a creative way to reuse all those beautiful glass bottles. Really, any type of glass bottle will do, including those from soda, beer, or even condiments (think olive oil, vinegar, and soy sauce). Use bottles of all the same shape or color for a more uniform appearance, or collect a mixture.
Before putting the bottles out in the garden, remember to remove any labels. Hot water, vinegar, or rubbing alcohol will help with stubborn glue. Then dig a trench along the border where you want the bottles, making it deep enough to bury the necks and as much of the rest of the bottle necessary to achieve the desired height. Bury the bottles upside down either pressed against each other or spaced evenly a few inches apart. A garden hose can help ensure even lines.
Recycled rubber garden edging
Recycled rubber edging is available for purchase in many forms. Choose from rolls of flexible landscape edging, pound-in edging in the style of molded concrete edging stones, borders with decorative designs imprinted on the side, and pliable mats like those made of coco fiber. Rubber is fairly durable and one of the longest-lasting landscape edging materials.
You can also use old tires as a garden border. This may not be the prettiest option, but like cinder blocks, tires can be painted to make them more attractive. Place small tires along a driveway or wide path for use as planters, or cut tires in half and bury the cut ends to create a scalloped border.
Sources disagree on whether tires leach toxins at a rate that makes them dangerous for use around vegetables and herbs, but to be safe, consider lining any tires you want to plant edibles in.
Vegetable garden edging ideas
Nearly all of the edging ideas listed above work for vegetable gardens as well as for flower gardens, but here are a few tips specific to creating a vegetable garden border.
Although it's always best to choose non-toxic materials, this is especially important for vegetable beds. Choose untreated or heat-treated wood and nontoxic paint or stain (linseed oil is a good alternative), and avoid tires and recycled rubber.
Wood is possibly the most common edging material in vegetable gardens, as it's often used to frame raised beds. Logs or landscape timber also look great paired with a wood chip path.
Speaking of raised beds, many other materials work well for these, too, including metal, composite timber, and even straw bales. Choose a store-bought kit or take a more creative DIY approach for a customized look.
Use the cinder block edging idea for your vegetable beds and fill the holes with strawberry plants, marigolds, or small herbs like parsley or chives.
If you find a lot of rocks as you work in your vegetable garden, line them up along the edge of the beds instead of hauling them off to dump in a pile somewhere outside the garden.
Beautify your borders
There are many materials and methods to choose from for creating beautiful garden edging, from chipped dinner plates to recycled plastic black landscape edging.
But after reading the compilation of inspiring lawn and garden edging ideas above, you now have the knowledge to sort through them and select a material (or two) that best fits your outdoor space for the greatest visual impact.