Wildflower gardens come in many shapes and sizes, from lush meadows to tidy flower beds. In addition to beautiful, bright colors, wildflowers offer many benefits, such as attracting pollinators and providing wildlife habitat. Native wildflowers also tend to require less care than many other garden plants, as they are well adapted to your soil and climate. Check out these wildflower garden ideas to learn how to incorporate these beautiful plants into your outdoor space.
Wildflower Garden Ideas
1. Make a meadow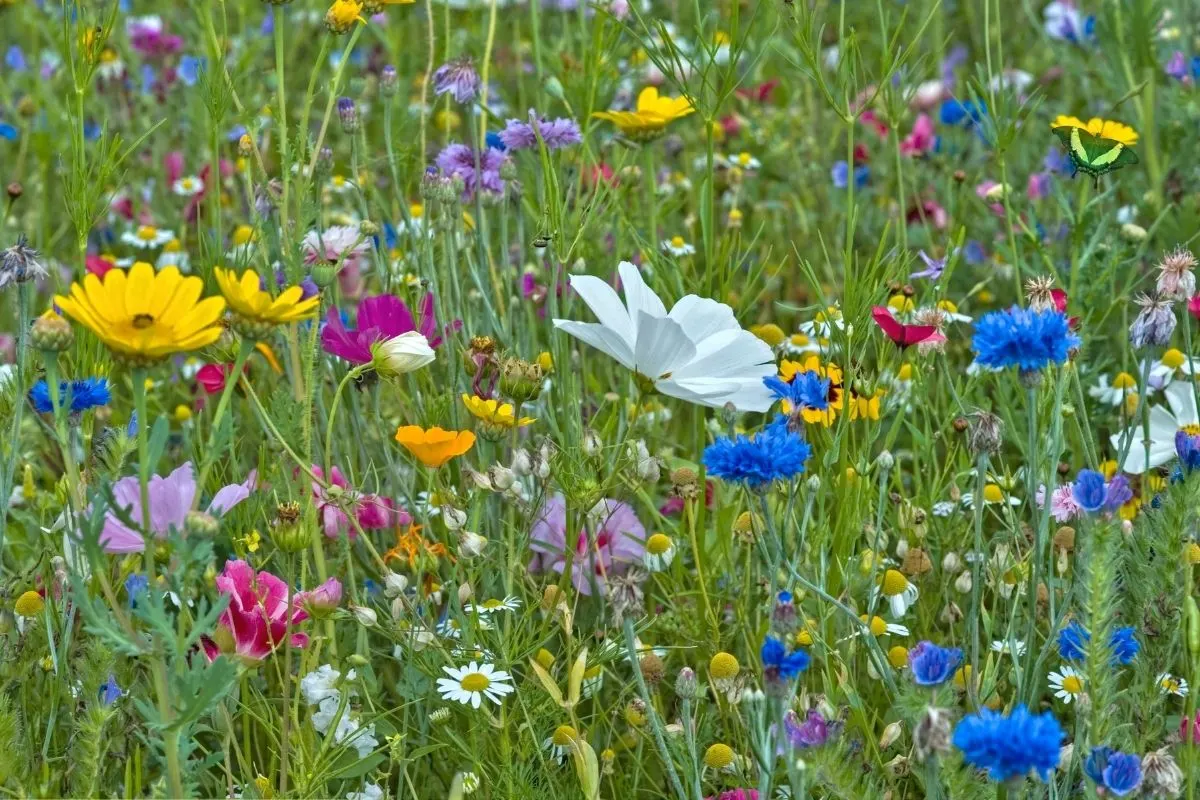 Wildflower meadows provide a great low-maintenance alternative to unused lawns. Not only do meadows require less mowing, but all those flowers also look much prettier than plain grass!
Make sure the location you choose for your wildflower meadow receives at least six to eight hours of sunlight each day. It could be that back corner of your yard no one ever sets foot on, part of a field, the strip along your driveway … the possibilities are almost endless!
Choose a good mix of wildflower seeds to ensure lots of colorful blooms throughout the growing season. After the first year of regular watering and occasional light weeding, you will have very little to do other than mow once per year and pull up particularly aggressive weeds.
2. Build a beautiful border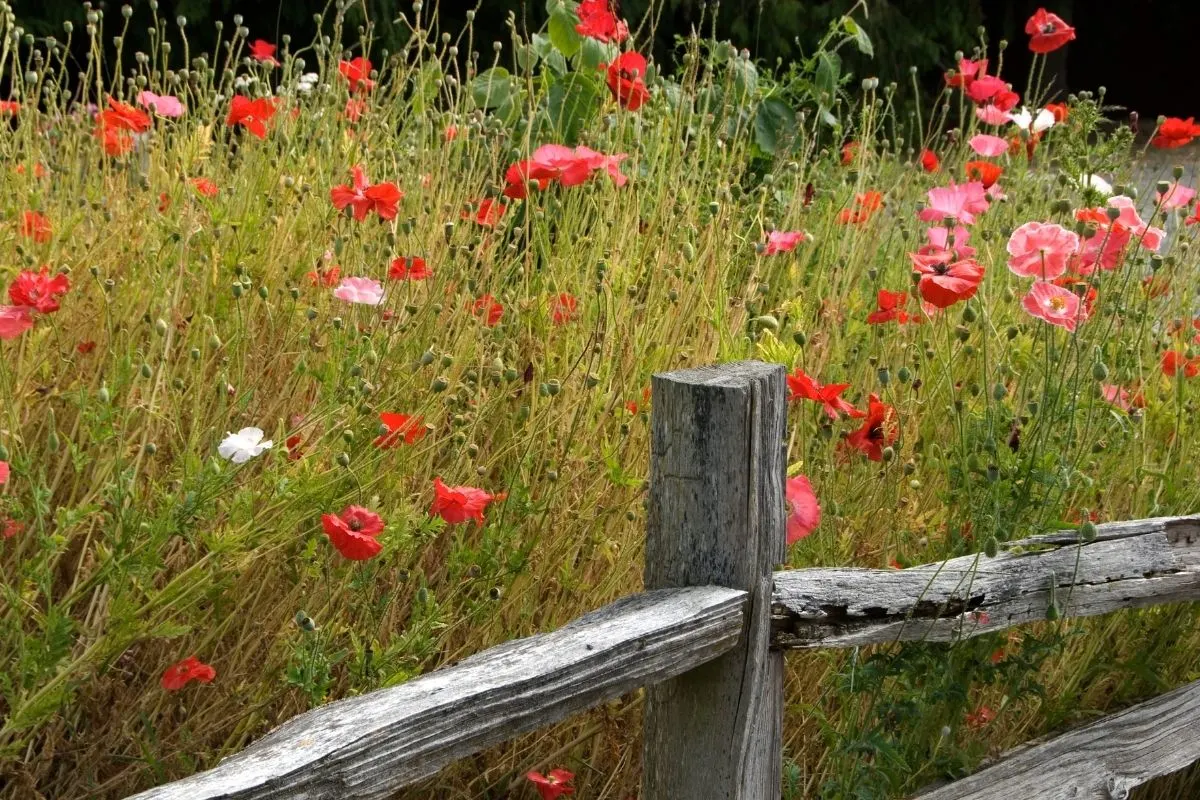 Don't have a lot of space? Use wildflowers to create a colorful border along a fence, the back of a flower bed, or the edge of your yard. Choose one type of flower for a uniform appearance, or opt for a variety of vibrant colors and unique textures.
Tall species liven up fence lines, while lower-growing varieties look great along pathways.
If you scatter a stone a seed mix, the plants will grow in thick and lush, crowding out most weeds. For a tidier appearance, you can instead plant seedlings and use a thick layer of mulch for weed suppression. Note that many wildflowers self-sow and spread, so if you want to keep things neat and orderly, look for non-spreading varieties.
3. Create a cottage garden
People often talk about wildflower gardens and cottage gardens as separate entities, but the two really fit together nicely. As mentioned above, many wildflowers self-sow, making them perfect for the informal appearance of cottage gardens. You'll want an eclectic mix of bright colors and different textures, so tuck in as many plants as you want — but keep in mind that the spreading flowers will fill in the gaps over time!
4. Mix and match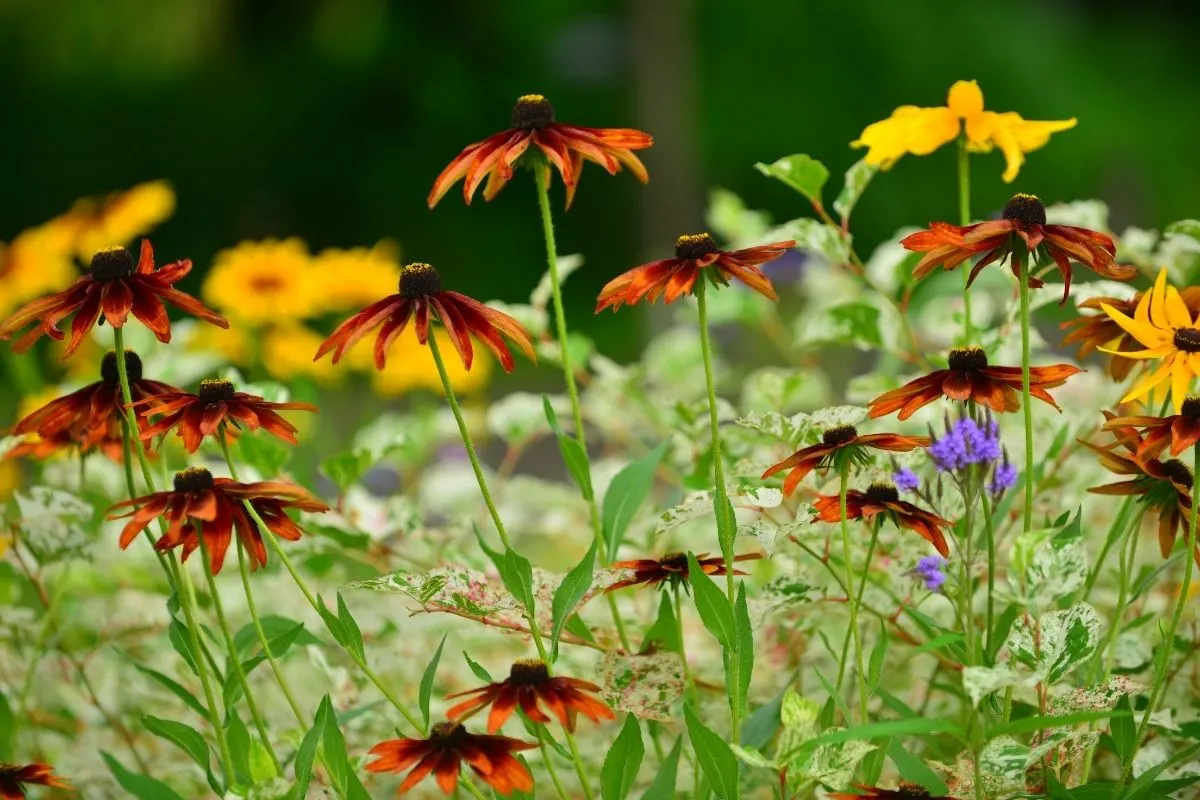 Of course, you don't have to dedicate a whole garden to wildflowers. You can easily incorporate wildflowers into any garden, regardless of the theme you have chosen. Columbines beautifully complement ferns and hostas in shade gardens, and black-eyed Susans and coneflowers look lovely in sunny flower beds.
A wildflower border (see above) can be used alongside other plants and works especially well when paired with a vegetable garden, as the wildflowers will attract pollinators and other beneficial insects.
5. Pick the proper plants
As with any garden, pay attention to the existing landscape before deciding which flowers to plant. Many wildflowers prefer full sun, while others tolerate partial shade, and some even thrive in it.
Soil type, and especially moisture content, is also important. Is your yard dry and rocky, soggy, or somewhere in between? Some of the most popular wildflowers thrive in well-draining soil, but there are plenty of species that do well in rocky or moist conditions as well.
6. Love local
The easiest, most beneficial way to plant a wildflower garden might be right under your nose: choose native plants! While planting US natives is great, wildflowers that grow naturally in your specific region are even better. They will be adapted to your soil type and rainfall patterns, thus requiring less soil preparation and watering than nonnative varieties.
Research which plants are native to your state, or look for wildflower seed mixes tailored to your region. You might even be able to find a local native plant sale or two in the spring!
7. Put in a path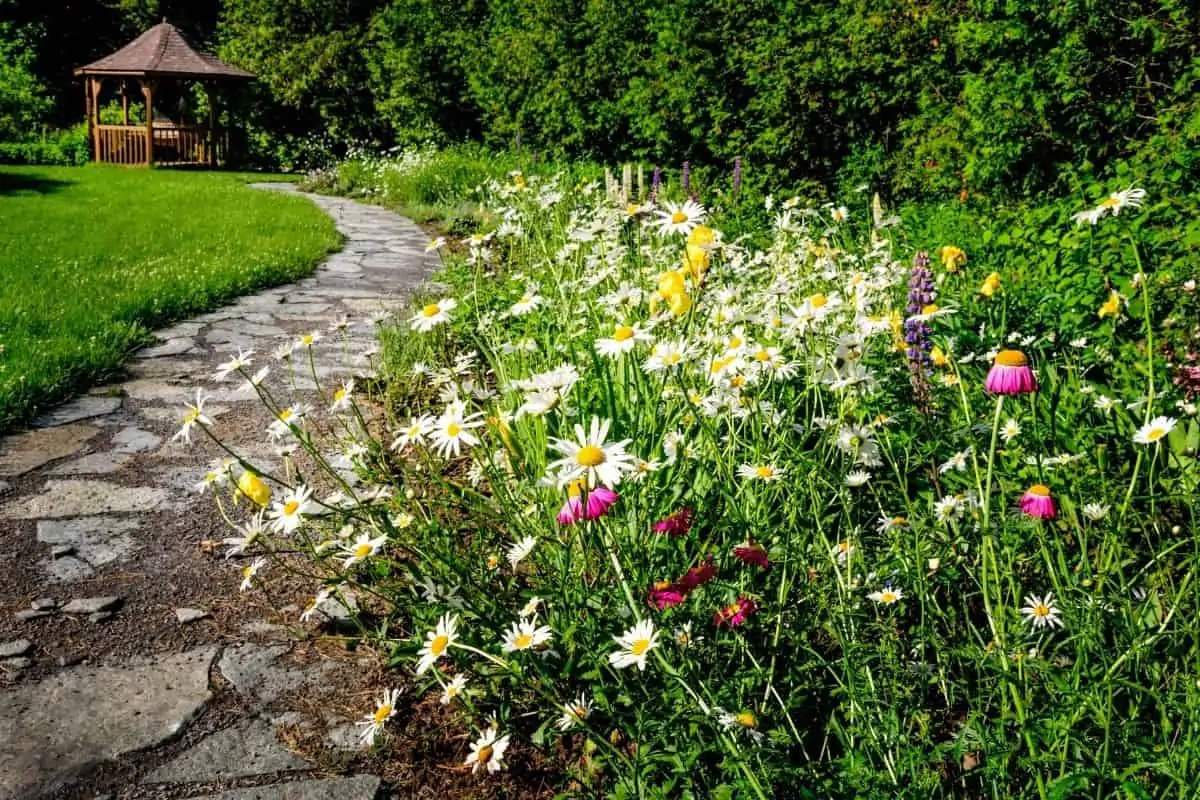 A meandering path through your wildflower garden will allow you to wander through your flowers and enjoy them from multiple angles. For a meadow, it can be a simple as a mown path or more structured, like a wooden boardwalk. Rustic pavers or stepping stones would fit nicely into a cottage-style garden.
8. Woo wildlife
Simply planting wildflowers will attract wildlife, of course, but you can also do more to encourage songbirds and other creatures to visit your garden. Place a toad home in the mulch for your slug-eating friends and set a birdbath in a ring of tall flowers for the birds. Birdhouses, bat boxes, and bee hotels are also great additions!
Whether you have space for just a few wildflowers or a whole meadow of them, I hope you choose to add these beneficial beauties to your garden. You will get to enjoy not only their bright colors but also the butterflies, bees, hummingbirds, songbirds, and other lovely friends that they attract.
How will you design your wildflower garden?