Amish porch swings are beautifully handcrafted pieces of furniture that are built to last a lifetime. And with so many styles to choose from, it;s easy to choose the perfect one for your porch.
If you are lucky enough to live near an Amish community, I would suggest commissioning one directly from an Amish builder. However, you can find some reviews of great Amish porch swings available online.
Adding a nice swing on your porch will give you that extra comfort many outdoor spaces are lacking.
What's so Special About Amish Porch Swings?
Portable Cup Holder ROLLED seating Amish Heavy Duty 800 Lb 5ft. Porch Swing – Made in USA
Amish Heavy Duty 800 Lb Roll Back 5ft Porch Swing with Cupholders – Made in USA
Dress the Yard Traditional Amish-Crafted Yellow Pine Porch Swing (4 Foot, White)
Mission Porch Swing Heavy Duty EVERLASTING PolyTuf HDPE – MADE IN USA – AMISH CRAFTED
Dress the Yard Fanback Amish-Crafted Western Red Cedar Porch Swing (4 Foot, Cedar Stain)
MISSION Amish Heavy Duty 800 Lb 5ft. Porch Swing- Made in USA
True Amish porch swings are not small or light, so be prepared for a HEAVY delivery!! Most great quality Amish porch swings weigh around 800 pounds!
Roll back swings
The 800 pound Roll Back style seems to be the go-to design for these porch swings and believe it or not, they even come with upgrade options!
Here is a classic Roll Back Amish Porch Swing, made from treated wood, with no extras.
This is the same classic Roll Back, made from the same treated wood, but with cup holders on the ends.
Made out of cypress wood, this Amish porch swing has cup holders that fold down in the center. Pretty fancy for a porch swing!
Decorative swings
If you are looking for decorative pieces, or want to go for a certain aesthetic, they have those too!
No matter which style of porch swing you choose, make sure that the reviews are good and that the quality is even better. You'll also want to make sure that you have strong attachments and springs, to keep your swing working for years to come.
What if you can't hang an Amish porch swing?
No room to hang a porch swing? Consider getting a double or single glider instead (as seen below). You'll still get that swinging motion and great Amish craftsmanship.
Amish Crafted Porch Glider – Made in USA – Amish Crafted
Cedar Porch Glider W/stained Finish, Amish Crafted
If you are quite handy or know someone who is, you could look up some plans online and try to build one yourself. Think of the sense of accomplishment you'll have when you complete it.
This website has 56 inspirations and porch swing designs for you to look at, including Amish Porch Swings and also, has the printable plans for you to build them yourself!
Whichever way you decide to go, an Amish Porch Swing definitely adds a country feel to any home, that can't be beat. Not to mention all of the relaxation it will provide!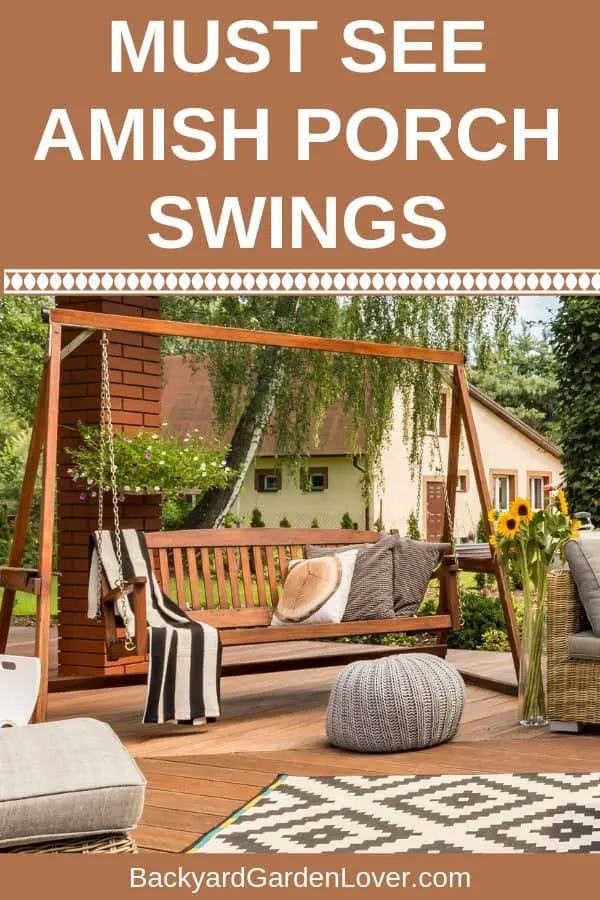 Adriana Copaceanu is a passionate nature lover living in the country on her dream property where she grows vegetables, lavender, and wildflowers that she shares with the wildlife they attract. When she's not in the garden, she loves spending time with her chickens and planning her next nature project.