There are so many different types of flowers out there, it can be difficult to know what they all are. From the bold and beautiful to simple and elegant, and everything in between, we know that there is a flower to suit every personality and taste.
Today we're going to review some of the many different types of flowers. We're also going to sort them by types, colors, and popular uses.
Here are some different types of common flowers for you to consider.
Different Types of Flowers
Common flowers
There are a number of common floral varieties that you've probably heard of and may be able to easily identify. One of these may even be your own personal favorite. Here are some of the most common flowers you may see in the garden:
Roses
A symbol of romance and Valentine's Day, roses come in a wide variety of sizes, shapes, and colors, ranging from white and red to yellow and even black. Roses are the most popular flower in the entire world!
The most popular variety is the red rose. This flower grows best in clay soils and warm temperatures. Some roses are repeat bloomers, so they bloom during May or June and again in the early fall.
Here are 40 pictures of roses of all kinds.
Chrysanthemum
The chrysanthemum is the 2nd most popular flower in the world, and for good reason.
These flowers come in a wide variety of shapes and colors, including the most popular shades:
The flower's head is a cluster of many flowers. Generally referred to as "mums," this flower blooms in late summer and up to early winter, depending on your location.
Tulips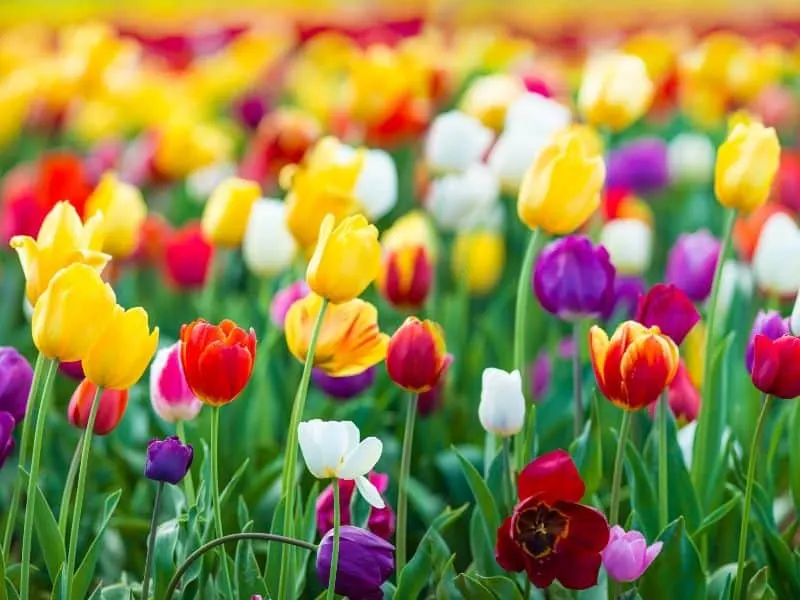 The third most popular flower in the world, the tulip, also comes in a large variety of colors, ranging from pinks and yellows to purples and reds. The six-petaled flowers bloom on bulbous plants. There are approximately 100 species of tulips.
They are widely regarded as the most popular spring flower.
Carnations
Often referred to as the "Dianthus," their scientific name, carnations come in a wide variety of colors. These include white, pink, red, purple, and yellow. They usually have clawed or serrated petals and grow in clusters.
These flowers have big blooms that grow on long, straight stems.
Gerbera daisies
Noted for their bright colors, which range from yellow and orange to pink and red, gerbera daisies are perennial.
They appear to be one flower, but they're actually made up of a cluster of hundreds of flowers, with a row of non-overlapping petals and a green center.
Gerberas bloom for a long season, which typically lasts from spring to autumn.
Hibiscus
This tropical flower comes in a wide variety of colors, including yellow, orange, pink, white, and peach.
Often considered a symbol of Hawaii, this perennial flower can grow anywhere, though it fares best in sunny and warm locations. It tends to bloom from mid to late summer.
Different Types Of Flowers By Color
Whether you are looking to add a pop of color to your garden or are trying to identify a certain flower based on color, we've got you covered. Here are some of the most common flowers based on color.
Purple flowers
Purple is a popular color of flowers and there are many that fall in this category. Let's take a look at some purple flowers you may enjoy.
Asters
This flower resembles a daisy, with purple petals and a yellow center. Asters bloom in late summer/early fall.
Lavender
These purple tubular flowers have long stems and clusters of dark leaves. They're known for their scent, which, surprisingly, isn't good, even though lavender is a popular perfume choice. The lavender grows during mid to late summer.
Lilac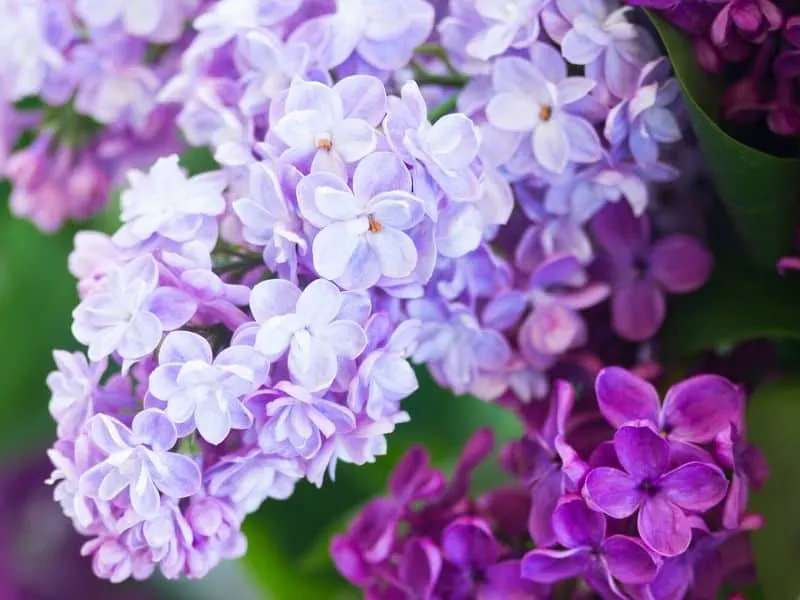 Though this flower can be white, the light purple varieties are much more popular. The tubular-shaped flowers bloom in late May.
Clematis
Though this flower comes in several shades, the violet and light purple varieties are most common. The flower consists of 6 to 7 petals. Blooming in mid-June, these flowers tend to last through fall.
Blue flowers
Blue flowers, which are often violet-blue in color, can add a gorgeous pop of color to your garden. Some of the most popular blue flowers include:
Hydrangeas
Traditionally, hydrangeas come in a shade of blue or blue-violet. They grow in flower heads with small flowers at the interior, and large, colorful outer flowers.
They generally bloom in mid-spring/summer, but some varieties bloom in late summer/early fall.
Did you know that you can change the color of hydrangeas with a small PH tweak to the soil?
Cornflower
Despite its name, the Cornflower doesn't resemble corn. The flower has an indigo head surrounded by a cluster of disc florets. It blooms in early summer.
Iris
This violet-blue flower has butterfly wing-like petals. Its green parts have a pinkish hue that make it unique.
Gentians
Well-known for its tiny size, the gentian has squid-like violet flower and star-like petals. It grows well in limestone and clay soils.
Blue delphiniums
A favorite among gardeners, this violet-blue flower grows well in summer.
Yellow flowers
Yellow is the color of sunshine, and it's also the color of a number of flower varieties. I LOVE the yellow burst of color in the spring! Of course, there are many yellow flowers blooming throughout the year ;):
Sunflowers
This easily recognized flower is made up of a head of flowers together, with a ray of florets. Sunflower plants can grow up to 10 feet high, and bloom from mid-summer to early fall.
Daffodils (narcissus)
The daffodil is well-known for its six petals and trumpet-like flower. They typically bloom in late winter or early spring.
Pansies
This flower is a popular choice among gardeners. While pansies come in an array of colors, some of the most popular varieties are yellow and purple-yellow. This cool-weather flower generally blooms in fall and again in spring.
Primroses
Primroses, which are often light yellow in color. They tend to bloom throughout summer, but they might bloom during fall in some regions.
Black-eyed Susan
This flower, which resembles a yellow daisy or a mini sunflower, is a part of the sunflower family. It has yellow petals that surround a black center. They generally bloom from summer to early fall.
Orange flowers
Orange flowers can add a beautiful pop of color to your home or garden. Here are some of the most well-known orange flowers:
Marigolds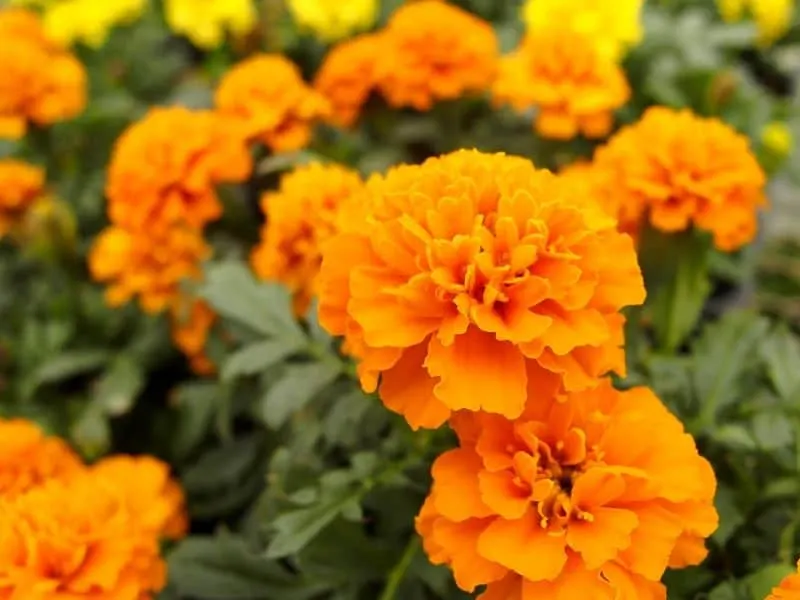 These cheerful flowers are typically orange or yellow-orange in color. They have flowerheads that resemble that of a carnation. Marigolds bloom from late spring until autumn.
California Poppy
These cup-shaped flowers are generally found in a vibrant orange color. They generally bloom during the months of spring and throughout most of the summer.
Bird of Paradise
This tropical flower is orange in color, with hues of blue and red. The heat-loving flowers tend to grow best in states with warmer climates, such as Florida, California, Hawaii, and Texas. They tend to bloom in these states during late fall/early winter.
Daylilies
These flowers are typically orange in color, though they are also commonly orange and yellow or orange and red. They tend to bloom from late spring to fall.
Green flowers
Do you love greenery? Although green flowers are much less common, there are options if you want to add some to your garden. Check out these ideas:
Bells of Ireland
Though this plant has small white flowers, it's more well-known for its larger, cup-shaped green calyxes, which have a paper-like appearance. The cool weather flower bloom in late summer.
Hellebores
These green, and sometimes green and burgundy, flowers are noted for their resemblance to roses. They generally bloom from December to April and stay in bloom for about a month.
White flowers
White is a classic color, making it a popular choice for just about any garden. It contrasts well with brighter floral shades. Here are some white flowers you might like:
Gardenias
These classic white flowers are known to look similar to a rose or carnation. Gardenias typically bloom from May to June, while some varieties may bloom until fall.
Calla lilies
While a calla lily isn't actually considered a lily, it is beautiful. These flowers are known for their trumpet-shaped, and though they come in a wide array of colors, white is most common. Calla lilies tend to bloom in June or July.
Lily of the valley
Known to be one of the most fragrant blooming plants, the lily of the valley has drooping bell-shaped, white flowers. This flower blooms in mid to early spring and lasts for 3 to 4 weeks.
Jasmine
This traditionally white flower has five or six lobe-shaped petals. Well-known for its strong, sweet scent, this flower blooms from spring through fall.
Pink flowers
Pink is the most feminine color out there. If you want to embrace your feminine side and make room for some pink flowers in your garden, check out these options:
Peonies
Although peonies can be white, pink is recognized as the more traditional color, with shades ranging from light to bright pink. These perennial flowers bloom from spring to summer. These soft-looking flowers have a short bloom, which generally only lasts 7 to 10 days. But walking by a blooming peonies bush is worth having at least a couple of plants in your garden.
Hyacinth

Also referred to as Hyacinthus, this flower consists of a bunch of dense flowers and lengthy leaves. This flower typically blooms in early to mid-spring and can come in less common purple and white varieties.
Dahlias
Dahlias, which are most commonly found in pink varieties, have spiky petals that emerge from their round heads. The flowers generally bloom in July and last until September or October. Learn more about growing dahlias.
Azaleas
Azaleas most often come in a vibrant shade of pink. The flowers are generally bell, funnel, or tubed-shaped and tend to grow like shrubs. Azaleas generally bloom in spring and summer.
Red Flowers
Although red roses may be the first that comes to mind when you think of red flowers, there are plenty of other options. If you want to include lots of red flowers in your home or garden, you might enjoy these flowers:
Zinnia
There are several varieties of zinnias, but the zinnia elegans is the most popular. It comes in a stunning shade of red. The flower is considered one of the easiest to grow and blooms from mid-summer until the first frost.
Poppies
While poppies come in a few colors, red is the most common. Often considered a war remembrance flower, the flower blooms for about a month during late spring/early summer. The silky-textured flowers grow on stems up to 4 feet tall.
Cockscomb
Deep red is the most traditional cockscomb flower color. These flowers are known for their ruffled, velvety appearance. The flower blooms in late summer/early fall.
Red Sunflowers
These flowers look much like yellow sunflowers, except for the fact that they're red. Like yellow sunflowers, they bloom from mid-summer to early fall.
Next, let's take a look at some of the best flowers for your garden.
Different Types of Flowers for Your Garden
Are you wondering what the best flowers for your garden are? The right flowers will ultimately depend on what you want to get out of your garden. However, there are a number of flowers that tend to grow better and are more difficult to kill than others.
Here are some different types of flowers that are great for gardeners of all skill levels:
Marigolds, daffodils, and sunflowers are easy to grow in sunny gardens.
Pansies are ideal if you live in a cool location. They fare well in sunshine and soil that drains well.
Daylilies are able to grow in just about any type of soil, as long as it drains well.
Impatiens come in an array of colors, including pink, white, and orange. They grow well in a shady spot, as long as they're watered, to help prevent them from wilting.
Begonias are ideal for hanging baskets, pots, and garden beds. They do well in sun and shade.
Snapdragons come in beautiful shades of pink and cream, and they fare well even in the harsh conditions of spring.
Cosmos resemble daisies. These easy-to-grow flowers fare well even in poor quality soil and are able to survive droughts.
Geraniums are a low-maintenance flower that's typically found in shades of pink, red, and purple. In addition to the garden, they do well in hanging baskets or pots. They grow well in sunny areas from spring until the first winter frost.
Morning glories can be found in shades of blue, violet, and pink. They self-maintain themselves once they're planted. In fact, you should be careful about where you plant them or they might take over your garden.
These are just a few of the easiest flowers to grow in your garden! Another factor to consider is your location.
Flowers that thrive in cool weather
If you live in a cool weather environment, you might consider growing the following flowers:
Calendulas
Pansies
Petunias
Snapdragons
Geranium
Sweet asylum
Cyclamen
Flowers that thrive in hot weather
If you live in a hot weather environment, you might want to consider planting flowers that are able to withstand heat, dry conditions, and droughts. Some idea options include:
Zinnias
Sunflowers
Periwinkles
Cosmos
Moss rose
Celosia
Black-eyed Susan
Lantanas
Verbena
Gardens aren't the only place where people like to keep flowers. Some houseplant enthusiasts also like to get flowering houseplants to brighten up their space. Let's take a look at some of them.
Best Flowering Houseplants
Whether you live in a colder climate or if you don't have a lot of space for a garden, you may be wondering what you can grow indoors. Here are some of the best flowering houseplants to consider growing in your home:
Poinsettias
Generally associated with the Christmas season, poinsettias are the most popular houseplant in the world. The bright red petals look like flowers, but those are actually the leaves of the plant; the flower itself is small and green or yellow in color.
African violets
These flowers are an ideal option for growing indoors since they can fare well year-round. They tend to grow best in a container with a water reservoir. These flowers generally come in purple, red, and white.
Begonias
Though they can be grown outdoors, begonias are a popular indoor houseplant choice. Under the right conditions, these flowers can be grown almost continuously. These flowers fare best in full sun or partial shade and come in a wide array of colors, including yellow, pink, orange, red, and white.
Peace lilies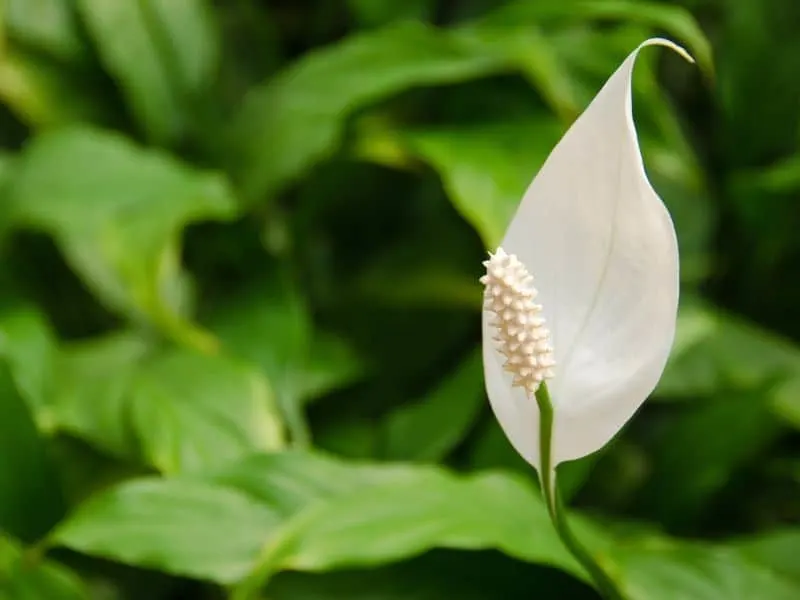 Generally found in lavish homes, peace lilies are easy to recognize by their folded white flowers. They fare best in warm and humid environments with filtered light. They tend to bloom for a few weeks towards the end of summer.
Desert cacti
Offering beautiful orange flowers, desert cacti are a popular flowering houseplant option. These plants thrive in sunlight and prefer not to be watered. They bloom in spring or summer.
Different Types of Flowers for Weddings
There are many different types of flowers for weddings. If you're trying to figure out which variety of flowers you want to include in your own special day, you might want to consider the 10 most popular wedding flowers of all time:
Roses – Roses can make for a beautiful wedding bouquet. Whether you opt for a traditional shade like white or light pink or choose to go with something bright and vibrant like hot pink or yellow, there are roses that will suit every bride.
Peony – This is one of the most sought-after wedding flowers, but they are also the most expensive. Unless you plan to grow your own, you might consider using it as an accent color to cut costs.
Anemone – These flowers, which are generally black and white, are a popular choice among brides. Most brides choose to combine these flowers with other varieties.
Dahlia – With so many beautiful color options to choose from, dahlias can be a great choice for any wedding.
Lilac – These purple and white flowers can be a great choice either by themselves or as an accent color.
Ranunculus –com estimates that these flowers are in about 75% of all wedding flower arrangements. Their ruffled petals will give your bouquet some extra dimension.
Sweet pea – This sweet flower comes in feminine shades like pink, purple, and white, making it a perfect choice for many brides!
Hydrangeas – Generally in blue, purple or white, hydrangeas are a popular wedding flower option.
Tulips – With so many color options to choose from, this flower is a popular choice for spring weddings.
Orchids – Whether by themselves or as part of a more varied flower arrangement, orchids can be a great option for a bridal bouquet.
These are just some of the many options for wedding flowers! Other popular choices include:
lilies
hibiscus
violets
sunflowers
daisies
gerbera daisies
Choosing from the Different Types of Flowers
It can be difficult to choose which flowers you like best from the many different types of flowers. As you can see from this page alone, there are almost more than you can even count.
Here are some factors you may want to take into consideration when trying to decide what type of flowers are right for you:
Color – You might consider planting flowers in your favorite colors. You might also want to consider what floral varieties complement one another. For example, purple and white flowers will look better together than, say, purple and red.
Environment – Depending on your location, some flowers may be easier to grow than others.
Personal preference – If you love roses, then you should plant roses! If daisies or lilies are more your style, then plant those. The key to gardening is planting what you love and will be anxious to see grow, but also not being afraid to experiment either.
Now that you know so much about flowers, it should help you in making the decision to choose the right flowers for your needs and your taste. Whatever project you are up against, big or small, personal or professional, there is a flower that will work for you.
Did we list your favorite types of flowers here? Let us know in the comments!