With summertime in full bloom, there are some truly beautiful blue flowers out and about just waiting to catch your eye! From a blue hibiscus flower to delphinium flowers and impatiens flower, there are so many amazing blue and violet flowers to fill your garden. I'm going to tell you about twenty-five of them today.
Blue is a color that is often associated with spirituality and intellect. It is believed to have a calming effect and it can help people fall asleep faster or feel relaxed. Light blue is often associated with calmness, peace, and serenity. But darker shades of blue can convey confidence and importance. Sometimes we also see blue represent mourning, sadness, or depression.
An important thing to know about blue flowers is that they are some of the rarest color of flowers in the entire world. Perhaps this is why they stand out to us as striking and unique.
If you stop and think about the last time that you saw a blue flower, you may be thinking for quite some time, unless you're lucky enough to already have some of them in your garden. Blue flowers are actually quite rare to see, but once you do find one, be ready to feel a calmness and serenity take over almost immediately.
The blue color is vibrant and catches the eye easily, and many say that they bring peaceful energy with them that transfers directly to you. There's just something very special about these flowers and we're going to take a look at some of the most intriguing blue flowers in the world.
Hoping to spend your summer months searching for those pretty blue flowers? Here are a few to keep your eyes peeled for!
Related: gorgeous red flowers for your garden.
Royal Blue Flowers
Deep in color and rare to find, there are several royal blue flower options available that you can find and plant in your own garden. If you want to have pretty blue flowers right outside your back door, these are the flowers that you'll want to plant!
Related: Gorgeous pictures of camellias
1. Spring gentian flowers

Typically smaller in size, these deep blue Spring Gentian flowers still provide a big "wow" factor. Most commonly found in the UK, they began to bloom in the later spring months or the early months of summer. They are so beautiful and unique and that's why they've made it on my list.
2. Wild sage flower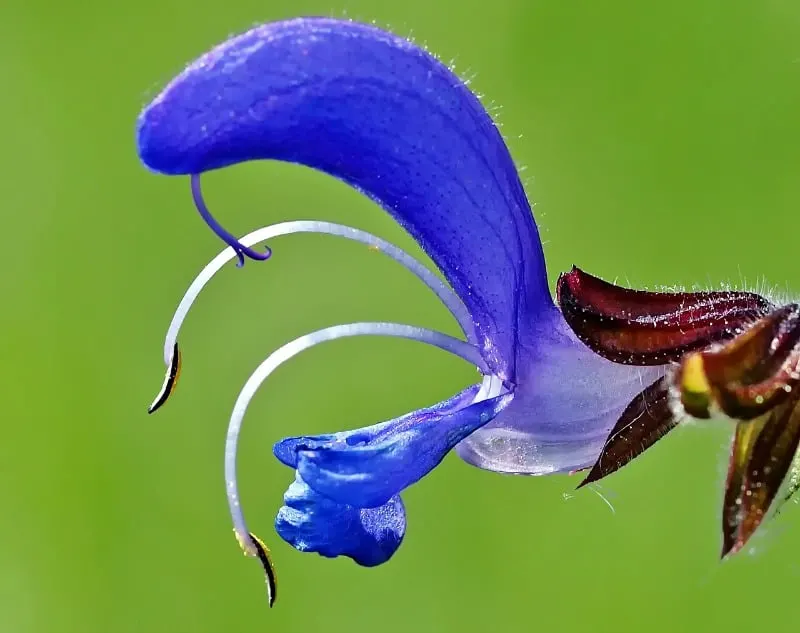 These blue flowering plants can grow in some of the driest climates. Wild Sage Flower blooms for a long duration of time during the later summer months and is mostly found in rocky prairies. Have you ever seen one of these in person before?
3. Round leaved bell-flower
Round Leaf Bellflowers make some truly beautiful blue flower arrangements. They are a fragrant flower that attracts bees, birds, and butterflies as well. They look like delicate little hoods and they are truly beautiful. Now let's look at some blue perennials.
Blue Perennial Flowers
Imagine being able to plant once and have beautiful blue flowers return and grow year after year…With the blue perennial flowers listed below, that dream for your yard and garden could absolutely become a reality!
4. Blue hydrangea flower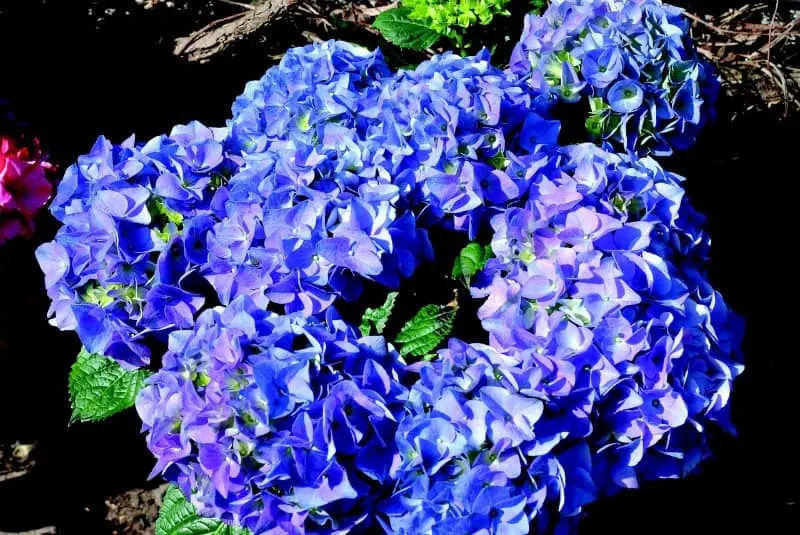 If you want beautiful blue hydrangeas, just a little tweaking of the soil pH can make that happen. Hydrangeas are the perfect flowers to make some stunning and beautiful flower arrangements. They can be light blue to a darker hue and everything in between. You might even experiment to try to see
5. Lobelia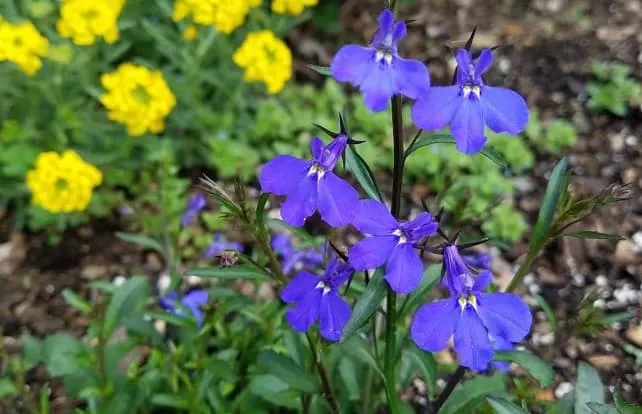 Typically found in more tropical climates, the Lobelia flower is truly a sight to see. Different varieties of this flower can be found in Indian tobacco and also in various medicines as well.
6. Flowering flax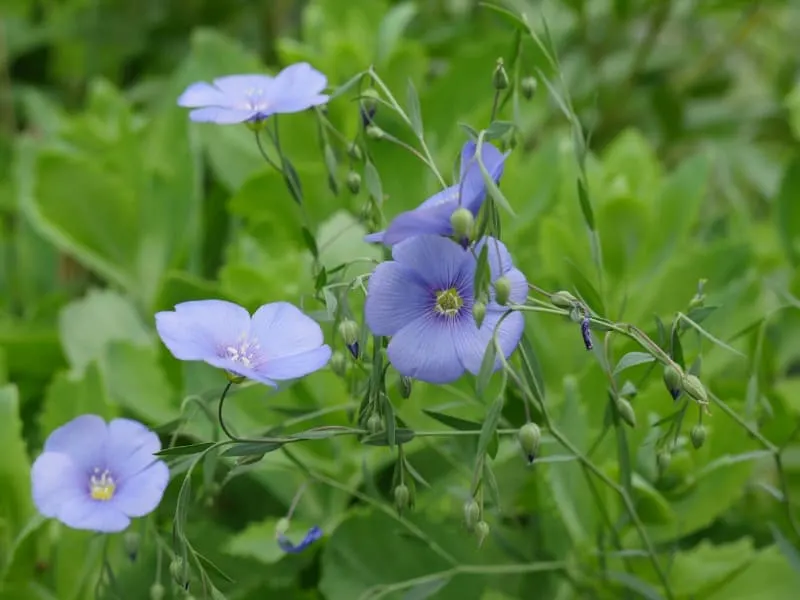 Flax flowers are pretty blue flowers that have a ton of different uses. It can be used for health purposes or even making fabrics and first originated in India.
Pale Blue Flowers
Don't overlook the subtle beauty of these pale blue flowers. They may not be vibrant in color, but they are just as beautiful to look at! Morning glories can also fall into this category. And whether they are growing in your garden or being sent as a message of love, here are some pale blue flowers you will love to look at.
7. Forget me not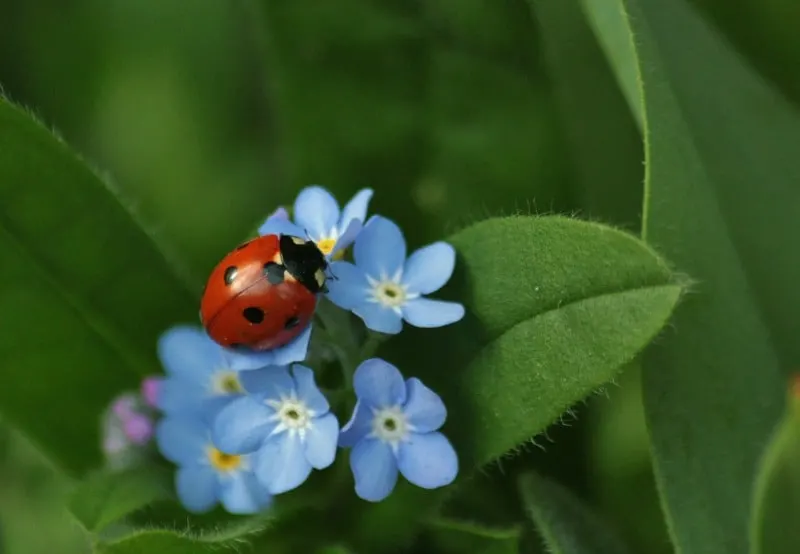 Growing to be quite tall in size, forget-me-not flowers are blue blooms that tend to grow best during the months of May-October. I love the ladybug on this flower. So cute! Here are more adorable creatures in the garden.
8. Alpine flowers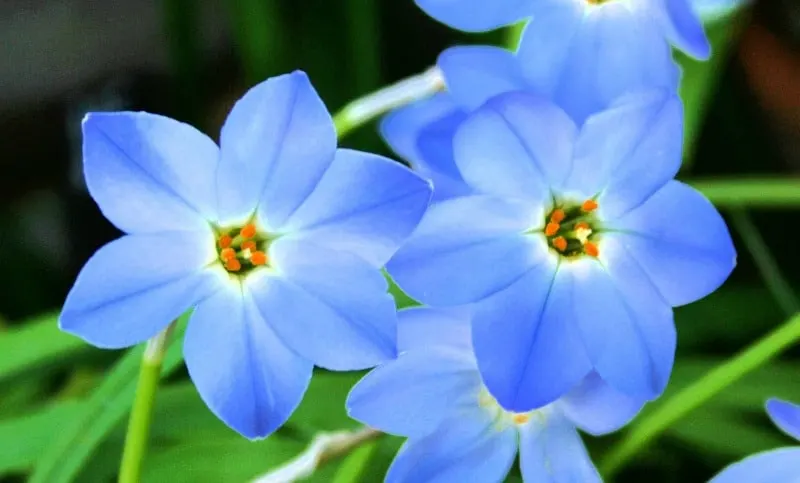 Located typically high up on the mountain tops, Alpine flowers truly are a sight that is worth the trek. If you have the resources and the availability, seeing an Alpine flower in its natural environment is a beautiful thing.
9. Lungwort flowers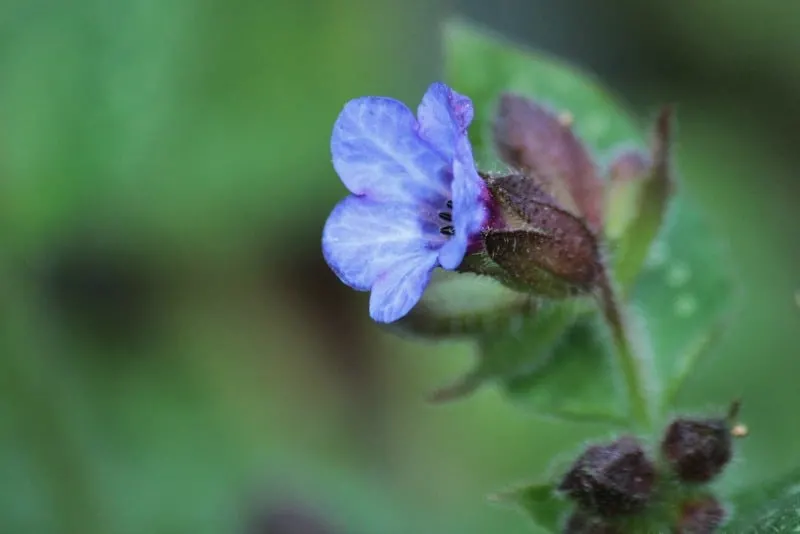 Lungwort flowers are typically blue, but oftentimes have two different colors on the same plant.
Small Blue Flowers
Just because they may be small, their bright blue colors are still big! Flowers come in all different shapes and sizes, but here are a few of our favorite small blue flowers. These small flowers are a good choice for anyone who loves blue.
10. Chicory flowers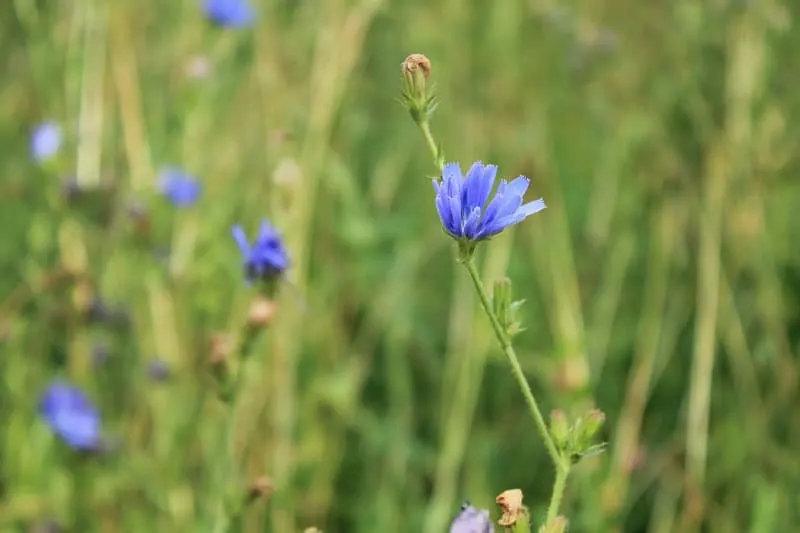 Chicory flowers are in the same family as dandelions and tend to have some of the same characteristics as well. The main difference? Their bright blue color makes them stand out.
11. Blue pansies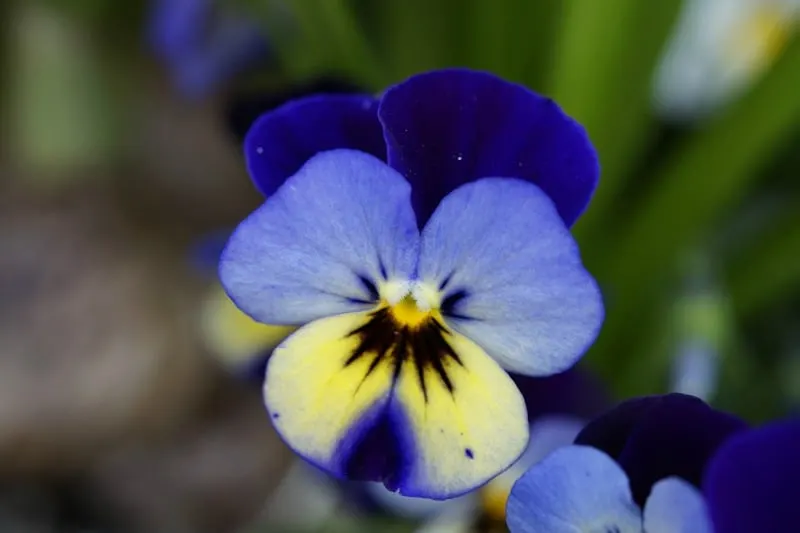 It's rare to see a blue pansy, but once you do, you'll be hunting to recreate that memory again in your mind very soon. They are beautiful, bold and make quite the impression once you see them with your own eyes.
12. Veronica flowers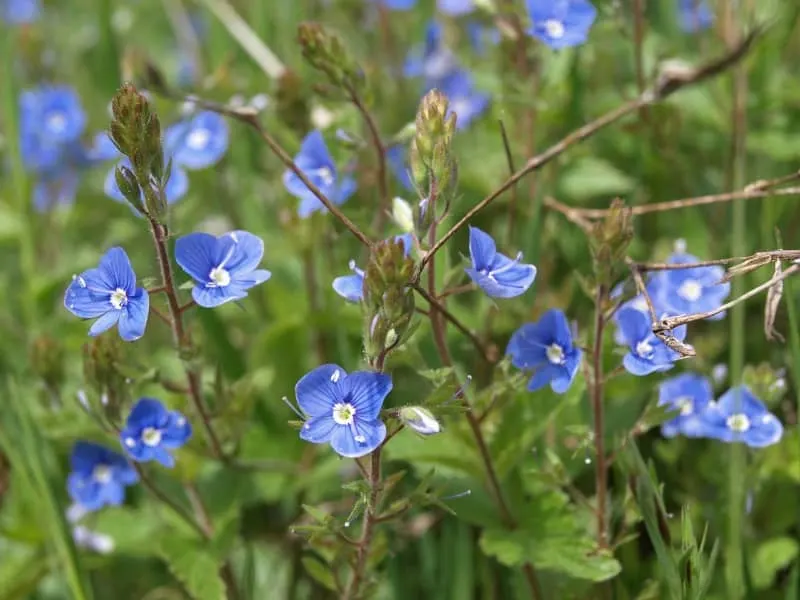 These beautiful blue flowers are typically found in bridal bouquets or other floral arrangements. The bright blue color makes them a great addition to any flower bouquet!
13. Rosemary flowers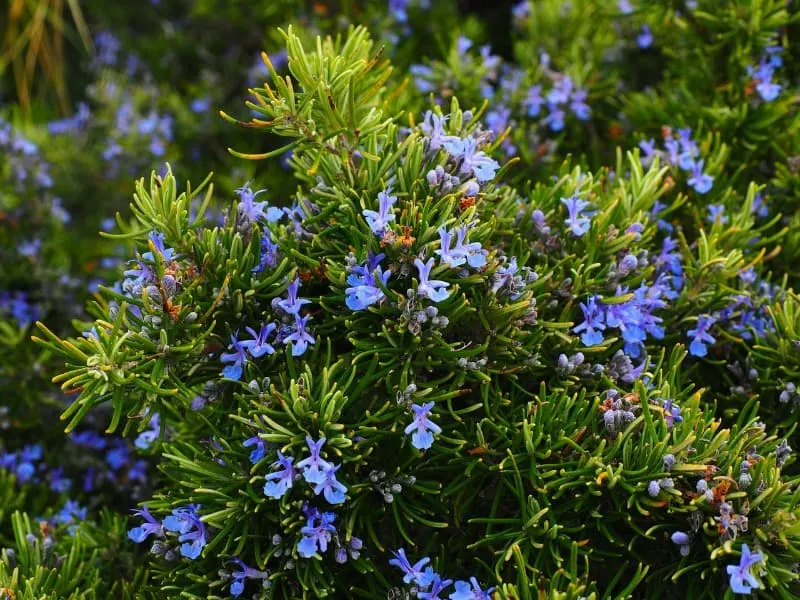 The name of these flowers says it all. Beautiful blue with a strong scent makes these small blue flowers stand out and stand their own against the other flowers that they grow around.
14. Anemones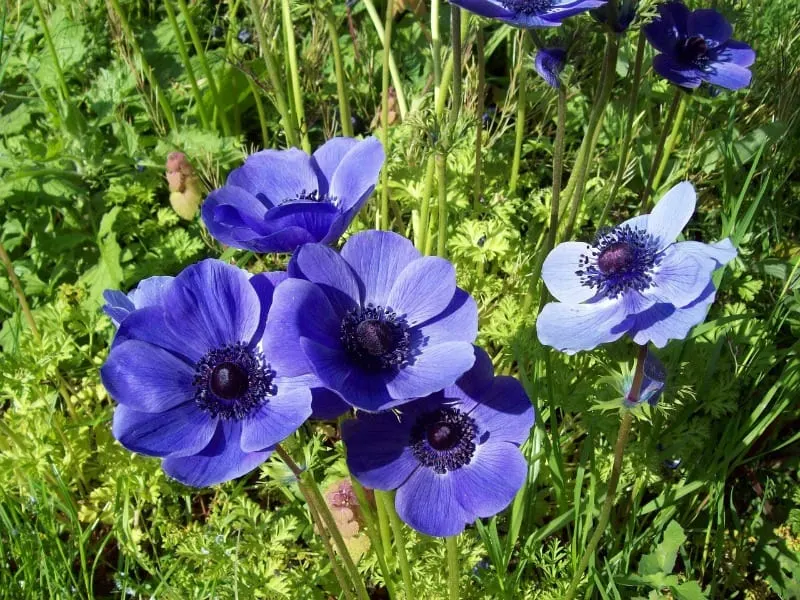 Commonly referred to by the name of windflowers, anemones have a distinct and unique look that is certain to catch your eye. Pair it with the bright blue color and they are truly a beautiful blue flower.
15. Fall asters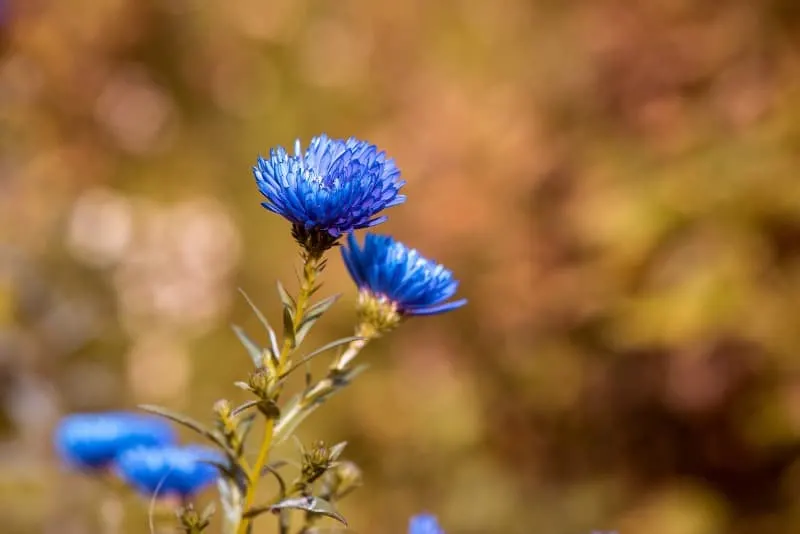 Fall Asters are late bloomers and tend to be one of the latest and brightest blue flowers during the summer months. When other flowers are nearing the end of their season, the Fall Aster is just beginning theirs. Aster flower leaves can help bring out the pretty colors in the flowers, too.
16. Blue columbines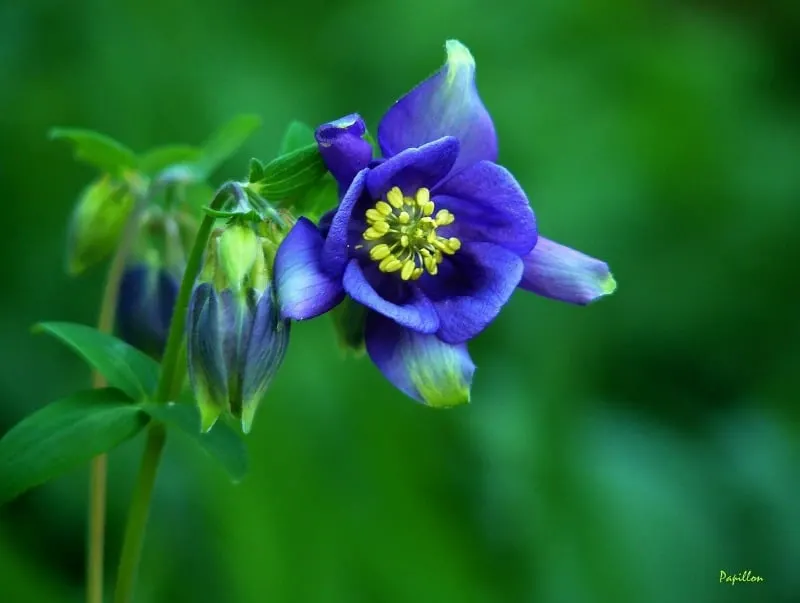 If you are looking for an easy-to-grow blue perennial, this Blue Columbines flower is the one for you. Most times, this flower can be grown in varying areas and seasons without much effort.
Beautiful Blue Flowers Pictures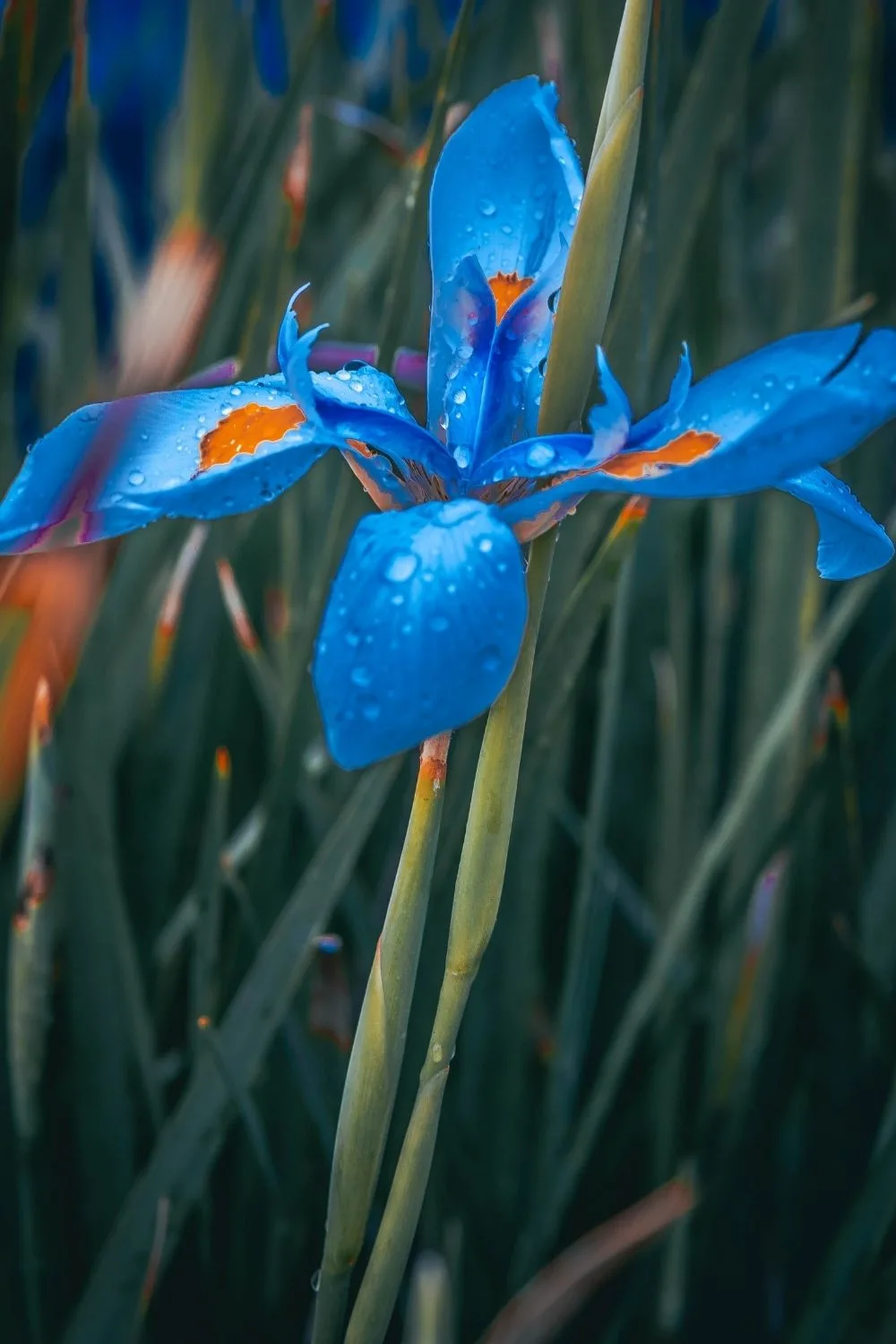 From subtle shades of blue to bright and bold blue flowers, there are so many to choose from. Looking for some suggestions of blue flowers that are picture-perfect? These are the beautiful blue flowers that you've been searching for.
17. Blue iris flowers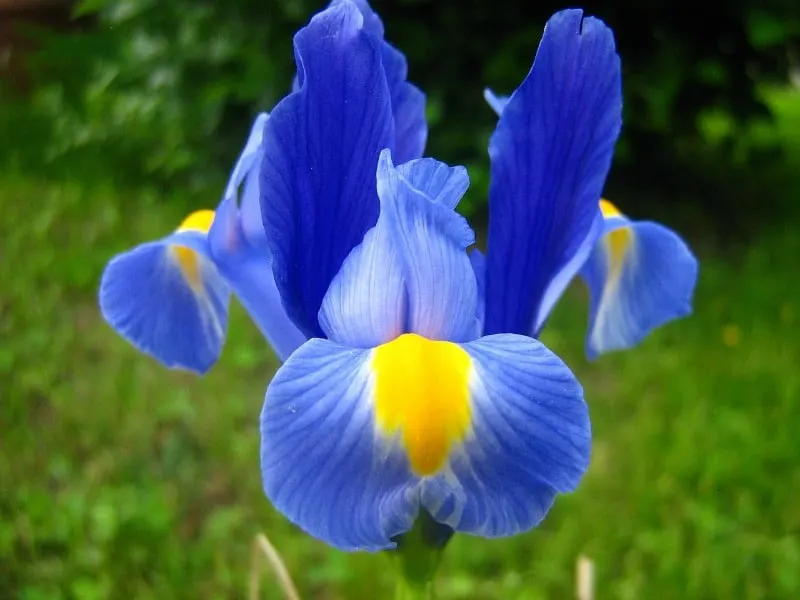 Blue, with a bit of yellow, these Blue Iris flowers scream early summer and are a treat for any gardener to take care of and grow. Can't you just see them in your own garden?
Like yellow flowers? Here are some pretty spring yellow flowers.
18. Blue primrose flowers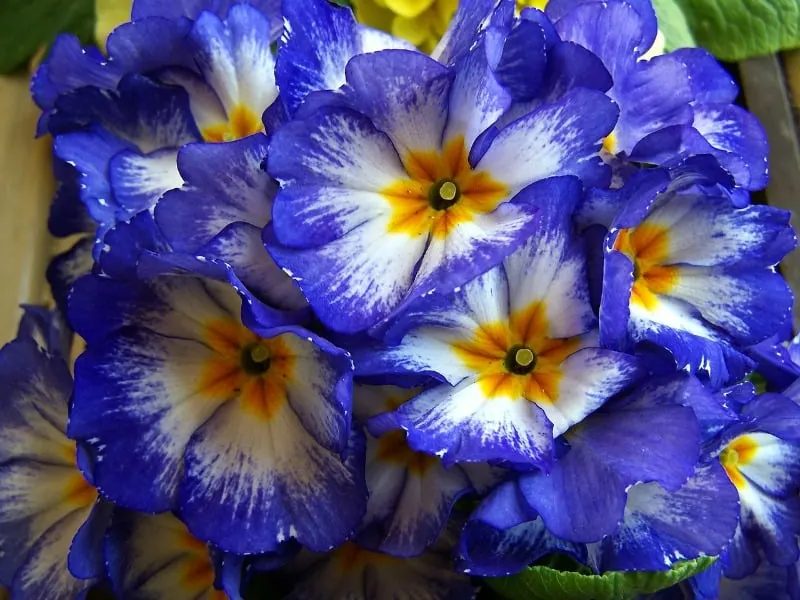 If you are searching for a blue flower that blooms during the early spring, Blue Primrose is the one for you. Blue may be the main color of these flowers, but there can be multiple other colors scattered throughout as well.
David's Garden Seeds Flower Primrose Showy SL7811 (Pink) 500 Open Pollinated Seeds
Promotion!!! 100 Evening Primrose- Blue Evening Primrose, fragrant DIY Home Garden flower hardy plant
Everwilde Farms – 2000 Common Evening Primrose Wildflower Seeds – Gold Vault Jumbo Seed Packet
19. Clematis
Depending on the care that your Clematis flower needs, you may have to do some pruning to help this flower become and stay in its best condition.
20. Blue orchids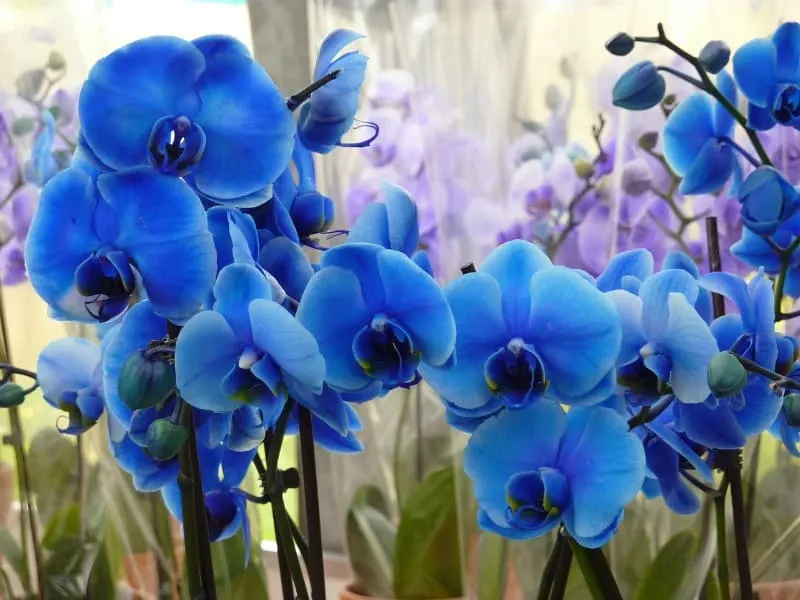 There are few flowers that are quite as stunning as beautiful blue orchids. Perfect for your home, and any blue flower arrangements, these flowers will be a show-stopper each and every time. There is a serenity of the color blue that comes through in these orchids and will take your breath away.
21. Cranesbill flowers
If you are hoping to find a blue flower that has a long blooming season, Cranesbill flowers are just what you are looking for. Not only do they bloom for a longer time span than others, but they also tend to bloom in abundance as well.
22. Gentian flowers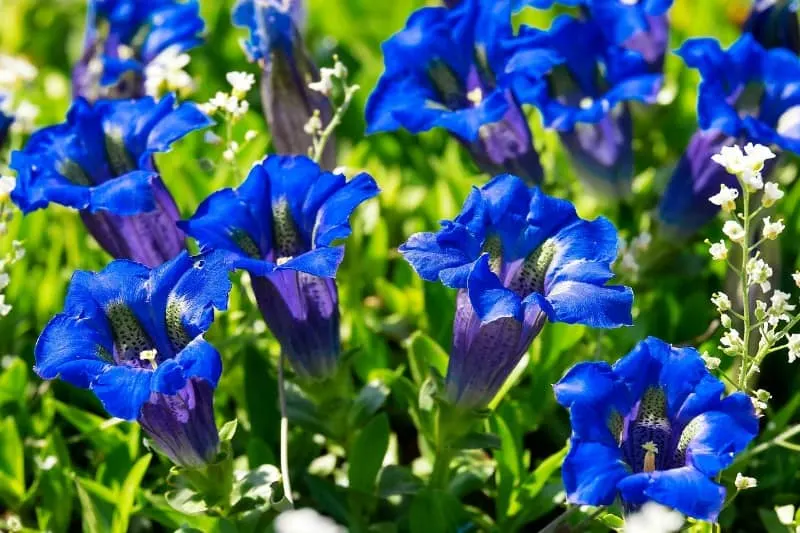 I love the look of trumpet flowers, but never knew exactly how to get them? Welcome Gentian flowers into your garden and you'll have blue trumpets before you know it!
23. Blue globe thistle
Don't let the name of this flower deceive you, but this is a flower that you should be looking out for. It's unique, blue, and beyond beautiful.
24. Blue morning glory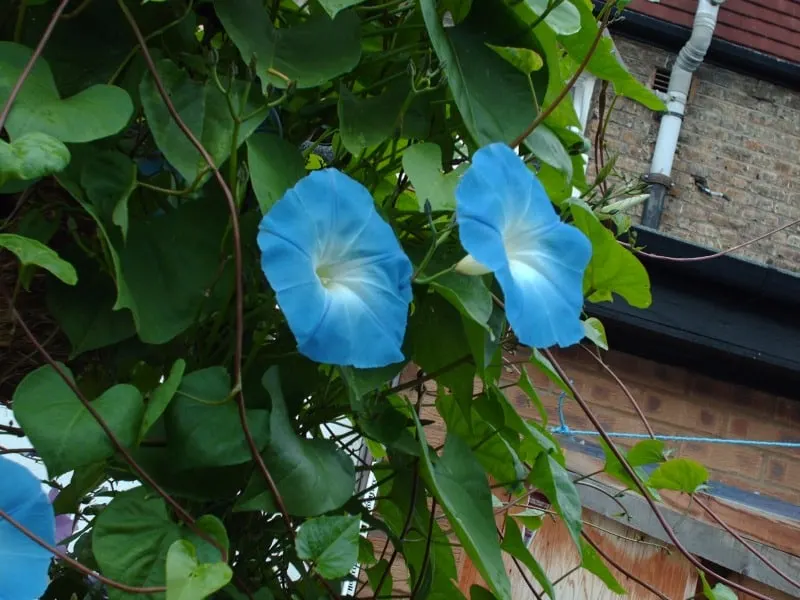 Blue morning glory flowers can be a variety of colors ranging from blue to white to purple. Depending on the region of the soil and the area, those variables can help to determine what color flower the Gentian flower will be. Morning glory is the common name for Ipomoea purpurea, which can grow very fast and sometimes even become invasive.
25. Common grape hyacinth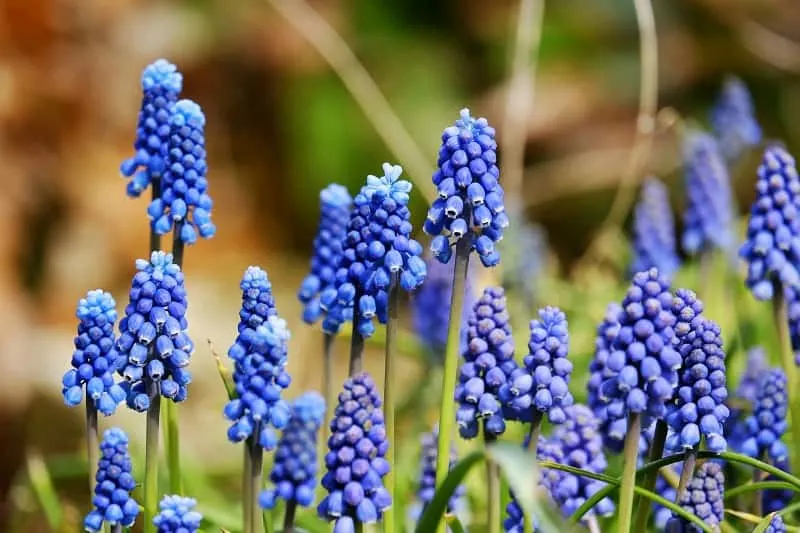 More common than many other blue flowers, these Common Grape Hyacinth can really make you stop and do a double-take. They are unique and beautiful with a bright blue color!
What to pair blue flowers with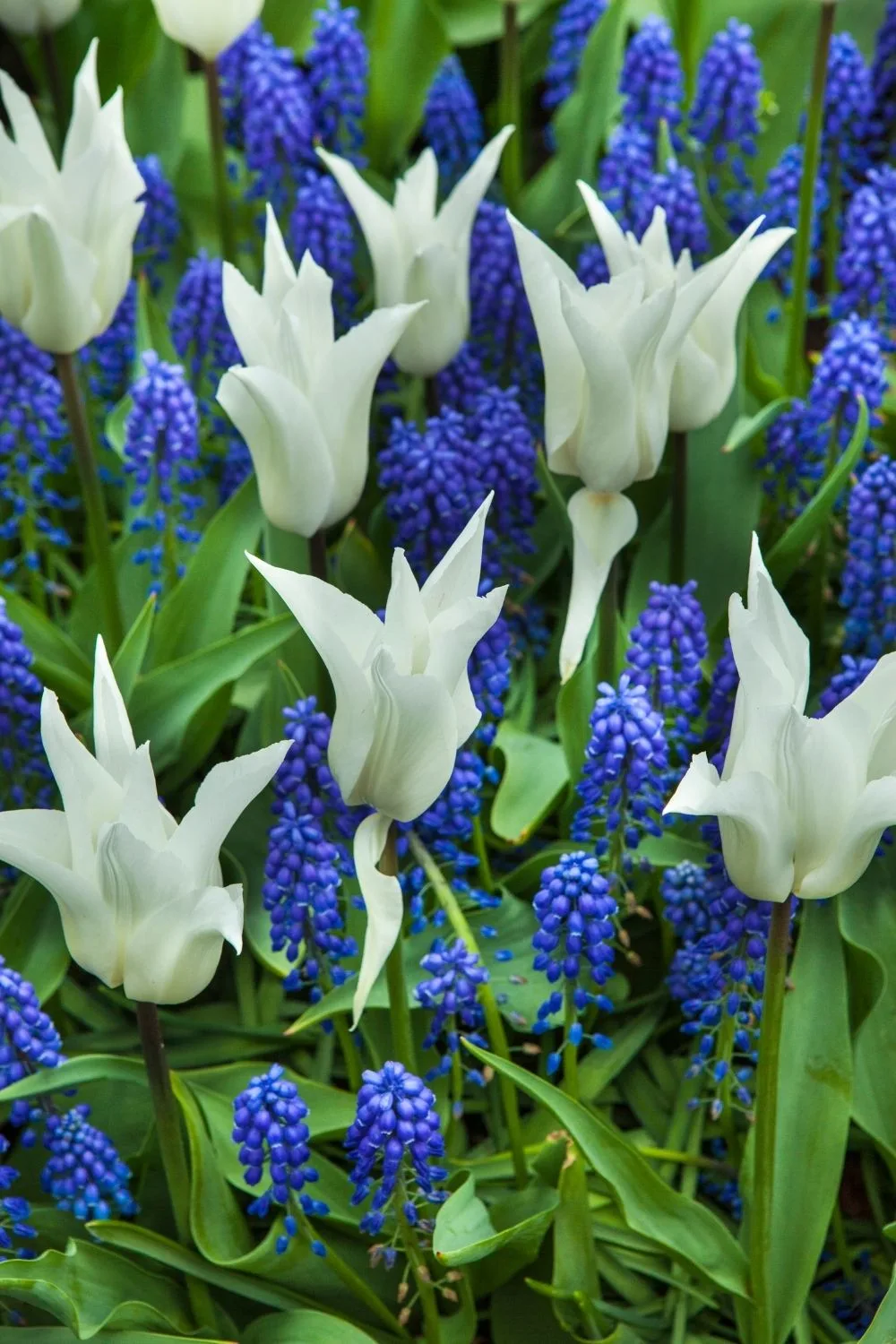 Blue flowers will look amazing in any garden, but if you want to make them really pop, couple them with some pure white flowers, such as daisies, white chrysanthemums, or white lilies. WOW! I can only imagine.
Want to add even more oomph? Add some red poppies or other red flowers.
Have you seen deep blue flowers?
The perfect blue flower can bring on a strong feeling of love, and it can also represent peace and friendship. The meaning of clematis is said to symbolize the beauty of ingenuity. Blue calla lilies are used to thank someone for what they have given you. They are also said to represent holiness, faith, and purity.
This is my favorite color of flower or one of my favorites. There are so many different shades of blue and I have to say, I love them all. I also love purple flowers, and a deep purple or light purple can also come through many of these blue flowers. When is the last time that you saw a beautiful true blue flower with your own eyes?
North America has a lot of beautiful blue flowers to choose from. There is no better time than now to get out and about and see how many of these flowers you can find. You'll have a blast looking, moving, and enjoying everything that is available to see in nature.
What was your favorite blue flower from the list?