While big, bold flowers can make a statement in your garden, it's always good to add a few small flowering plants to fill in gaps in your landscape. There are many tiny flowers that you can grow in your garden: they add bright spots of color without large blooms and will attract butterflies, bees, and birds just like the big flowers do.
If you want to add a few miniature flowers to your garden, but are not sure where to start, first, plan a color scheme and then look for flowers that work with the type of light you have in your garden.
While there may be hundreds of flowers to choose from for your garden, I have narrowed down your list of tiny flowering plants to 18. Add a few of these to your garden to bloom at different times of the year along with different colors.
Tiny Spring Flowers
1. Lily of the valley (Convallaria Majalis)
The lily of the valley plant or the Convallaria majalis has tiny spring flowers that are white and bell-shaped. The white flowers bloom in early spring and have a sweet perfuming fragrance. Their leaves are tall and broad, measuring up to 8 inches.
The perennial flowering plant is relatively easy to care for in an outdoor garden. It is important to place them in partial shade and keep their soil moist. They are also quite adaptable and can tolerate dryer conditions along with full sun or shade. The plant is in USDA zones 2 to 9.
2. Grape hyacinth (Muscari armeniacum)
The grape hyacinth blooms small tiny purple flowers in the spring. They shoot out as spikes that resemble grapes and are quite fragrant. Their foliage is long and looks almost like grass.
They are quite easy to grow plants that grow well in USDA zones 3 to 9. They do well in full sun or partial shade and should be watered when the soil is completely dry.
Tiny Summer Flowers
3. Fan flower (Scaevola aemula)
In the Goodeniaceae family, the fan flower produces fan-shaped tiny purple flowers. The fan flower is native to Australia and grows in warm climates, placing it in USDA zones 9 to 11. This perennial flower can bloom easily all summer.
Each bloom only has five fan-shaped petals that bloom in clusters around the stem of the plant.
The fan flower can reach a height of 14 inches tall and tolerates drought and high heat. It is important to plant them in a place that receives full sun. You should also water it when the soil is dry.
4. Snow-in-summer (Cerastium tomentosum)
Snow-in-summer is a white blooming perennial that puts out many white flowers throughout the summer. These tiny white flowers can easily blanket your garden with bright silver and white blooms throughout the summer.
In your garden, you should plant snow in summer in full sun and well-draining soil. It is important to water them when the soil dries out. They grow in USDA zones 3 to 7.
Tiny Pink Flowers
5. Fairy foxglove (Erinus alpinus)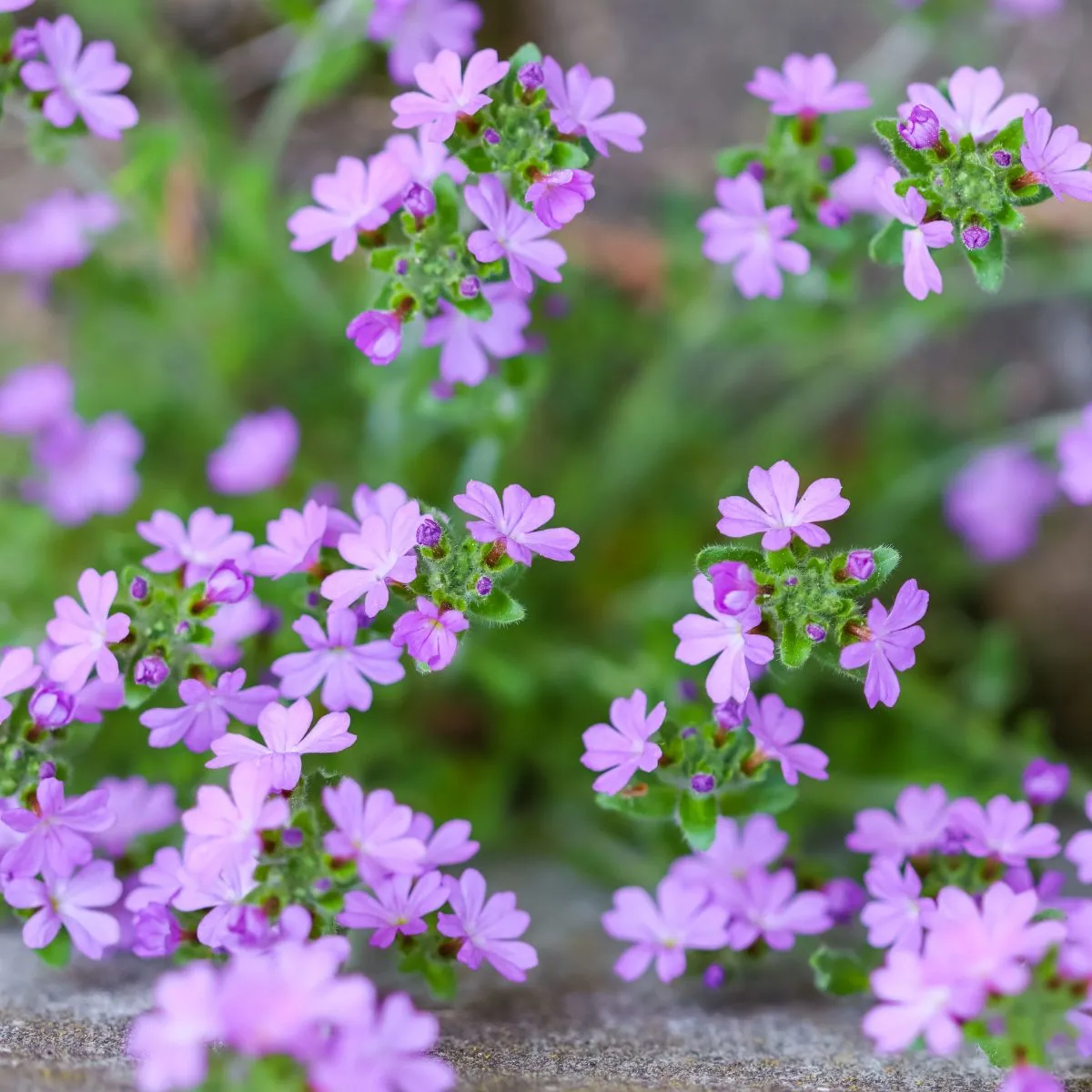 The Fairy Foxglove produces a blanket of tiny pink flowers in the spring. The plant is native to the mountains of central and southern Europe. It can grow up to 6 inches high and will spread wide. The flowers can drop seeds and spread the plant throughout your garden.
This perennial plant is quite easy to grow and is known for its hardiness. It grows in USDA zones 4 to 9. The fairy foxglove is adaptable and can be planted in full sun or even partial shade. However, to make sure it blooms, it must be in full sun.
There are also small pink flowering trees: take a look and see if you might want to add one to the landscape.
6. Pink delight butterfly bush (Buddleja davidii)
The pink delight butterfly bush is a butterfly magnet that is full of fragrance. Similar to the grape hyacinth, the tiny flowers come from long shoots emerging from the plant.
Known for their summer bloom, the tiny pink flowers are great for a sunny garden. They are best grown in USDA zones 5 to 9. They enjoy full sun and weekly waterings.
Tiny Blue Spring Flowers
7. Forget-Me-Not (Myosotis scorpioides)
The tiny blue flowers of a forget-me-not plant grow with yellow centers from the end of spring into early fall. The stems grow tall and hairy, reaching almost 2 feet when mature. The flowers at times can even be pink.
The perennial grows naturally near streams or bodies of water. It does well in high humidity and moist soil. They also enjoy shade throughout most of the day. Forget-me-nots are seen as low-maintenance, hardy plants and are within USDA zones 2 through 8.
8. Virginia bluebells (Mertensia virginica)
Native to North America and Canada, the Virginia bluebells have tiny blue bell-shaped flowers that bloom in the early spring. The plant is also known as a Virginia cowslip. It is quite a hardy plant in USDA zones 3 to 9. The plant is often found in isolated areas in the wild.
When matured, the Virginia bluebells plant can reach up to two feet tall and two feet wide. It does best in partial or full shade, enjoying the morning sun at times.
Tiny Purple Flowers
9. Kenilworth ivy (Cymbalaria muralis)
The Kenilworth ivy is a perennial plant that normally grows as an annual. In the summer, the plants will bloom snapdragon-like tiny purple and lilac flowers. The foliage is also notable as the leaves are heart-shaped and glossy.
It is a short blanketing plant and will only grow up to 2 inches tall but can easily grow wide. The hardy plant is easy to care for and grows in USDA zones 5 to 9.
10. Lavender (Lavandula)
When it comes to lavender, this plant may be one of the most common tiny flowering plants. The tiny purple flowers come out of the purple shoots of the perennial herb. Lavender enjoys full sun and is drought tolerant. However, if you want it to bloom, it is important to continuously dry out the soil before watering it.
Tiny White Flowers
11. Baby's breath (Gypsophila)
Native to Africa, Asia, Australia, and Europe, the baby's breath plant produces tiny white flowers at the end of the stems that are thin and upright. You've probably seen these in many floral arrangements. The plants will bloom in the summer or late spring.
The hardy plant grows in USDA zones 3 to 9. It is important to plant it after the last frost in early spring. Baby's breath enjoys full sun and well-draining soil, and it is drought tolerant. You will only need to water this plant when the soil is completely dry.
12. Stiff cowbane (Oxypolis rigidior)
The tiny white flowers on a stiff cowbane plant will appear in the early fall from August to October. It is a wildflower plant that grows naturally in most of the southeastern states in North America. You can find it near wet areas like streams and rivers.
The flowers of the stiff cowbane grow in bunches far apart from each other with thin stems. When it comes to growing them in your garden, they are quite hardy. They are in USDA zones 4 through 8. This plant enjoys wet to moist soil and full sun.
Tiny Orange Flowers
13. Butterfly weed (Asclepias tuberosa)
The butterfly weed is most known for its ability to attract bees and butterflies. It has tiny bright orange flowers that bloom in clusters. They normally bloom in the summer and are very adaptable.
The easy-to-grow plant does best in USDA zones 3 to 9. The butterfly weed can survive in any kind of soil and can even handle drought. It does best in full sun and enjoy being watered when the soil is completely dry.
14. Lantana (Lantana camara)
Lantanas bloom in the middle of summer with bright clusters of tiny orange flowers. Some plants may even have multicolored flowers within the clusters.
These easy-to-grow plants enjoy full sun and well-draining soil in USDA zones 7 to 11.
Tiny Red Flowers
15. Red velvet yarrow (Achillea millefolium)
If you want to fill your garden with bright colors, the red velvet yarrow is a great choice. It is known for its tiny flowers that cluster together, creating deep red circles of color.
The stunning flowers of the red velvet yarrow appear in late summer and are hardy in USDA zones 4 to 8.
16. Egyptian stars (Pentas lanceolata)
The Egyptian stars plant blooms with tiny red flowers in clusters. Each flower is normally 5 petals and is star-shaped. However, due to their clusters, they create large explosions of color.
They are a low-maintenance plant, great for USDA zones 10 to 11. They enjoy full sun and moist soil with plenty of water. They are also deer resistant and aid in keeping away pests.
Tiny Yellow Flowers
17. Yellow woodsorrel (Oxalis Stricta)
The yellow woodsorrel is known as a false shamrock as its leaves are shaped similar to the shamrock plant. However, this plant is not a shamrock but rather a perennial herb with tiny yellow flowers that bloom starting in early spring.
The yellow wood sorrel is very easy to grow in USDA zones 5 to 7, is drought tolerant, and enjoys dry sandy soil. It enjoys full sun and should only be watered when the soil is completely dry.
18. Yellow archangel (Lamiastrum Galeobdolon)
The yellow archangel plant is a low-growing perennial shrub. The tiny yellow flowers bloom in early summer through shoots almost 2 feet tall.
The plant is quite hardy in USDA zones 4 through 8, and it enjoys partial shade to full shade and well-drained soil. It is important to dry out the soil before watering this plant.
FAQs About Tiny Flowers
What is the tiniest flower in the world?
The tiniest flower in the world is the watermeal plant or the Wolffia. This plant grows directly in water and self-seeds on the surface of it. These plants are only 1/42 inches long and 1/85 inches wide, making them look like small green dots when you pick them up.
How to use
tiny flowers

in your landscape?

When you use tiny flowers in your landscaping, you can place them near a larger flowering plant to complement their color and size.

Another option is pairing them with a bushy, leafy plant to make their colors pop and brighten them. You could also pair them with another small blooming plant and coordinate a pattern with them when landscaping.

If you want to create a dryer aesthetic, you can pair the tiny flowering plants with larger rocks or even surround them with pebbles of your choice.

Or, add them to hanging baskets for a delightful arrangement.
Are there any tiny flowering indoor plants?
Absolutely! Here are just a few: miniature begonias, kalanchoe, African violets, small cacti, and lavender.
Final Thoughts
Tiny flowers can add a lot of depth and color to a garden. They can also accent the larger flowers and fill in gaps your other flowers leave bare. And with so many choices in both color and blooming seasons, I encourage you to add a few small flowers to your landscape and enjoy the variety they bring. Do you have a favorite from our list? Are you using any miniature flowers in your landscape? I'd love to see your gardens featuring tiny flowers.
Adriana Copaceanu is a passionate nature lover living in the country on her dream property where she grows vegetables, lavender, and wildflowers that she shares with the wildlife they attract. When she's not in the garden, she loves spending time with her chickens and planning her next nature project.