Large outdoor planters are an ideal way to garden without the commitment of planting flowers, plants, shrubs, and trees into the ground. These planters are essential for apartment living. You can still have a beautiful outdoor garden without worrying that you don't have a plot of dirt to use.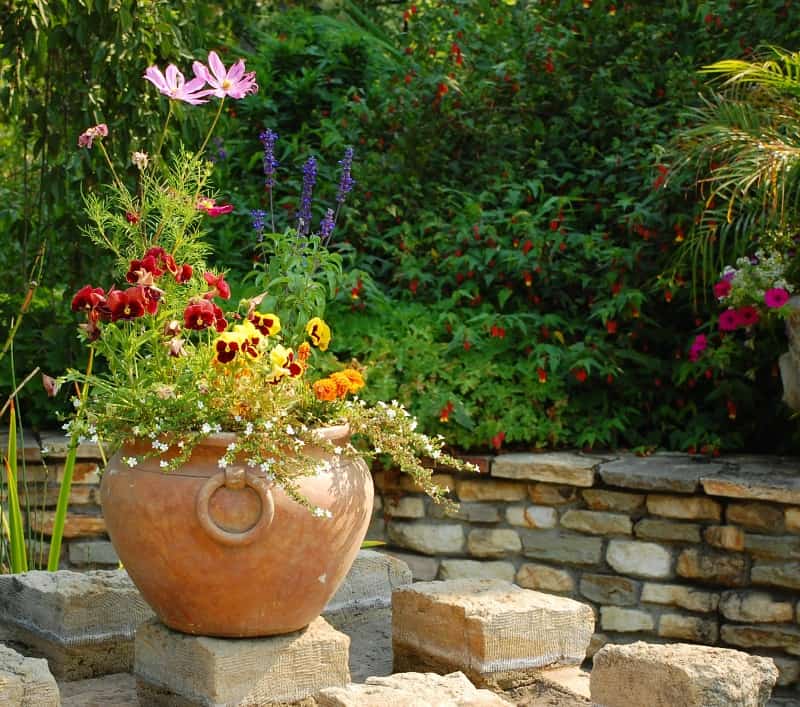 Large Outdoor Planters
Ideal for all types of gardeners, large outdoor planters are big enough to be placed onto a front porch or patio, giving depth to the home's exterior.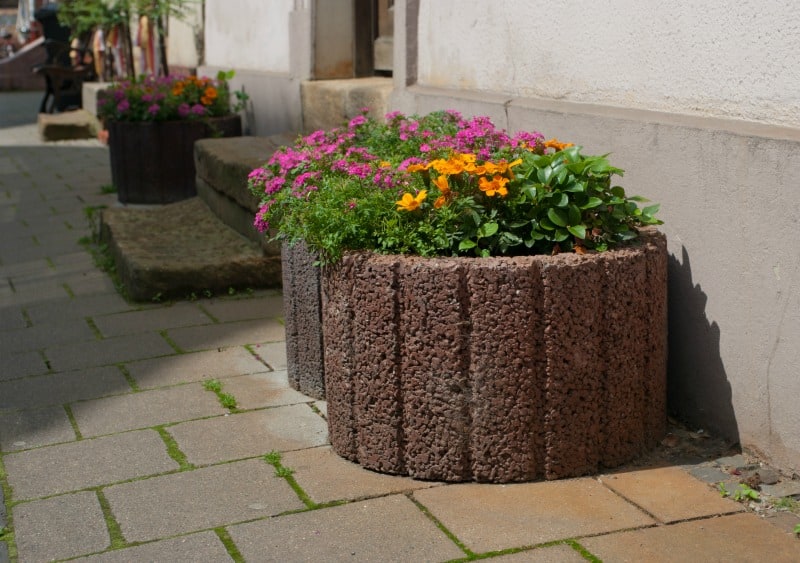 You can also use the planters out in the garden area, providing a contrast in color, size, and texture to just about any landscape that you currently have. If the exterior of your home is kind of lackluster, a couple of larger outdoor planters can be a wonderful way to change how your entrance looks. Tall planters will look great at your front door!
These planters are also an essential part of apartment living. As anyone living in an apartment knows, it is virtually impossible to grow a full and lush garden because of not having access to a plot of earth.
Planters can be placed on a back deck or balcony. That way, you can enjoy gardening even without a large garden space. Because of the large area to plant, you can grow anything from wildflowers to shrubs and even patio trees.
They're also effortless to store away if you'd like to preserve them year after year. But most planters, regardless of the material they're made of, are incredibly durable and long-lasting. Great for using them year-round.
Devault Enterprises 23
Suncast Resin Planter, Blue/Brown
Southern Patio 20
Extra Large Outdoor Planters
Extra-large outdoor planters are essential for planting larger greenery like bushes, patio trees, and shrubs. The size of these planters also makes it effortless to grow multiple varieties of plants, flowers, and even vegetables. And if you want even more benefits from a large planter, make it self-watering: that way you can plant it and forget it, and still enjoy beautiful flowers, or delicious veg.
Not sure how a self-watering planter works? Learn about it here.
There are extra large planters made of concrete, wood and plastic. Choose a planter that will complement the specific area you're using it in. For a more natural look, go with wooden planters or darker plastic planters that can match a rustic or earthy decor. But for a modern touch to your outdoor space, nothing beats good old concrete planters.
Regardless of the specific type of extra large outdoor planter you choose, you can be sure that it's going to provide more than enough space for any and all of your greenery.
Some people even like to use these planters during the fall and winter months for decorating. Think about the cute Christmas trees that can be planted and decorated in a larger planter. Or, how about some gorgeous pumpkins that can be arranged inside of the container?
Portable flower planter box
Elegant Cube Shaped Flower Tree Pot
Large Concrete Planters
Concrete is one of the more popular choices for larger outdoor planters. The concrete is incredibly long-lasting. It's also heavy, so it won't blow away in heavy winds and storms. This is especially beneficial for those living in storm-laden towns or cities where they plan to empty the planter but leave it outside.
Concrete planters can go with just about any decor, but they are especially great for modern gardens. They add a stone-like element to any outdoor garden area. Flowers, shrubs, and trees look beautiful in concrete containers.
Wonder what shrubs to plant? Here are some ideas by color:
Repose Cubo Succulent Planter, Large
Large Outdoor Planter Urns
Large outdoor planter urns add a touch of majestic whimsy to virtually any home or apartment. They are especially beautiful at the entrance of a home or apartment door.
Because the planter is in an urn shape, most people plant flowers and larger shrubs to add depth and beauty to the porch or patio area. The urns come in a wide range of different colors and materials, allowing you to find the one that fits your home's aesthetic needs the best.
Most planter urns come with intricate designs scrolled around the entire pot, adding a beautiful appeal to the plants placed inside of them.
I love that they come in all sizes. You can purchase a tiny urn for those smaller spaces that could use a pop of color. Or, you can invest in a much larger and intricate planter urn that can hold small to medium-sized patio trees.
While most gardeners love using these urns at the entrance of their homes, they can also be used in the garden. Placed throughout the fields of flowers, plants and bushes that you have in your backyard, urns add a completely different element to the garden area.
Classic Urn Planter, Black, 19-Inch
Endura Clay Modena Urn Planter
Heritage (2 Pack) Planter
Nearly Natural Decorative Urn
H Potter Flower Garden Urn
Home Danna Garden Urn Planter
Large Plastic Outdoor Planters
Mayne 4838-B Cape Cod Polyethylene Planter, 20
As with most other outdoor furniture and products, there is probably nothing more durable than plastic. Large plastic outdoor planters will last a very long time. Purchasing one is a good investment.
Plastic planters come in a large array of colors, designs, and styles. From plastic planters that look like wooden logs to ones that look like a weaved basket, you can pick and choose the specific type of planter.
For example, a more rustic front porch will do well with a log planter made using plastic materials. A more modern home would do well with an intricately designed plastic planter.
One thing to be aware of is that depending on the specific planter you choose to buy, some plastic is more apt to fade with time. This means that a dark brown planter could turn light brown the longer it is left in the sun. To avoid this from happening, invest in a better-quality plastic planter or store the planter in an area that does not get direct sunlight for long periods of time. Many manufacturers are now creating plastics that are fade-resistant, so look for this option when buying.
Large Outdoor Planters for Trees
Trees grow exceptionally well in larger outdoor planters, especially if you'd like a miniature version of the larger one found in your backyard. However, as with any type of tree, you need to take proper care of your trees to ensure that root rot is avoided.
Look for planters that have a large drain hole in the bottom to allow excess water to drain out. When choosing the specific tree to use in this type of planter, look for ones that can either be started as a patio tree or remain as one even after it has grown fully.
Some of the most popular trees planted in these outdoor planters include:
Japanese Maple
Lemon and Lime Trees
Peach Trees
Washington Hawthorne
Dwarf Poinciana
Not sure what trees to choose? Go with either the dwarf version of a larger tree or start out with a smaller sapling so that you're not stunting an already-grown tree's growth.
Remember to water the tree regularly and choose a planter that is large enough for the specific tree you are planning to grow. Place the planter in a well-lit area so that the newly planted tree gets enough sun.
DIY Large Outdoor Planters
If you'd rather save some money and go with a DIY approach, there are lots of materials that you can use to design and craft your own outdoor planter.
One of the most common products to use is a household bucket made out of plastic. All labels should be removed prior to painting the bucket. This will give you a personalized planter for the garden or front porch.
If you'd rather go with concrete, you can pour your own concrete mold to create a stone planter that will last for many years.
Some people enjoy this DIY project because it gives them the chance to design a planter that truly complements their outdoor decor or garden, while others begin these projects because they are looking to save some money.
Regardless of why you want to design your own planter, it is essential to create a planter that is both beautiful and long-lasting so that you can enjoy many seasons of lush growth.
If you go the DIY route, be sure to give yourself adequate time to complete the project. Don't hesitate to look up tutorials and videos on how to create the finished product. Here's a video about pouring your own concrete planter.
Where to Buy Large Outdoor Planters
You can buy outdoor planters both online and offline. Look in your local hardware store in the garden department to see what is sold there. These stores often have a range of planters in varying sizes and colors. This is the best option if you like seeing it in person.
For a greater selection, you can look online. The great thing about buying outdoor planters online is that you're able to research and compare different products while also reading reviews. These reviews are most often written by customers who can provide an in-depth look into how the planter has worked for them and pros and cons regarding its material and style.
When buying a planter online, check dimensions fist. This will endure it fits in your space. Get a large enough planter that will hold all of your greenery without overwhelming your porch or patio.
How to Fill Large Outdoor Planters
Once you have your large outdoor planter, it's time to fill it.
If you're planting a tree, shrub, or bush, you're going to want to fill the entire planter with high-quality moisture-retaining soil. This provides the roots of the plant more than enough room to grow and thrive without running out of space.
If you're just planting flowers, vegetables, or herbs, you don't need as much dirt as you would with a tree. In this case, just fill the lower portion of the planter with filler material like Styrofoam, milk jugs, and even packing materials that you get with online deliveries.
Once the lower portion of the planter is filled, pour dirt on top until it reaches the brim of the planter. From there, plant seeds, flowers, or shrubs that you'd like. Make sure you keep them watered. The soil in planters dries out a lot faster.
It's important to know the needs of the plants inside the container. Some plants require full sun and should be placed on the side of the porch that allows for plentiful sunlight. Other plants require partial or even full shade. By carefully exploring the needs of each plant in your new planter, you'll enjoy gorgeous flowers, beautiful shrubs, and bountiful vegetables.
Whether you choose to use your new large outdoor planter for a patio tree or are planning to grow some spring vegetables, this container will add a touch of simplistic beauty to any outdoor area.
They're great at the entrance of your front door just as much as they'd look wonderful in a lush outdoor garden.
Frequently asked questions about large planters
Where can I buy large planters?
While you can buy them online, from websites like Amazon, the best place is your local garden center. Big stores like Lowes, Home Depot, and Walmart carry them too.
Aren't large planters hard to move?
They can be. If you plant them with flowers, you only need to fill the bottom with lightweight items, such as styrofoam, empty milk jugs, etc. But if you plan to plant a tree, you'll need to fill the container all the way with soil, which would make it heavier, and harder to move. So, plan ahead of time where your planter will be displayed.
What's the most resistant outdoor planter?
Probably a cement planter. It's sturdy and will stand the elements. BUT, it will be harder to move, so you might need to choose a spot for it and leave it there.