Every day I walk to my front door during late spring and summer I'm greeted by a delicious smelling breeze. I LOVE my front yard, filled with fragrant perennial flowers! I get 2 in one: looks and scent. Honesty, if I had my way, I'd live in my front yard 😛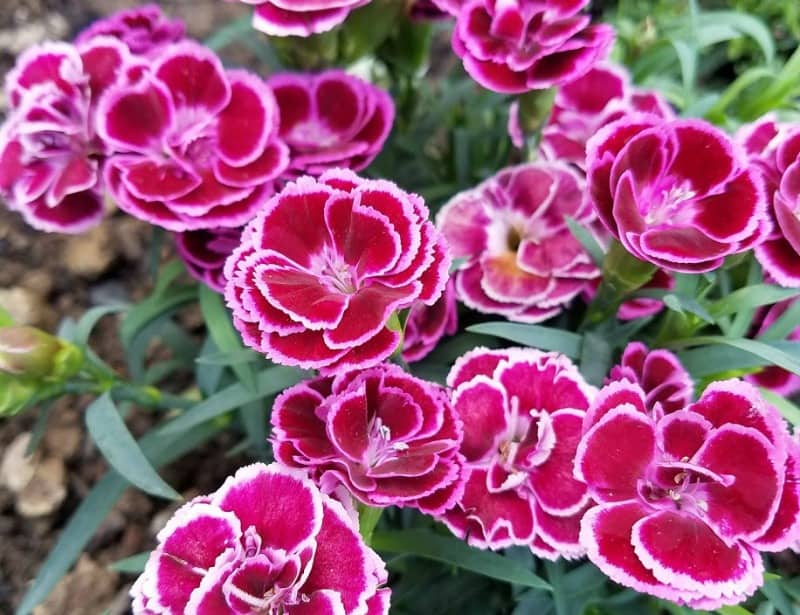 At A Glance: Our Top 5 Picks For Fragrant Perennial Flowers
Fragrant Perennial Flowers
If you don't have scented flowers in your garden, I encourage you to get inspired by the flowers below and create a small haven for yourself. Fragrant flowers can permeate your entire garden with scent, making it inviting and enjoyable.
Related: Summer blooming plants every garden needs to have.
1. Frostproof Gardenia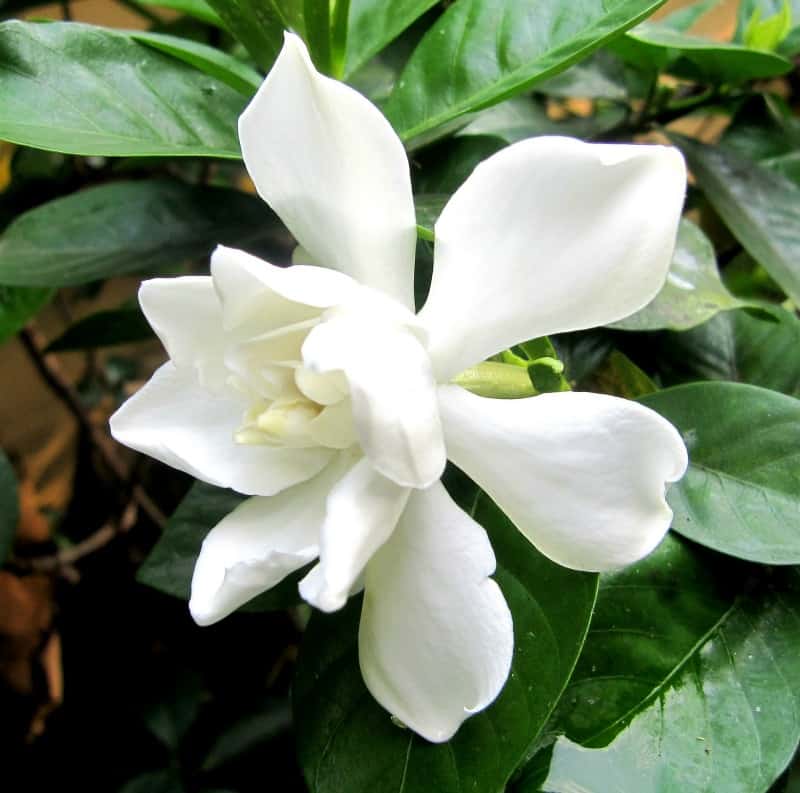 The white fragrant flowers of the Frostproof Gardenia are two inches wide of delicious scent. The flowers bloom in the late spring into the summer if the plant is well established. The leaves are a medium texture with a vibrant green narrow leaf. This evergreen shrub is perfect for landscaping.
The Frostproof Gardenia, also known as Gardenia jasminoides, will grow in Zones 7, 8, 9, 10, and possibly 6. It can grow to a height of 4 feet and four feet wide and prefers full or part sun.
This shrub is perfect for planting by a patio and catching the scent in the breeze.
2. Peonies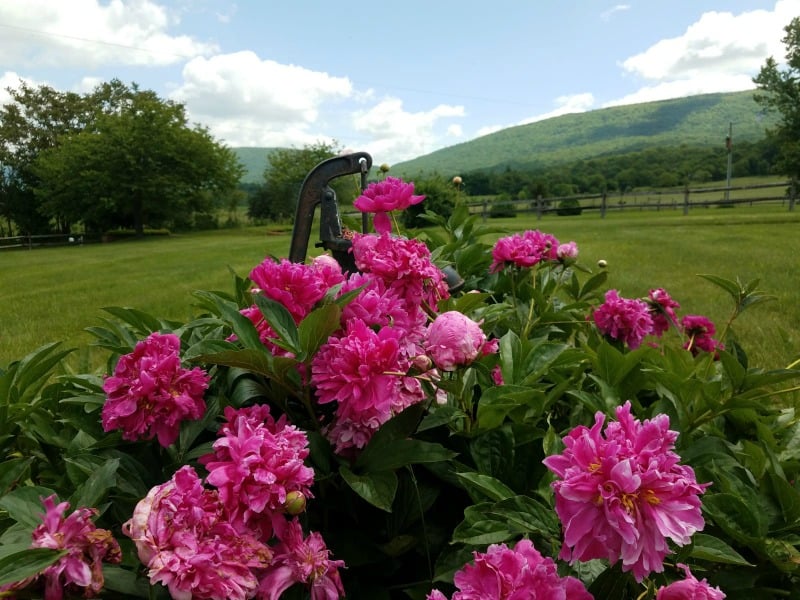 The peony is a perennial with dark glossy green leaves. The massive fragrant blooms may need to be staked to keep the flower heads from drooping. But because the scent of the flowers is so lush the extra work is worth it.
The blooms attract hordes of ants. However, these ants aren't the pests that people seem to think. The ants are merely drinking the nectar and aren't harming the plant.
These plants grow best in Zones 7, 8, and 9 with a height of 8-12 inches high and 6-10 inches wide. They prefer morning sun, part shade, light shade, filtered shade, and part shade as they are shade-loving plants too.
Peonies are an old-fashioned flower that has come back into fashion. They're perfect for a cottage garden or wildflower garden.
Peony Gardenia Root Plant – Fragrant!
Celebrity Peony – Great for Fall Planting!
Mixed Peony Value Bag
3. Lavender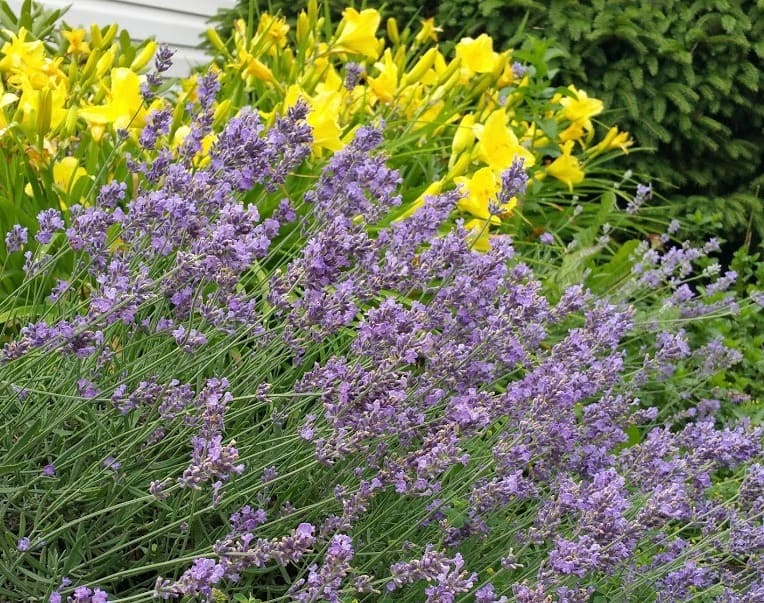 Easy to grow and so beautiful! Mine does really well in partial shade (it came with the house 19 years ago, and it's still blooming every year, sometimes twice in a year!). Use it to make sachets to tuck in your drawers for freshness, make a dream pillow, or you can even make tea.
4. Honeysuckle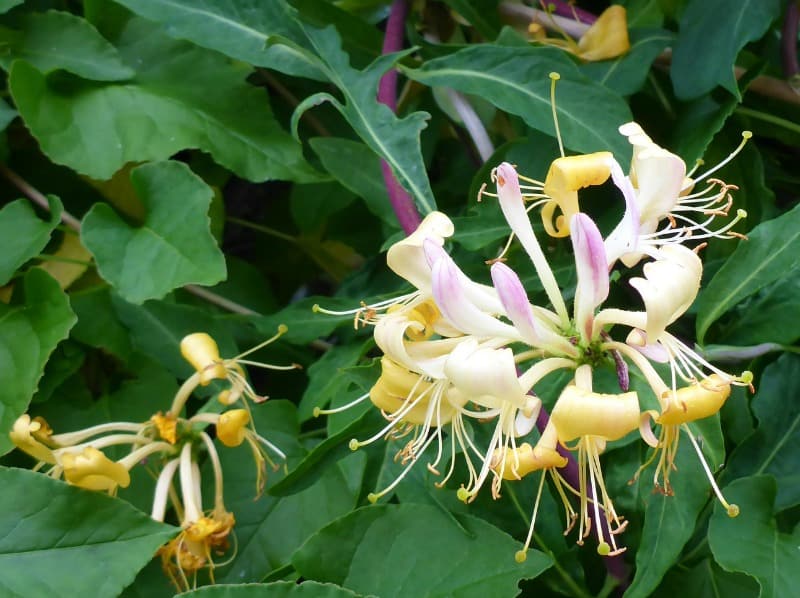 The smell of this vine is divine!!! It can be invasive in certain parts of the country, so make sure to check before you plant it in your yard. Learn more about growing honeysuckle vines here.
5. Agastache
This fragrant plant has tubular flowers that grow in spikes. The flowers are produced in the summer into the fall months. Agastache flowers sway in the breeze above the scented foliage. This plant is a beautiful selection for butterfly and hummingbird gardens. Pollinators that can reach the nectar in the tubular-shaped flowers will be attracted. For the most impact, plant these fragrant perennial flowers in masses.
These plants love full sun to partial sun locations. The soil needs to become slightly dry before watering. Well-drained soil and good air circulation will help with growth and longevity. Agastache can be grown in Zones 6, 7, 8, 9, and 10. The soil can range from mildly acidic, to neutral to mildly alkaline. The plant grows to 3-4 feet in height and 2-3 feet in width.
This plant excels in a butterfly and hummingbird garden plus it's deer resistant as well.
Agastache Mango Tango Potted Plant
Arizona Sun Hummingbird Mint – Agastache – Anise Hyssop
Anise Hyssop Agastache Plant Seed
6. Lily of the valley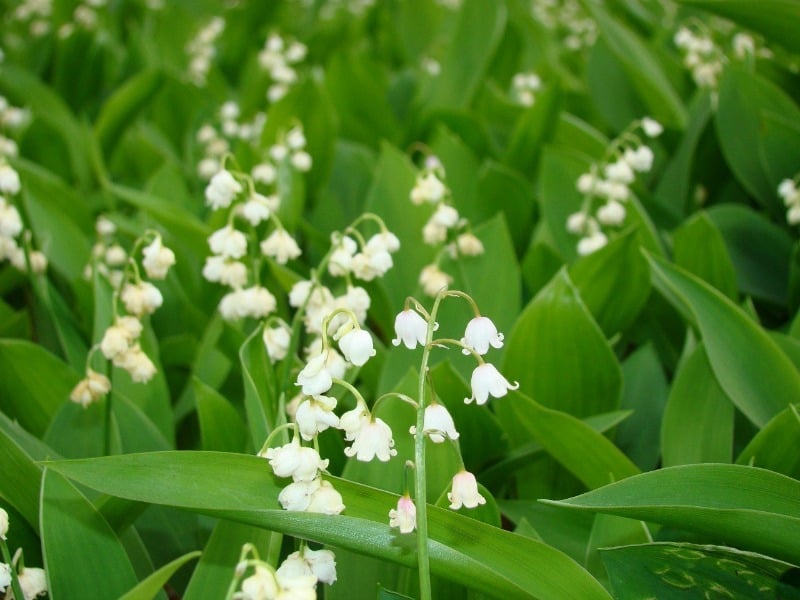 New Rare 'Feng Die' Pink Lily of the valley Convallaria majalis Perennial Flower Seeds
One of my favorite spring flowers! Beautiful, dainty white (or pale pink) bell-shaped flowers with a heavenly smell! They thrive in the shade (perfect for planting under your tees). We used to live in Massachusetts and had a forest carpeted with lily of the valley flowers.
I'll never forget the feeling I had walking in that forest! It was like a fairyland, filled with a delicious aroma.
This too can be invasive: check to make sure before planting.
7. Bee balm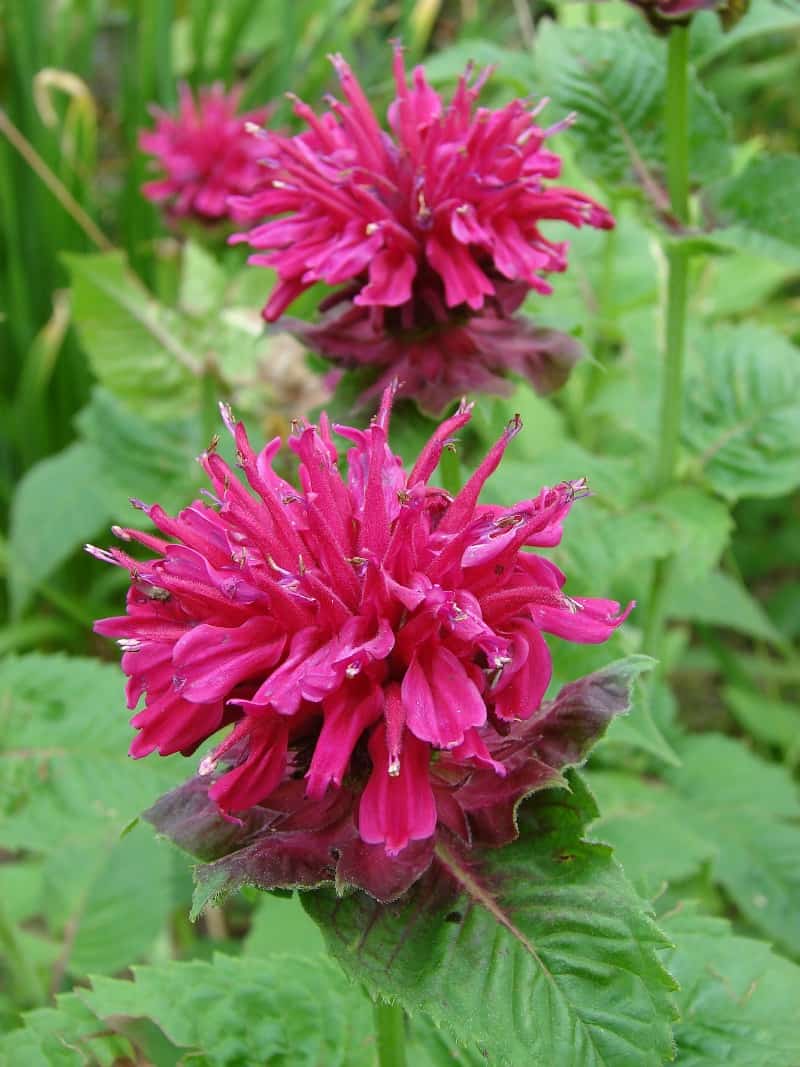 Bee balm attracts bees, butterflies, hummingbirds, and hummingbird moths. The flower of the bee balm is daisy-shaped and with tubular petals that come in different color shades, including pink, purple, red, and white. Bee balm will tolerate some shade but prefers a sunny location with moist, fertile soil.
This plant will grow to 2 ½ to 4 feet tall, but some varieties will grow to only ten inches high. The dwarf varieties are perfect for container gardening or along the front of a garden bed.
For continuous flower production, deadhead.
If you plant bee balm near a window, you can enjoy watching the bees, hummingbirds, butterflies, and hummingbird moths it attracts. Bee balm can add a touch of old-fashioned beauty.
8. Buttonbush
One of the fragrant flowering shrubs that can be planted in your garden is the Buttonbush. The tight flowers are shaped in ball-like clusters. White to cream color the lightly honey-scented flowers attract pollinators. Bees, butterflies, and other nectar-loving insects will flock to this scented shrub.
This shrub grows in Zones 5, 6, 7, 8, 9, 10 to a height of 6-12 feet high and 4-8 feet wide. It enjoys part sun, part shade, and full sun in moist soil. Pruning moderately to severe in the late winter of established plants promotes more flowers and fuller plants.
This plant is a perfect specimen for butterfly and pollinator gardens.
9. Four o'clock (mirabilis jalapa)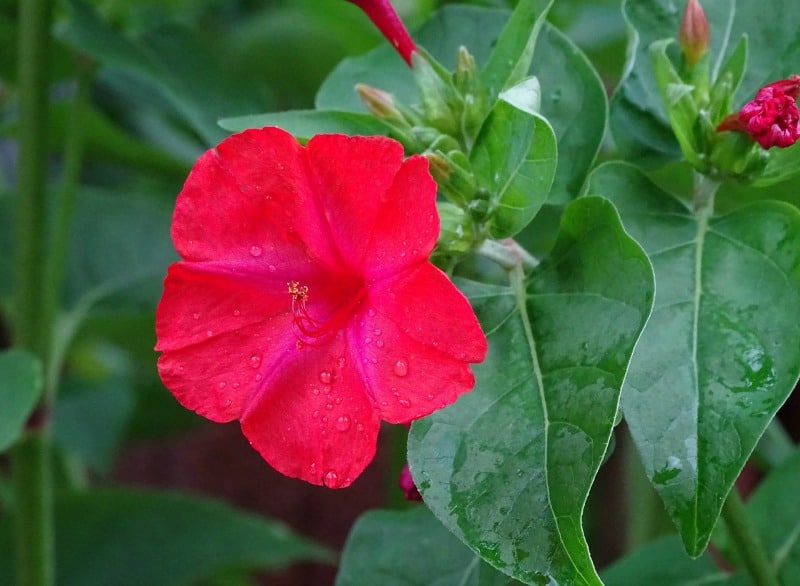 This fragrant perennial flower is a robust cluster of flowers on a single stem, available in many different colors: purple, pink, yellow, red, and more. They open later in the day and will attract bees, hummingbird moths, and butterflies. These deliciously smelling flowers will also attract and kill Japanese beetles. The Four O'clock grows a large tuber which it springs from each year. It may also reseed itself if the conditions are right.
The Four O'clock will continue to flower throughout the summer, releasing its perfume into the air. It will grow in Zones, 7B, 8, 9 10, 11. The height of the plant is between 24-40 inches tall and between 24-36 inches in width. It prefers full to part sun.
This is a perfect flower to use in a butterfly or cottage garden to give your garden a turn-of-the-century feel.
David's Garden Seeds Flower Four O'Clock
David's Garden Seeds Flower Four O'Clock Yellow
Burpee Kaleidoscope Mix Four O'Clock Seeds
10. Roses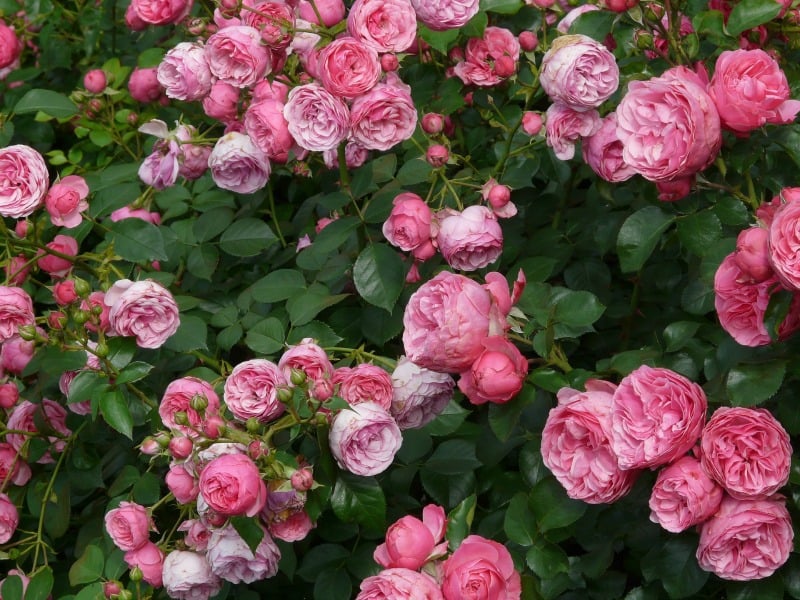 No fragrant garden would be complete without roses. Most gardeners agree that old-fashioned roses have a deeper scent than the new hybrid. Plus, the older type of roses has more interesting blooms, is more resistant to disease, and easier to care for. The upside of the hybrid roses is that they can offer more. Plus, they bloom all season and have a more extensive range of colors.
If you're searching for a heavily perfumed rose, then old-fashioned roses are the best. The only problem with these roses is that they usually have a flush of blooms for about three weeks. Roses need about 6 to 8 hours of direct sunlight. They need fertile, moist soil and excellent drainage with a pH of between 6.5 and 7.
Roses added to a garden can give it many different looks:
for a formal garden, long beds of roses can look elegant
want a cottage garden? Use beds of roses scattered here and there can give you the look of a more casual garden
But if you want fragrance, then old-fashioned roses are the ones you need to plant.
Take a look at these gorgeous pictures of rose gardens.
11. Amaryllis
One type of Amaryllis is Blossfeld's Amaryllis. The flowers are trumpet-shaped, soft orange with a lemony yellow throat. They grow in clusters on top of a thick, sturdy stem. The foliage is bluish-green and strap-like. They are very fragrant and are a part shade-loving flower, as well as part and full sun.
Amaryllis grow in Zones 8, 9. 10. 11 and to the height of 1-2 feet high and 1.2 feet wide. They multiply quickly and can be used in the garden or in a container. They like average, moist soil that is well-drained.
The Amaryllis can give your garden a tropical feel. Plus, they are deer resistant, a definite plus!
12. Dianthus
If you want an easy-to-grow plant that smells heavenly, this is the one! It comes in so many colors and color combinations, you'll have a hard time choosing which one to get. Make sure to deadhead often, as doing so will give you almost continuous blooms through the spring and summer months.
Any of these fragrant perennial flowers can give you a scented garden to enjoy. A garden is more than just a vision of color or rustling in the wind. When the scent is added, it brings in a whole new dimension.
IMAGE
PRODUCT

Our Top pick

Massive fragrant blooms
Old-fashioned flower
Perfect for a cottage garden

View On Amazon →

Spring time stunner
30-36 inches wide and tall
Zone 3-8

View On Amazon →

Bulb Size: 2/3 eye
Package contains 3 roots
This item will bloom Early Summer

View On Amazon →

Grows in spikes
The flowers are produced in the summer into the fall months
Provides nice accents to any garden

View On Amazon →

Arizona Sun Hummingbird Mint

Prefers the sun or part-sun
Hardy in zones 5-9
Easy to grow

View On Amazon →

Outsidepride Anise Hyssop Herb Plant Seed

Attracts hummingbirds, bees and butterflies
Very aromatic with a sweet, licorice-mint flavor
Non-GMO

View On Amazon →

New Rare 'Feng Die' Pink Lily

Beautiful, dainty white
Heavenly smell
Delicious aroma

View On Amazon →

David's Garden Seeds Flower Four O'Clock

Fragrant perennial flower
Available in many different colors
Deliciously smelling flowers

View On Amazon →

David's Garden Seeds Flower Four O'Clock Yellow

Blooms in about 70 days
Seeds are Non-GMO
Germination rate about 70% or better

View On Amazon →

Burpee Kaleidoscope Mix Four O'Clock Seeds

Each packet contains 45 seeds
Heavy bloomer
Non-GMO

View On Amazon →