Butterfly gardening is a fun hobby for many today. Just imagine colorful butterflies flitting around in your flower garden, moving from one bloom to the next, and creating a beautiful show just for you! Let's look at some of the easiest to grow plants for your butterfly garden 🙂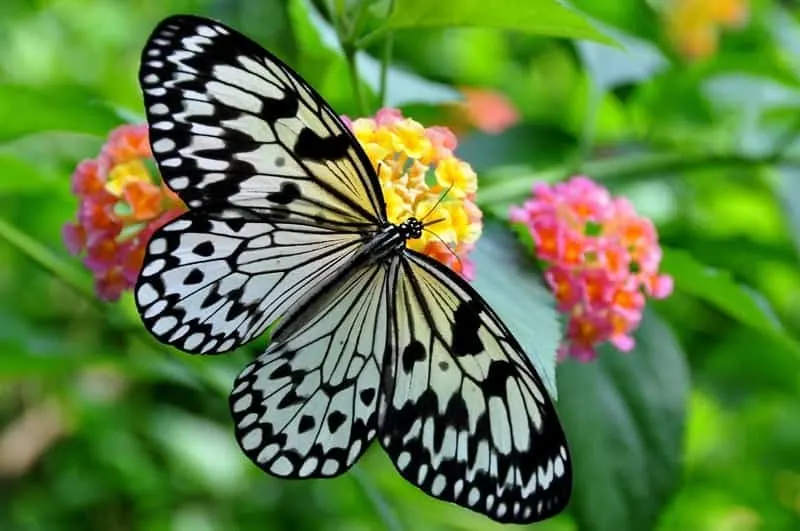 Best Plants For Butterfly Gardens

Choose these easy-care, drought-tolerant, and generally deer resistant plants for a simple butterflies garden design.
A butterfly garden provides beauty not just in its flowers, but in the fluttering, hovering and dancing butterflies it attracts. Butterfly gardens attract butterflies through the use of annuals, perennials, and shrubs butterflies love.
The addition of simple elements such as a butterfly pool that provides moisture for butterflies creates additional features to attract butterflies to the garden. Choose these simple, drought tolerant and deer resistant plants to create a simple pink and blue butterfly garden. Or, you can select the same or similar shades of flowers for monochromatic garden design.
Butterfly bush, the ultimate garden shrub for butterflies
Butterfly bush or Buddleia provides the ultimate easy-care shrub for the butterfly gardening. With over 100 species and cultivars, there's bound to be one that's perfect for the garden.
Butterfly bushes produce abundant clusters of lilac-shaped flowers in hues of white, blue, purple, and pink, with bi-colors and multicolored bushes also available. They reseed freely, so be prepared to pull up volunteers from the garden each spring. These volunteers take root easily and can be potted and given away or transplanted to other sections of the garden.
This shrub grows in an ungainly manner: it sprawls and is best for a natural-looking garden. Many gardeners choose the butterfly bush as the focal point in the butterfly garden since it will indeed act like a butterfly magnet and attract copious butterflies to the garden.
The flowers exude a sweet scent but will drop their petals after heavy rainfall. Butterfly bushes bloom from early summer through the fall. They are deer resistant and thrive in gardening zones 5 through 7 or higher. Since it can soar to heights of ten feet or more, regular pruning is essential to keep it in check. The butterfly bush is a great addition to a memorial garden, honoring a lost loved one.
To create a butterfly garden, select Buddleia in a color that harmonizes with the rest of the garden and use the shrub as the focal point of the butterfly garden design.
Vibrant Mix Butterfly Bush Seeds
Rainbow Butterfly Bush
Black Knight Butterfly Bush Seeds
Butterfly garden perennials
Several perennial plants add attractive foliage and color to the butterfly garden. Select as many as you'd like from the following list and plant in groups of 3, 5, or 7 for a natural look.
Quick Tip: odd numbers of plantings tend to look more natural than even numbers.
1. Echinacea (purple coneflower)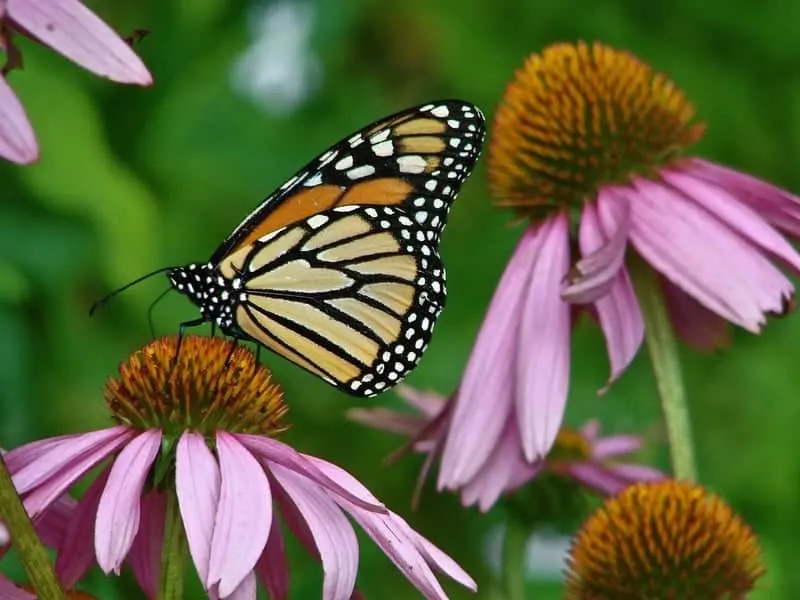 These hardy perennials are native to the Eastern United States. They produce tall, daisy-like flowers with petals that curve back from a cone-like center. Shades of purple (Echinacea purpurea) and white (Echinacea 'White Swan') harmonize wonderfully with most colors of Buddleia and attract butterflies as well as some birds to the garden.
2. Salvia (sage)
Salvia offers hardy, drought-tolerant flowers that attract butterflies and sometimes hummingbirds to the garden. It maintains a low growth habit, although it will sprawl. Tall spires of purple and blue also harmonize wonderfully with most shades of butterfly bush and the other suggested plants for butterfly gardens.
3. Nepeta
Nepeta or catmint also provides purple to light blue flowers and silvery-gray green foliage. Butterflies love it.
Annuals that attract butterflies to the garden
Many annual flowers attract butterflies to the garden. These are usually easy to sow from seeds. Many of them produce seed pods that can be saved for the next year.
4. Marigolds
Marigolds produce abundant orange-red or yellow flowers. The yellow flowers add a nice counterpoint to all the blues and purples suggested among the perennials and shrubs for the pollinator garden.
A new variety called French Vanilla produces creamy-white marigold flowers that also make a lovely accent to Buddleia, Salvia, and others.
White Marigold French Vanilla Hybrid Flowers Seeds
5. Zinnias
Zinnias offer care-free growth and strong potential to attract butterflies to the garden. Dwarf, tall, and even cactus-flowered varieties add interest to the garden.
6. Lantana
Lantana may be a perennial plant in the deep south (garden zones 9 and 10) but is more often than not grown as an annual in zones 8 and through 4 in the United States. Purchase lantana in pots at the garden center. In some cases, you can dig it up, re-pot, and overwinter like a houseplant.
By choosing these plants for the butterfly garden, the average home gardener can grow not only a lovely garden with harmonized, pleasant colors but a scent-filled delight that attracts many species of butterflies.
Easy To Grow Herbs For Butterfly Gardens
Many of the herbs we love to plant for cooking are great for attracting butterflies too. Here are some herbs that ill encourage butterflies visits.
7. Lavender
Lavender is both fragrant and showy, and it ticks all the boxes, making it perfect for a butterfly garden. You'll find tons of varieties and colors for lavender, so it makes it a great choice for almost all gardening enthusiasts and for any garden styles.
To add to that, lavender is best known for its healing and relaxing properties and its aroma has been found to calm down the senses and act as a natural cure for anxiety, stress, and depression.
8. Fennel
Tall and showy, fennel is a great herb to have in your garden. Insects are drawn to it probably like they are to no other herb. You'll almost always find caterpillars hanging on them.
Best of all, fennel is pretty easy to grow and it attracts all the good and beneficial insects. However, if you have a herb garden, make sure you do not plant this one alongside dill.
9. Catnip
This one's another herb that absolutely needs to be in your butterfly garden. However, you need to be absolutely sure that you keep it contained, otherwise, it can easily take over your garden.
You can plant it in a pot and then plant the entire pot down into the ground so as to limit the growth of the roots but still have the butterflies coming.
10. Chives
Chives are an absolute staple for most herb gardens, and if you don't have one, now's the time to get planting.
This herb tends to clump together and stay confined in a place, so you don't have to worry about it spreading or popping up in unexpected places. And yes, butterflies and bees get super attracted to chives!
11. Yarrow
Yarrow is another great choice of a herb you might want to plant if you're looking to attract more butterflies and bees. Check out your local nursery and you'll find many different varieties of this herb, and a good range of flowers and shapes too.
Yarrow has a nice spicy scent, and beautiful showy flowers, which continue to blossom and bloom even if the plant itself has faced drought.
Apart from these, Beebalm, Common sage, Garlic chives, Dogsbane, Echinacea, Oregano, Mint, Parsley, and Thyme are also good options to plant in your butterfly herb garden. Most of these are super easy to grow and handle, and they work amazingly well when it comes to attracting butterflies and other beneficial insects.
Adriana Copaceanu is a passionate nature lover living in the country on her dream property where she grows vegetables, lavender, and wildflowers that she shares with the wildlife they attract. When she's not in the garden, she loves spending time with her chickens and planning her next nature project.