While having a large garden plot with a large variety of flowers, herbs, and vegetables might be your dream, you don't always have the needed space. And that's when these container gardening ideas will come in handy.
There is no limit to how creative you can be with gardening in containers, and there are many advantages to potting plants rather than transferring them into beds. You can grow your own herbs, fruits, and vegetables in containers on your porch or kitchen windowsill. Choosing which plants will thrive in tighter spaces and selecting what pots to use can be a bit overwhelming for beginners, so here is a brief introduction to give you some container gardening ideas.
What You'll Be Needing:
Small Containers
These are perfect for hanging on your fence!
Tiny Tim Tomato Seeds
These miniature tomato plants are perfect for a small container garden
5 Gallon Pots
Perfect for just about anything you want to grow in a container
Baby Groot Containers
If you want to add a bit of personality to your container garden, these will do it!
Advantages Of Container Gardening
We have a pretty large garden but still do some container gardening. Why? Because there are many advantages to it. Here are just a few of my reasons for keeping a container garden.
It's handy – since it can be created/maintained close to your kitchen on your porch. We keep a few tomatoes and peppers in containers on the porch, as well as lettuce, swiss chard, and a few herbs. This makes it easy for me to quickly pick something when I'm cooking without walking to the big garden, which is a good 250 feet from the house.
Easy to maintain – containers don't get as many weeds (and even if you get some, they are really easy to pull), and they are easy to water
Extended harvest time – the pots warm up much faster, and plants might grow faster. You can also move the container in the house when cold weather arrives and prolong the plant's life.
Less disease – if a plant gets infected, it won't transmit it to the whole garden. Just take that one pant out, and you're done.
Easy to move – containers can be moved to a different location (great if you are moving to a new house, or if you decide you like your front porch better than your back porch, or vice versa)
Perfect for kids – what a great way to introduce kids to gardening without overwhelming them!
Great for people with disabilities – gardening is hard (and sometimes impossible) for people with health restrictions, but a container garden is possible even for a disabled person. Learn more about gardening for people with disabilities.
Less back pain – since containers can be placed on higher surfaces, there's a lot less chance of backaches.
No need for heavy equipment – since you don't need to till the soil, weed, and do other regular garden chores, you do no need big, heavy equipment.
Flexible – want to change your plants with the seasons? You can easily do that in a container.
Containers can add to the beauty of your garden – some containers are very pretty and can add color and character to your garden. Here are some of my favorites: giraffe planters, elephant-shaped containers, colorful Talavera planters, and this baby Groot flower pot.
There are more advantages, but if you need any convincing, this should do it.
Disadvantages Of Container Gardens
While there are many advantages to growing flowers, herbs, and vegetables in a container, there are disadvantages, too. And it's good to know them before you start your container garden. Here are just a few:
containers need a lot more watering (sometimes twice a day)
it can get expensive: containers are not cheap, and if you like beautiful pots, you might have a problem.
container gardens need special soil, which could be expensive
they also need to be fertilized more often
plants grown in containers can die during very cold winters (make sure you protect them by bringing them in the garage or by covering them up)
because of space confinement, some plants may not do as well as those grown in the garden. The roots don't have as much room to spread
small containers might be blown away and destroyed in a storm
large containers, on the other hand, will be hard to move
Best Container Gardening Books
If you like following instructions or need some inspiration before starting your container garden, these books will help a lot.
Beginners guide to patio gardening
Easy Container Gardens
Container Gardening: 250 Design Ideas & Step-by-Step Techniques
Instant Container Gardens
Container Gardening Month by Month
Easy Container Combos: Vegetables & Flowers
Container Gardening: A Complete Beginner's Guide
Over 200 Fresh Ideas for Indoor and Outdoor Inspired Plantings
Container Garden Idea Book
The Best Sizes For Container Gardening
The size of the pot will determine what you can grow in it.
Smaller pots can only accommodate one or perhaps two plants that do not spread and tend to stay relatively small.
Large pots can comfortably house bushes, shrubs, and even small trees.
You can also plant combinations of smaller flowering plants and grasses in a container for a living bouquet effect.
Selecting the proper sized container for your plants is essential to their health and ability to flourish. If you have a plant in a small pot and it starts to wither, discolor, or generally act unhappy, switching it to a larger size container can sometimes make a difference.
Here are some beautiful flower pot ideas.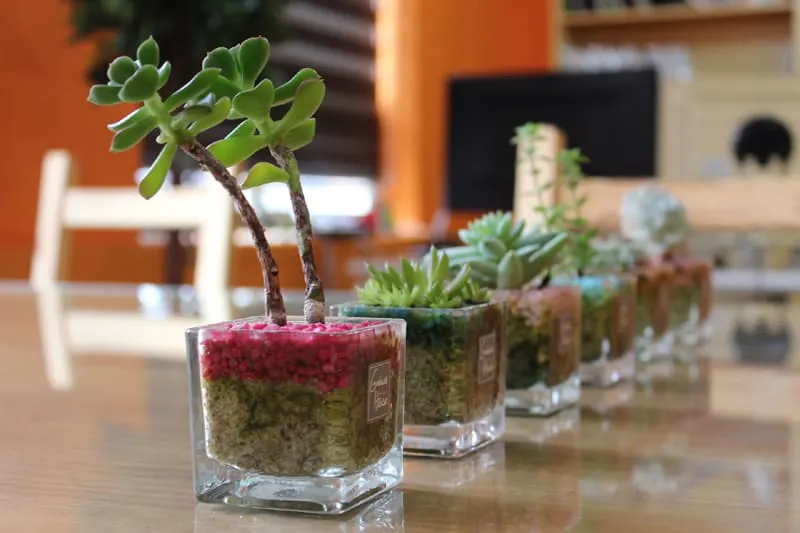 Here's an example of a small container garden made of succulents. This cute arrangement is perfect for a small apartment, and for beginner gardeners, as succulents don't require a lot of work.
Where To Keep Your Container Garden
Container gardening is a great way to keep flowering plants no matter where you happen to live.
If your residence is in an urban environment, you can artfully arrange the pots and plants on your porch or balcony.
Add some window box planters: they will instantly add color and beauty to your home.
For those who are suburban dwellers, decks can become an oasis of greenery and color.
Even if you have no outdoor space at all, plants in containers can thrive indoors as long as they receive adequate amounts of sunlight and water.
Do not feel limited by your environment, as there are always plants that will thrive wherever you have the space to put them.
Here's a nice assortment of greenery for a small balcony: a great way to decorate a balcony right outside of your bedroom.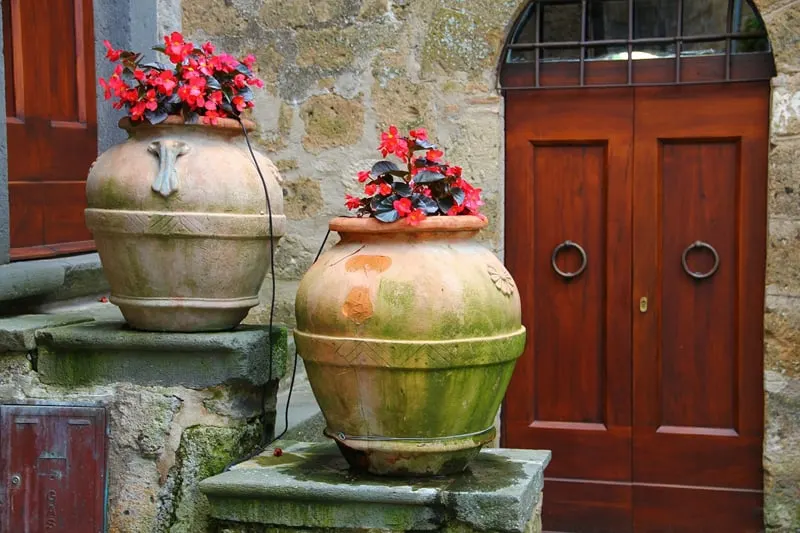 Sometimes, in big cities, or in certain areas of the country, there's just no room for greenery. That's when these large pots can do a great job of decorating your doors. Fill them with some colorful plants that bloom all summer long, and you've got yourself a great welcome every time you come home.
Another idea for your patio or front door is a large concrete container that holds a variety of bright colored flowers: what a nice way to welcome guests and family members!
What to Plant in Your Container Garden
Vegetables
It is possible to grow just about any type of plant in a container, including fruits and vegetables. However, like flowers, there are certain varieties of vegetable and fruit plants that do better in containers. Smaller tomatoes such as the Tiny Tim and Pixie varieties do well when planted in 5 gallon pots.
You can also grow hot peppers. They are not only great for cooking, but they look great too!
You can also grow greens like swiss chard, spinach, lettuce, and more.
Of course, there are many other vegetables you can grow in containers: some do better than others. Here are a few more we tried over the years: peas, radishes, cucumbers, carrots, and beets.
It is important to support vine and stalk plants with cages or trellises when they start to bloom, as the fruits will be more susceptible to rot and mold if they are left lying against the dirt in the pot. Relieving the weight of the fruit from the plants also makes them grow healthier and sturdier stalks.
Herbs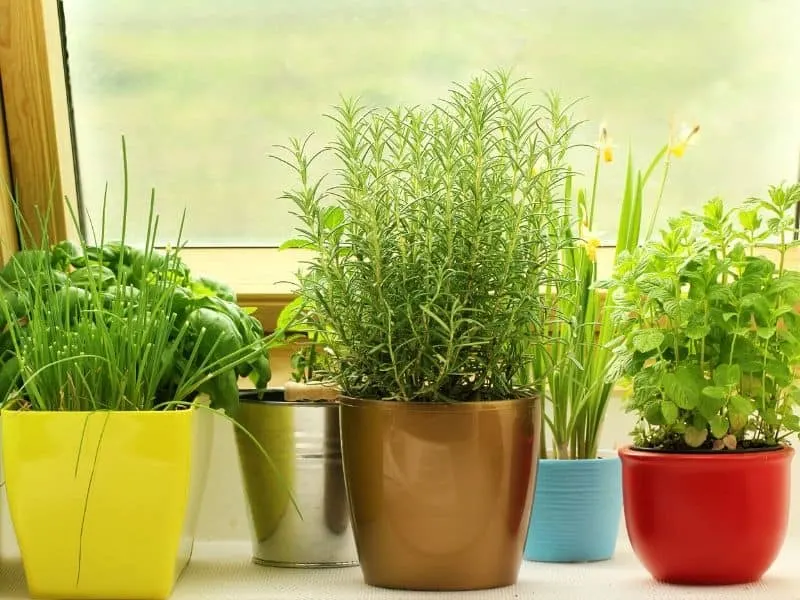 I LOVE having a few pots with herbs growing on my porch! It's east to go get what I need while cooking. then in the winter, I just bring the herb containers in my kitchen. This way I enjoy fresh herbs all year round.
The cute pails filled with different herbs (rosemary and basil in these)are perfect to grow on the countertop.
How adorable this lavender pot is! Perfect for the front porch (either on the floor or sitting on a table), or indoors in your bedroom. It also makes a great gift for a garden lover.
Flowers
You can have an entire garden made of hanging baskets. This one filled with colorful lobelias will make a statement at your front door.
Try some really large containers too, not just little ones. These large containers placed in front of an existing flower bed marry the two together beautifully.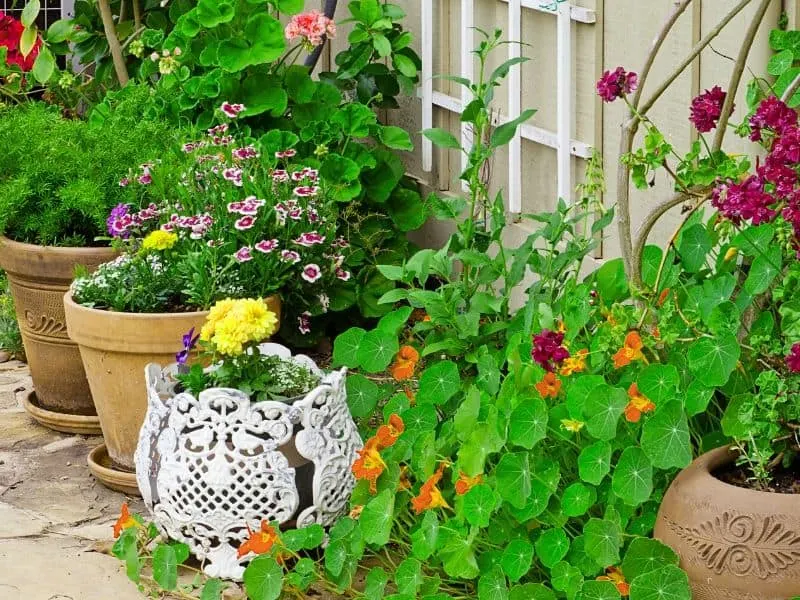 Planted along the exterior wall of the house these beautiful containers filled with colorful flowers will welcome you home every day.
For more ideas, scroll down to our container garden gallery.
Recycled Container Gardening
While new containers are desired by some, many of us love creating gardens in recycled containers. Here are just a few creative ideas of recycled container gardens.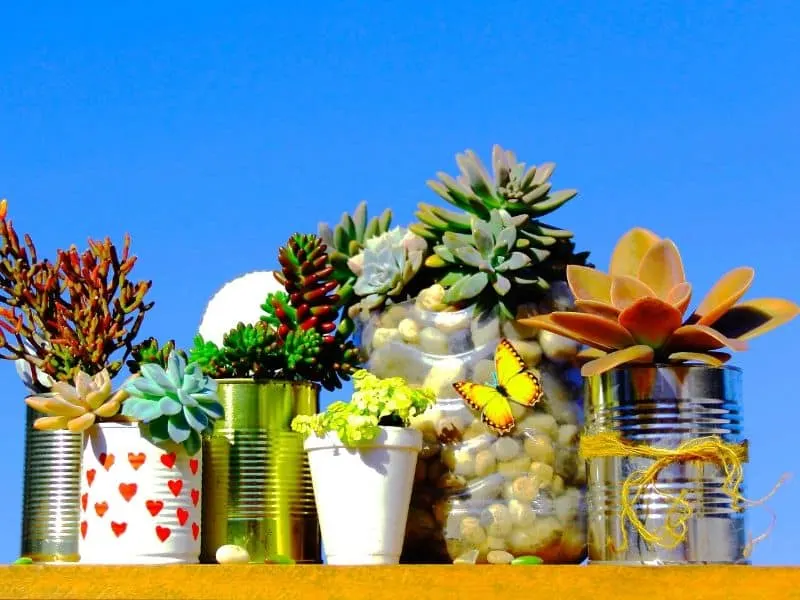 You can use cans from vegetables you ate to plant herbs and succulents. Give them a nice coat of paint, and even decorate with little hearts or dots and lines to make them more appealing.
Do you have an old tea kettle you can no longer use? Repurpose it into a cute container for your plants.
Here's another idea for an old teapot. This white porcelain container works perfectly with the purple pansies. So pretty!
Use those old shoes to plant some succulents (or any other flower you prefer).
Great way to add some color to your driveway or in a bare spot in the garden.
Container Gardens Gallery
Enjoy this beautiful selection of container gardens: from small ceramic pots to great big colorful plastic containers, and large terracotta flowerpots, we gathered it all.
These baby groot containers are adorable!
Pansy Flower Containers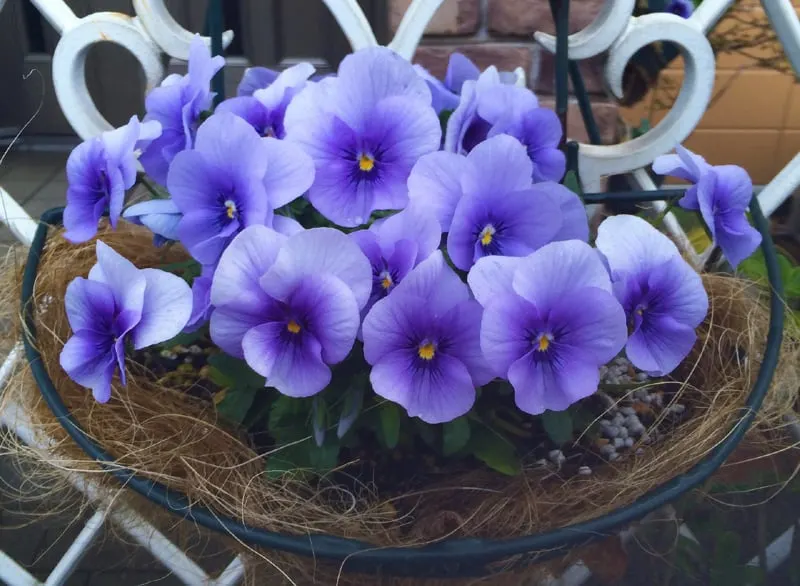 Beautiful blue pansy flowers, blooming through the cooler weather, gladly cheering everyone on. BTW did you know pansies are edible? Add them to your salads for added visual appeal. Here are several more edible flower ideas.
A gorgeous container of cascading yellow and purple pansies hanging by the handrails.
Here's a rose-colored pansy flower, perfect for a desk or dining table. Thrives in the cold weather!
With so many color options, pansies are very versatile. Here, they are looking great in a terracotta planter.
Peacock Orchids
Peacock orchids are actually from the gladiolus family. Delicate white flowers with purple markings in the center, these flowers make a nice statement when grouped together in a nice container. Beautiful indoors and outdoors, you need to give them a try. They smell heavenly!
Hanging Container Gardens
When you live in an apartment building, your only chance to have some pretty flowers might be hanging flower gardens. Here are just a few ideas: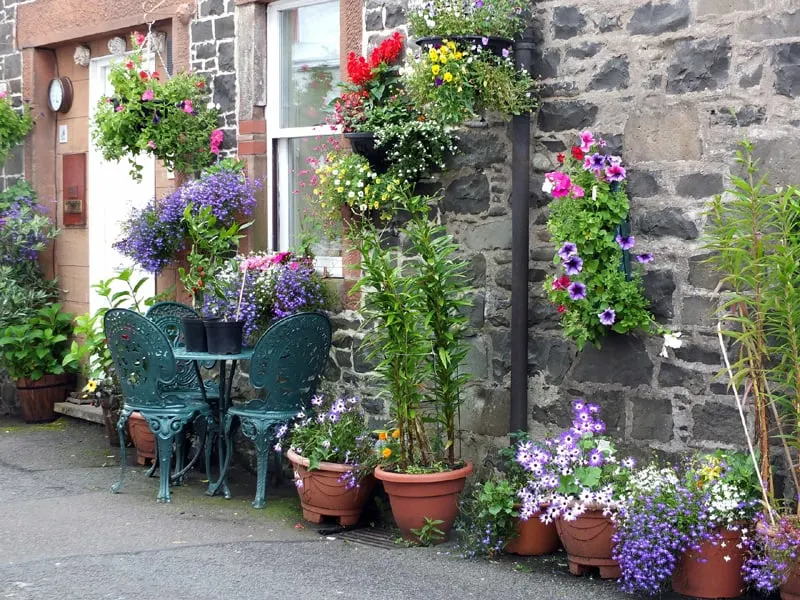 A gorgeous use of containers here, bursting with happy colors for a delightful decoration. Makes you want to stop and smell the flowers 😉
This simple metal pail filled with pretty purple flowers is hanging prettily against a wooden porch: what a beauty!
And if you like red flowers, this hanging basket will cheer you up every time you pass by. Really easy to inject a splash of color to your front porch.
Spring Primrose Containers
These gorgeous flowers grow from spring till the end of summer, and sometimes even into the fall. they are quite hardy and come in a lot of different colors. Here are just a few examples: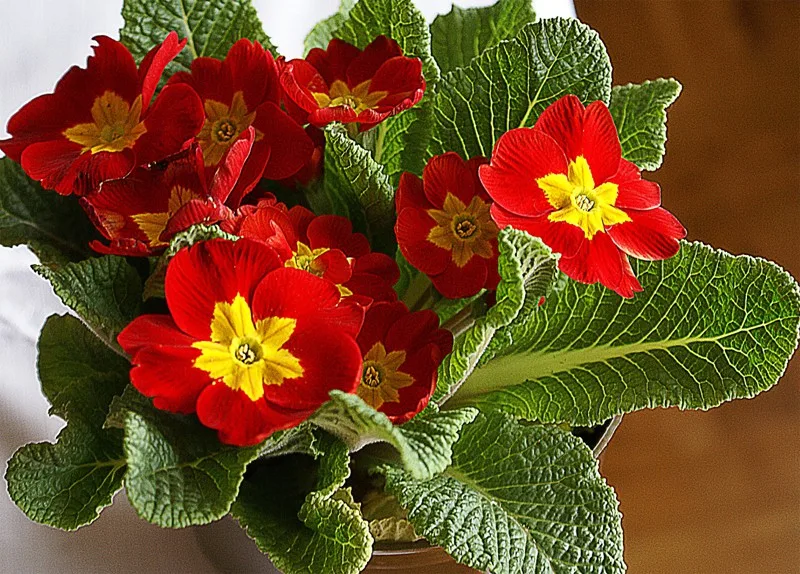 I LOVE the bold colors of this plant!
These adorable potted primroses can't help but make you happy when you look at them. Easy to care for and gorgeous to look at, they might just be your perfect potted plant 😉
Large Potted Containers
These large, colorful planters are great for a long driveway or on your back patio. They will bring cheer and happiness to everyone around. Just try it, and you'll never regret it.
More colorful flower containers! These plastic tubs are beautiful by themselves, but they just shine when the pretty colored flowers grow and bloom.
Pretty Colored Container Gardens
What an explosion of pretty bright colors!
This petunia flower pot is so easy to plant, anyone can do it!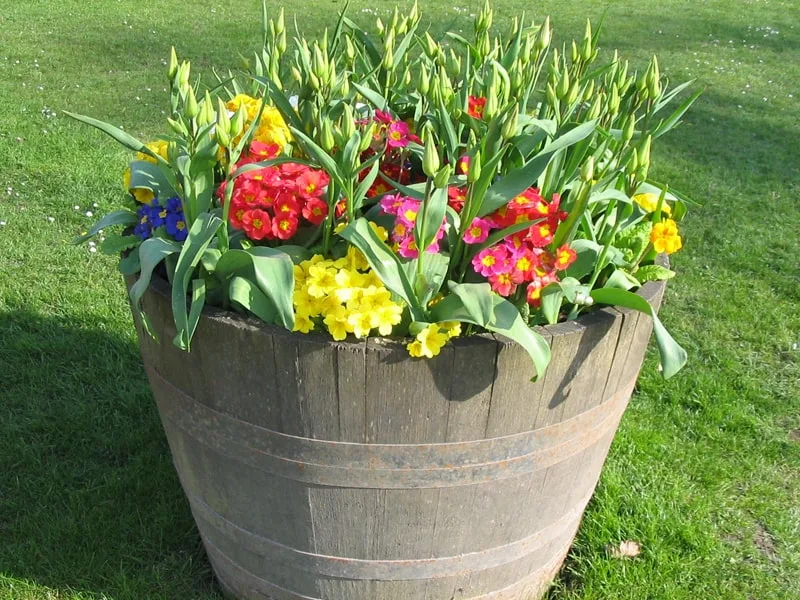 A gorgeous combination of spring flowers that will create a beautiful array of colors when blooming. Includes tulips and primroses of several colors: GORGEOUS!
So if you have always dreamed of having a garden but don't know where to start, or are overwhelmed by all the possibilities, pick one or two plants that you like and find a couple of cute pots. Just make sure that you select pots that are the proper size for the flowers or vegetables that you wish to grow, and then place the potted plants in a spot that gets enough sunlight. Very soon, you will be sporting a green thumb, and you will have mastered the art of container gardening.
I hope our selection of container gardens has inspired you to create your own potted flower containers to cheer up your home.
Adriana Copaceanu is a passionate nature lover living in the country on her dream property where she grows vegetables, lavender, and wildflowers that she shares with the wildlife they attract. When she's not in the garden, she loves spending time with her chickens and planning her next nature project.