Send yourself, family and friends for sweet dreams with these pillows filled with fragrant herbs and flowers. Making dream pillows is a lot of fun and you can give them as gifts to friends and loved ones. Perfect for Christmas, birthdays, or just because 😉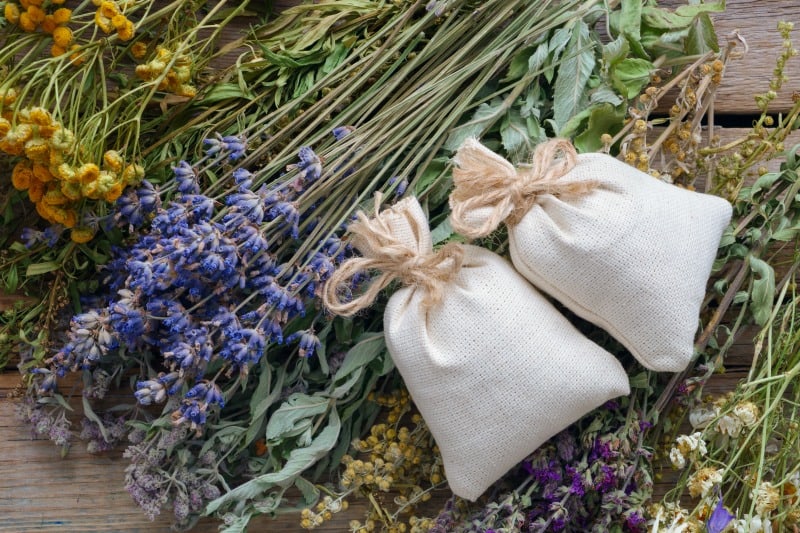 Dream pillows are safe to use with adults and children, unless they have allergies. If they do, test them out while awake first to see if any adverse affects occur like stuffy nose or rash.
Related: 10 popular herbs you can grow on your patio (with lots of pictures)
Dream Pillow History
Dream pillows were used in the Middle Ages and Renaissance to put babies and adults into blissful sleep. They banished headaches, depression, suppressed scary dreams, and sometimes enhanced good dreams and allowed for dreams of the prophetic variety.
Herbs were sewn into pillows and laid at the top of the bed. Sometimes, certain herbs were included in the pillows to tell a person what they had to do to become prosperous or to tell whom they would marry.
Notably, sanitary conditions during this time were not very good. There were no underground sewers and waste flowered through the streets in open ditches. Dream pillows filled with herbs served to mask the odors of the atmosphere, making for more pleasant sleeping conditions.
Related: Herbs garden ideas
Making Dream Pillows
Dream pillows are very easy to make: you can even get the children involved for a fun family activity. They consist of a muslin drawstring bag filled with dried herbs, spices, and flowers encased in an outer pillow made of pretty fabric and embellished with ribbon or embroidery (this is optional).
Here's what you need to start making dream pillows:
muslin
other cloth such as organza, silk, velvet, chintz or cotton with a pretty design
dried herbs and spices
scissors
thread
sewing machine (no need for a full size one for this. Here's a cute portable sewing machine that's perfect for this project)
needles
ribbon and other decorations
Solid Color Satin Ribbon
Assorted Craft Fabric Bundle
Sewing Thread 24 Colors
Of course, if you're not quite crafty, or if you're short on time, the easiest way to make these herbal dream pillows is to buy your muslin bags (Amazon has a set of 100 bags, very inexpensive!).
How to Make a Dream Pillow
Cut muslin in two equally sized squares, depending on the desired size of your pillow. Make a small pillow to slip inside the case of a bed pillow by cutting the squares 4 to 5 inches. This inner pillow holds the dried material and is encased in a prettier cover.
Sew along three edges of the muslin squares with a 5/8 inch seam allowance. Turn the right side out so seams are inside, then set aside.
Cut two pieces of satin (or other material) approximately 1/2 inch larger than the inner pillow. This satin quilting bundle is gorgeous and easy to work with.
A 4 inch square inner pillow will require a 4 1/2 " square outer pillow. If you want to embroider your outer pillow, do it before you sew it together.
Place the wrong sides of the squares facing each other and sew three sides together. Turn right side out. This cover is easily made removable to wash by turning down and the raw edges and hand sewing them to make a small hem on each side of the open end. Attach Velcro strips or sew on small snaps to make it stay closed.
Fill the inner pillow with dried herbs from your garden. Do not stuff it full or it will feel like a big lump under the head. Leave it loose and flat. Turn raw edges of the open side under and hand sew the whole pillow shut.
Insert the inner pillow into the outer pillow case and seal it shut. You can easily renew/refresh the inner pillow's content by cutting the hand sewn edge open and filling it with new dried plants.
Recipes for making herbal dream pillows
To make your dream herbs pillow, prepare a nice sized glass bowl to mix your dried plants.
Herbs that promote a restful sleep include:
lavender
chamomile
rose petals
catnip
calendula
rosemary
1. Sleepy head dream pillow recipe
1 cup dried lavender flowers
1/2 cup dried chamomile flowers
Romantic dreams herbal pillow
Mix 1/2 cup each of rose petals, lavender buds and calendula flowers and tuck them inot your pillow case for a dreamy romantic night 😉
Want stronger love dreams? Here are some more herbs for dreams of love, herbs that are spicy and strong: cinnamon stick, cloves, jasmine and lemongrass.
Whole Cloves
Organic Dried Jasmine
Organic Lemongrass
Herbs to induce prophetic dreams include:
Clary sage
mimosa
mint (used sparingly).
Those that dispel bad dreams are:
chamomile
lemon balm
anise (used sparingly)
cedar
mugwort
mullein
rosemary
Make your own combinations to give friends and family the right kind of dreams and to help them snooze all through the night.