So… you have a backyard shed… It's functional… holds your gardening equipment, tools, feed for livestock, etc., and maybe it even provides some storage space.
Maybe you converted it into a nice sitting area for adults or a fun playhouse for your kids. Or maybe you created a small greenhouse in it. But you need a few landscaping ideas to use around your storage shed to make it look nice.
Outdoor sheds are a popular type of storage solution people use today. A backyard garden shed can neatly hold your lawnmower, garden tools, and other garden essentials and keep them from being damaged by the elements. Or you might store seasonal holiday decorations and other items in there that you don't need year-round so that they can be protected until you do need them.
No matter what you use it for, it's always nice to spruce it up with a bit of landscaping: it could be your getaway at the end of a hard day at work or your secret place where you can go play with dirt. Or, it could just be part of your garden, and add to the happy time you spend there. Here are just a few landscaping ideas for sheds to inspire you.
Don't have a shed yet? Build your own with one of these plans.
5 Creative Landscaping Ideas For Sheds
Whether you have a small shed or a large one, or a potting shed for your gardening tools and supplies, this can be a functional part of your landscape design. You can turn your backyard shed into an outdoor space that is beautiful to look at and welcoming to spend time around. A few simple landscaping ideas can change a boring outdoor shed into a beautiful focal point of the lawn.
Landscaping ideas around a storage shed don't have to be anything elaborate. In fact, sometimes the simpler things make the biggest difference. Just add a few colorful flowers here, a few pavers there, maybe a few containers filled with your favorite blooms, and you're done.
You can decorate around the front of your shed, create a small garden on the side, or even build a small porch on your shed and use hanging baskets on the porch.
A good way to spruce up an ordinary storage shed is with some evergreen shrubs in front of it, or you can use wicker baskets and place some flowers inside, or even use stone pavers leading up to the door to make a cute little walkway. Let's take a look at some more ideas to make good use of the space in and around your outdoor shed.
1. Create a beautiful walkway to your shed
The first thing that you can do is create a lovely-looking walkway to your storage shed. You can do this in a few different ways. I'm going to show you some ideas that I like but feel free to be as creative as you want when it comes to decorating your own space.
Find some interesting-looking larger-sized rocks and create a path going to your storage shed. Or, you can create your own walkway design with one of these walkway molds.
Along the same lines, you can line a path to your storage shed with some pretty colorful flowers. You could plant the flowers right into the ground or you can find some neat-looking containers (ceramic planters are beautiful) to plant them in and place along the path.
Leave the path between the flowers just dirt, or you could add river rock or even fancy-looking wood chips to fill in your path.
Another idea would be to get a mold and create some stepping stones to form a walkway to your outdoor storage shed.
Here are more attractive path ideas you could try.
2. Add some lattice to your shed for climbers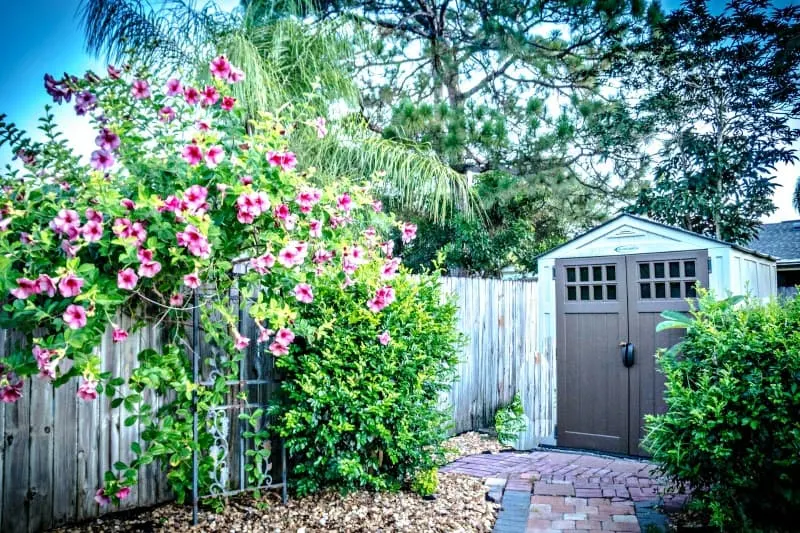 Now that you have some great ideas for creating a nice landscaped path, you can move on to do some landscaping next to your shed. There are so many ways to use this space that you may not have even thought of before. Depending on your shed design, the best way to decorate or landscape next to your shed can vary. There are some questions you can ask yourself before you get started to help you make the best decision for your needs.
For example, what kind of door does your shed have? Is it a double-door shed or a single-door shed? What side of the shed is the door on? These are also some things to consider when decorating or landscaping around your shed. You may also want to look at what direction the shed faces and which side your door is on. Does it have windows? If so, which direction do they face?
A very simple but pretty way to landscape around your storage shed would be to attach a lattice to both sides of your shed, or by the sides of your path, and plant something that will climb up the lattice.
It could be a pretty flowering plant or a very simple vine. I can only imagine Joseph's coat rose bush blooming by the side of my shed!
Other beautiful climbers for lattice:
clematis
morning glory (careful with this, as it can be invasive)
climbing hydrangea
jasmine
3. Create a patio for the shed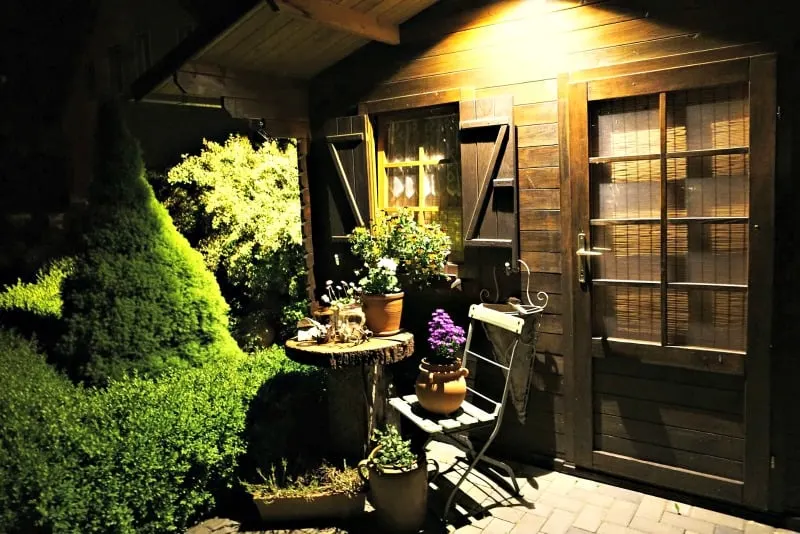 If you have turned your storage shed into a playhouse or sitting area, you could purchase some patio brick stone and create a lovely patio area outside of the shed area. I also think this is a great idea that works for rustic garden sheds because it completes the look.
Plant flowers all around the patio area, or add some flowers in containers. Adding a pretty set of tables and chairs and an outdoor fireplace will also make a lovely accent.
Your shed could be a place to keep your power tools, sports equipment, and other small items you use on the lawn or in the garden, or it could be a small "man cave" or "lady cave" that you use to get a little bit of alone time.
4. Add flower boxes to the windows
Attach some flower boxes to the windows of your storage sheds and plant some flowers like wave petunias that will provide a fantastic touch of color to your shed.
Before you know it you will have a beautifully landscaped storage shed.
5. Add potted flowers by the door
These gorgeous hydrangea flowers, potted in a cute silver sleigh, can greet you every day on your way to the shed. Place them at the door and enjoy them all summer long.
BTW, did you know you can control their color with a bit of garden chemistry? This could be a fun gardening project to landscape around your storage shed and also brighten up your yard.
Pictures Of Landscaping Around Sheds
If you need more inspiration about landscaping around sheds, I gathered some pictures of beautifully landscaped sheds for you. I invite you to use these pictures as inspiration to help you come up with the perfect idea for your own needs. Enjoy!
This shed, situated at the back of the backyard is surrounded by gorgeous lilacs. I can only imagine spending my afternoons here with a good book or some friends. Maybe you'll even add a bench or some small chairs for seating.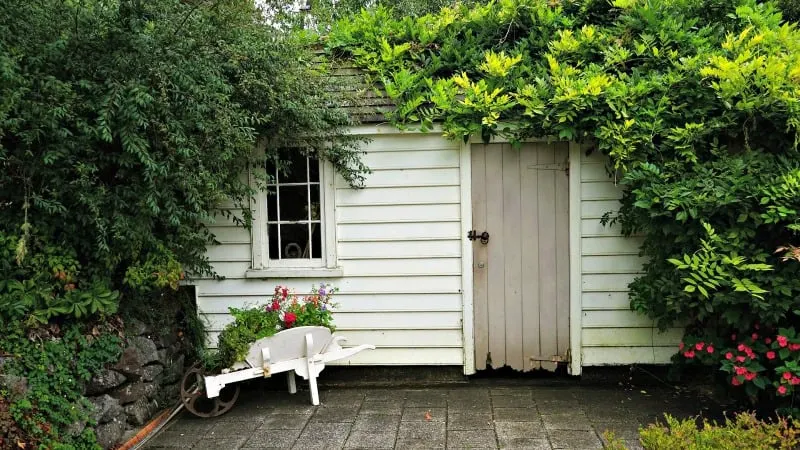 This hidden shed is livened up by a cute wheelbarrow with red and white flowers. Could be a man cave or a she-shed: both would love the solitude here.
What a cute shed! Isn't this one just adorable? And I love the conehead flowers: they bring a cheerful atmosphere to this spot.
Don't have a shed yet? Use one of these FREE plans to build your own
This tiny home away from home (that's what it looks to me: I can see my grand kids wanting to spend the night here for fun) has a bit of everything: some evergreen bushes, a climbing vine, and some pots with colorful flowers to cheer you up every time you stop by.
Almost hidden from view by vegetation, this little cottage-style shed is the perfect spot for working on your secret garden projects or enjoying a good book in the middle of nature. This is a simple look to pull off and it won't break the budget, either.
Related: Arrow sheds
This country shed has a gorgeous view! It has all you need to keep busy in the garden and even preserve your garden harvest! I love the rustic and simplistic look of this unique shed and the way they have decorated the landscape outside of it.
If you like statuettes, this cute little shed displays one and lots of lavender. Beautiful flowers like this add a pop of color that really contrasts against the shed in the background. Isn't it stunning? Everyone should grow lavender: it smells heavenly and it's great for gifts 😉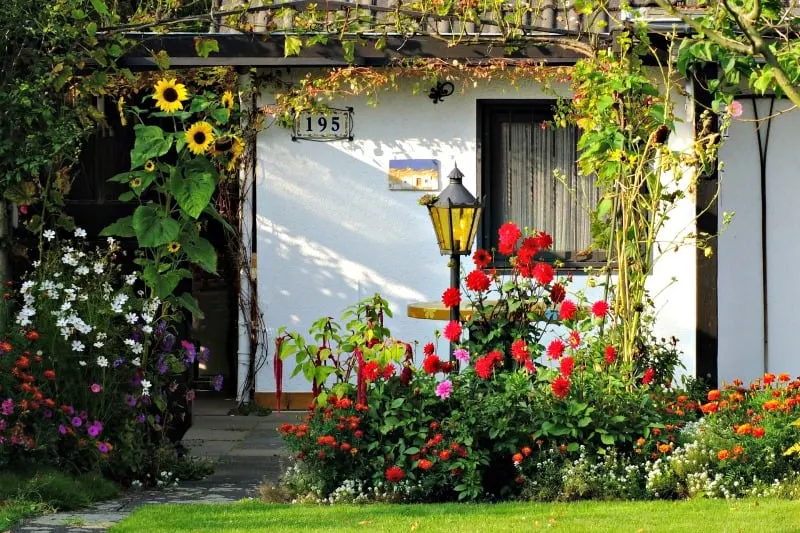 This she-shed is adorable! Surrounded by colorful flowers, it creates the perfect little corner to relax after a hard day at work. The sunflowers make me smile! Can't you just see spending a lot of peaceful time here by this shed?
This old shed looks like a favorite nap spot, as you labor in the garden. Wouldn't it be a great spot to take a break and rest a while? In fact, you may just want to bring a book out here, a journal for writing, or even a sketchpad if you're into art.
You can connect with nature, enjoy yourself, and make some nice, peaceful memories here. If you wanted, you could even invite a good friend to sit with you and enjoy some tea or talk and catch up. This will be such a beautiful space, you'll be thinking of many ways to enjoy it.
I hope you've been inspired by all of these ideas and that it's given you some you want to try for yourself. From tool sheds to potting sheds and everything in between, these ideas for landscaping around the storage shed areas will help you create a beautiful space right in your own yard. When you decorate outside the shed, it really elevates it to a new place and turns it into more than just a storage shed.
But these ideas aren't the end. There are even more great ways to improve your landscape and make the most of the space available on your lawn. Want to build a gazebo? They add charm to any garden and are the perfect place to unwind at the end of the day.
Do you have a beautifully landscaped shed? I'd love to feature it here. Get in touch here.