With fall already here, you can almost smell the apple pie baking in the oven. It's one of most American's favorite foods, especially during the holidays. This sumptuous dessert has a way of complementing any meal and makes dinner time even more exciting. But apple pie is not the only way to enjoy apples. So today, I bring you several easy fall apple recipes that the entire family will enjoy.
Apple Varieties And Their Uses
I love that there are several varieties of apples. I personally like eating the sweetest-tasting apples: Golden Delicious, Gala, and Stayman.
There are other varieties, such as the Red Delicious and Fuji apples, that taste good, and they make excellent snack foods.
Honeycrisp and Granny Smith apples are great for baking.
Jonagold and McIntosh apples are great for applesauce, while Gala and Rome Beauty apples are used for making apple cider.
Related: 7 delicious ways to enjoy apples
A Few Must Have Apple Accessories
Starfrit 93013 Pro-Apple Peeler with bonus core slicer
The Apple Cookbook, 3rd Edition: 125 Freshly Picked Recipes
8-Blade Apple Slicer, Corer, Cutter, Wedger,
Easy Fall Apple Recipes
Have you got some apples? It's time to get busy. Here are a few easy fall apple recipes to add to your collection.
Related: Butternut squash soup recipes the whole family will love.
1. Baked apples
Baked apples are a delightful dessert made by hollowing out apples and filling them with a sweet mixture of cinnamon, sugar, and sometimes nuts or raisins. They are then baked until tender, creating a warm, fragrant, and comforting treat. Enjoy them on their own or topped with a scoop of vanilla ice cream for a simple yet indulgent dessert experience. YUM!
2. Apple cranberry tart
Beautiful and tasty, this Apple Cranberry Tart is the perfect Sunday or holiday dessert, featuring a delicious crust filled with a blend of sweet, tender apples and tart cranberries. The fruits meld together, creating a burst of flavors in every bite. Often complemented with warm spices like cinnamon and nutmeg, this tart offers a delightful balance of sweetness and tanginess. It's a perfect fall treat, capturing the essence of the season in a single slice.
3. Sugar-free apple muffins with salted caramel (low carb, gluten-free)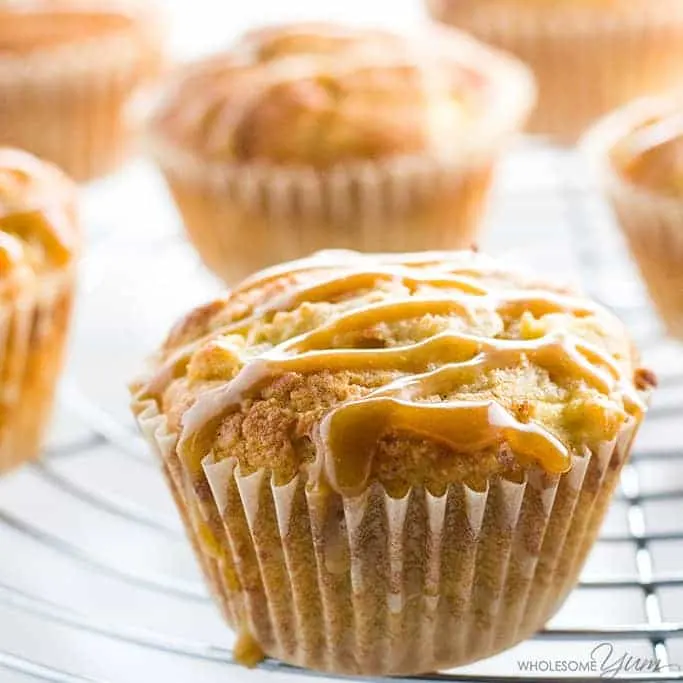 Sugar-Free Apple Muffins with Salted Caramel
When you want some sweetness, but without the loaded sugar, you've got to try this recipe. Here we have sugar-free apple muffins with delicious salted caramel to give them a naturally sweet flavor. Great for taking them with you on the go.
For easy cleanup, make sure to get yourself a set of these silicone muffin liners.
4. Apple cinnamon loaf cake
Here's an amazing loaf cake from the Baking Fairy that you're going to wish you knew about sooner. It's sweet, it's full of delicious fall flavors, and it's really not that difficult to make. Your house will smell delicious and you can enjoy this simple bread for breakfast or as a snack any time.
I love making smaller cakes: they can be given as gifts, and they're easier and more fun for kids to eat. This 8-well mini-loaf pan is my favorite.
5. Apple crisp cookie cups
These amazing apple crisp cookie cups combine classic oatmeal cookies with homemade apple pie filling for a delicious comfort food. What a perfect treat for fall!
6. Cinnamon apple yam bake with pecans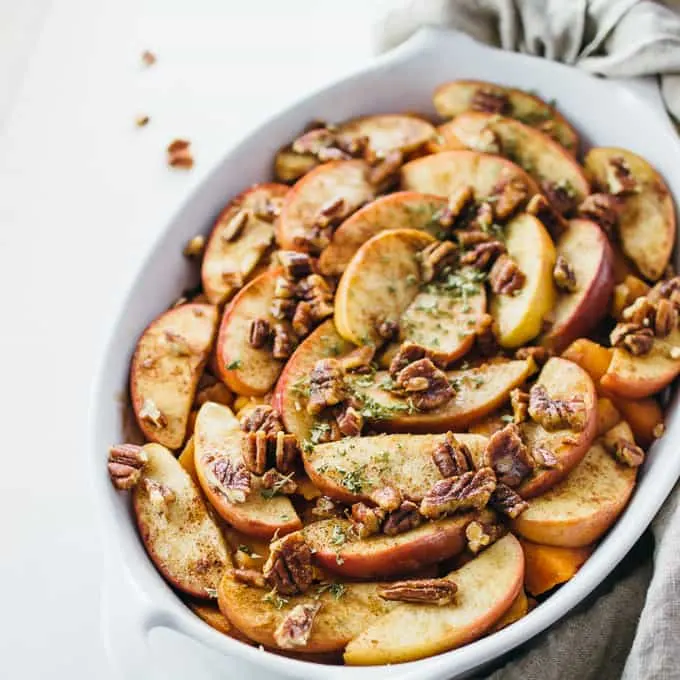 Cinnamon Apple Yam Bake with Pecans
This makes a perfect holiday side dish as well as a fall treat, and it's so easy to make! Follow the directions from Savory Tooth and you'll probably find this is a family favorite. It tastes great and it's oh-so-easy to make.
7. Healthy apple cinnamon protein smoothie
Apple Cinnamon Protein Smoothie
Want a great way to start your day, or to enjoy after a fall run or workout? This apple cinnamon smoothie is a delicious way to enjoy your fall apples. and nothing can be easier than making this!
8. Warm sorghum salad with kohlrabi, apple, & fennel
Warm Sorghum Salad with Kohlrabi, Apple, and Fennel
Here's something totally different for when you want to use your apples in a new and interesting way. This warm sorghum salad is paired with roasted kohlrabi, ginger gold apple, and fennel. Delicious!
9. 3 Way apple soup
A very new and interesting way to use apples is 3-way apple soup. You can make it in under 30 minutes, and it's great for leftovers, too. It combined apples, apple cider, and dried apples to make a delicious soup.
10. Instant pot pumpkin apple cake
Instant Pot Pumpkin Apple Cake
Here's something that brings two of the best fall flavors together – apple and pumpkin. The best part? You can make it in the instant pot so you don't have to slave in the kitchen all day (unless you enjoy that, of course).
Oh, this time of the year, you might want to take a peek at some delicious butternut squash soup recipes too!
11. Easy chocolate caramel apples
Easy Chocolate Caramel Apples Recipe
Caramel apples are a fall favorite. This recipe adds chocolate and pecan halves for a delicious dessert treat. It's pretty simple to make with a 10-minute prep time so you can whip it up any time and enjoy it with the whole family.
12. Honey crisp apple mocktail
Apples are fresh and plentiful in fall and this is a great time to enjoy a drink like this apple mocktail. If you don't do alcohol, or if you want to make something the minors can enjoy, this is a great option. It's simple to make, tastes great, and will bring out fall's flavors.
Still looking? Try one of these yummy treats:
Many cooks also enjoy making homemade apple butter and topping baked apples with cinnamon (this organic Ceylon cinnamon is what I use) or brown sugar. Are you ready to start baking? No matter how you cook them, fall apples can make mealtime a little more exciting for the whole family. They not only taste great, but desserts made from apples are some of the healthiest desserts you can make for your family.
Adriana Copaceanu is a passionate nature lover living in the country on her dream property where she grows vegetables, lavender, and wildflowers that she shares with the wildlife they attract. When she's not in the garden, she loves spending time with her chickens and planning her next nature project.