Suncast storage sheds offer simple solutions for hiding and holding all of your outdoor things. If you're looking for a storage option that won't break the bank, one of the easiest decisions you'll have to make will be to get a Suncast storage shed.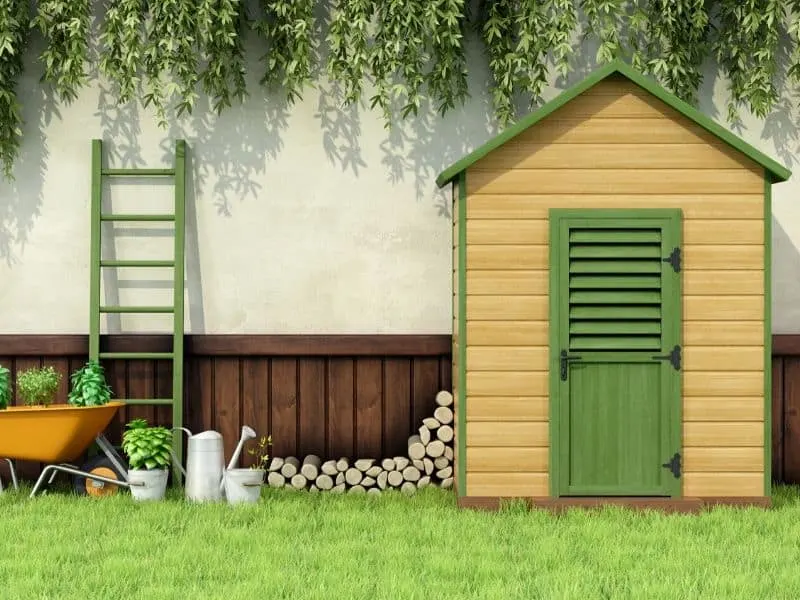 What if there was a way that you can have a dry and sturdy structure to have all of your gardening tools and lawn tools inside? Great news, you can have all that and more with one of these Suncast storage sheds!
Suncast Garden Sheds
Here are a few options for various Suncast Garden Sheds.
Suncast Horizontal Outdoor Storage Shed
Suncast BMS2500 EMW7321904 Horizontal Outdoor Storage Shed for Backyards a, Vanilla
Made in the USA using premium quality, this shed comes equipped with double doors and a top lid that lifts off. This allows you to have multiple ways to access your gardening or yard tools that you're planning on storing there.
You can also lock the shed for extra security if you're not able to have it stored or sitting right next to your home.
The height and size of this Suncast horizontal shed also make it a great choice for bike storage.
Reading the reviews on this, I noticed that the time frame to put it together wasn't too long. Right around 45 minutes – 1.5 hours, with very easy-to-read and follow directions.
Related: Arrow sheds make great storage for garden tools.
Suncast 6 ' x 3' Vertical Storage Shed
Outdoor Storage for Backyard Tools and Accessories
This vertical storage shed offers a lot more height than the previously mentioned one. You can easily think of this in terms of a Suncast utility shed versus just a typical storage area.
This unit also comes with sturdy flooring and small viewing windows to allow you to see what is inside. Just like all their other units, this one can be secured with locks.
Reviewers loved the fact that they could store tall items in this storage shed, such as ladders and rakes. The assembly instructions for this unit are easy to follow as well.
One reviewer even stated that their customer care helpline was a huge assistance in getting their questions answered quickly and easily.
Suncast Tool sheds
Suncast Vertical Tool Shed
20 Cubic Feet Capacity for Long Handled Tools and Garden Accessories
What's so great about this tool shed is that it doesn't take up a lot of room. It's tall and slender, allowing it to be placed in smaller places than a typical storage shed might fit.
With measurements of 32.3 x 25.6 x 72 inches, it's easy to imagine this sitting on a deck or near a backdoor easily.
Inside this tool shed you'll find several ways to add in shelves (reviews said up to 4 shelves inside could be added). The exterior comes with the option to be locked as well.
This can be connected to another structure if you need it to be, but it's also fine standing alone as long as it's on a flat surface.
If you are going to mount it yourself, it does come with a screwdriver to help accomplish that.
Suncast Vertical Utility Shed
Storage and Shelving for Garden Tools and Accessories – Wood Grain Texture
This vertical storage shed is very similar to the one mentioned above but it's just not quite as tall (2 inches less). The corners also have more of a rounded look and the coloring is a bit darker. I love the look of it!
One reviewer even made mentioned that if you can put together and play with LEGOS, you'll be able to assemble this without any issue.
One disadvantage to this is that it might not be quite big enough for all your storage needs. If that were the case, you could always upgrade to a different shed.
Its sleek and small width give this the ability to be put anywhere that you have a space. Using it for long-handled garden items is a great idea to also de-clutter your garage or even the garden area of your outdoor space.
Suncast shed 8×10
All-Weather Resin Material Shed – Transom Windows and Shingle Style Roof
This shed not only offers space, but it also comes with a 10-year warranty as well. That gives great peace of mind to those of us looking for a way to add value to our home without having to break the budget.
With 547 cubic feet or storage, you can easily fit in bikes, push lawn mowers, gardening tools, and more. This storage shed also comes with sturdy flooring, so you truly are keeping your tools and other personal items out of the elements.
A big positive of this Suncast Outdoor Shed is that it will never rust or rot. There is minimal maintenance that you have to do to keep this shed looking brand new and in working condition.
Reviews state that there should be two people working together to assemble. Good to know. Get some pizza and a friend, and you'll be done in 3-4 hours.
Some customers voiced their concern over the stability of Suncast storage sheds. But many others have stated that theirs has withstood many forces of nature, including even a hurricane.
Suncast Storage Shed Accessories
Once you decide on the Suncast storage shed that is right for you, you might also want to consider getting some accessories to go along with it.
Suncast BMSA2L EMW7338403 Loft Shelf-Ceiling Storage
Loft Shelf-Ceiling Storage and Shelving
Why waste the space near the ceiling if you don't have to? This storage shed accessory allows you to have even more storage inside. Simply hang it and attach it to the interior ceiling, and you'll have another great space up in the air to store more of your tools or "stuff".
Make certain you review which storage units it's compatible with and which it isn't before purchasing. It doesn't fit all models.
Suncast 4′ Wall Mount Garden Tool Organizer
4′ Wall Mount Rack for Hanging Large Lawn and Garden Tools
Once you have a Suncast storage shed, it just makes sense to keep the interior of that as organized as possible. This garden tool organizer attaches to the wall so that you can then add on all the tools that you're going to need.
Why clutter the floor and make it a mess inside, if you don't have to?
This sturdy wall mount can hold up to 120 pounds and 12 different varieties of tools.
Suncast BMSA7S Vertical Storage Shed Organization Metal Wire Shelf Rack
Organization Metal Wire Shelf Rack (2 Pack)
Having shelves in your Suncast storage buildings is a must. When you're looking for a way to increase your storage space in and around the outside of your home, don't leave the empty walls alone. Instead, attach some of these shelving units. That way you can utilize the interior to the best of your ability.
These shelves can hold up to 30 pounds of weight and are made of durable metal.
As you can see, you can easily find great options for purchasing Suncast storage sheds. Just figure out the amount of space you need to fill, and purchase one that fits that area and your budget.
With the colder weather approaching, the time to create a dry environment for all your gardening tools and other personal belongings is now. Do you have a plan on where you're going to store things over the long winter months?
Don't delay in ordering your Suncast Storage Shed today! It'll make tool and "stuff" storage much easier.
Suncast Storage Sheds FAQ
Are Suncast sheds waterproof?
Yes: unless there is a screen or something else on the exterior of the Suncast outdoor shed, the entire structure should be waterproof. Because of this, it's an easy solution to have for your outdoor needs as it will hold up during rain and snow without worry.
Where are Suncast Sheds made?
For over 25 years, Suncast storage units have been made in the United States. With their headquarters being in Illinois and employing more than 800 people, they've created a premium storage solution for personal, as well as business use.
Where to Buy Suncast Sheds
The great news is that these sheds are sold at a variety of different locations. You can check locally with your hardware store or even a Home Depot or Lowes in your area.
Another option for purchasing is to order direct from their website or even order the style and size that you need directly from Amazon.
Can Suncast sheds be painted?
You cannot paint their resin storage sheds. It's not recommended by the company and I would respect that.
However, if you're purchasing a wooden storage shed, this might be an option to look into. If there are ever any questions, you can always reach out directly to the manufacturer to ask.
Suncast sheds assembly instructions
Keep in mind that there will be a need to put together and assemble the shed. What this means for you, is that there will be a little bit of extra work on your part to put all the pieces together.
Every Suncast shed is going to have different assembly instructions. But this is a pertinent and important process to not overlook.
The good news is that all the Suncast storage sheds parts that you need are included in your purchase. It doesn't get much more simple than that.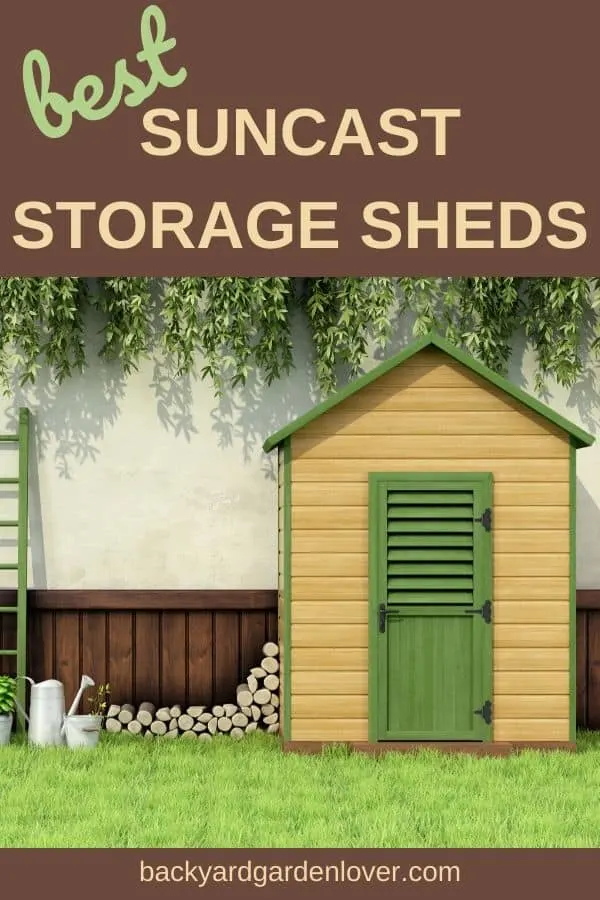 Adriana Copaceanu is a passionate nature lover living in the country on her dream property where she grows vegetables, lavender, and wildflowers that she shares with the wildlife they attract. When she's not in the garden, she loves spending time with her chickens and planning her next nature project.