Using raised garden bed kits is a great way to get a jumpstart on the planting and preparing of your garden. Not only are they perfect for giving you the materials needed and providing step-by-step directions, but they're also great for creating a garden space, fast.
Many people tend to think that there is just one type of garden beds available but that isn't the case. Due to the growing popularity of raised bed gardens, there are many different kit options for you to consider.
Why Use Raised Garden Bed Kits?
Raised garden bed kits are an affordable and fast way to create a garden space in your living area and yard. Not only do they allow you to create a space that you can fill with nutrient-rich soil for optimal growing conditions, but garden bed kits also come in various sizes as well. That's great for those of us who want a garden but only have a very small space. Here are some tips for small garden spaces.
Garden bed kits also work well for people who move often. They can take apart their garden bed and move it as well.
Best Raised Bed Garden Kits
With so many options to choose from, you might not know which raised bed kit is best for your garden. So, we'll look at a few types of raised bed kits with their advantages and disadvantages. You'll then have an easier time making the right decision.
Cedar raised garden bed kits
Below are just a few options for cedar raised garden bed kits that you can easily order and have delivered to your home. Note that they're different sizes and constructed differently on the edges as well.
8′ x 12′ Cedar Raised Garden Bed
Infinite Cedar Raised Bed Garden Kit 4'x8'x11
Raised Bed Kit Double Deep Western Red Cedar with Mortise and Tenon Joinery
Cedar is a durable wood that can last a long time. The last thing that you want to do is spend time and money on something that is going to just last a short amount of time. Cedar raised garden beds kids are a great option because they fit within a certain price point and are easy to construct.
Pros of cedar raised garden bed kits
Depending on the one that you choose, there are going to be different pros and cons to consider. Overall, some of the biggest positives are:
Available in a wide multitude of sizes
Easy to construct and take apart
Minimal maintenance needed on your part
Created to last in outdoor elements
Lightweight and easy for one person to create and move as needed
Cons of using cedarwood for a raised garden
Even though the list of cons is short, there are a few negatives to consider with this type of garden bed kit as well.
The edges aren't very tall so keeping out critters and animals could be a concern
The cedar boards are thinner which means that they might not hold us as well as other types of lumber
Not all kits come with the hardware so make certain to verify that before ordering
Cheap raised garden beds kits
If you're on a budget, this is the area that might be the most appealing to you in terms of finding a raised garden bed that you can afford.
3 Tier Wooden Raised Garden Bed
Raised Garden Bed Set for Vegetable and Flower Gardening
Galvanized Steel Raised Garden Bed Kit
This makes sense from a financial point but just like anything in life, there are pros and cons to consider before purchasing.
Positives of purchasing a cheap raised garden bed kit
These positives might be compelling enough for you to decide if these garden kits are the right choice for you.
They're affordable and fit within your budget
The kits are a great introduction to finding out if gardening is really enjoyable for you
Cons of purchasing cheap raised garden bed kits
Here are a few negatives to consider when choosing kits based on price alone.
Cheaper garden bed kits will be made using cheaper quality items
The longevity of these items will be limited to a few short years, at best
You might find that the directions and supplies given are lacking detail and support
Frame it all raised garden bed kit
If you're looking for a garden bed kit that adds some great visual appeal, you might be able to get just that with this simple option.
The frame it all raised garden bed kits are not only a great space for growing food or flowers but also quite stunning to look at. It has several different sections framed out, making it ideal to add a variety of seeds to the different sections and parts. As you can tell from the picture above, it creates a stair step look that adds a lot of curb appeal to the home.
Positives of a frame it all raised garden bed kit
It's made of eco-friendly material that will have you feeling good about using it in your yard and space
This garden bed kit offers sections that allow you to easily break up the items that you're planting to have a great variety
The structure was designed to insulate your soil and help keep it at the optimal temperature level
Negatives of this garden bed kit
It requires a bit more set up than other kits
You'll need a larger space in your yard to set this up
Plastic raised garden bed kits
48 by 48 by 15-Inch Raised Garden Box Kit
Plastic Raised Garden Bed Kit
Plastic raised garden bed kits are becoming quite popular! They're a great way to add a small garden to your space and they have a lot of visual appeal as well. Since they're easy to create, the manufacturers can also make plastic kits like the ones shown above in a wide variety of shapes, sizes, and colors as well.
Positives of a plastic garden bed kit
Many of these kits got great reviews online for a wide variety of reasons. Here are a few positives to consider before purchasing.
They're made with durable material that will last
They visually look sharp and are easy to maintain
The wall beds tend to be a bit taller to deter critters
They come in a wide variety of colors and shapes/styles
Cons of plastic garden bed kits
While there don't seem to be many negatives, there are a few to consider.
The plastic garden beds don't look as "natural" as other garden beds
There is a chance that there might be chemicals used in the plastic that you don't want near the foods that you're attempting to grow
Choosing plastic for your garden beds can be a great choice than can help your garden last for many years.
Raised garden bed kits for patio
Large Elevated Outdoor Patio Cedar Garden Bed Kit to Grow Herbs and Vegetables
Wooden Raised Elevated Garden Bed Kit with Legs and shelf for Vegetables and Flowers
Don't have space in your yard for regular garden beds? No problem. Raised garden bed kits for patios are a popular item to have! They allow you to have a small garden space literally right outside your door.
Positives of a raised patio garden bed
No bending or kneeling required to provide maintenance and care
Can easily fit on a small patio or balcony
Negatives of a patio garden bed
The planting space is very small, making it ideal for herbs or other small plants only
Providing proper water draining could become an issue if not careful
Having a planter or two on your patio can give you that fresh taste of fresh food easily. There are always ways to make a small space work.
Greenes raised garden bed kit
If you need an affordable method to start a garden in your yard, Greenes raised bed kits will do the job. These beds are easy to slide in together for anyone.
There's one thing to be aware of: the boards don't look as pretty as they do in the amazon pictures. you'll get boards that are rough cut and not painted.
Of course, if you'd rather have a painted garden bed, you can have a bit of fun one afternoon and paint it (some customers were showing their painted garden beds, and they were really cute).
Lifetime raised garden bed kit 60053
This is one garden bed kit that seems to do it all. From start to finish, the set up is a breeze and will have you looking at a garden space that is designed to be optimal for your growing season. The size isn't overly large but it provides a good width and depth that will give you plenty of space to grow your plants.
Positives of a lifetime raised garden bed kit
These will not chip, crack, rot, or break
The walls are high and are good at keeping out critters
It's visually appealing and great for fitting into your yard nicely
No tools required to set up
Cons of having a lifetime raised garden bed kit
Shipping issues happened for some when the product arrived and was already damaged
Can become quite heavy if needed to move at a later point in time
Having this raised garden bed kit in your space will give you the prime conditions to starting a raised garden bed with ease. It's up to you to decide what to plant and when.
Frequently asked questions about raised bed garden kits
How long does it take to put together a raised garden bed from a kit?
This will vary on the type of kit that you purchase. The easy kits will take less than an hour while others will take several hours from start to finish and require tools to complete as well. A safe estimate would be 1-3 hours for putting together and completing a raised garden bed kit.
What's the best material for a raised garden bed?
Treated materials are going to be best for a raised garden bed. You want to be certain to use treated lumber or a chemical-free plastic for your garden bed. This will ensure that it lasts a long time and doesn't seep any chemicals into the soil that could then get into your plants.
Do you put anything under the raised garden bed?
There are some kits that will come with a layering option for your garden bed. Just follow the directions and layer as it suggests. This is mainly done to help kill off any weeds or grass so they won't cause issues in your raised garden bed later on down the road.
If you want to use the lasagna gardening method, you'll lay cardboard at the bottom of your raised bed to keep weeds away.
Now that you know all the varied options of raised garden bed kits, it's time to decide what is best for you. Factor in your space available and what you're hoping for visually and then make your choice.
Which of these garden bed kits is going to accomplish your gardening plans?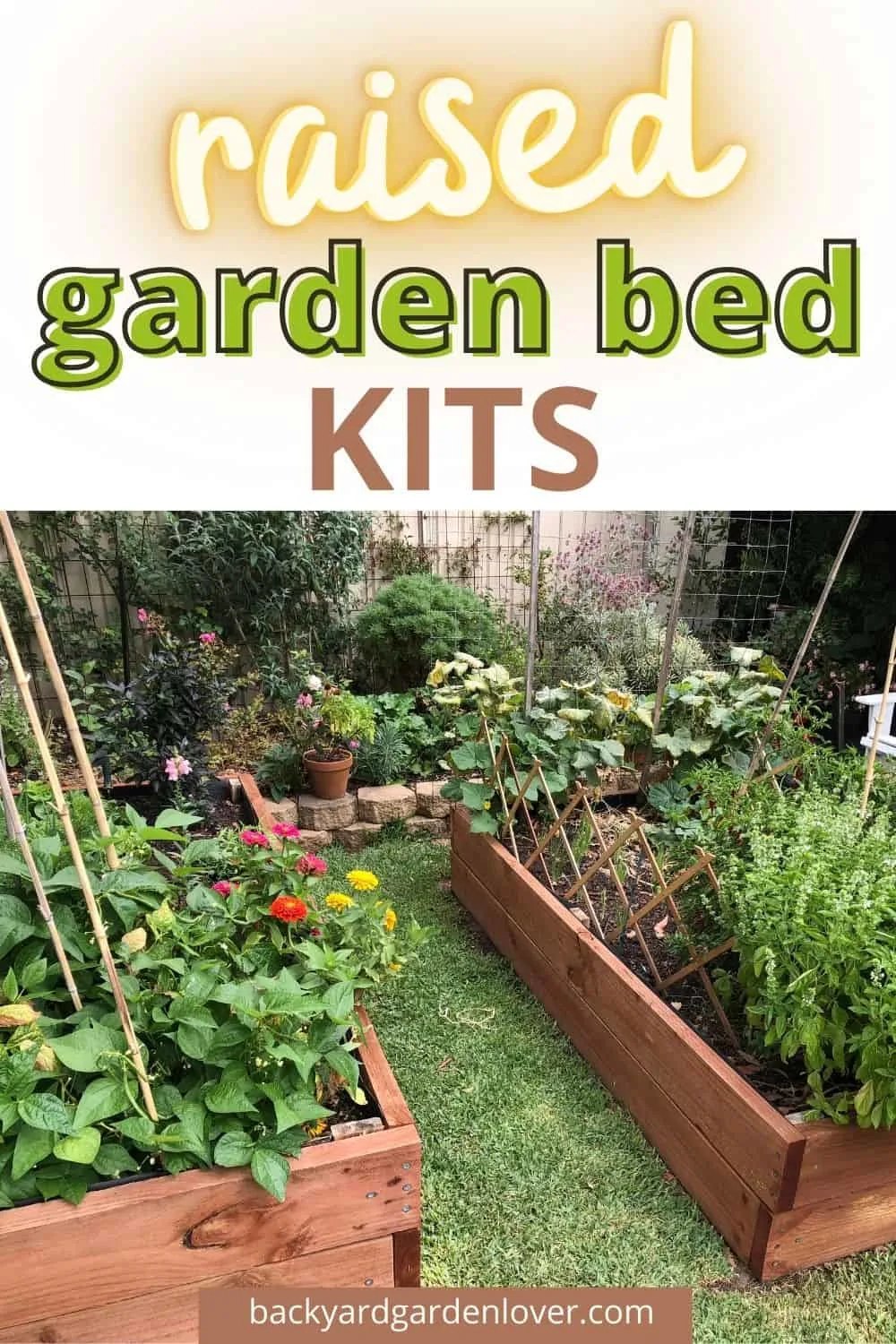 Adriana Copaceanu is a passionate nature lover living in the country on her dream property where she grows vegetables, lavender, and wildflowers that she shares with the wildlife they attract. When she's not in the garden, she loves spending time with her chickens and planning her next nature project.